Yep, it's the Tesla Model X—the one with the falcon doors. It's still hard to believe they're not from a concept car, but here they are, able to open in 11 inches of space, with sensors to prevent knocking against pillars or squeezing children.
They're unique—something they have in common with the rest of Tesla's biggest car. Because it's not an easy one to pigeonhole. It's 4WD and seats up to seven people, but it's hardly a conventional SUV. Can you imagine one heading off across a muddy field? Exactly. And then there's the way it looks: It's more hatchback than conventional family wagon. Hardly a handsome hatch, either.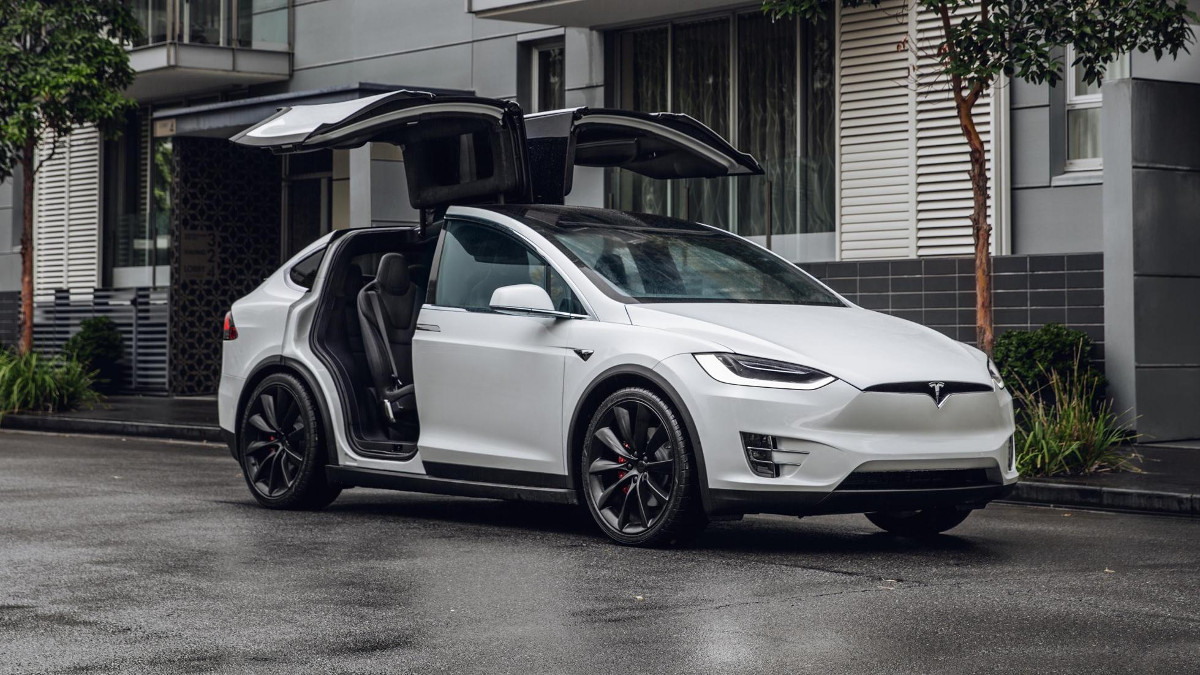 Continue reading below ↓
Recommended Videos
Being hard to pin down is not necessarily a bad thing—in fact, it's stood Tesla in good stead, suiting the firm's more disruptive nature. And it's not as if buyers have given it a wide berth, as it's firmly established in the upper reaches of the family-car price bracket.
Underneath, it shares a platform and motors with the Model S sedan. In the UK, all versions available currently use twin electric motors, one on each axle, and have the same 100kWh battery (the entry-level 75D has been discontinued). This sits low in the center of the car, and, combined with the compact electric motors, ensures not only a flat floor throughout the cabin, but also a useful load space under the hood as well as a huge rear cargo area.
Recently, the Model X range seems to have settled down after fluctuations to both pricing and versions. The arrival of opposition such as the Mercedes EQC and the Audi e-tron seems to have stabilized Tesla, and the Model X has found its feet in the market as a result.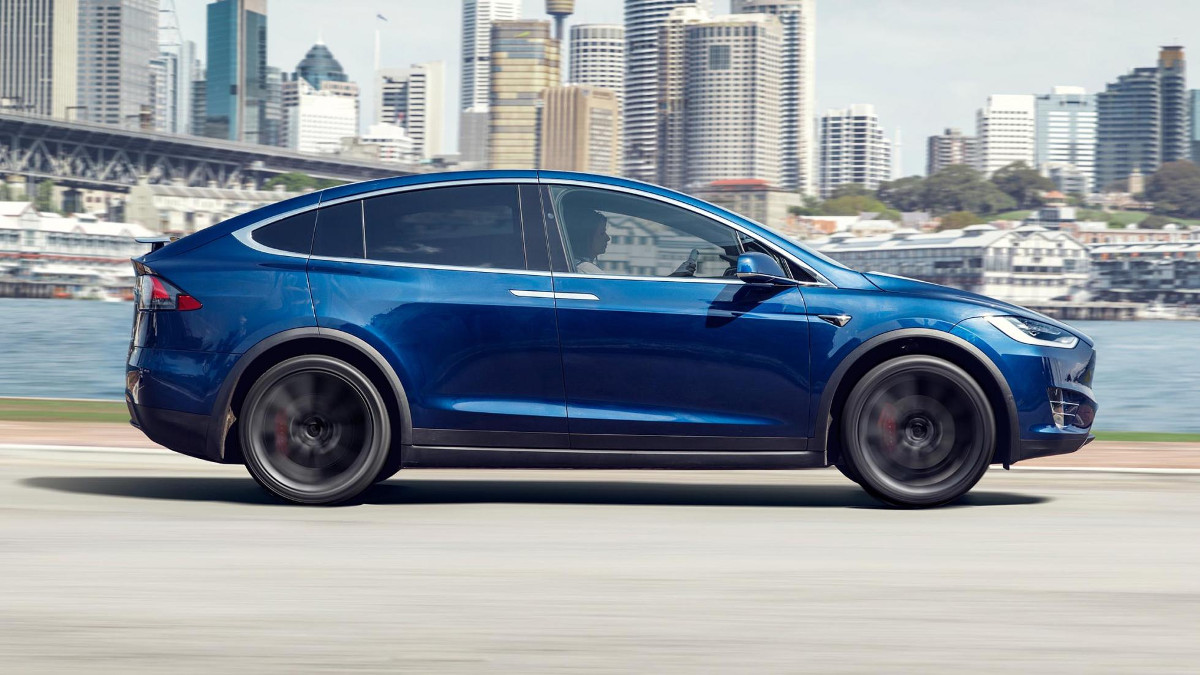 Two versions are currently available: the Long Range at £82,700 (around P5.41 million), and the £96,900 (roughly P6.33 million) Performance. Both are very powerful, the entry-level version developing 553hp, and the Ludicrous-enabled Performance having 785hp. Despite the fact that both weigh just shy of 2,500kg, neither is sluggish, the Long Range able to hit 60mph (97kph) in 4.4sec, and the Performance seeing off the benchmark sprint in 2.7sec.
Both claim to be able to cover more than 483km on a charge, and give you free access to Tesla's superb Supercharger network—an offer that lasts as long as you retain the vehicle. Second owners have to pay for the privilege.
On the road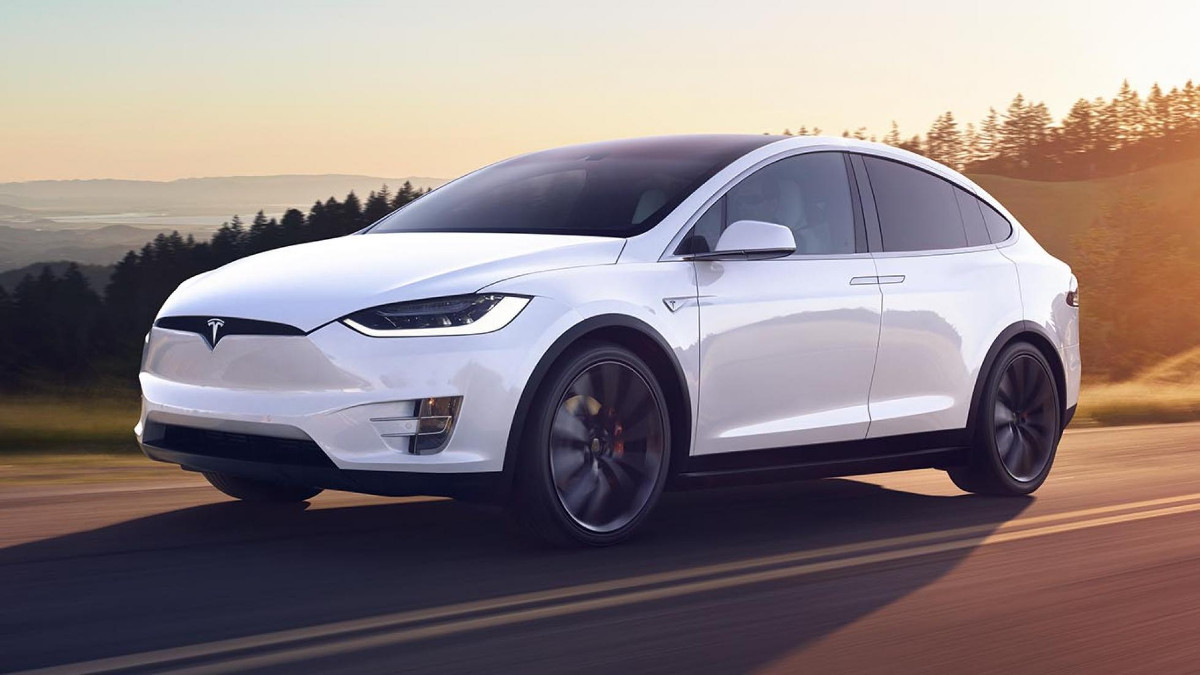 Ask most people what they know about how a Tesla drives and they'll cite one of two things—it's amazing acceleration or its self-driving ability. Both are standout features. Do you need the extra pace of the Performance version? Of course not. The Long Range is not only plenty fast enough, but ask yourself how the kids in the back are going to cope with snacks and drinks when an errant parent has just unleashed 0-60-in-2.9sec. Actually, scratch that—they'll find it hilarious. It'll be you that doesn't when you're on your hands and knees trying to clean it later.
The Model X is fast. But it's also very, very smooth. Coming from an internal combustion car? That's the biggest difference you'll notice: No gear changes, no engine vibration, barely any noise. The throttle is brilliantly well-calibrated, so it creeps easily along with town traffic, and despite its size, it moves well, responding instantly and crisply, giving you confidence in tight spots.
It's less good outside of town. Structural stiffness is the first and most obvious drawback. That might not sound like a biggie, but you sense the body twist, feel shudders, hear the trim creak. If there was engine noise, maybe it would be less obvious, but there isn't so you notice. And the ride is simply too firm. It's been done to keep roll and heave in check, but the Model X thumps and bangs along B-roads. On coarse surfaces, there's tire noise, and it reflects back from the giant windscreen, making the Model X that bit more hectic than it ought to be.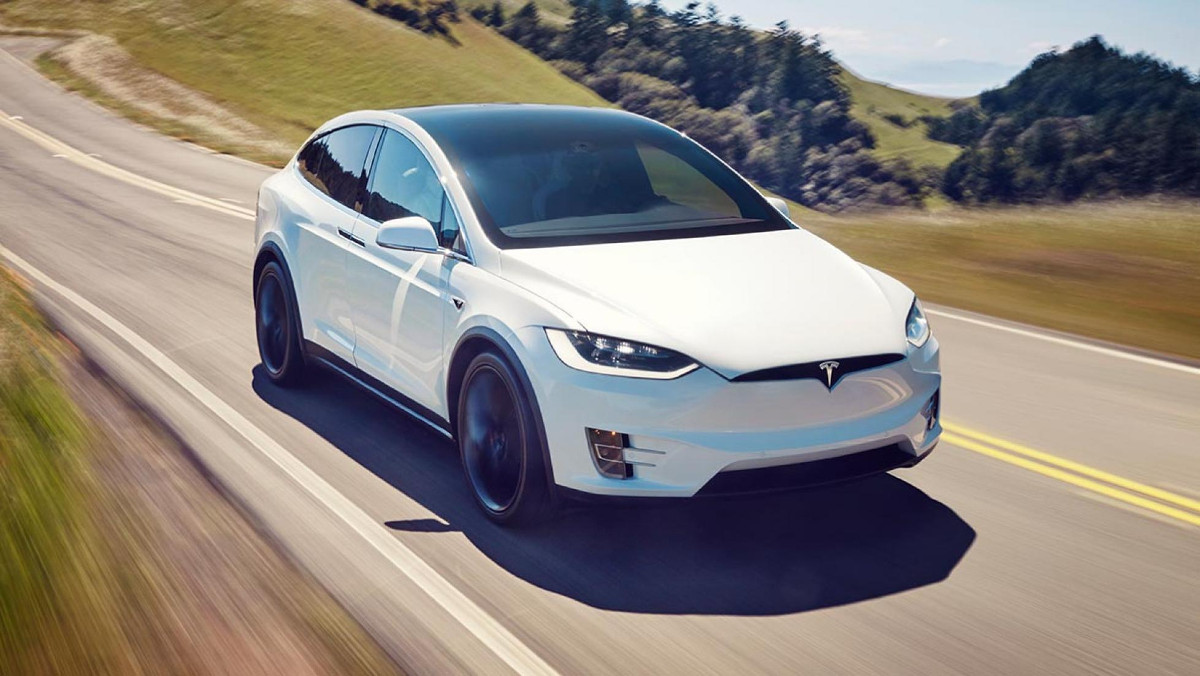 Let's not dwell too long on handling. We already know the Model X is plenty fast enough at getting itself between corners, but those corners then pose it issues. It's a bit scrappy, really: You don't get any sense of what the steering is up to, but a great deal of awareness of how much weight you've just tried to make slow and change direction. So yes, it's fast in a straight line, but no, you won't drive it like that. Not least because with no separation between load bay and seating area, anything in the rear comes sliding and crashing through. Brakes? Never been Tesla's strong point.
Moving on. Full Autopilot is a £5,900 (around P385,700) option. Without it, the car will still follow other traffic and hold itself in lane. Tick the box and your car will also be able to change lanes, parallel-park itself, and be summoned across a car park or similar via the phone app. The main advantage of having the system is that it's future-proof. As Tesla improves the technology, the extra sensors fitted will have a greater role to play. As it stands, Tesla's self-driving system has reined in its earlier excesses. You can no longer let go of the steering wheel and let the car get on with it—it'll bong a warning much sooner these days.
It's not as smooth and hushed on the road as the Audi e-tron, but this is still a fundamentally easy and relaxing car to drive for something so big.
On the inside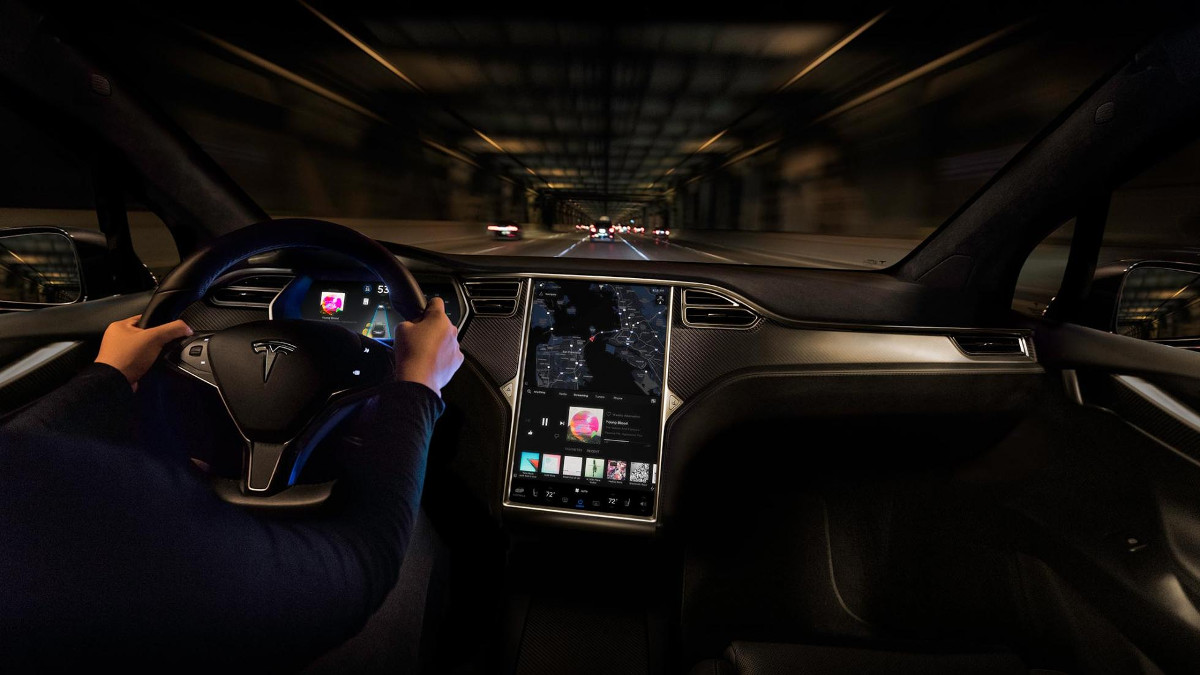 There aren't many options to choose, but Tesla makes you pay dearly for the ones it does offer. As standard, the Model X is a five-seater. A third row can be added for £3,400 (roughly P222,270). Make sure you definitely need them. The downward curve of the tailgate limits headroom back there, although they do fold flat easily. If you want to ease access to them, you're better off with the six-seat layout, which replaces the three-seat middle bench with a pair of captain's chairs. For £6,300 (approximately P411,850).
It's huge inside. Total luggage volume is 2,487 liters, putting it on a par with the Land Rover Discovery. The issue is the usability of that space. If you have the six-seat layout, there's precious little to stop kit in the trunk from sliding into the cabin. And although the falcon doors will never get boring, if the car is parked unevenly and the chassis twisted slightly or on a windy day, they occasionally refuse to operate.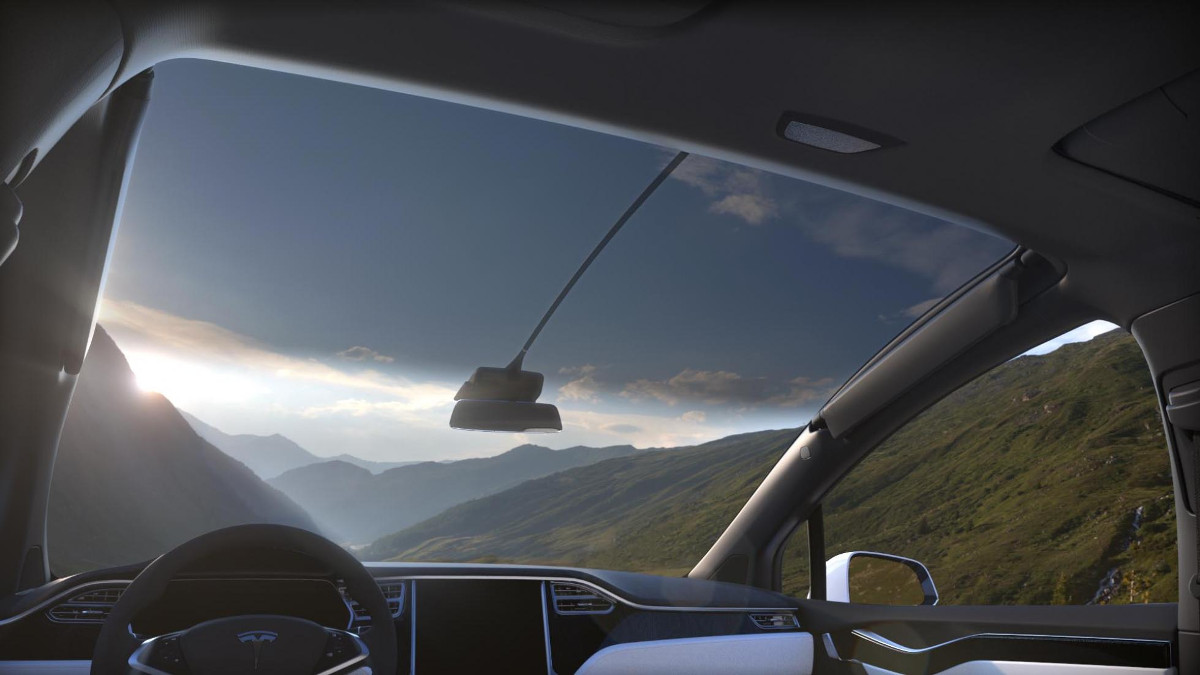 Up front, the cabin is dominated by two screens—the 17-incher in the dash, and the eight-footer that arcs back over your head. The windshield is distractingly enormous. It's tinted so sun glare isn't an issue, and the sense of peripheral vision is great, but you also feel exposed underneath this see-through forehead. The dash screen? Well, now that everyone seems to be going to touchscreen, this is the biggest and the best. As big as a road atlas, responsive, and easy to use, but still requiring a lot of eyes-off-the-road time.
Beyond that, the design is pretty basic, the materials less than premium, and the seats slippery and unsupportive. It's not a cabin you're ever going to feel cozy in. It's more like piloting a posh Transit. One kitted out with LED headlights, a 17-speaker audio system, and heated seats and steering wheel.
Final thoughts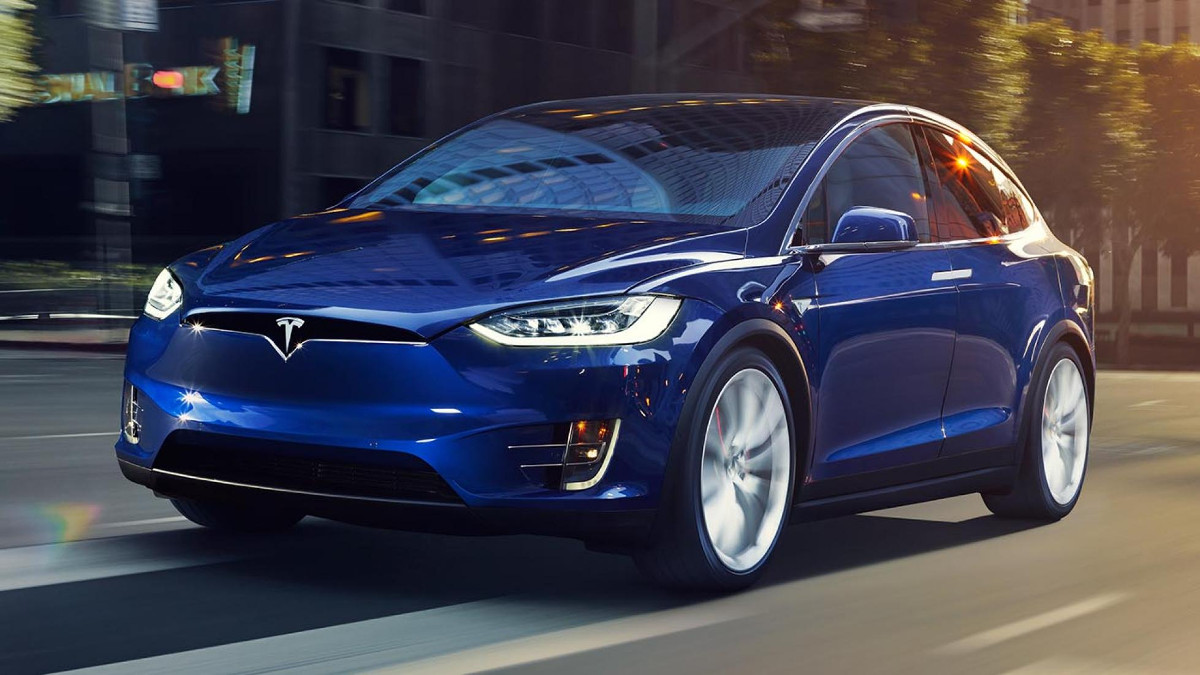 Are you thinking an electric SUV could be your next family car? But this one seems too radical? Give it the benefit of the doubt. In developing an electric car from scratch, Tesla still holds a narrow lead over less-well-packaged and less-creative rivals from Audi, Jaguar, and Merc. Yes, they're better-built and more familiar, but the Tesla is big and airy, and has a sense of humor. And that's not just because it's got a fart mode and upward-opening doors.
It's a fun and engaging family car with room for everyone and a more playful personality than the outwardly plain looks suggest. And you can't ignore the charging network—that alone removes so much of the hassle and frustration from the switch to electric. It's a very good car, the Model X, especially now that Tesla seems to have stabilised its pricing strategy. Not cheap, and not a conventional SUV, but a thoroughly capable family wagon.
NOTE: This article first appeared on TopGear.com. Minor edits have been made.