When I was first contacted to test-drive the new Volkswagen Lamando, my first reaction was, "Laman… wha?" The name Lamando just doesn't roll off the tongue the same way 'Golf' does—it sounds more like the pilot of the Millennium Falcon in Episode 9 than a car model. I was, at the very least, intrigued to try out this new car.
Doing some research, I quickly discovered that the Lamando is the Chinese-market equivalent of the Jetta. It shares the ubiquitous Volkswagen-group MQB platform with the Audi A3, the Golf, and countless other Seat and Skoda models throughout the world. Volkswagen Philippines is taking advantage of the extremely beneficial China-Philippines free-trade agreement in order to bring this Chinese-made German sedan to our shores at a (hopefully) affordable price.
So, does this SAIC-Volkswagen Chinese import live up to the VW name? In most ways, yes; in some, not quite.
Styling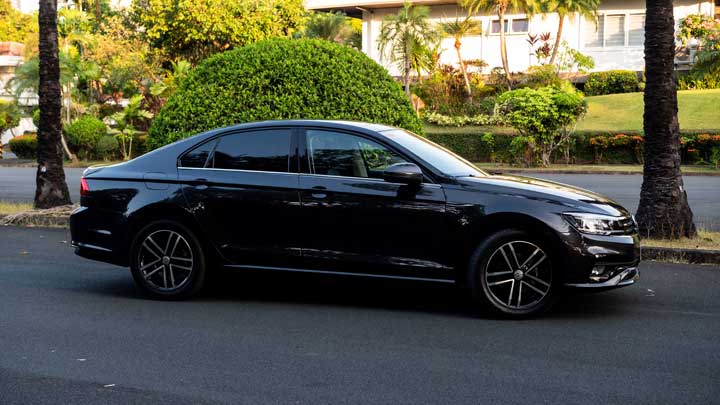 Continue reading below ↓
Recommended Videos
The first time I caught a glimpse of the oddly named sedan, I was struck by just how low and sleek it looks. The Lamando has a squat and wide stance that highlights the car's Teutonic roots. With lines similar to those of Audis of late, it projects a very muscular silhouette and has great body creases that lend it a very masculine and almost luxurious appearance from its side profile.
The Chinese-German model wears Volkswagen's corporate grille proudly. The front fascia's styling blends well into the LED headlamps and the daytime running lights—a look echoed by the rear taillights the and trunkline at the rear end.
Interior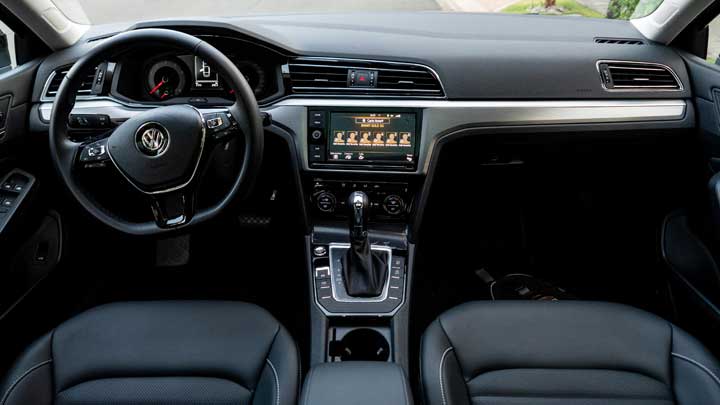 Inside, the seats and the steering wheel are of typical German build quality. At first glance, everything seems quite clinical, even to the point of being bland, but take a closer look and you start to notice the little things. With a few splashes of brittle plastic and some hard, scratchy surfaces, the Lamando's interior would have been amazing in a car five years older, but for 2019, with compact and even budget cars stepping up their game considerably, this VW's cabin can seem a bit low-rent in comparison.
One particular sore point is the sunroof. For some reason, the fabric inner cover never remained fully closed in our test unit. The slightest acceleration would bring it back an inch, just enough to annoy the heck out of any obsessive-compulsive car owner.
At the very least, the Lamando's interior is a very nice place to be. It feels airy and classy. Sitting in front, you really feel that you are not in your run-of-the-mill sedan. Front space is more than adequate, but rear headroom leaves much to be desired. Such is the price you pay to have that sleek and sloping roofline.
Engine performance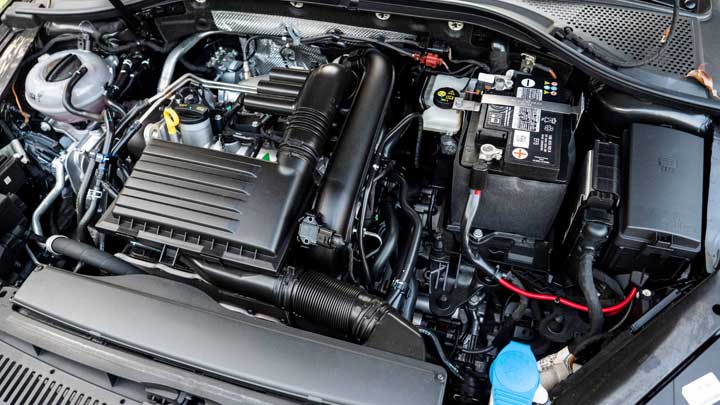 Start up the engine and you are immediately struck by how noisy it is—and not in a good way. I think I know just enough about cars, but for the first time, I had to grab the spec sheet just to see if the car was a diesel. That's just how noisy this 1.4-liter gasoline engine is at idle.
Thankfully, the tiny turbocharged engine makes up for it with solid performance and great fuel economy. We were able to average 7km/L in city use, while on the highway, we got a pretty amazing 15-20km/L. Stomp on the accelerator and, at first, nothing happens; a second or two later, you then get hit with a surge of torque as the turbo spools up, providing 148hp and 250Nm after a good, long dose of old-school turbo lag.
Volkswagen's seven-speed dual-clutch gearbox provides power to the front wheels, and it is a revelation in modern transmission technology. Yes, during stop-and-go traffic and on uphill starts, it can sometimes feel like the car is being driven by a student driver, but get it up to speed and the Lamando shows just how VW's dual-clutch technology is a step above the competition. Shifts are amazingly smooth and mind-bendingly fast; it feels like nothing else, and is definitely one of the true highlights of this car.
Ride and handling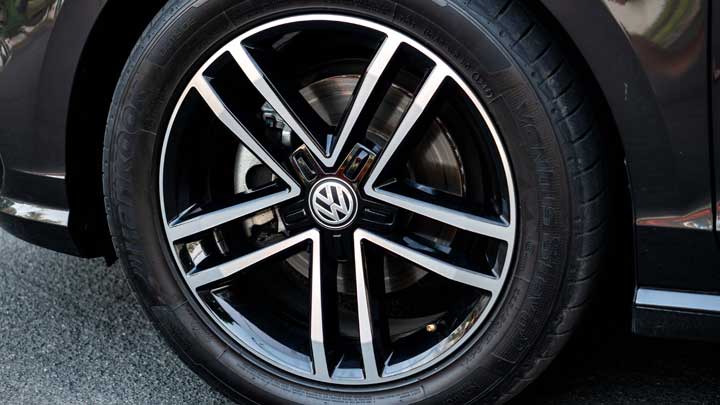 The ride is satisfyingly German in feel. Bumps are cancelled out, and the car smoothly glides over the imperfections that are common on EDSA and other provincial roads. Chuck the VW into a corner and it corners flat and with authority, as befits a car that shares its global platform with the legendary VW Golf and various Audis.
The handling is good enough to put a smile on your face. Sure, it isn't a sports car, but for a front-wheel-drive sedan, you could definitely do a lot worse than the Lamando.
Extra features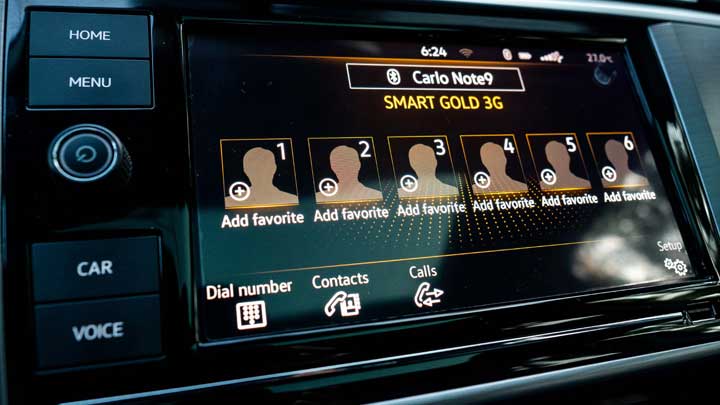 Here's where this car is decidedly lacking. While modern Japanese and Korean cars are now equipped with oodles and boodles of technology, the VW does away with a lot of modern conveniences that buyers might be looking for in a 2019 model.
Yes, there's a smart key and a sunroof, and yes, the touchscreen multimedia unit has Apple CarPlay, but while those features are good, a car in 2019—especially at this price point—should also offer Android Auto. Neither does the VW have automatic wipers nor automatic headlights. It has a decent backup camera, but the resolution is so bad, your iPhone 3GS would be embarrassed for it.
Lastly, the sound system is just inadequate. It sounds extremely tinny, and while it's good enough for podcasts, don't expect it to handle bass-heavy music with any kind of composure. This is definitely one of the first things you'll consider upgrading if you do purchase a Lamando.
Verdict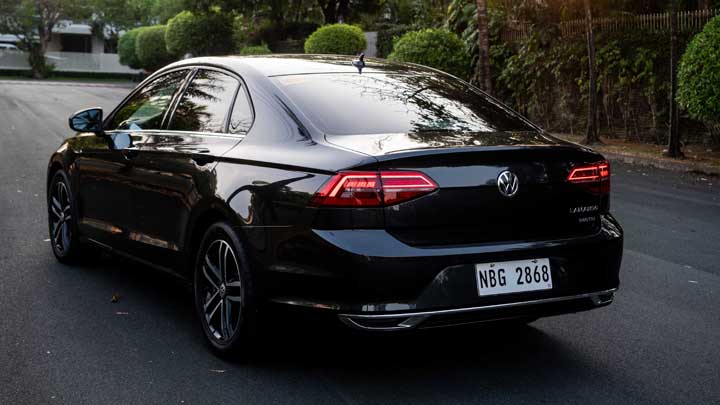 Yes, the Lamando is built in China. Yes, it is completely and almost unforgivably lacking in extra features. Thankfully, then, the underpinnings and the powertrain of the Lamando are so good, it's almost easy to overlook the absence of basic modern convenience features.
This VW drives extremely well. Its surefootedness emphasizes the fact that beneath its skin, the Lamando is a product of the same country that brought you the Nürburgring and the Autobahn. It drives so well that we're almost willing to overlook the (still) weird name. Almost.
SPECS: Volkswagen Lamando SE
Price: P1,569,000
Engine: 1.4-liter turbopetrol I4
Power: 148hp @ 5,000rpm
Torque: 250Nm @ 1,750-3,000rpm
Transmission: 7-speed dual-clutch
Drive layout: FWD
Seating: 5
Score: 17/20
Volkswagen Lamando SE