The RS6 is Audi's practical family car laced with supercar performance. Ever since the German carmaker's collaboration with Porsche in the early '90s to investigate surprisingly spacious speed courtesy of the RS2, the folks at Ingolstadt have made a name for themselves by producing knuckle-biting, performance-orientated five-door wagons. This latest iteration has added sophistication and technology to go with its speed. Boy, oh boy, a hell of a lot of speed.
Angry-looking thing, isn't it? Only the front doors, the roof, and the tailgate are shared with a rep-spec A6. And it's got heaps of attitude: blistered bodywork a whopping 80mm wider than standard, a contemptuous frown (a throwback to the '84 Sport quattro), and bazooka tailpipes. These features compound for unparalleled presence.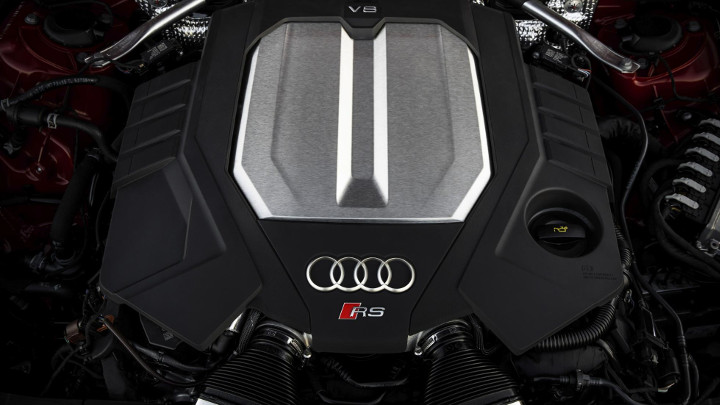 Continue reading below ↓
Recommended Videos
Over the years, the RS6 has had a multitude of engines—including, hilariously, a V10. Now, for the fourth-generation model, a 4.0-litre twin-turbo V8 is buried in the nose and can dispatch 592hp and 799Nm through the eight-speed auto gearbox and all four wheels. The results are quite something to behold: 0-100kph in 3.6sec, 0-200kph in 12sec, and an electronically limited top speed of 250kph. Tick the 'Vorsprung' pack, and that top speed rises to 280kph. Option on some ceramic brakes, and it rises yet again to 305kph.
This supercar performance is paired with a trunk that's capable of swallowing 1,680 liters of stuff, making it a direct competitor for the Mercedes-AMG E63 Estate and the Porsche Panamera Turbo Sport Turismo. But, with prices starting at £92,000 (around P6.01 million), it undercuts them all. No wonder the RS6 is not so much catnip, but black tar heroin for petrolheads who don't want to be banished to eternal damnation and humdrum kid-friendly crossovers.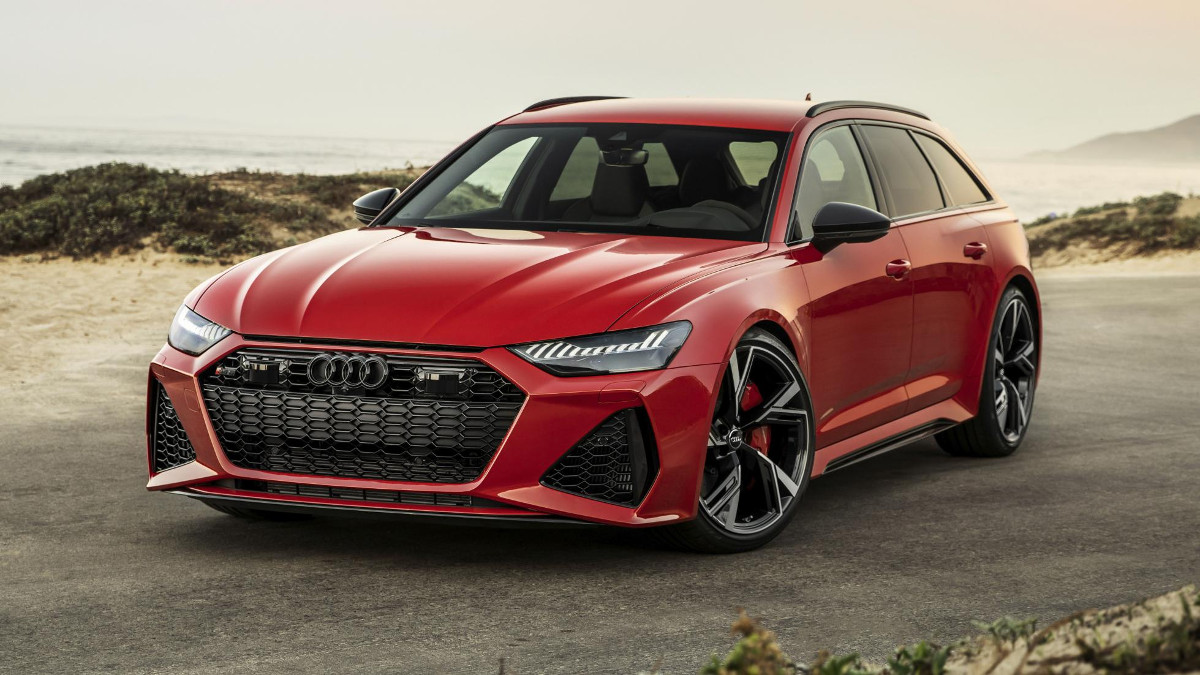 The latest model certainly isn't as blunt as the previous car—that was a V8 warhead with a trunk attached. This is more multifaceted and intelligent. There's cylinder deactivation, a keen coasting mode, and 48V mild hybrid assistance (take that hybridization with a pinch of salt, as the battery doesn't provide any propulsion.) It's also a lot plusher inside, with better use of materials, stacks of digitization, and seemingly infinite customization and configuration.
Power is still sent to all four wheels, and you can't disable the front driveshafts like in an E63. In real-world situations, this means you can use a ridiculous amount of that near-600hp grunt all the time. That's the difference Quattro makes—it gives you traction and confidence. Plus, thanks to new chassis tech such as optional four-wheel steering and a Sports Differential, The RS6 is more agile and accurate than ever.
On the road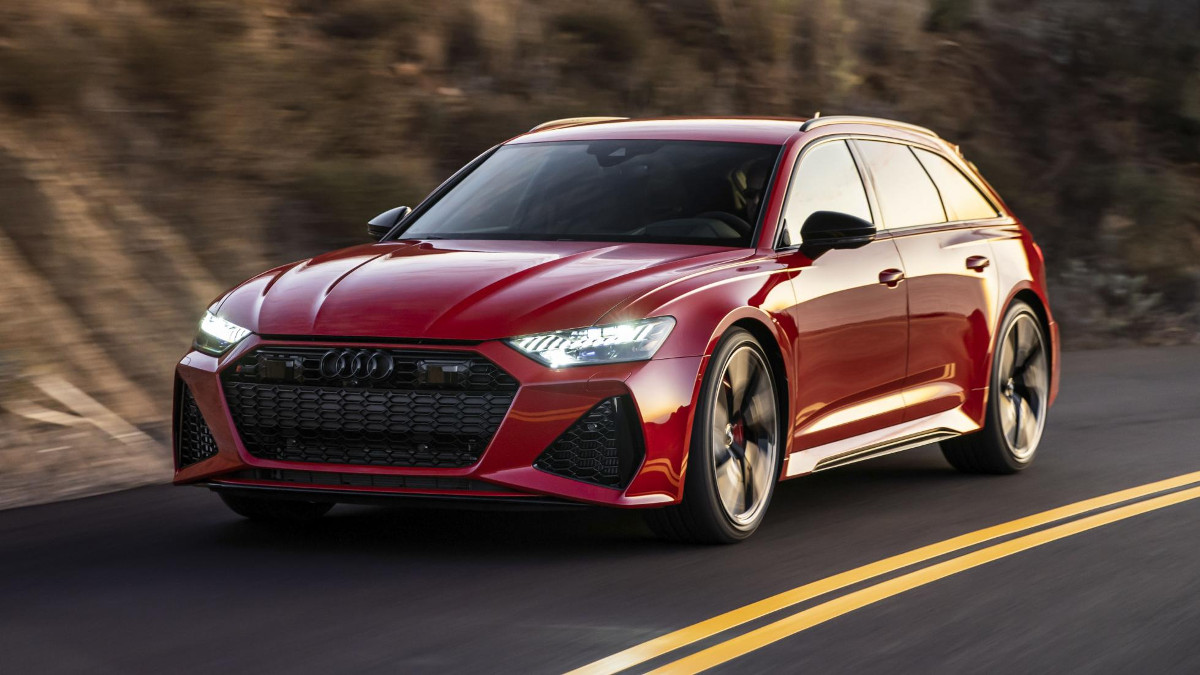 Both power and torque have swelled (by 39hp and 99Nm, respectively) over the previous generation. But where the RS6 has really moved the needle is in its ability to seamlessly shapeshift from everyday runabout to see-ya-later-supercar hyperwagon. The gulf between these two states of tune is now even bigger, making it a lot more usable and even more enviable to your neighbors.
The twin-turbo V8 isn't as rampant or raucous as the offerings from AMG. It's not as shouty and doesn't dominate proceedings, but it's a wonderfully smooth operator and works brilliantly with the eight-speed Tiptronic gearbox (that could easily be mistaken for a double-clutcher) to give you oodles of oomph when you want it. Saying that, given our increased exposure to electric cars and their instantaneous torque delivery, it can feel a tad laggy at times. But this means you just have to work a bit harder with the paddles to make sure you're in the power band to get the most out of it.
When you're going quickly, you can feel every kilo of the 2,075kg curb weight. As a point of reference, that's 80kg more than a E63. But improvements have been made to mask the mass and make the RS6 not so nose-heavy.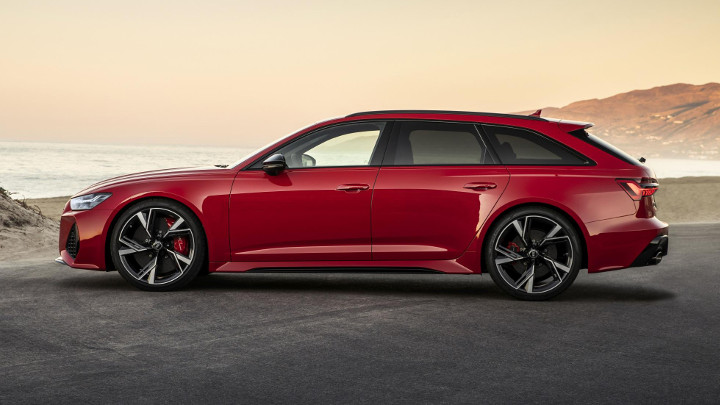 First off, there's an optional £8,000 (around P523,000) Carbon Ceramic brake package. Weighing 34kg less than the standard steels, they're not only beneficial for unsprung weight, but also have the power and longevity to fire your jowls through the windshield all day, every day. Be warned: It will take a while to get used to the unnecessary squidge at the top end of the pedal around town or when they're cold.
If you are driving like a twonk, inevitable understeer arrives. How Audi. But now you can just floor it and let the new Sports Differential and the recalibrated Quattro system cancel out the push. Up to 85% of oomph can now be sent to the rear and help you around the bend. But it's not as physically engaging as an E63: You never feel like you're in a fight with it to go fast, and there's not much steering feel or sensitivity (especially with unpredictable and numb Dynamic Steering). But for point-to-point blasts, there's nothing quite as effective as the RS6. Also, with the new optional four-wheel steering, there's a sharpness to the wagon's turn-in and generally agility that's not been present before.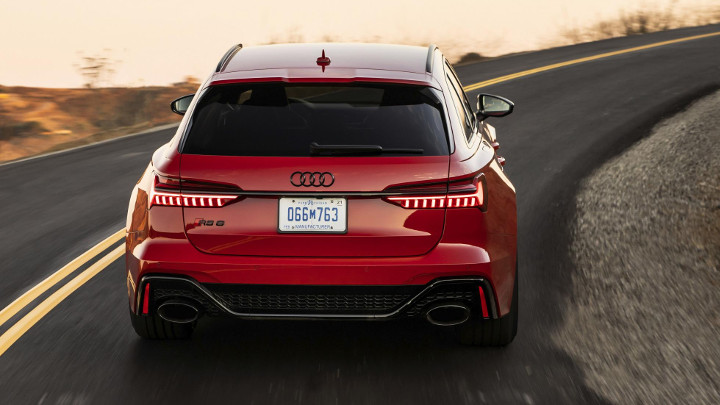 There also aren't many other cars in the world that have such an intrinsic ability to make silly speeds feel safe. Plus, with a new launch control mode, you can hit those silly speeds more consistently than ever and endlessly butter your dog up against the rear window.
There are numerous driving modes to consider, ranging from an eco-minded Efficiency mode featuring predictive start/stop from 20kph, coasting up to 160kph, and cylinder shutdown, all the way to maximum-attack Dynamic mode. The efficiency tech isn't rammed down your throat or sanctimonious like other systems, and works away in the background, making for a serene experience when paired with comfort suspension and the double-glazing.
There are also two new customizable driving modes accessed on the steering wheel, dubbed 'RS Modes.' Notably, RS1 and RS2. Because we're nerds, we obviously favor the second. Both allow you to switch up steering, suspension, ESC, and augmented sound into your preferred strength. While we're on the subject of noise, disappointingly, the exhaust doesn't have the thunderclap and rowdiness of old. But there will be plenty of people in the aftermarket to clear its throat. Paging Litchfield. Paging ABT.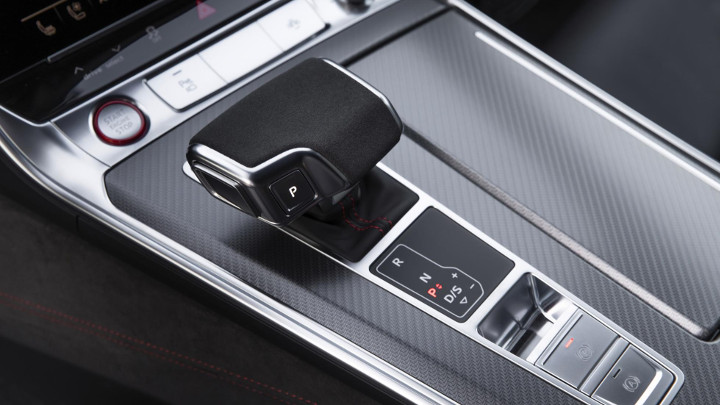 Finally, one thing to be mindful of is the suspension options. Adaptive air suspension is fitted as standard and has 40mm of travel through the various driving modes. It goes from a raised variant for bumpy roads, to a hunkered-into-the-arches (30mm lower than a standard A6 Avant) if you're over 120kph. But if you're serious about going quickly, the optional sports suspension might be more up your street.
Rather than air, it features steel springs and three-way adjustable dampers. It rides surprisingly well—especially considering you can be on 22-inch wheels if you spec the 'Vorsprung' pack/ceramic brakes—offering control and comfort with little brittleness. Saying that, we're yet to try it on our favorite pockmarked tarmac, which could be a different story. But first impressions are very good.
On the inside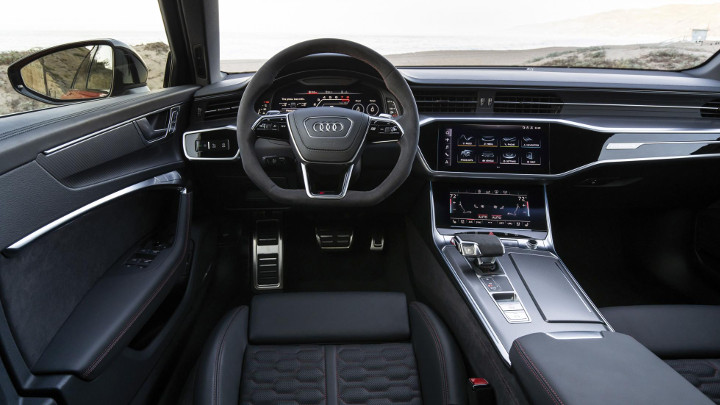 There's been a big shift in cabin tech over the last few years, and the RS6 can attest to this. It's a huge step up from the previous generation—primarily because the world has gone screen-mad since 2013, but also because the materials in the cabin now reek of sporting luxury. There's double glazing, haptic glass, carbon fiber, and a gear selector finished in alcantara that's weirdly satisfying to stroke...a bit like a bald cat.
Your attention is drawn to the two driver-centric screens that have seemingly endless menus and configuration. It's a good-looking and slick system to use, as is Audi's class-leading digital Virtual Cockpit display in the binnacles as well as the head-up display. If you want info, you can easily get it beamed to you. There's now also a retro throwback to the Original Quattro courtesy of a hockey-stick rev counter while in the more sporting modes, and on-board lap and drag-strip timers.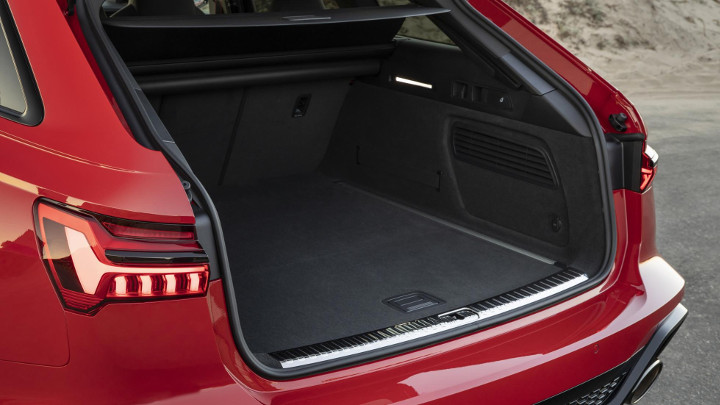 Overall, the cabin is a great blend of comfort and performance. There's been a marked improvement to the NVH—tire roar is kept to a minimum, and the integration of double glazing cocoons you from the outside world. However, it also does mute that thumping V8. The quilted chairs are supportive but not arse-numbing on a long journey, and the thin alcantara wheel is great to use, even though it doesn't deliver much feedback.
As for space, you've got 565 liters to play with seats up, and 1,680 liters seats down. Audi has worked on the loading width, adding 14mm of space compared with the previous model.
How does this compare with its competitors? Well, it's more than the Porsche Panamera Sport Turismo, but the E63 still dominates with a whopping 640 liters with the seats down, and a cavernous 1,820 liters when the chairs are folded flat. But you can now spec a tow bar with the RS6, so if you're a horrendous over-packer, you can always bring a trailer.
Final thoughts
There's something a damn sight more palatable about a performance wagon than an SUV, and the Audi RS6 proves this. In the current political and social climate, does the world really need a 600hp family wagon? Probably not. But boy, are we glad we have one as it's one of Audi Sport's best executions to date. Previous thuggish edges have been sanded down to make way for a more intelligent and usable package that'll appeal to more people.
It's not as rambunctious or sideways as its competitors, but it's far from anodyne. It's fast, practical, comfortable, the right side of attention-seeking, and properly desirable. What's interesting is that there's not one component of the RS6 that stands out. This can be mistaken for it not having character. But in reality, it's just that Audi has engineered some excellent hardware to work together. It's truly greater than the sum of its parts.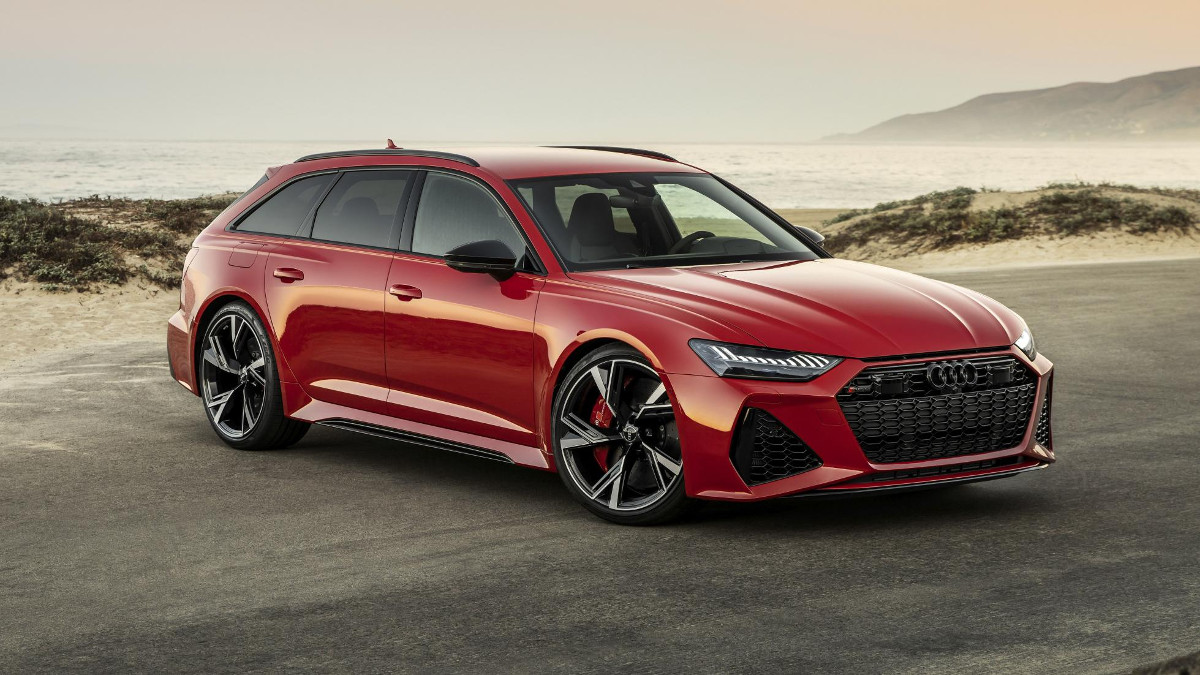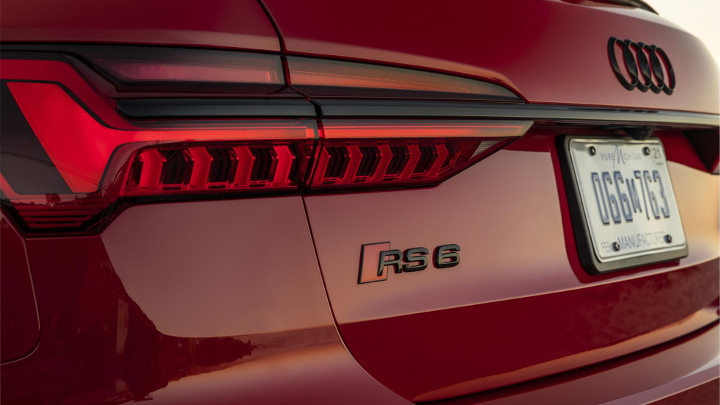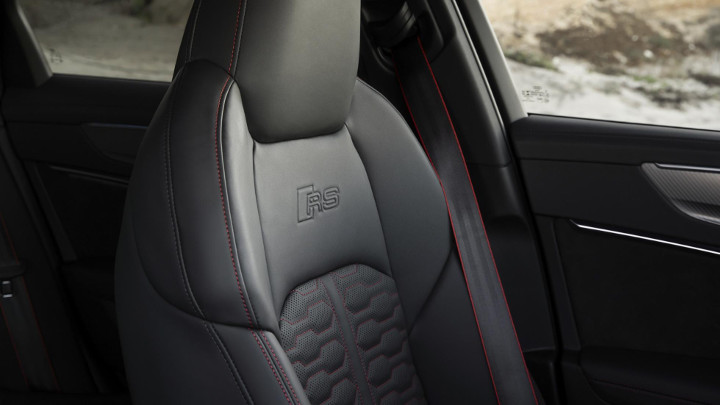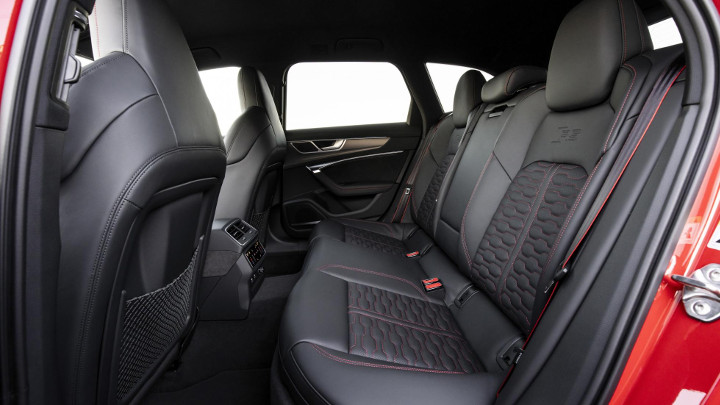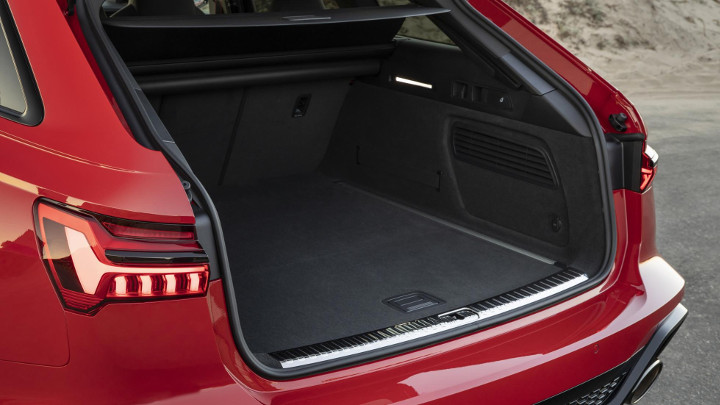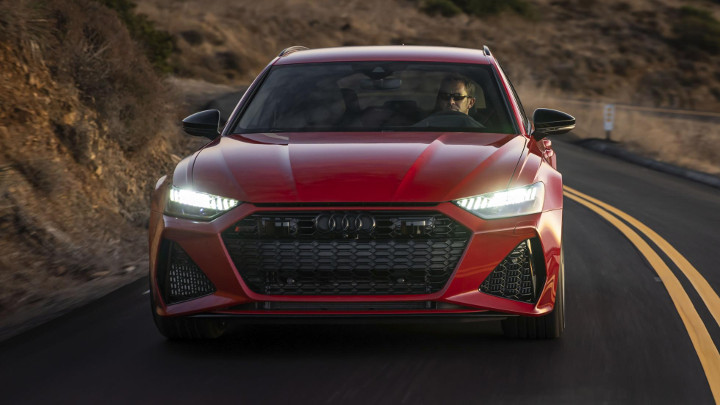 NOTE: This article first appeared on TopGear.com. Minor edits have been made.