Even with the influx of budget crossovers in recent years, the midsize pickup segment is still one of the most heavily stacked ones out there, and we don't see that changing anytime soon. We don't think the top nameplates here will change in the foreseeable future, either.
That said, there still are some new arrivals that are still worth checking out, such as Maxus Philippines' new pickup, the T60. I was able to spend a week with it to see what this very, very affordable truck has to offer. Read on to know what I've discovered.
Styling
Continue reading below ↓
Recommended Videos
Frankly, I didn't find the T60's design to be all that impressive when I first saw it in photos. But when I got to lay my eyes on it in the metal, I realized it had a different vibe to it. It's a large truck with a very macho appeal, and it eventually grew on me—it looks better up close.
The hefty grille and those vertical chrome strips give the pickup a lot of presence. The wheel design is nothing fancy—it's just right for a rugged-looking vehicle like this. The rear isn't anything to write home about, but at least it doesn't look bland.
So overall, it's still a properly styled pickup. No unnecessary plastic bits on the outside, and with an appropriate amount of chrome, gray, and black accents to go around. Not too shabby.
Interior
Inside, this top-spec T60 gets a good amount of leather to go around. Hard plastic makes up most of the dash, but the seats, the side panels, and the center console all get their share of black leather with red contrast stitching. The silver panels in the cabin are a nice touch, too.
As far as space goes, the T60's got quite a roomy cabin. Even with the front seats adjusted a bit further back, there's still plenty of legroom at the rear. Speaking of adjustments, the driver's seat can be adjusted six ways with the press of some buttons. Sweet, but it's still a bit high even when moved all the way down. It's a problem for someone like me who prefers a low seat position. Other than that, I have no complaints.
Engine performance
Powering the Maxus T60 is a 2.8-liter turbodiesel that generates 148hp and 360Nm of torque. The figures might seem measly on paper, but this engine packs some oomph. I didn't have any trouble during overtakes or during steep climbs. I wasn't able to see how it would do with some heavy load in the back, but I'm guessing it'll still do its job quite well. I wasn't able to test out the 4x4 drivetrain, either.
What I like about this one is that it's also a reasonably fuel-efficient mill. In mixed conditions and with a pretty heavy foot on the gas, I got about 12-14km/L. I don't expect fuel consumption during heavy traffic to differ significantly from these.
What I don't like about the setup is the gearbox. The six-speed automatic transmission just feels clunky. Whenever you lift your foot off the gas pedal, the truck starts decelerating and engine-braking awkwardly. It was especially evident during the few times I had to drive through moderate to heavy traffic. That said, it never did have any problems shifting during acceleration, so getting up to speed was a breeze.
Ride and handling
The T60 is far from being the most comfortable ride in its class. It reminds me a lot of the Hilux before it got the suspension upgrades along with the 2020 facelift. While I reckon that won't make it any fun to drive through bumpy roads, that in turn should make it better for loading heavy cargo on the bed.
One more thing: This truck is relatively fast and powerful, but it's not very agile. Best not take corners too quickly with this one.
Extra features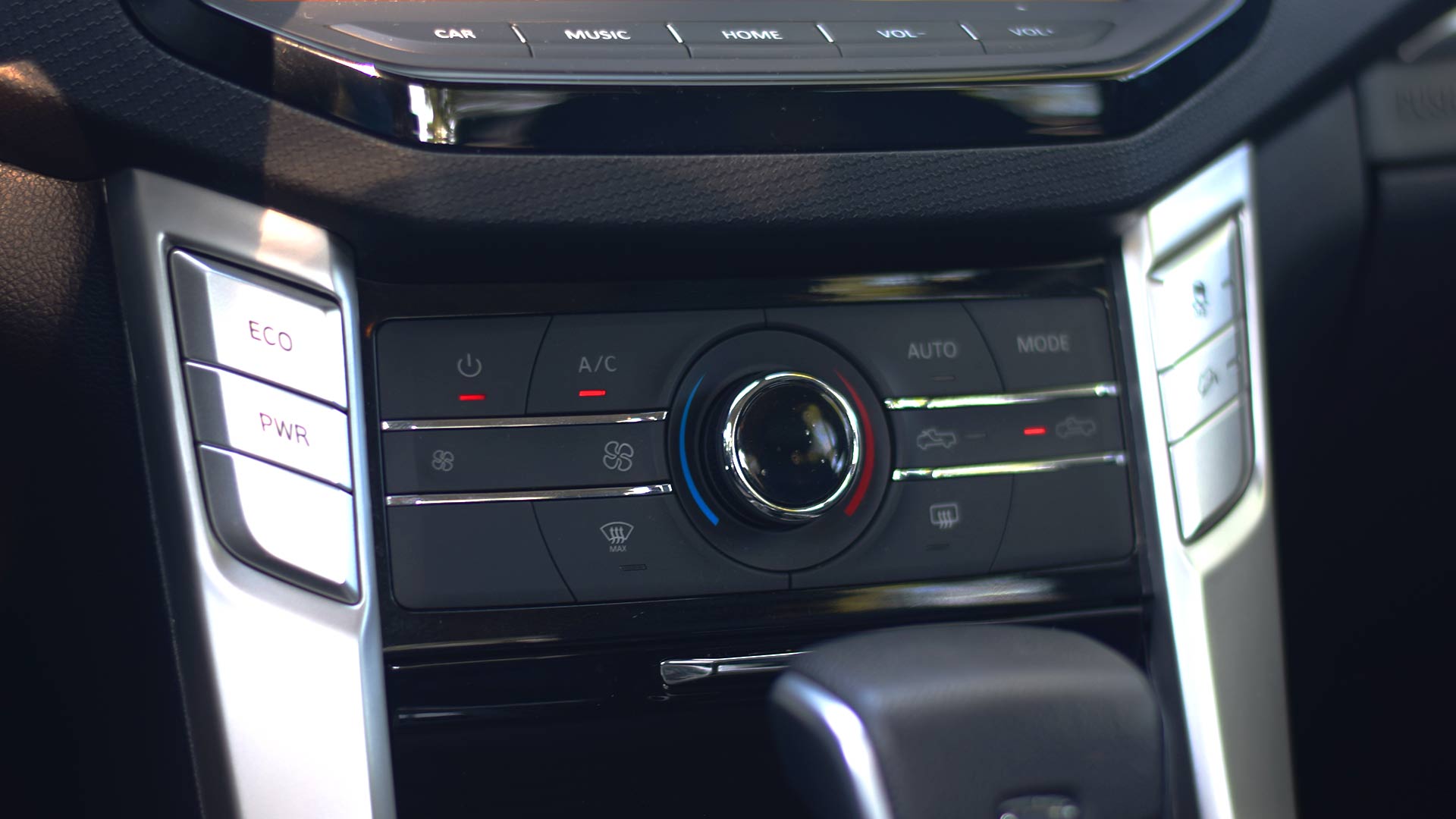 The T60 has a lot of added tech on offer. It has a smart keyless entry system with a push-to-start ignition, automatic climate control with rear A/C vents, the aforementioned power-adjustable driver's seat, a tire pressure monitoring system, automatic headlamps, rain-sensing wipers, and rear parking sensors with a reversing camera.
It also gets a large 10-inch touchscreen display with Apple CarPlay but without Android Auto. Quite unfortunate for an Android user like me, but I still got to play music via Bluetooth, and thankfully the six-speaker setup is pretty decent. I have to honest, though: I'm not a fan of the head unit's display. A simple and cleaner look would've been better. That said, the infotainment system does provide additional info on the vehicle's current status, and provides details and reminders on preventive maintenance services, all of which are nifty additions.
There's also cruise control available on this T60 variant, but it's a bit of a pain to use. Apart from the fact that the instrument cluster doesn't display the set cruising speed, in my experience the system had some trouble maintaining the right speed even on flat expressway roads. I'm not sure if the clunky transmission had anything to do with it, but in the end, I just did away with the feature after trying it out a couple of times.
Verdict
Even if I did have a few major concerns here, the entire package is still a fairly decent one. You could argue that there are other more well-known pickups at this price point, but it's hard to find a range-topping 4x4 variant at just P1,328,000. I know it's not the best out there, but it just might be worth considering if you're looking for a real bang-for-the-buck truck.
SPECS: 2021 Maxus T60 2.8 4x4 Elite AT
Price: P1,328,000
Engine: 2.8-liter turbodiesel I4
Power: 148hp @ 3,400rpm
Torque: 360Nm @ 1,600-2,800rpm
Transmission: 6-speed automatic
Drive layout: 4x4
Seating: 5
Score: 16/20
More photos of the 
Maxus T60: