It's incredibly easy to write a Mazda review nowadays. First, drive the wheels off the car. Second, bask in the afterglow of the experience. Smoke a cigarette if you have one, but not in the car, and not in public. Scratch that—have a nice cup of tea, instead. Third, wax poetic about it in a gushing review using terms like Kodo, human-centric, and Jinba Ittai. Feel free, in fact, to refer to our recent reviews of the CX-5 and the CX-9. Ninety-nine percent of what we say there is applicable to the CX-8.
But where both of those crossovers were built from the ground up to suit their respective niches, the CX-8 is something slightly different. A CX-8 is a CX-5 modified to fulfill the role of the CX-9 on the Japanese market—a market closed to the CX-9 because it's just a little too big. But is this CX-5+2 anywhere near as good as the big-boy CX-9? Does that 1% difference really matter? Let's find out.
ADVERTISEMENT - CONTINUE READING BELOW ↓
Styling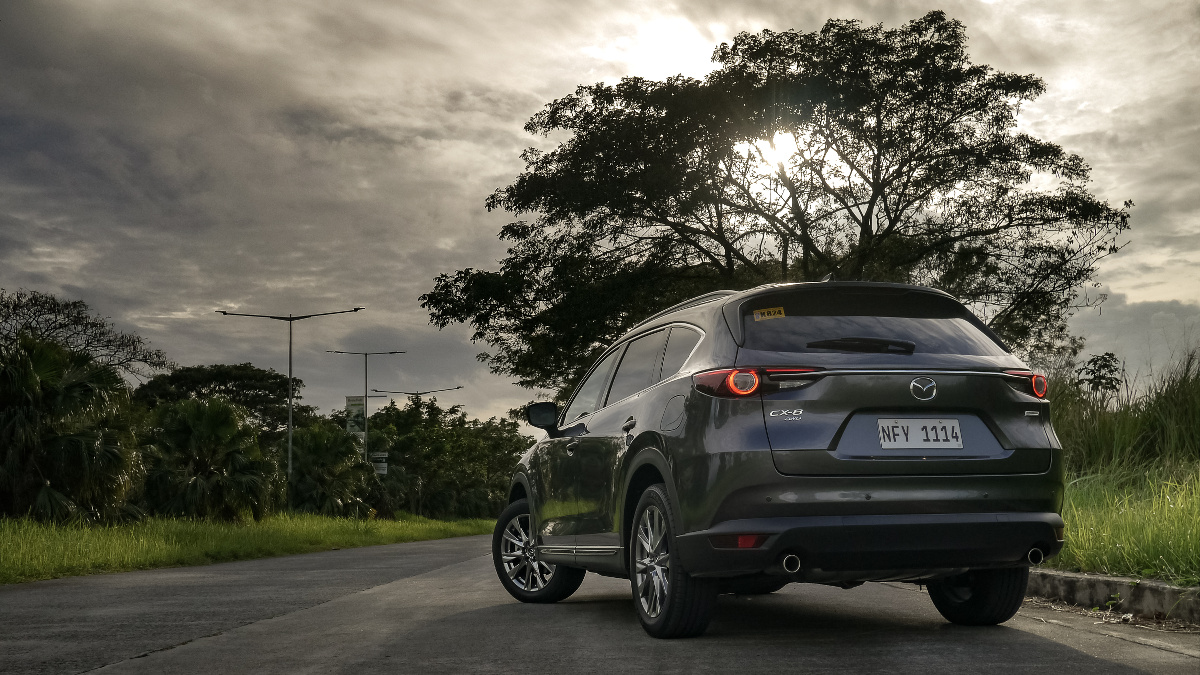 As with all Mazdas, the CX-8 features impeccable style, with jewel-like light clusters and restrained brightwork, allowing the curvaceous light-bending surfacing and the incredible paint finishes to shine through. The front foglights take this minimalism in ornamentation to the extreme, being mere pinpoints sitting in the lower fascia. The thing is, however, there's little here, aside from the barred grille, that differentiates this model from the CX-5. It's only from side-on that the extra length becomes apparent, but move around to the rear and the flowing lines hide the extra bulk well.
ADVERTISEMENT - CONTINUE READING BELOW ↓
Recommended Videos
The only stylistic nit, really, is that the rear can feel a bit understyled compared with the CX-9, but versus any other midsize seven-seater out there, this one's a looker. Bonus: The standard 19-inch split-spoke alloys fit it much better than the CX-9.
Interior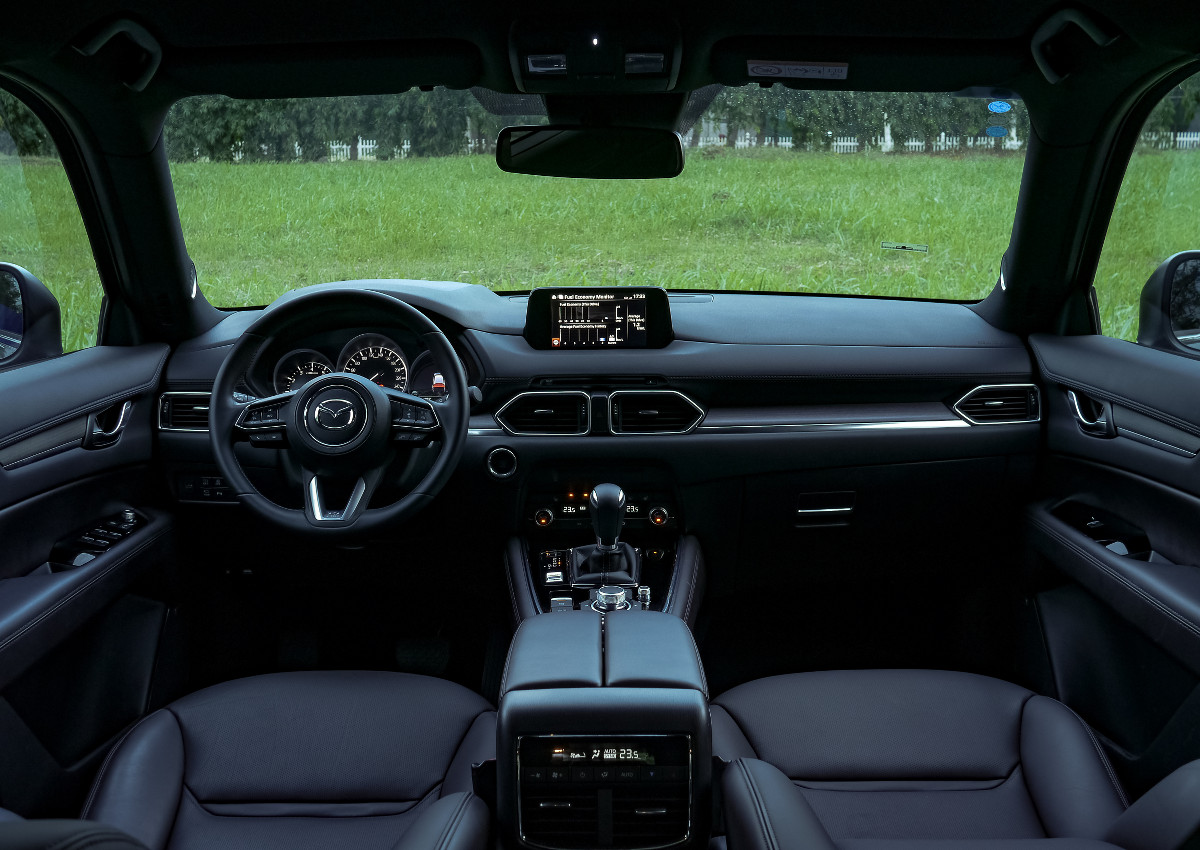 The CX-8's interior looks a lot like the CX-5's up front, no surprises there. It's a bit dark, being mostly black leather, black textured surfacing, and a smattering of brushed steel, piano finish, and dark wood accents. Ergonomics are generally good, with supportive seats that cocoon you, as in a sports car. The second row is where things begin to diverge, the CX-8 featuring twin captain's chairs separated by a large armrest/console. The third row offers slightly better legroom than the CX-9, but the shorter roofline and the narrower beam limits occupancy to shorter and slimmer passengers.
ADVERTISEMENT - CONTINUE READING BELOW ↓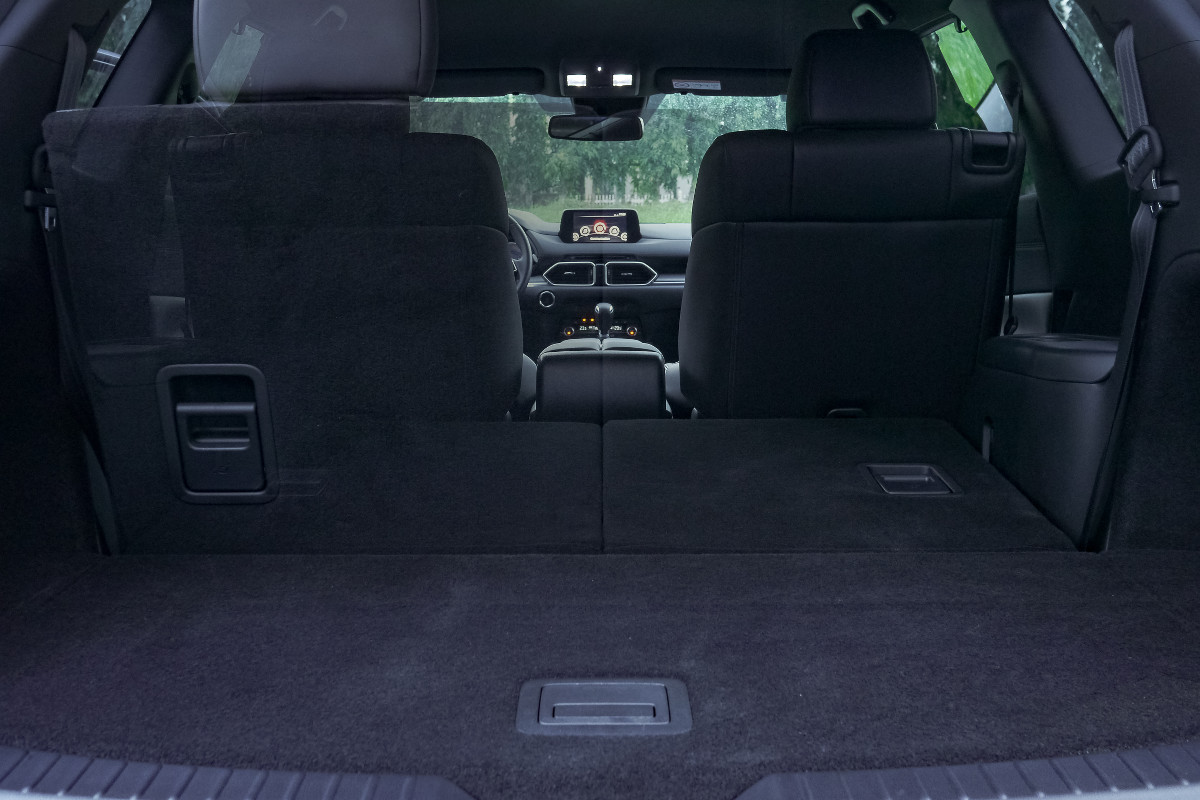 Trunk space is cavernous and flat with that third row folded. And it's likely to stay folded most of the time, as carpooling still isn't a thing most people are comfortable with in this pandemic.
Engine performance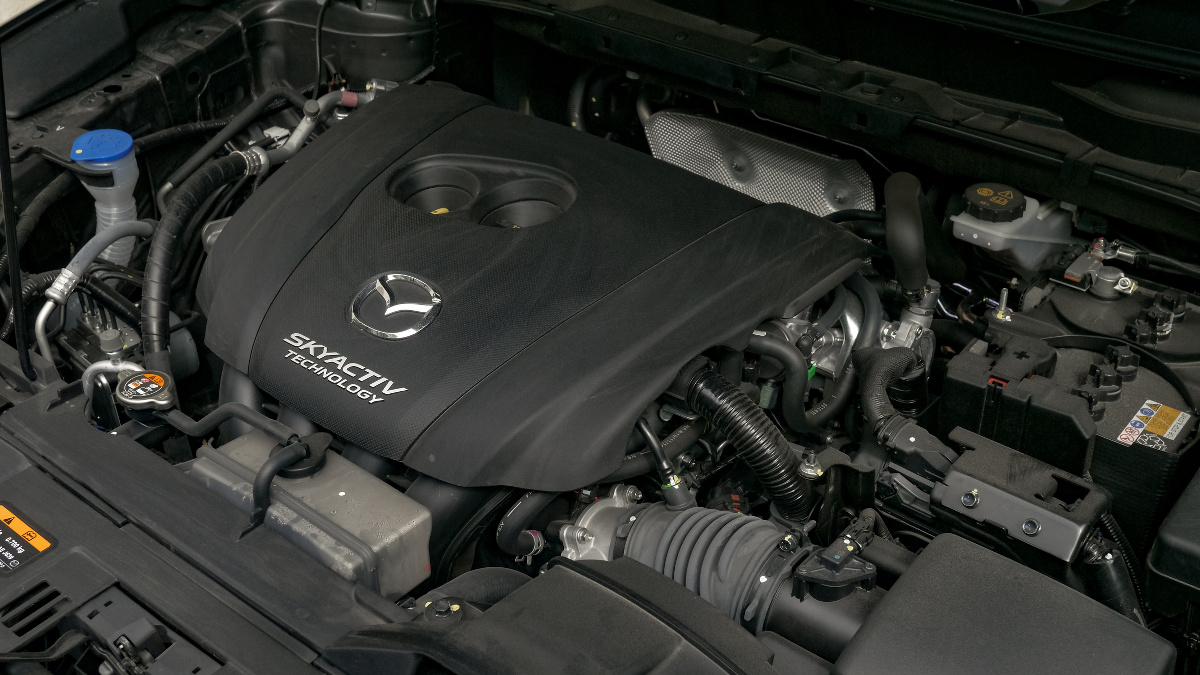 ADVERTISEMENT - CONTINUE READING BELOW ↓
The familiar 2.5-liter SkyActiv gasoline engine under the hood of the CX-8 is still one of the best naturally aspirated engines on the market. Thanks to Mazda's high-compression SkyActiv technology, throttle response is nearly instantaneous, and it makes wonderfully growly noises when you floor the pedal to overtake. With a quick-shifting six-speed automatic, it provides punchy performance, but the extra weight and drag of the longer body start to tell at higher speeds. Nil to 100kph clocks in at a few tenths under 11sec. Not terrible compared with most seven-seat diesels, but a far cry from the turbocharged CX-9 or the diesel CX-5. Can't help but feel that the lighter front-wheel-drive variant will be a few ticks faster.
Throttled back and driven with a light foot, the CX-8 does between 14-16km/L at 80kph. Much less in traffic, but 6-9km/L in mixed traffic during our time with it wasn't all too bad. Some of that was thanks to i-Stop, which turns off the engine at stoplights. Unnoticeable until it's time to restart, as the A/C stays cool for a while, even with the engine off. The transmission provided solid performance, and while it didn't slur to provide smooth shifts like some other traditional automatics do, we appreciated its telepathic response and uncanny knack of often being in the right gear. There's a manual mode, but we never felt compelled to use it. That's the mark of a good automatic!
ADVERTISEMENT - CONTINUE READING BELOW ↓
Ride and handling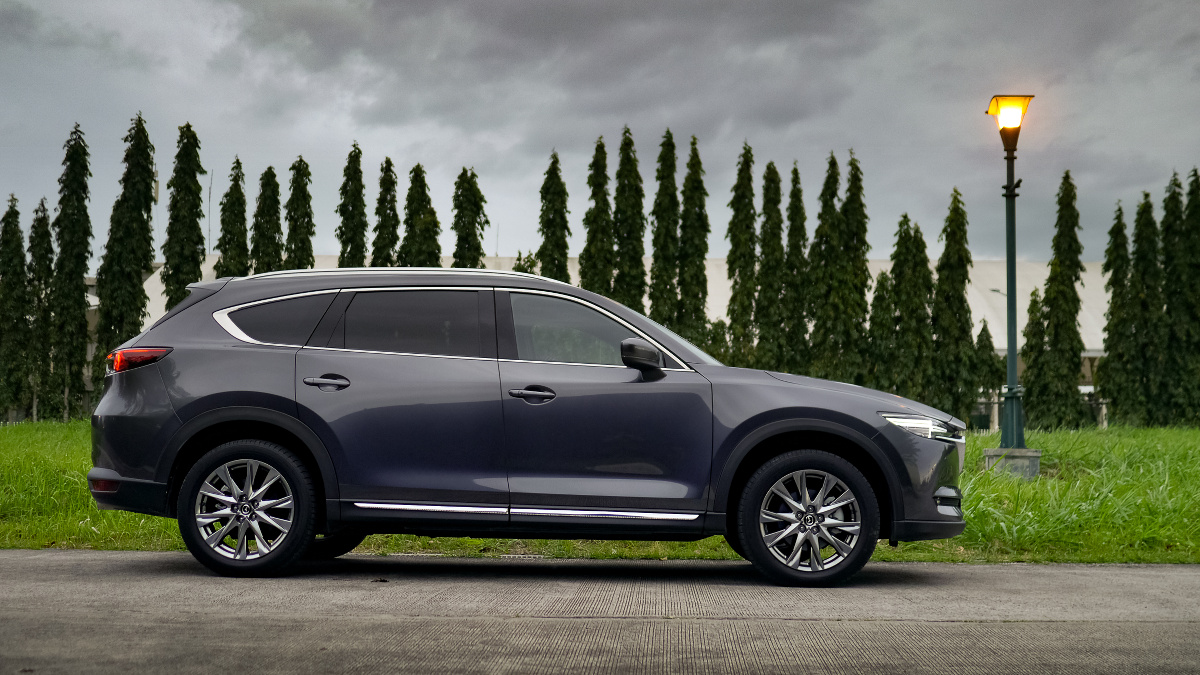 The CX-8 drives a lot like the CX-5 it is based on. You do feel that extra 200kg—slung about a foot further back—but the difference is merely a matter of degrees. The responsive front end and the telepathic steering are a joy, and the settled, damped feeling that Mazdas usually have is always a revelation after jumping in from other 'sporty' SUVs. Where other carmakers equate 'sportiness' with heavy steering and stiff suspensions, Mazda is content to let its cars flow with the road.
ADVERTISEMENT - CONTINUE READING BELOW ↓
The CX-8, despite exhibiting minimal body roll, has a relatively supple and absorbent ride. Any harsh bumps that get past the low profile 225/55 R19 Toyo Proxes tires are absorbed by the clever padding in the sculpted bucket seats, felt merely through your hands and feet rather than your backside. Granted, the car can feel a little loose over big heaves at triple-digit speeds, but this suppleness pays dividends in terms of rear seat comfort, as the third row doesn't tend to oscillate around the rear axle as it is wont to on softer cars, nor does it dribble as on firmer ones.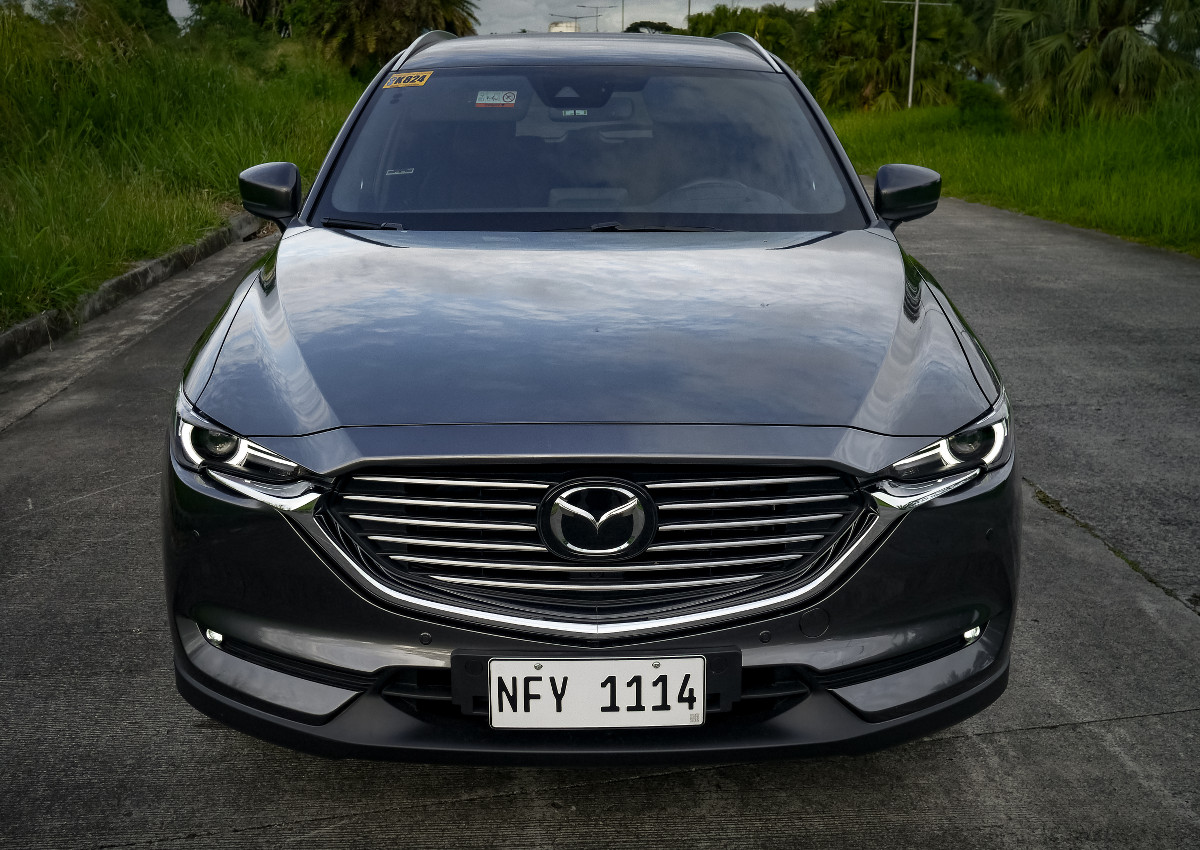 ADVERTISEMENT - CONTINUE READING BELOW ↓
Around town, the CX-8 isn't all too intimidating to drive for a three-row car, thanks to its Japan-friendly width. The length and height do pose issues while parking, but the 360-degree parking assist cameras prove quite useful in that regard. Part of a suite of driver assists that make the big car much easier for novice drivers to handle.
Extra features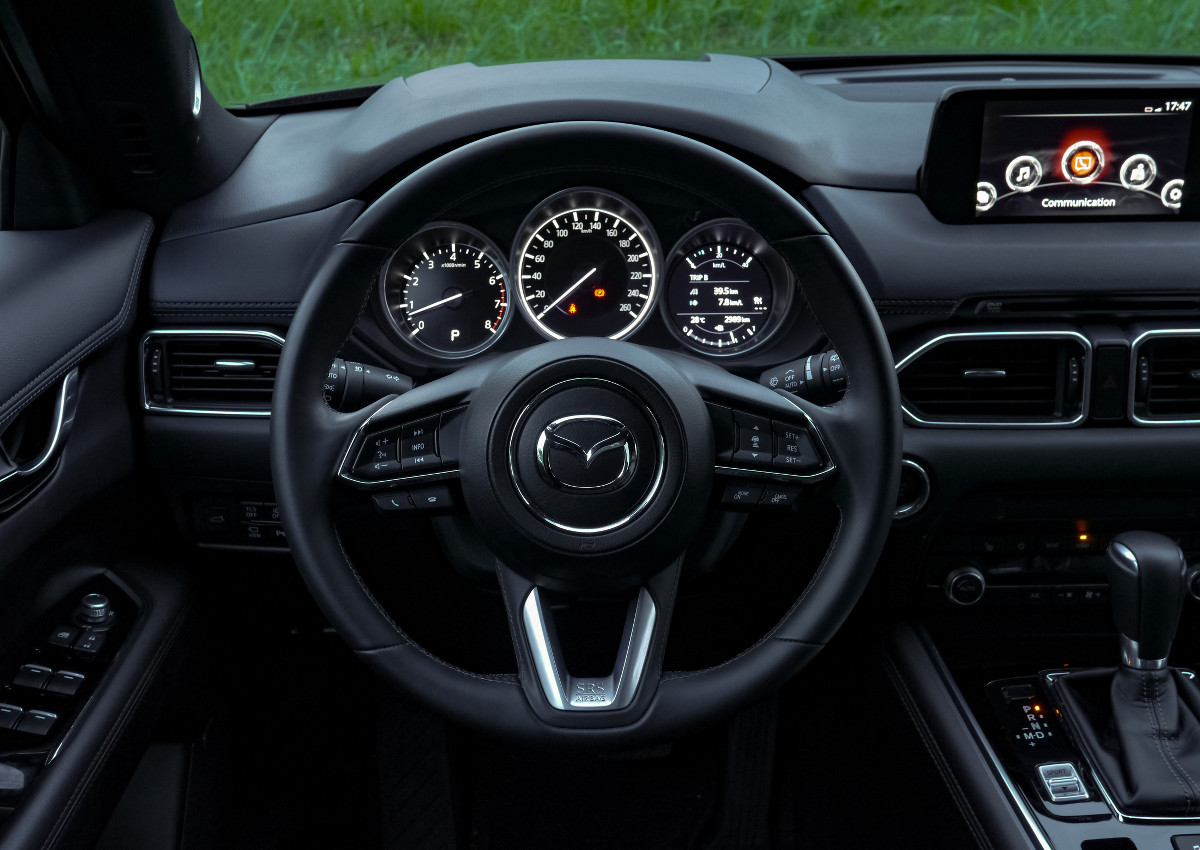 ADVERTISEMENT - CONTINUE READING BELOW ↓
Aside from the 360-degree camera system, our AWD CX-8 tester comes with the full Mazda safety suite, including radar-assisted adaptive cruise control, lane-keeping assist, assisted braking, and driver-attention monitoring, the last of which is pretty useful on long drives. As in all Mazdas, these assists give tiny little nudges to keep you in lane or out of trouble, rather than blaring klaxon sounds straight into your brain four hours into a five-hour trip. The standard FWD CX-8 doesn't have the front radar integrated into the grille, so no adaptive cruise or brake assist, but it still keeps many of the other safety features, including six airbags and multiple Isofix mounts.
Also standard through the range is the rear climate control system—plus ventilated seats on our AWD unit—all that lovely napa leather, the familiar Mazda infotainment system with its excellent 10-speaker Bose sound setup, Bluetooth, multiple USB ports, and Apple CarPlay and Android Auto...which allows for my favorite waste of mobile data, the Waze-Spotify navigation-music combo.
ADVERTISEMENT - CONTINUE READING BELOW ↓
Verdict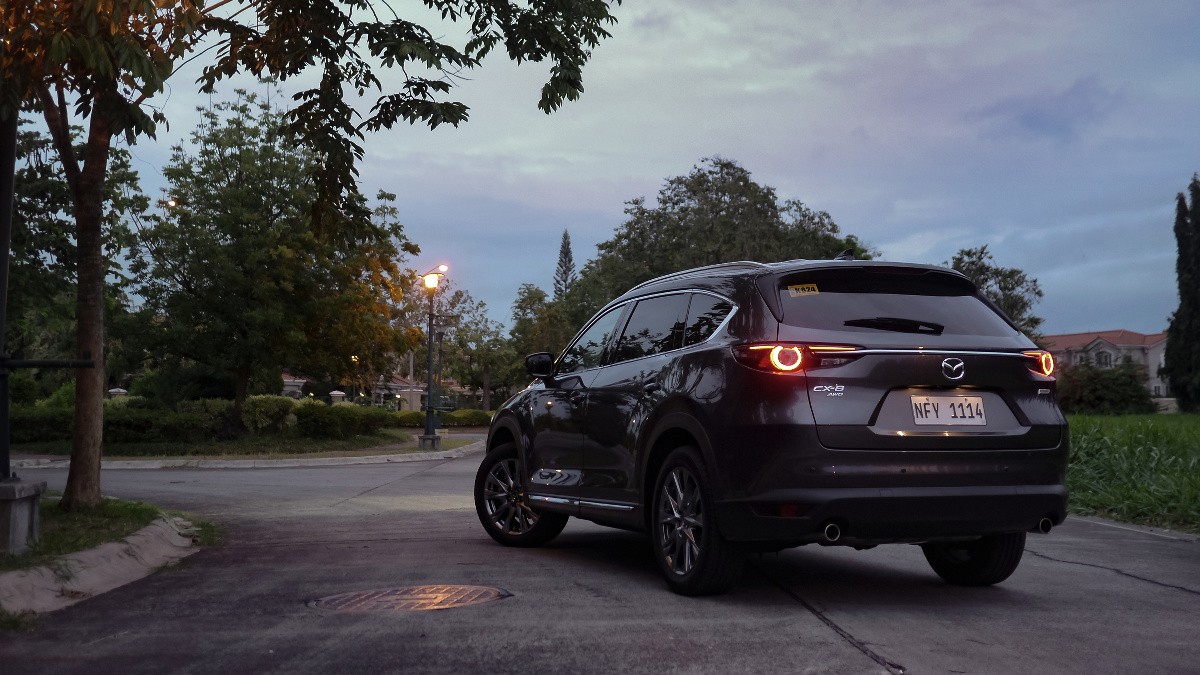 So, the CX-8 is pretty swell to drive and pretty well-loaded besides. What's the catch? Well, the base CX-9 costs P70,000 less than our loaded six-seat CX-8 AWD Exclusive. Granted, that bare front-wheel-drive model comes with a lot less in terms of toys and kit, but it comes with so much more power and space. The base CX-8 FWD Signature, on the other hand, costs P160,000 less and comes with almost everything you see here, sans some of the safety kit and the all-wheel-drive system. And both come with a full seven seats instead of six. That said, there's still a big gap to the fully-loaded CX-9, so our tester has a lot of breathing room there, but the CX-8 Exclusive is not the outright default choice in this price range. That 1% difference doesn't make it any easier to choose among them.
ADVERTISEMENT - CONTINUE READING BELOW ↓
But looking outside the brand, you'd be hard pressed to find anything as luxurious, comfortable, and dynamically capable as the CX-8 at this price point. Or even a few price points above. In fact, it's hard to imagine why you'd spend money on cramped European 'luxury' subcompacts with badges bigger than their bootlids when you could instead be driving something as sublime as this.
Here, that 1% difference makes no difference at all.
SPECS: Mazda CX-8 AWD Exclusive 2021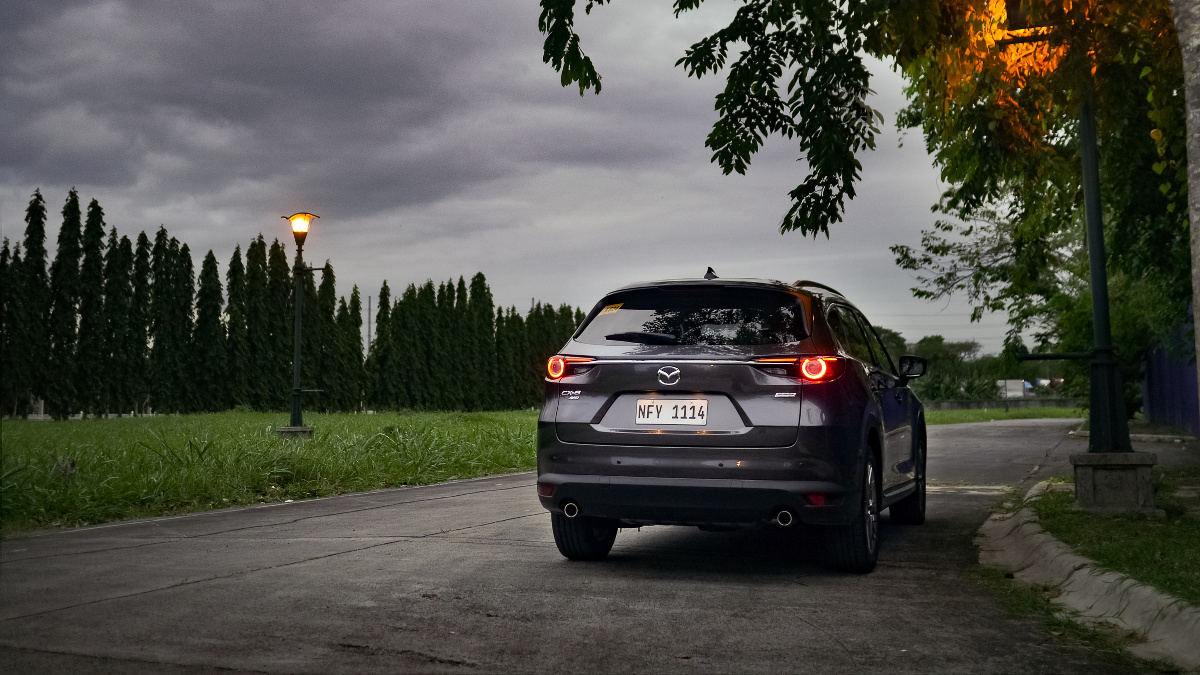 ADVERTISEMENT - CONTINUE READING BELOW ↓
Price: P2,490,000
Engine: 2.5-liter gasoline I4
Power: 187hp @ 6,000rpm
Torque: 252Nm @ 4,000rpm
Transmission: 6-speed automatic
Drive layout: AWD
Seating: 6
Score: 19/20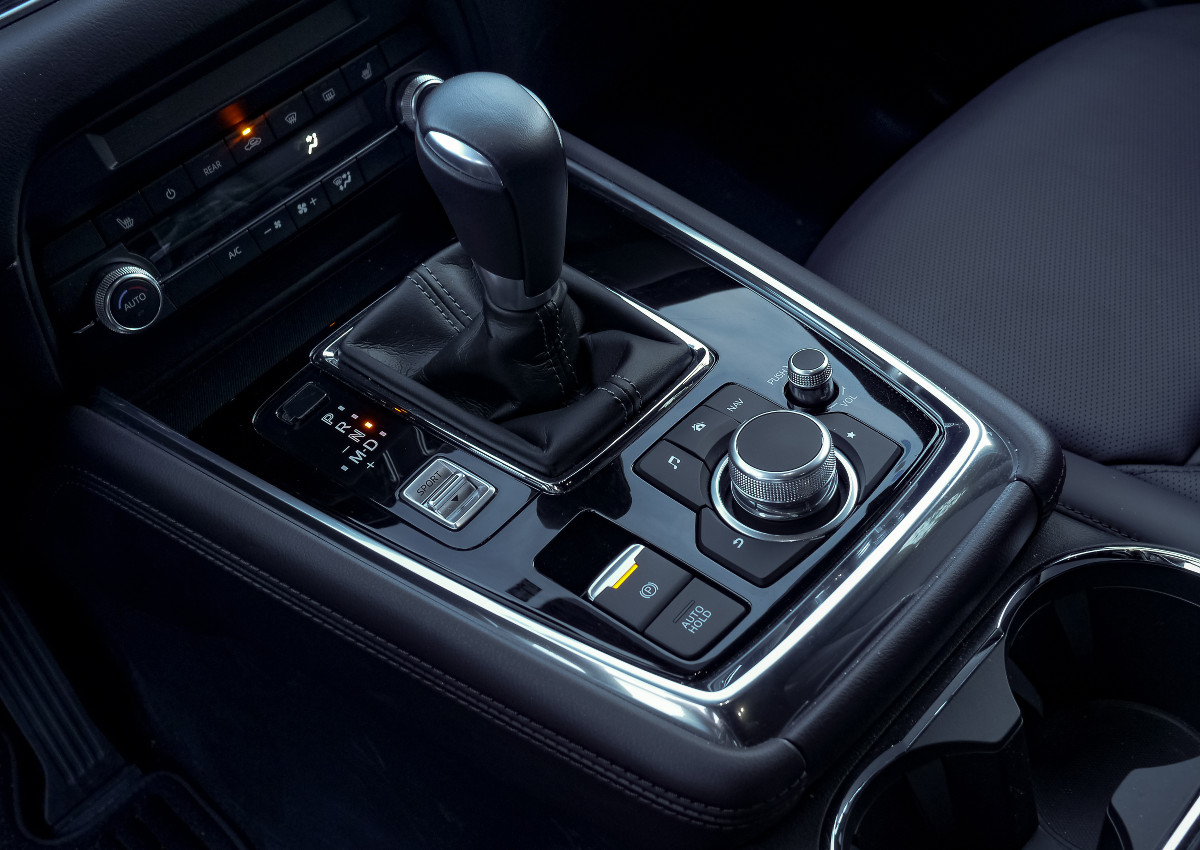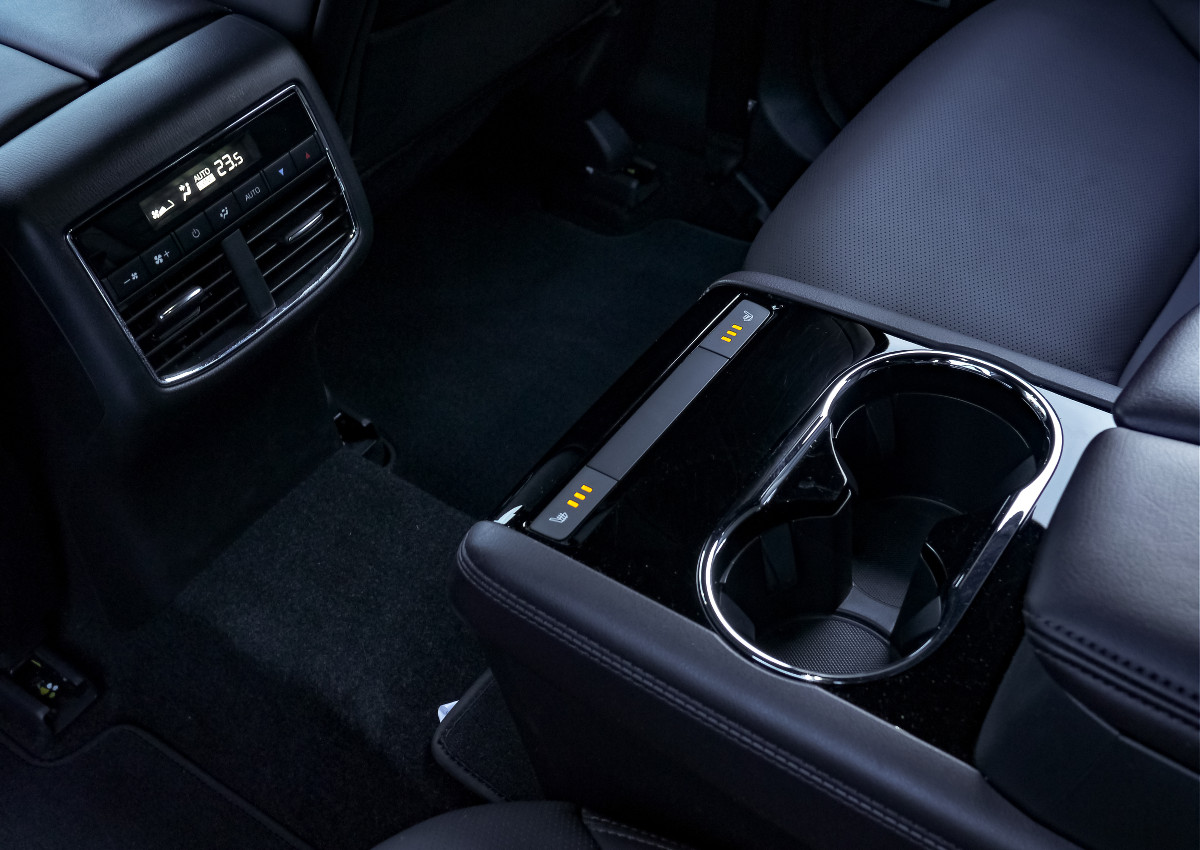 ADVERTISEMENT - CONTINUE READING BELOW ↓