The previous Suzuki Dzire was a delightfully weird car built to exploit Indian-market tax breaks for sub-four-meter sedans. It drove better than it had any right to, thanks to Swift-based roots, but decent dynamics couldn't balance out the low-rent interior and the rather...er...challenging looks. With the switch to the new Heartect platform, the Swift gains +10 sexiness and chunkiness. The Dzire goes a slightly different direction, but still gains a big upgrade in terms of looks and specs.
Is this enough to finally make it desirable? Don't groan, you knew that joke was coming. First impressions? Maybe. Second impressions? Read on to find out.
Styling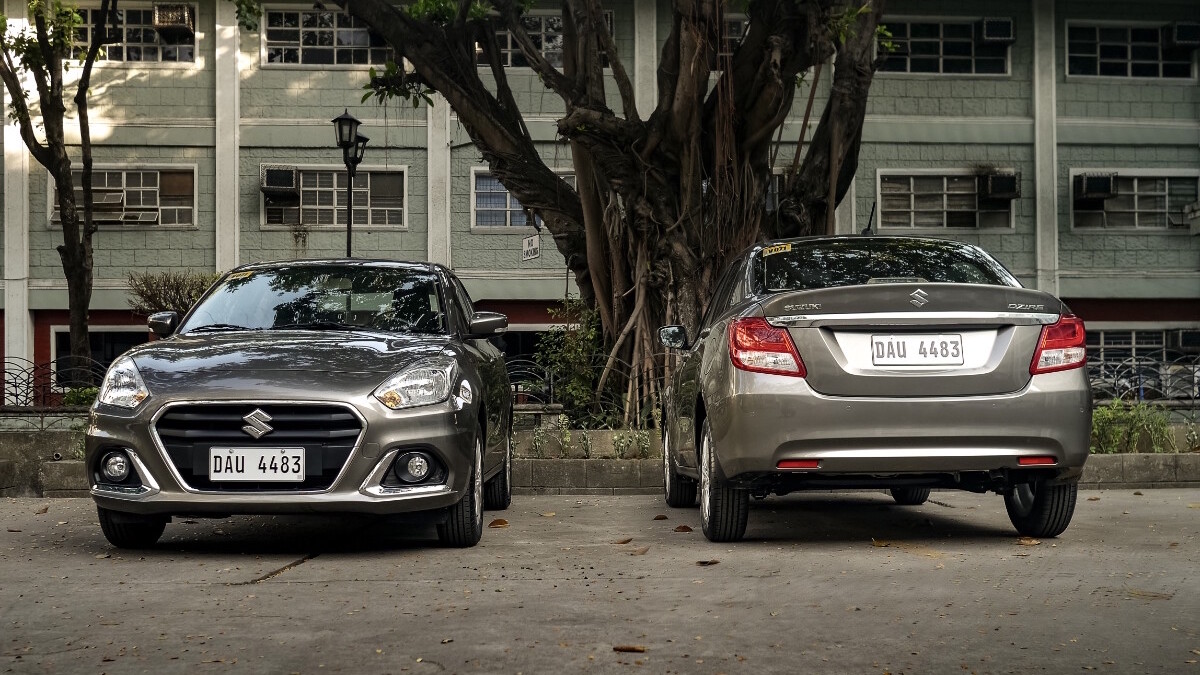 Continue reading below ↓
Recommended Videos
Where the old Dzire was basically a Swift with a prosthetic posterior worthy of Tom Cruise, this one is a more stylish proposition. It mixes the sporty, wide-hipped, nose-down stance of the square-roofed Swift with the swept-back roofline and the flowing contours of the Ciaz. There isn't as much of a trunk as in the long and low Ciaz, but a prominent lip spoiler gives the Dzire a sporty demeanor. The split-spoke 15-inch alloy wheels could use a dash of color, as they look rather generic in the light, but they put a chunky amount of rubber under the fenders.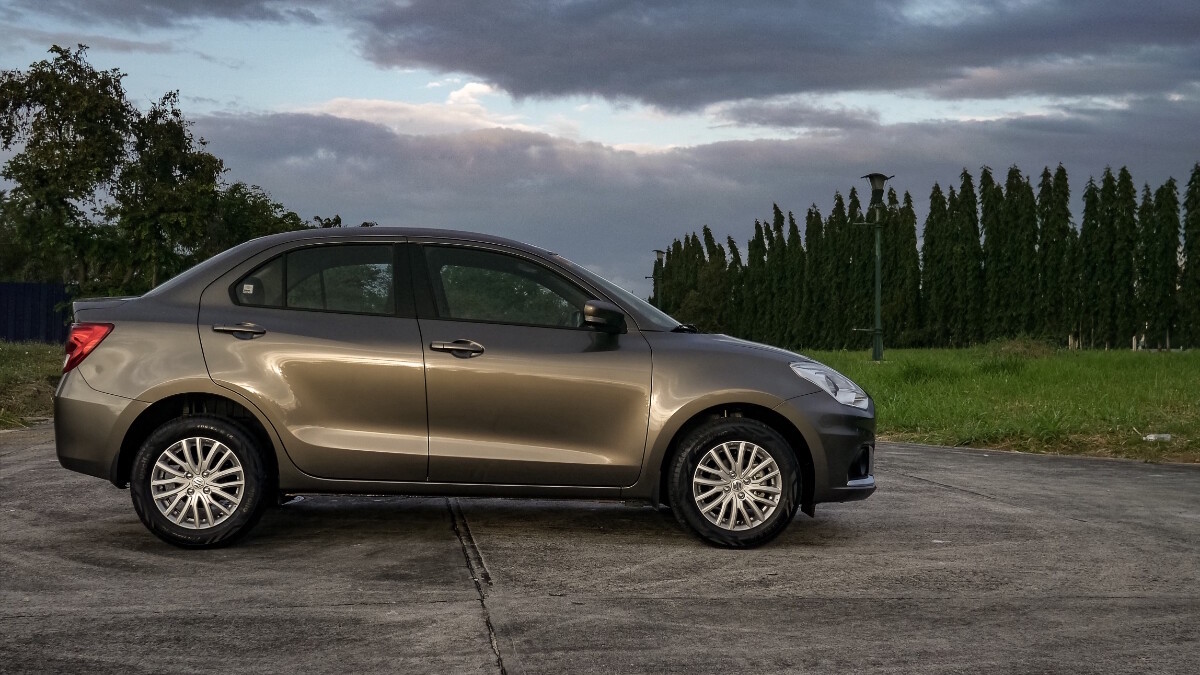 Overall, while it can feel slightly understyled in comparison to its extroverted twin, the Dzire's bottom-heavy proportions make it look like a proper toy racer.
Interior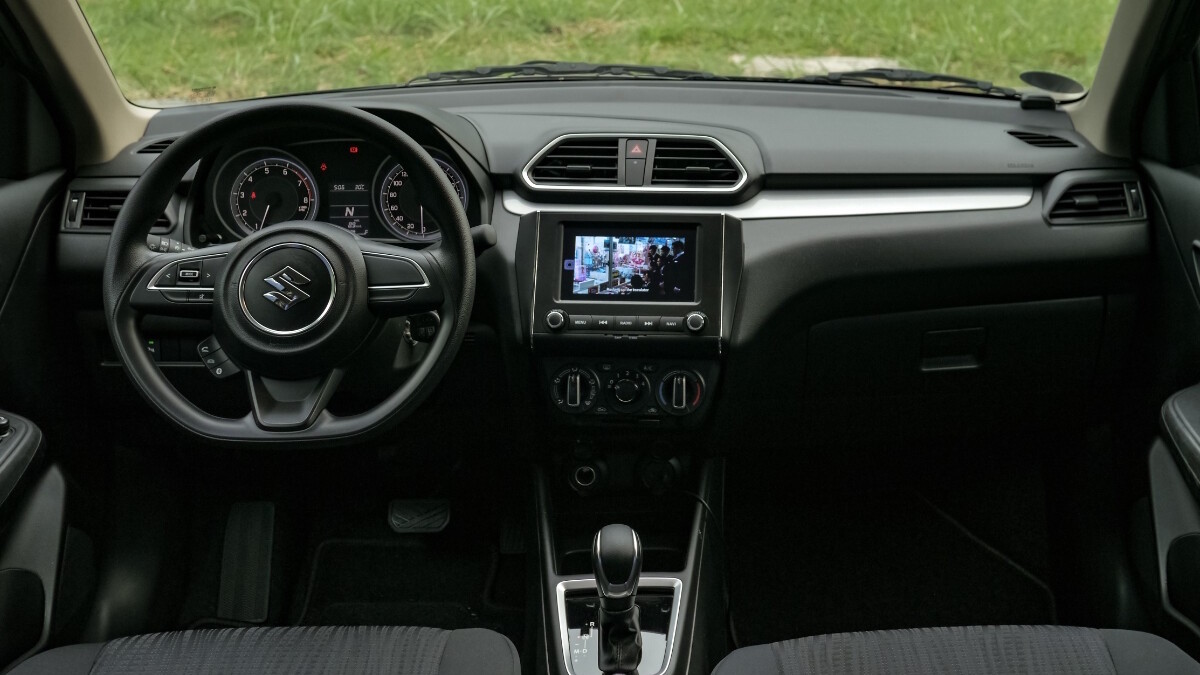 The interior reflects the same minimalist ethos as the previous car, but with a lot more flair. It's all hard black plastic with a dash of silver, but the finishes are pleasant to touch and panel fit is tight. The only naff plastic in here is the big blanking plate around the seven-inch touchscreen, which sits in a space meant for something bigger. The asymmetrical center stack is ever-so-slightly canted toward the driver, which makes taking a straight photo of the dash maddeningly fiddly. Deeply recessed twin gauges echo the driver-centric theme, the needles resting at six o' clock against a racy black-on-black mesh background.
Decently bolstered black fabric seats get movable headrests, unlike the fixed ones in the Celerio. Ergonomic adjustments are limited, but high-mounted squabs mean minimal knee fatigue. They also free up a lot of rear legroom, though the deep bench and the small doors make entry more challenging than in other sedans. There's good headroom once you're in, and second-row air vents thoughtfully angled at your head rather than pointing straight at your knees. Lovely.
By repackaging the spare, shrinking the gas tank, and reprofiling the rear seat, Suzuki has managed to find an extra 73 liters of space for the trunk. Granted, the 378-liter cargo capacity is no patch on the 510 liters in the Ciaz, but that's half a meter longer and nearly P200,000 more expensive. You won't be able to lay a big stroller completely flat in the Dzire, but you can shove it in and still have space left over for a few suitcases besides. That's a victory in itself. Too bad intrusive chassis bracing prevents Suzuki from putting a trunk pass-through.
Engine performance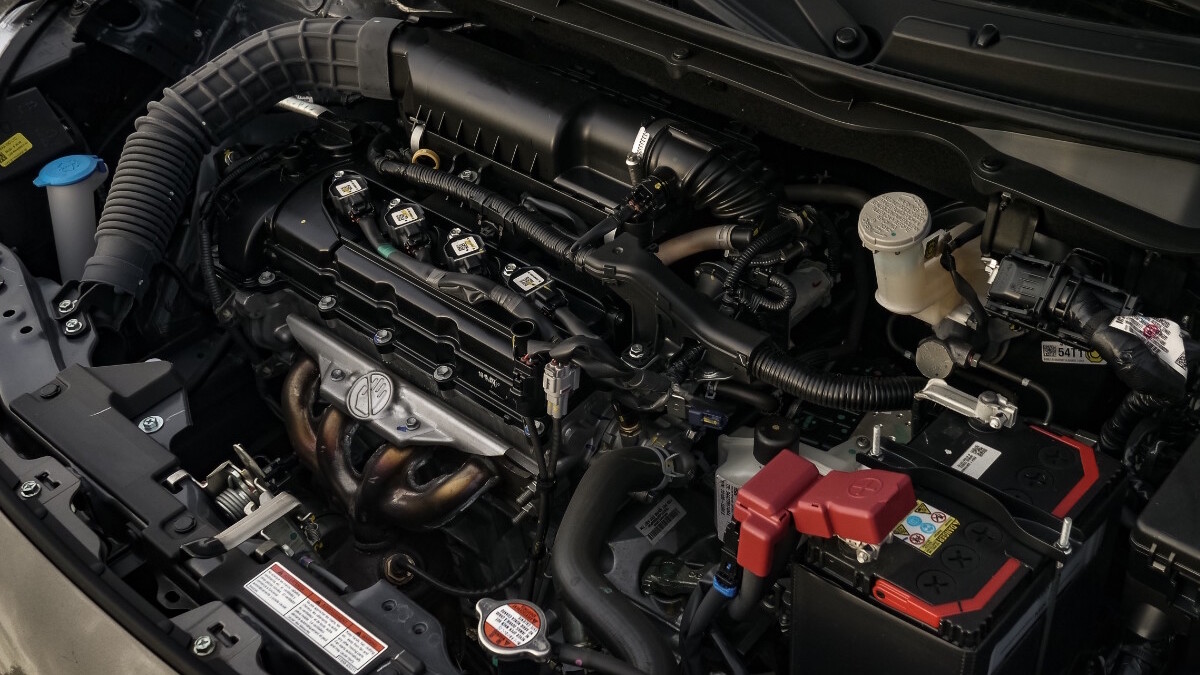 The old Swift's 1.2-liter K12M four-cylinder gasoline engine in the Swift has always impressed me. The long-legged four-speed automatic transmission has not. In its stead, the new Dzire features Auto Gear Shift (AGS), a five-speed manual transmission with electro-hydraulic actuators in place of the shifter and the clutch pedal. In traffic, AGS operates mostly like a standard automatic. On the open road, it provides the torque delivery and economy of a manual transmission. But this comes with a cost.
While the system shifts down smoothly, there's a considerable pause between upshifts, as the computer waits for engine speed to synchronize with the next gear. You can make shifts smoother and faster by letting off the gas pedal a bit when you shift in Manual mode, but it's hard to time those lifts in automatic Drive mode. The automatic system also feels hesitant and indecisive in cut-and-thrust traffic, and you can sometimes get some juddering when stuck a gear too high. After a day or two, we used Manual mode almost exclusively.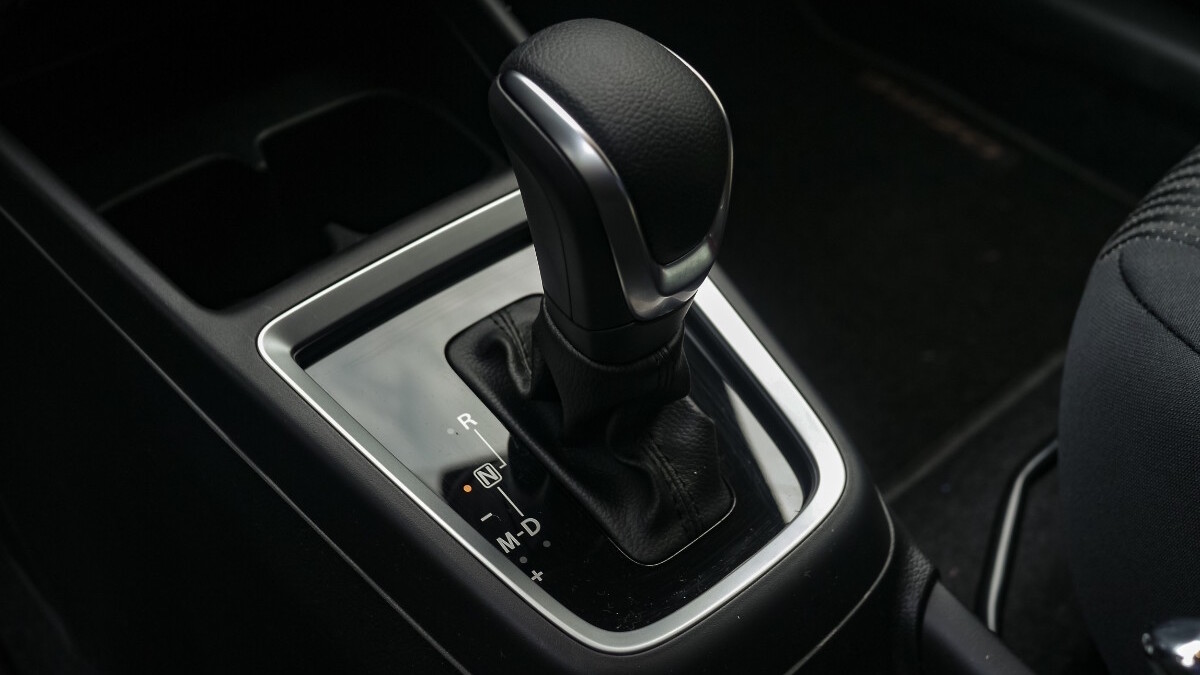 In this mode, in-city economy is around 11-13km/L. In automatic Drive mode, it is 1-2km/L less. Highway economy hovers in the 26km/L+ range at 80kph, whichever mode you use. That's about what the smaller Mirage or Celerio hatchbacks can do with a CVT. Maybe once it's broken in, we'll try for the mythical 30km/L run.
Ride and handling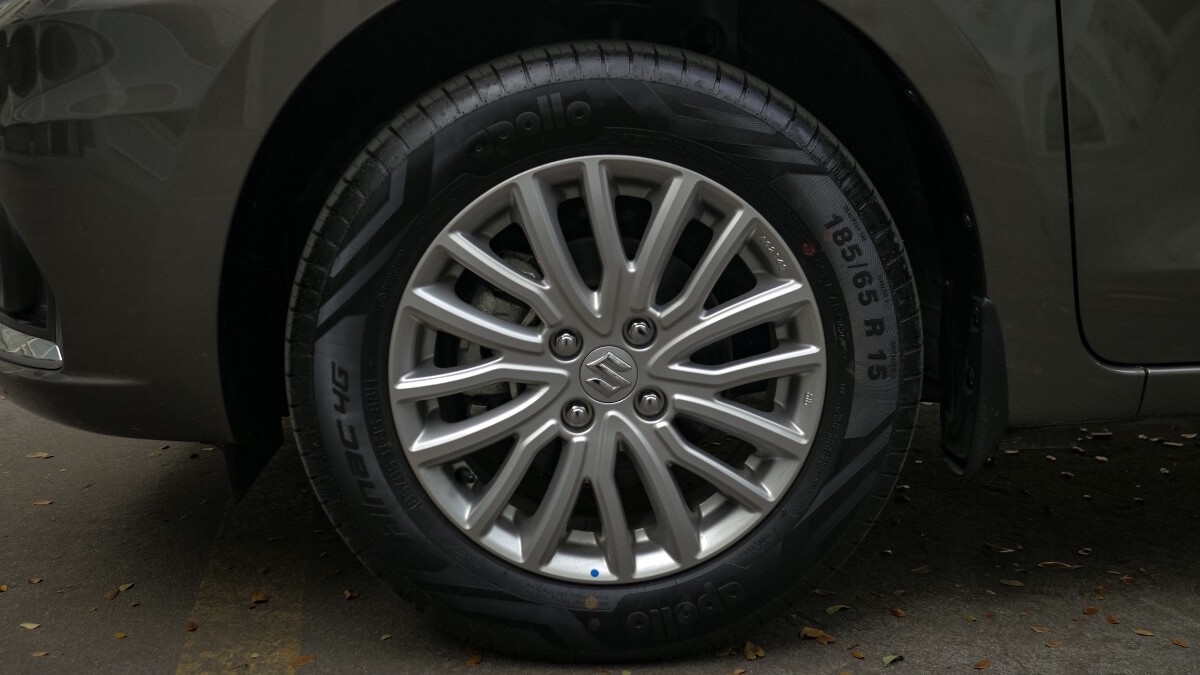 Whatever the shortcomings of the transmission, the rest of the package shines. Even on balloon-like 185/65 R15 Indian-market Apollo Rinac 4G tires, the Dzire exhibits quick turn-in and responsive, finger-light steering. No surprise, the Swift has always punched above its weight in terms of dynamics. Unfortunately, braking isn't quite as good. While the disc-and-drum brakes work well, there's too much dead space at the top of the pedal. Not an issue while commuting, but not ideal for early-morning tofu runs.
On the highway, the Dzire is generally quiet, despite light doors and body panels, and tracks straighter than most small cars do, thanks to its square stance. It does get busy over rough patches owing to its short wheelbase, but suspension control is generally very good.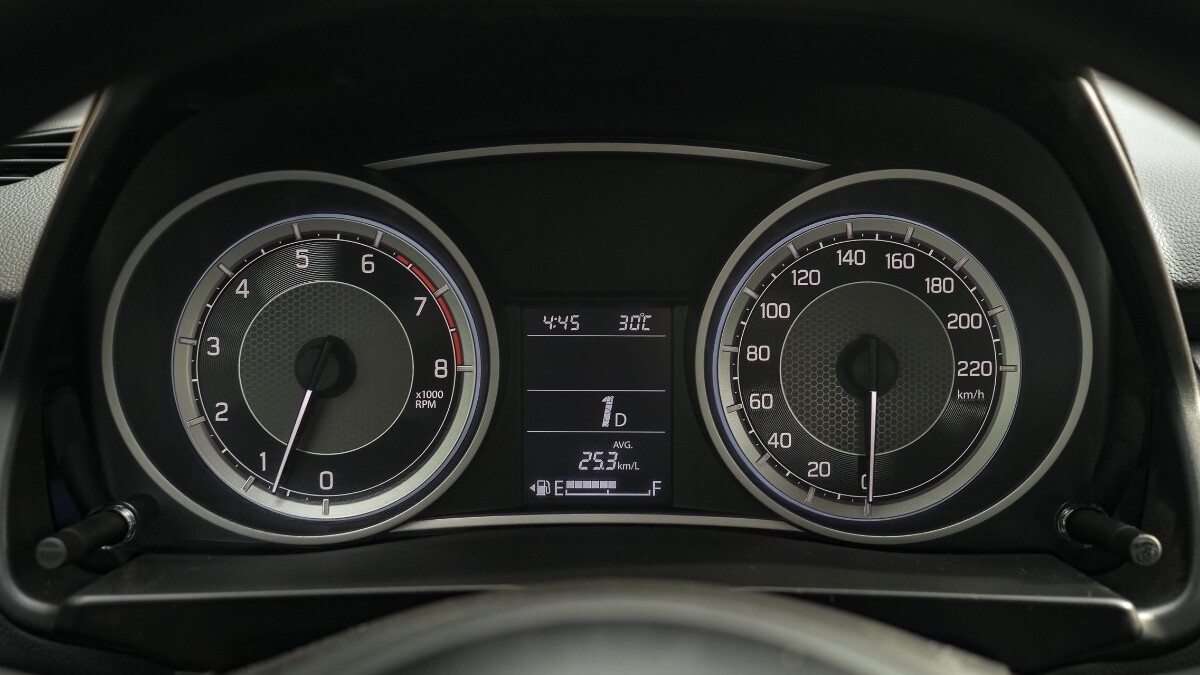 In city traffic, the Dzire is firmly in its element. While wider than other small cars, big glass and a snub nose have you threading through alleys and diving for parking spots that won't fit any other sedan out there. Backing into parking slots does expose one of the Dzire's weaknesses: rear visibility. Narrow side mirrors and a small rear windscreen make it hard to see what's behind you. Thankfully, the Dzire features rear parking sensors, though the warning tone is a bit difficult to hear over the radio.
Extra features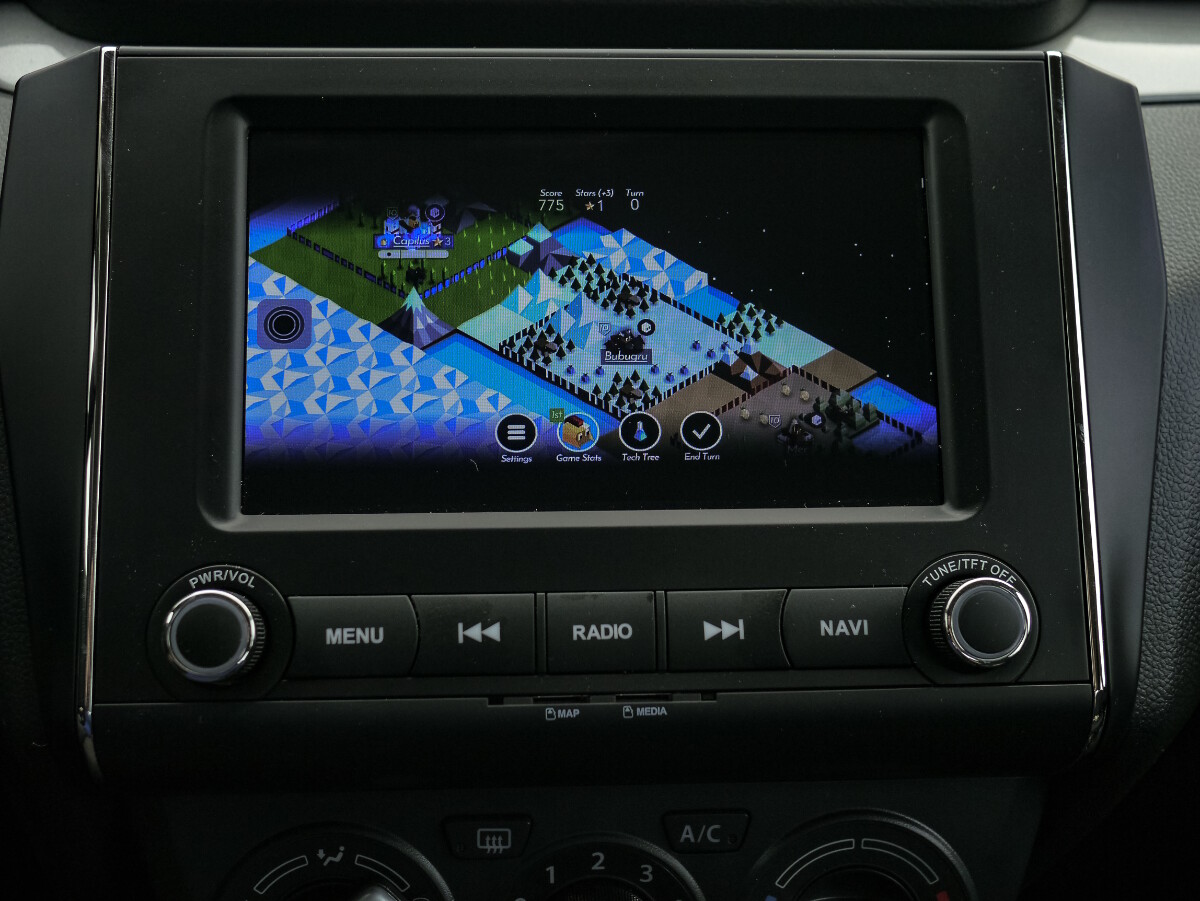 In terms of other toys, the Dzire isn't too bad off. The seven-inch touchscreen comes with GPS navigation, Bluetooth, and smartphone integration. No Android Auto, but the on-board AutoLink smartphone mirroring system allows you to control your phone on your dashboard. The manual variants miss out on the touchscreen and GPS, but they still get Bluetooth and USB connectivity. As an added bonus, Suzuki put a wide shelf for the phone in front of the instrument gauges, angled to keep your phone from falling to the floor.
On the debit side, sound is basic, and the only adjustments are bass/treble sliders with a limited range. The speakers themselves are surprisingly decent if you adjust your phone's built-in EQ. Another drawback is that AutoLink has no safety restrictions. Which means you can watch the Snyder Cut while driving through EDSA traffic. Not that you should.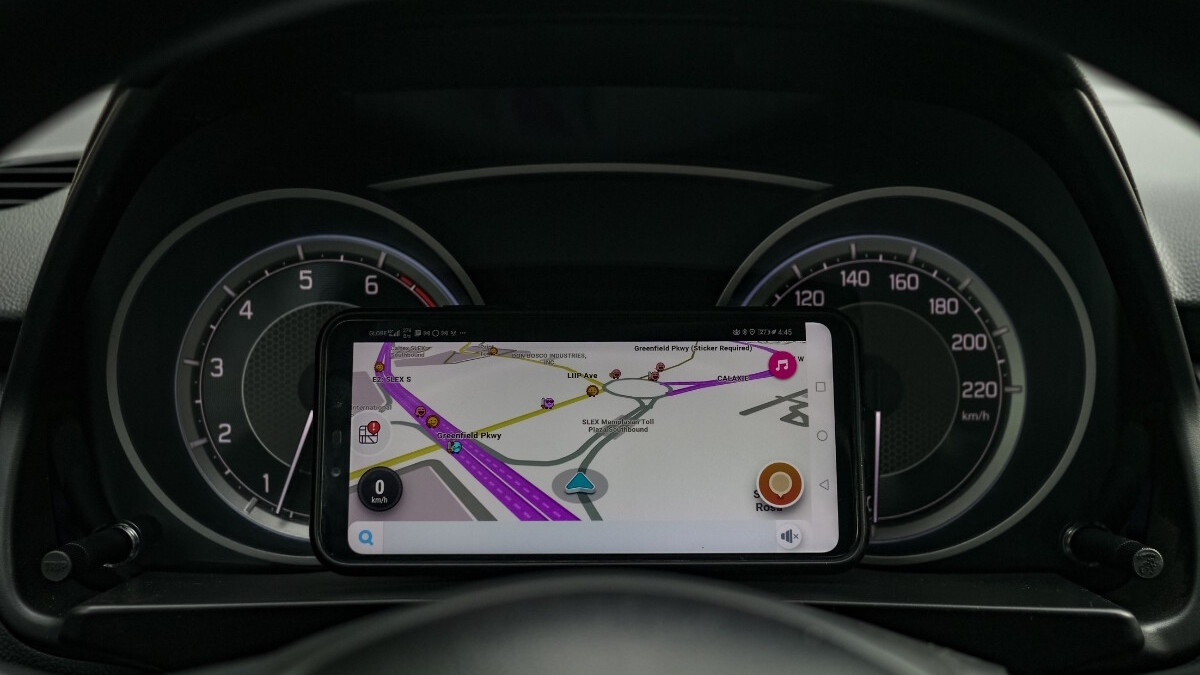 Other noteworthy features are front foglights, remote locking, Isofix child-seat anchors in the rear, stability control, and brake assist. As with the S-Presso, a disclaimer about crash safety ratings should be made: Our Swift/Dzire variants have safety features not present on the Indian Swift, and lack a bit versus the European Swift. So, expect safety to sit somewhere between the two-star Indian Swift and the four-star European one. Which misses that last star only due to a lack of pedestrian avoidance systems.
Verdict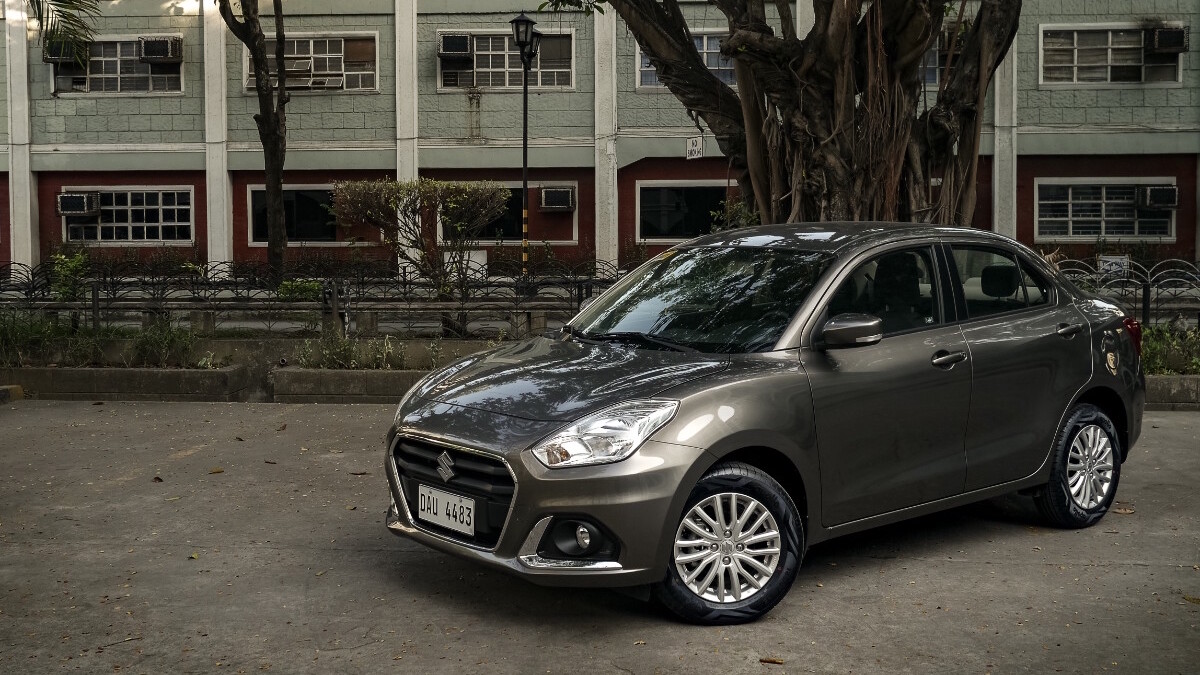 The Dzire isn't the greatest sedan in the world, but considering the Honda Brio Amaze is MIA, it doesn't have any direct competitors. While you can get bigger sedans for not much more money, the Dzire's Swift-like agility, newfound refinement, and ultra-low running costs make it a compelling option for penny-pinching plebes. The Auto Gear Shift system won't be to everyone's taste, however. While it provides exceptional economy, frugal fuel-misers might be better served by the manual-transmission Dzire. Which costs P60,000 less. And with its light clutch action and sweet gearshift, there aren't any major drawbacks to the three pedal car.
A manual-transmission Swift for P125,000 less than the hatch? With a bigger boot? Don't mind if I do.
SPECS: 2021 Suzuki Dzire 1.2 GL+ Auto Gear Shift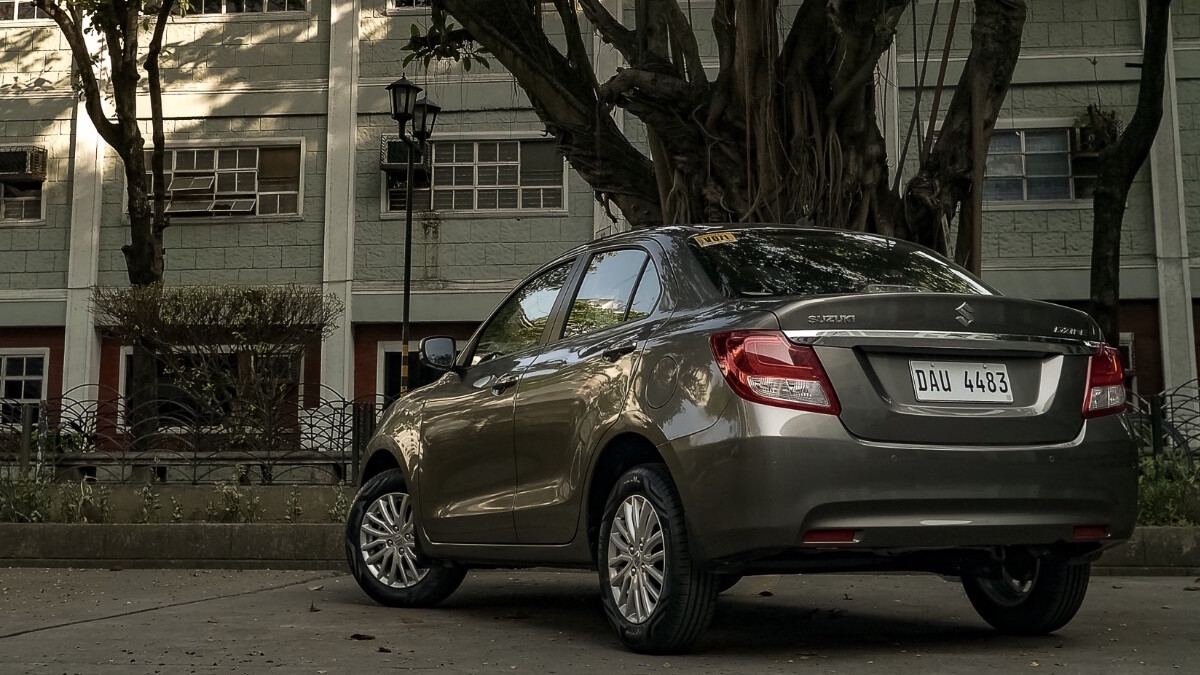 Price: P708,000
Engine: 1.2-liter DOHC I4
Power: 82hp @ 6,000rpm
Torque: 113Nm @ 4,200 rpm
Transmission: automated manual
Drive layout: FWD
Seating: 5
Score: 15/20