The utter absurdity of the BYD Tang doesn't hit home until you activate "Acceleration Timer" mode. After the short pre-launch song-and-dance switching various toggles and displays to "Full Attack", the silent, all-electric launch is disappointingly void of thunder or fury. At 20kph, however, the gasoline engine kicks in, and the push intensifies. At 40kph, the dual-clutch automatic shifts into second and the tires erupt into glorious clouds of smoke. All-wheel drive and ultra-high performance tires prove no match for 820Nm of torque. By 60kph, where other cars start slacking off, the Tang is accelerating faster than it did at launch, as the full 497.5 horsepower thunder and fury of all three drive motors finally sync up. 4.9 seconds later—according to my 10Hz GPS transponder—we're at 100kph.
In 4.9 seconds. In a seven-seat, 2.2-ton, hybrid-electric crossover.
BYD is so proud of this achievement that—aside from the '4.9s' badge on the tailgate—they reference it in the '542' badges on the fenders. '542' stands for 'under 5 seconds', 'electric 4 wheel drive' and '2 liters per 100 kilometers'. Each factoid impressive in isolation, but together, encapsulating the maddest crossover on the market.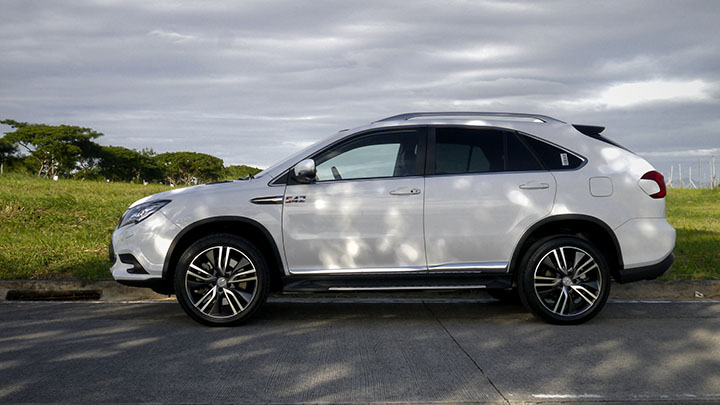 Continue reading below ↓
Recommended Videos
Named after the ancient Imperial Chinese Dynasty, the Tang is a spin-off of the BYD S7, successor to the controversial Lexus-alike S6. A car which took so much inspiration from the second generation Lexus RX that there are badge-and-grille kits to convert it into a reasonable RX facsimile. The newer S7 takes a wildly different design tangent, vaguely Hyundai-ish, but with its own identity. The Tang tops this off with mesh grilles, fake air vents and lots of black cladding. A package topped off by gigantic 20-inch alloy wheels wrapped in 245/40R20 Continental CrossContact ultra-high performance tires. They feel a size too small but are supposedly the biggest that will fit under the fenders.
The cabin is tastefully finished in chocolate-colored leather with brushed steel and charcoal-gray wood accents. All basking in the warm light coming through a panoramic sunroof so large that it takes nearly half a minute to retract the electric sunshade. A flat-bottomed steering wheel with a glowing blue 'Tang' symbol sits in front of a reconfigurable LED instrument cluster. A smaller LED screen nestled between the stylish air vents shows the status of the PM2.5 particulate filter, which cleans the cabin air. And a giant 10.3-inch LED infotainment screen displays readouts on tire pressures, all-terrain modes, hybrid function, and vehicle system settings. The Android-based user interface allows the installation of Waze and Spotify via Wi-Fi tethering. While lacking such niceties as lane-keep assist and radar cruise control (there's merely standard cruise), the Tang features a 360-degree parking camera and proximity alert system that remains active at speed, useful on tight Manila streets. And the same remote-start and remote-driving feature as the BYD Qin, which allows you to fulfill your 007 spy car fantasies. Only much more slowly.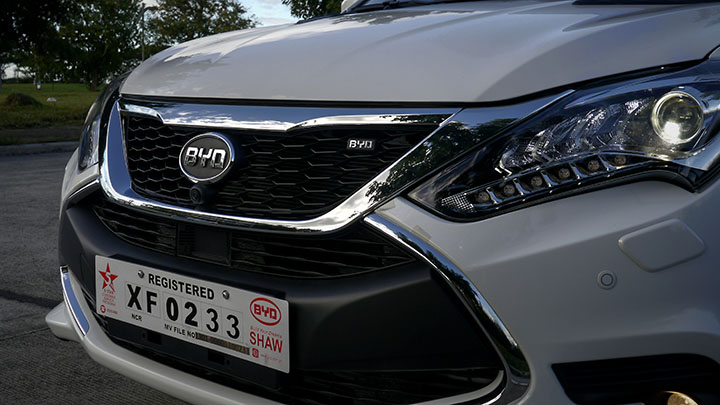 Of course, the Tang's biggest party trick is the EV system. Even with the 202 horsepower, turbocharged gasoline engine switched off, the twin 110kW front-and-rear electric motors—good for 295hp —propel the Tang to 100kph in just 6.6seconds. That's over a second faster than the nearest comparable hybrid crossover, the Lexus RX450h. And where the Lexus' electric range is limited to a few kilometers, the Tang's big 18.4-kilowatt-hour underfloor battery promises an 80-kilometer all-electric range. Hence the "2 liters per 100 kilometers" claim. First 80 on the battery, last 20 on gas.
At 10 pesos per kilowatt-hour, that's equivalent to doing 21 kilometers a liter. At 80kph on the highway, the projected range increases to 90-100 kilometers. In traffic, it drops to around 40-50 kilometers.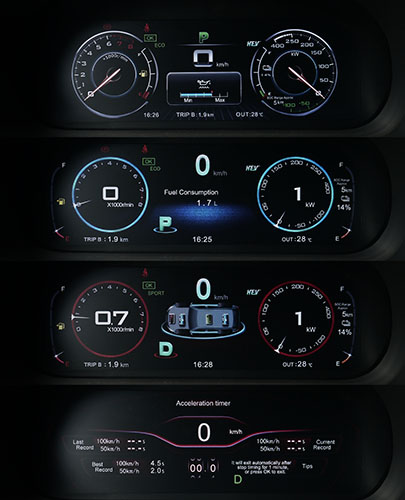 Unfortunately, I typically drive over a hundred kilometers a day. After about 65 kilometers or so, when the battery charge falls below 15%, the gasoline engine grumbles to life with a gravelly bark, acting as a generator to preserve the batteries. Preserve only, as it isn't powerful enough to fully charge the pack. There's no option to run purely on gasoline. The Tang uses the electric motors exclusively below 20kph to reduce stress on the transmission clutch packs. As such, fuel economy on gasoline peaks at 10-12km/L, dipping to 5km/L in traffic. Not great, but as most 500 horsepower cars struggle to get economy half that good, it's still impressive.
A bigger problem is charging time. While the Tang happily drinks low octane 92 RON gasoline, electricity is much cheaper per kilometer. Unfortunately, the Tang's 220V wall charger, at 1.6kW/h, takes ten hours to recharge the battery. There's reverse charger cord that allows you to plug 220V appliances into the Tang, but that's of little help here. More useful is the bundled 3.3kW quick charger that tops the Tang off in just five hours, but this has to be wired straight into your home. The Holy Grail here, however, would be an EV Charging Station, where you can top off in less than an hour. But there is just a handful in the country so far. Worse yet, some don't have the proper adapters for the Tang's Type 2 charging port. But with EV stations going up in high traffic places like EDSA, accessibility will likely improve.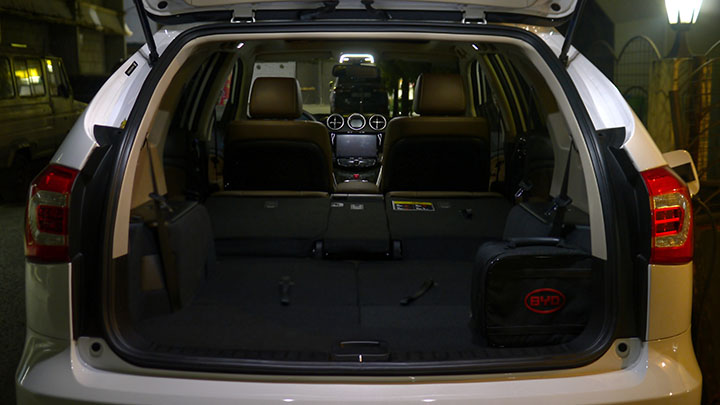 Other nits? Well, the third row is understandably tight, and with the electric hardware underfloor, there's no room for a spare tire, just a repair kit. The parking camera and collision warning system tend to lag, so it's best not to perform parking maneuvers too quickly. And those big Continental tires tend to thump about over rutted roads, likely due to the high 38 psi inflation pressures needed to cope with the Tang's weight. That said, they're commendable for their exceptionally low rolling resistance and excellent grip. Push too hard, however, you and you can feel all of the Tang's 2,220kg pushing down on them in the corners. And while the Tang features an oh-so-trendy terrain management system, there's no way you're taking those shiny wheels and tires anywhere even remotely muddy. The multiple steering modes also feel rather superfluous. I left it in "Sport" the whole time. I do wish regeneration and 'state-of-charge' settings weren't buried in a sub-menu. The ability to switch between coasting mode and engine-braking regeneration mode via a single button push would be great.
Despite these niggles, the Tang is perhaps the most exciting hybrid I've ever driven. The only other plug-in with similar performance and utility is the Porsche Cayenne. Which is less efficient, marginally slower, several times more expensive, and not available here. Even the aforementioned RX450h costs over 1.6 million more. For less capability and space.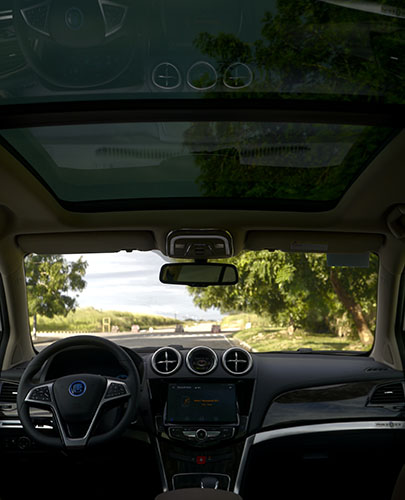 Then again, the RX450h is a Lexus. The Tang, despite having a more premium air than any BYD before it, still feels rather middle-class in comparison. But unlike the RX450h, the Tang's remarkable performance makes it desirable as something other than a boardroom status symbol. It's appealing in the same way a Mitsubishi Evo is appealing: It subverts your expectation of the car and the brand completely.
Yes, this is the first Chinese car that I would venture to describe as desirable. Not as a cut-price alternative to anything mainstream, but as a singularly unique and capable sports-hybrid crossover. One that uses electricity not simply as an alternative to gasoline, but as a tool to transform the whole motoring experience. The Tang's excellent sales record in China attests to this. It's about time the rest of the world catches on to what we're missing.