Don't tell me you've finally driven this adorable little thing?
That's right—not very far, and not for very long, but we're the first outside of Honda to slide across the recycled polyester seat, look out over the concave triptych of screens and take a drive in perhaps the most hyped electric car not to wear a Tesla badge.
And there's no other way to put it—this is a very good thing.
Well, now that that's sorted, back to stalking people on Instagram, I guess.
Hey, it's your time. But, now that we're talking about tenuous sentences, the e Prototype's stellar styling must be worth an Insta shot or two, right?
Apparently, the looks are deliberately friendly and adorable. Honda's taken cues from its own back catalogue—namely, the original Civic—and returned with something that's neither retro pastiche nor anything like the current crop of electric cars. Or those powered by dino juice, come to think of it.
As Kohei Hitomi, Honda's project lead for the e Prototype said: "We kept the exterior design very clean and simple.
"Electric vehicles will come in very close contact with humans in the future; not just because they are quiet and clean, but because they will provide a lot of services that classic automobiles didn't provide.
"So the appearance needed to be very friendly and sympathetic. That is why the exterior design is a little bit associated with the first-generation Civic, which was a very friendly and cute car. We integrate a lot of functionality—the door handles, wipers and so on—and hide it optically so that it doesn't stand out at first glance."
ADVERTISEMENT - CONTINUE READING BELOW ↓
This lets the feel of the car move beyond a collection of functional pieces and stand more on its own as a piece of design, an emotional object, rather than a purely mechanical one. And that's going to be more important in the future, when there'll be less to differentiate cars with battery-pack-electric-motor drivetrains.
Takahiro Shinya, Honda's testing project lead, probably put it best when he said: "My responsibility is emotional dynamics."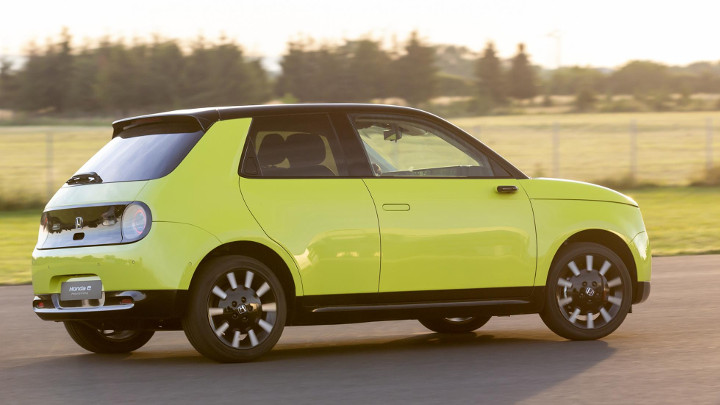 But what's the buzz about, beyond the styling?
It goes beyond its adorable, snuggling panda looks, wonderful interior, clever packaging and smattering of sustainable materials. Consider the e Prototype like an iPhone back in 2007. Honda's had a look at where the battery-powered market is going, and, perhaps more important, where it's going wrong.
"If we look at the market at the moment," says Hitomi, "there is a trend where manufacturers are competing with each other with driving range. Consequently, batteries are getting bigger and heavier.
ADVERTISEMENT - CONTINUE READING BELOW ↓
Recommended Videos
"From Honda's perspective, this is counterproductive, because that makes cars bigger and impractical for city usage. We believe a range of more than 200km with charging up to 80% in 30 minutes is practical for daily usage—not always carrying a huge and heavy battery around for maybe that one time at the end of the week where you have to drive long distance."
I think I get it—it's a city car, made for city streets, city distances and city use.
Precisely so. Although I should probably remind you that this is a question and answer article, not statement and answer. Standards are pretty lax around here, but we've got to draw the line somewhere.
Yeesh, I get it. Can we get back to the city-friendly aspects of this car?
Right you are.
According to Hitomi, cities aren't just where the e Prototype is pitched—they're what shaped the design and goals of the e project itself.
"We asked ourselves where an electric vehicle makes the most sense," says Hitomi. "That answer was found quite quickly: in urban environments, of course. To drive there with zero emissions would make the most sense."
"That was the reason, the starting point to develop the Honda e. This is why the car is very compact and looks the way it does."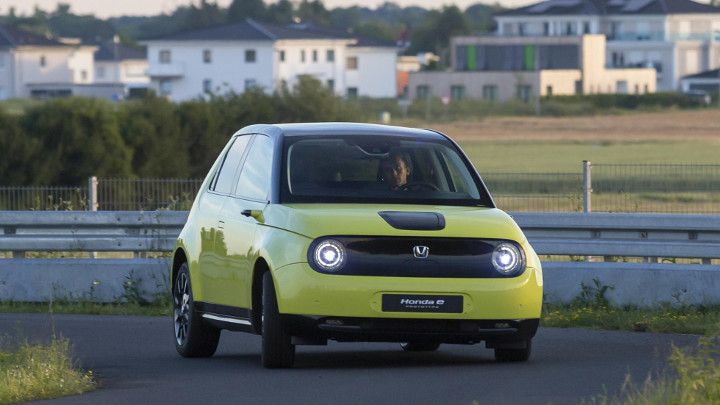 ADVERTISEMENT - CONTINUE READING BELOW ↓
In fact, Honda engineers and designers traveled to cities like London, Paris, Frankfurt, and Milan to get first-hand knowledge of how international cities operate and the unique challenges each one offers. Just as a guess, we're thinking they learned about soul-leaching traffic jams in London, how to take a roundabout at 80kph while smoking a Gauloise in Paris, why Frankfurt is a wonderful city to behold in a rearview mirror, and just how stylish their little electric car will have to be to turn even a single head in Milan.
The results are impressive. The e Prototype is shorter than a Honda Jazz but still manages to fit a 6'4" adult in the front without resorting to the last notch on the seat adjuster. The rear seats are perhaps best left to the younger and leaner among us and the cargo area's not really suited for moving house, but it's probably worth repeating that this thing is shorter than a Jazz.
It's rear-wheel drive, too, which seems like an odd choice for a city car after decades spent laboring under the stricture that insists city cars must be front-drive. But let's remember that one of the best city cars of all time—the Fiat 500—was rear-drive. The e Prototype, like the 500, and the Twingo / Smart microcar siblings, doesn't embrace rear-drive for any sort of oversteery antics—at least, none we were willing to try on scorching hot German tarmac in hand-built prototypes. Instead, it's for almost laughably tiny turning circles. It'll do a complete about-face in just 4.3 meters—or about 40cm more than its length. When you crank the wheel as far as it'll go, you immediately feel like you're sitting still and the front of the car is rotating around you. It's probably the lowest-speed giggle I've ever had in a car in my entire life, unless you count the ones where I was parked.
But bijou exterior dimensions and forklift-rivaling turning circles aren't all it takes to make a great city car. I mean, having them is certainly a plus, but any number of cars currently on sale will fit that bill just fine.
Where the Honda takes a step beyond is its interior. Recycled fabrics might be having their moment in the sun in fashion and Range Rover interiors, but it's what Honda has done with them that makes the e Prototype's interior such a special place to inhabit. There's a plush feel to the seats, with enticingly textured weaves that look like they belong in a West Elm showroom and offer about as much grip as Loctite. I say leave leather to the German cars (and shorts, for that matter) and embrace the weave. When fabric's this good, it ceases to be the plebeian choice.
And does the rest of the interior follow this strong start?
Almost 100%. It's still a prototype so I'll have to reserve final judgment, but the design, layout, and construction of the switchgear and screens feel a John Cleese silly-walk step above anything I've seen from Honda up until now. Honda's great at making the dull but functional (and likely bombproof), but if you took the little H badge off the steering wheel and stuck a roundel on there instead, only the busy switches on and around the steering wheel would give it away—the rest looks brilliant.
ADVERTISEMENT - CONTINUE READING BELOW ↓
Honda's even managed to find a way to make wood veneer look truly good, which is something I thought only Scandinavians could manage. We've seen woodgrain appliques in the past—right up to the early 2000s—with questionable results. But Honda manages to make it look genuinely cool, which is an achievement in itself. Then it backs it up with an excellent triptych of screens, two of which (the center and passenger) can switch back and forth at the press of a button, letting the passenger cue up a playlist, or set up the navigation, then send it over to the central screen for you to get where you're going—and skip past the Jonas Brothers.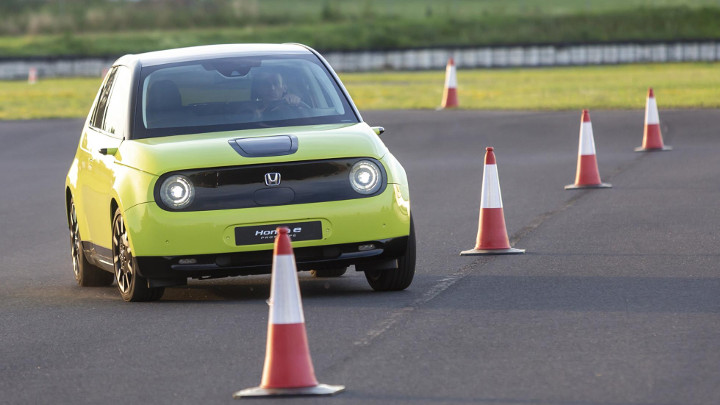 Come on man, tell us some performance things. I'm not here for your 'hot' takes on awful music, am I?
Well, you're going to have to put aside any preconceptions that electric automatically equals ferocious acceleration, a la Tesla. If you're familiar with Leafs and Zoes and so on, you'll be better suited to the eventual production Honda e's approach. It's fast enough, if that makes sense—it'll outdo most city cars, just not assembled supercars in the way a more Ludicrous car might.
Seat-of-the-pants stopwatch says about eight seconds from naught to 60, in about the most fuss-free way possible. Rear-drive means that any weight that's shifted back under acceleration gives you even more traction—there's no scrabbling of front tires as they try to put down engine power while the wrong axle gets all the grip, as per anything powerful and front-drive.
If, like us, you're conditioned to how electric cars are currently offered—with incredibly heavy batteries and almost painful acceleration—Honda's counteroffer of enough has a weird way of feeling like not enough. But these smaller batteries mean that braking isn't where all that weight reminds you of its presence—the e Prototype brakes without any sort of fuss, no squirreling as the inertia of seven or eight hundred kilos of battery slings forward and makes the rear end entirely too light.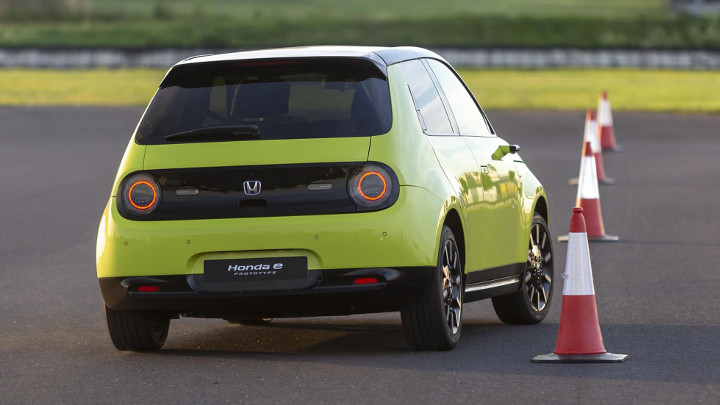 ADVERTISEMENT - CONTINUE READING BELOW ↓
This continues in the corners—there's no invasive feeling of weight being an unwanted companion, as can be the case in heavier battery-powered cars. It just remains doggedly neutral, changing direction as you ask and not surprising you with any eccentricities. The feel through the wheel's not going to keep Lotus bosses up at night, but it's enough to not rely solely on sight through bends.
The only real noticeable blip was the speed of the steering rack—Honda had set up a small slalom, which did make the steering feel a touch on the slow side. So, the lesson there is that if you have to do a slalom on your way to work—maybe you're late and have to go through 15 to 20 'traffic calming' bits that councils insist on dotting around the place—you'll have to twirl the wheel a little more than you would in a 488 Pista. This is the kind of consumer advice that, frankly, Top Gear excels in.
The e Prototype is perhaps the most idiot-proof car in existence—it just keeps being balanced and neutral, regardless of acceleration, braking or steering. We can't wait to get a production model out on the city streets and see if that translates in the real world.
Yes, I did notice that you kept saying 'e Prototype'. Are we going to get an entirely different car when it goes on sale?
Not at all—what you're looking at is basically what you'll get. It's still in late-prototype stage, according to Honda, but, when I sat in the cabin and asked the Honda engineer riding shotgun to point out bits that would change between this and the production model, he smiled in an incredibly self-effacing way and pointed at the bit of plastic on top of the dash. Then, he added, "maybe". So barring one or two microscopic tweaks, you're looking at the car you'll be able to order later in the year.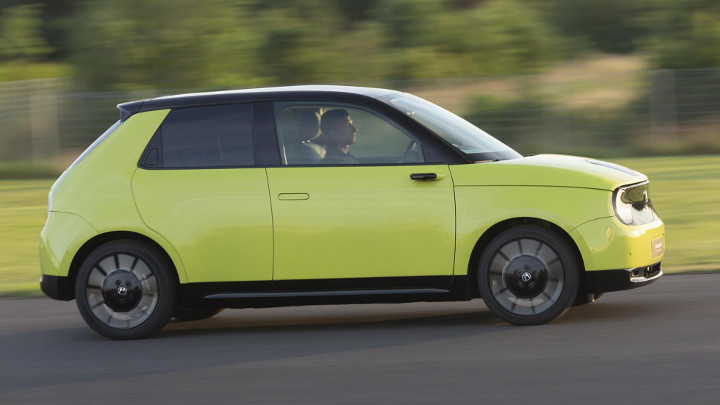 That soon?
Indeed. There's no torturously long wait, a la Toyota Supra—Honda will be working through its lengthy 'expressions of interest' list, which stands at 9,000 and counting in the UK. It looks like one of those happy situations where a genuinely good car is getting the attention it deserves. We can't wait to see these joy-giving little things gliding around cities next year.
ADVERTISEMENT - CONTINUE READING BELOW ↓
Yes, I've got a warm fuzzy feeling myself. Can I bring you back down to Earth by asking how much all this genuine joy is going to cost?
Ah, yes. Like so much in our late-stage capitalistic world, joy never comes cheaply. We kept bugging Honda UK for a figure but they're still in negotiations with head office over price. It seems they know that the real hurdle for the Honda e will be its price. Right now, our best guess is £32,000 (around P2,065,000) or so before you factor in any government grants.
And on purely numerical terms, that pits Honda against the upcoming Mini Electric, which offers about the same driving range for £24,400 (above P1,500,000). Yes, the Honda's a ground-up build, where the Mini is an adaptation of the current fossil-powered model, but it is a considerable chunk of change that could be spent on solar panels or a quick-charger for your house. Or beer and chocolate, if that's more your speed.
But the real good news here is that both exist. We've had the truly awful (G-Wiz), expensive and fast (Tesla, Jag), the cheap and cheerful (Renault Zoe), and the everyday functional (Hyundai Kona and Kia e-Niro) but now we're getting cars we both want to own and, crucially, can afford. This is where electric cars become established contenders, not just the alternative choice. Eventually, when everything is electrified, we'll rightly credit Tesla. But we should remember this moment, too.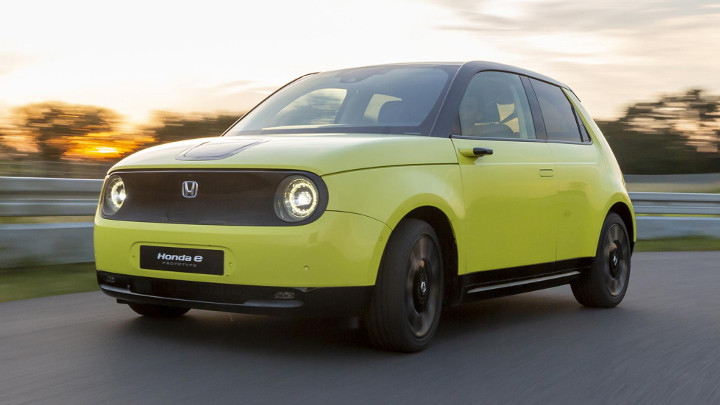 NOTE: This article first appeared on TopGear.com. Minor edits have been made.