It's finally here. The most awaited Honda—no, car model—in the history of automotive fandom. Do we even need an introduction to this car? The Type R is the upgraded, mythical version of the beloved Honda Civic. For decades other markets had this unicorn, in its iconic white color with that recognizable red 'H' badge.
Over time the Type R's legend grew. Used engines commanded a huge premium in the market. People started sticking red badges on their Civics and Jazz hatchbacks. There's even an aftermarket line of products called Type R (which we're 99% sure is an unauthorized knockoff), inspired by the best Honda that we never had. Until now.
Continue reading below ↓
Recommended Videos
The Civic Type R for us is like a new Star Wars trilogy after a long hiatus; hyped to the moon and expected to live up to the buzz. The amazing thing is, Honda pulls it off.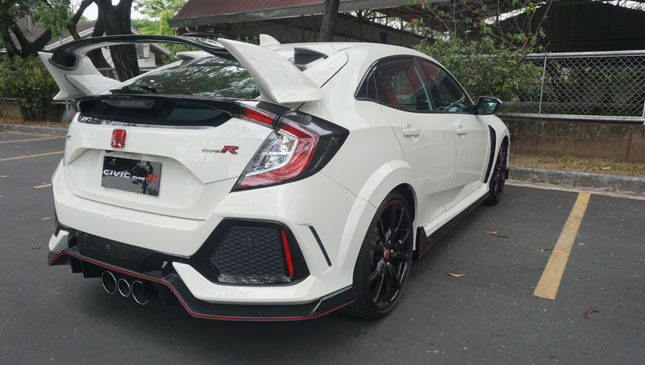 STYLING
Looks may be subjective, but it's safe to say there is no ugly Type R in the Civic's history. That being said, we're still lucky because the Type R we finally got is one of the more beautiful ones.
This is not beauty in the flowing sense, the way a Honda NSX is beautiful. The Japanese carmaker took a 10th generation Civic hatchback, a well-proportioned model, and added a hood scoop, a carbon fiber front splitter, 20-inch wheels with Brembo calipers, side cladding, and that massive rear wing.
The additions aren't subtle at all, and the result should be a disjointed effort. But the Civic Type R looks good. As in smartphone- and desktop-wallpaper good. It's like the designers were influenced by Gundam robots and jet fighters. It also helps to know that the design is functional, based on the 'Ring lap times that Honda keeps touting.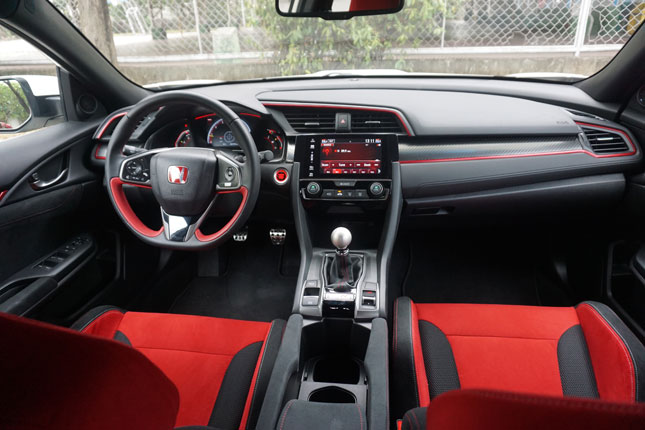 INTERIOR
The Civic Type R interior is a joy to behold. It ticks off almost everything in the car guy's checklist: bucket seats, titanium shift knob, limited-edition badge, red stitching on the leather steering wheel (with red trim), red digital gauge cluster with Type R-specific graphics, and crimson trim around the dashboard. Yes, this special Civic makes liberal use of the color red (there is also a red paint color available).
Other than that, the Type R is still very much a Civic. The seats are snug (especially for 5' 11" me), but they're not hardcore tight. The A/C and audio controls are easy to use, just like in the Type R's everyday counterpart. And the build quality is still topnotch; no creaking parts and unsightly gaps anywhere. Beyond the exciting visual cues, this interior still has the comfort and quality of the dependable Honda we've known for decades.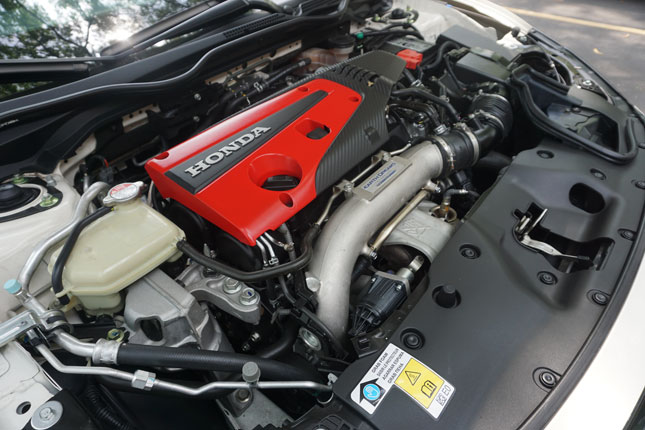 ENGINE PERFORMANCE
When you stare at the Civic Type R, it looks like it will chew you alive if you mistime a shift. But it's actually quite docile. When driving it the wolf/sheep duality displays itself again. Drive at low speeds and it shifts easily and cleanly, just like a regular Honda. It doesn't lurch like a beast wanting to unleash 300hp, impatient to show its fury.
But step on the throttle harder and enter the realm of 2,500rpm and beyond, and the Type R sears its red badge into your mind. The power arrives in a forceful, continuous wave, like a tsunami pushing you against the bucket seat. One key to harnessing this power is the superb six-speed gearbox. This transmission is a joy to use. Changing gears is smooth and efficient, slotting in like Wolverine's claws sheathing in and out.
There's also an abundance of torque throughout the rpm range. You don't feel that drop-off in power if you shift too early like what occurs in 'normal' cars. The Type R just bathes you in forward propulsion, and it will challenge your driving skill if you want to find its full potential—you'll need a proper track as well.
In daily city driving, fuel economy wasn't bad at all. I averaged 10km/L, although I didn't encounter heavy traffic during the test period.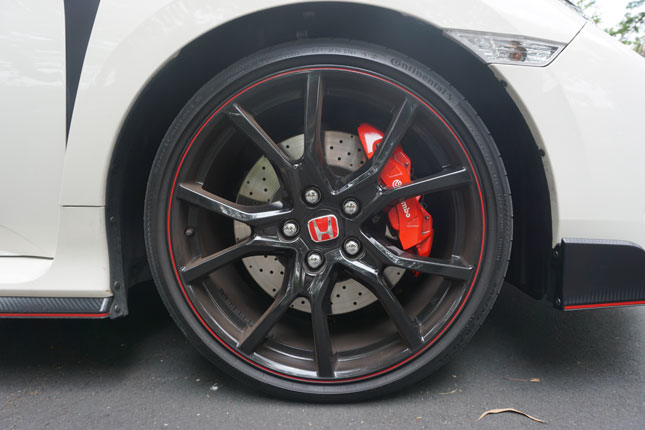 RIDE AND HANDLING
I heard that some owners abroad swapped the 20in wheels for thicker rubber to improve the ride. Personally I find it unnecessary. The ride is still comfortable, even for what passes for roads in our country. Still, be very careful. I scanned the road ahead carefully, looking out for the rim-cracking potholes that lurk on our streets. I trust the strength of the wheels, but I didn't want to push my luck.
On everyday streets you will have a hard time finding the upper limits of the Type R's handling. I would describe the driving feel as fluid. The car communicates what's happening on the road, yet still cushions you from the harshness of Third World streets. You never lose traction when speeding up, with the aero and fat tires working together to keep the car planted. And the brakes are more than a match for the power.
This assessment was done while the the Type R was in Sport mode, with the other two driving modes being Comfort and +R. I kept the car in Sport mode most of the time because it was the most enjoyable. I tried +R mode a few times; the digital gauges become red with anger, and the shifts are noticeably more aggressive. This mode should come with a warning for those with anger issues.
I was fortunate enough to be able to drive the Civic Type R on Clark International Speedway, and in this setting the Honda shines. The car felt balanced even when tackling 90 degree turns. You just point the steering wheel, downshift, step on the throttle for power, hang on, and power out. There's just seemingly endless grip. It's not razor sharp like its German peers, but very organic.
EXTRA FEATURES
At this point the whole car feels like a special feature. If I had to specify what sets the Type R apart, I have to mention the trappings. Wing spoiler, body kits, bucket seats, those mythical badges—they're part of what makes this special. People put these things on their regular Hondas to make themselves feel special.
If you haven't noticed, the Type R is also a hatchback, compared to the sedan form of our regular Civics. This gives the owner extra utility (tell the wife), but not by much (no need to tell her).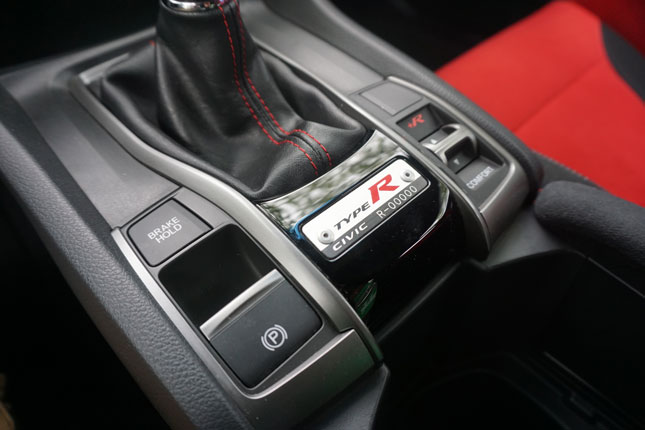 VERDICT
The Honda Civic Type R didn't live up to our expectations—it shattered them. It's still hard to believe that there are legal, official, moving and breathing Type Rs in our midst (arigato gozaimasu, Kuwahara-san). If you can afford it and you're unsure, just buy it (this may be a premature feeling, but this feels like a collectible).
The Civic Type R is the perfect wolf in sheep's clothing automobile—although with this design the 'wolf' is quite obvious. On weekdays it can serve as your daily commute, even with the manual gearbox. And on weekends, it will give you the escape your soul has been craving for.
SPECS: Honda Civic Type R
Price: P2,980,000 (old price)
Engine: 2.0-liter turbocharged gasoline
Transmission: 6-speed manual with rev-matching
Power: 306hp @ 6,500rpm
Torque: 400Nm @ 2,500-4,500rpm
Drive layout: FWD
Seating: 5
Score: 20/20