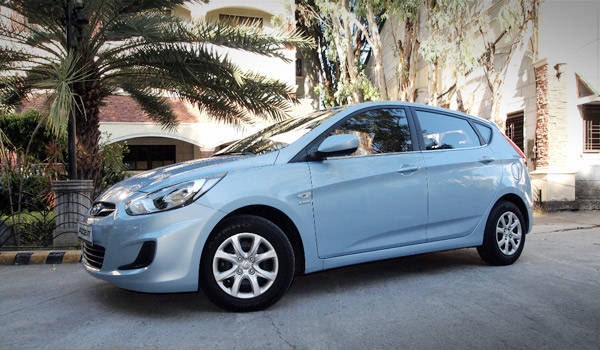 Let's face it. Twenty years from now, people will not be writing paeans about the previous Accent's exceptional styling, or the lack of it. Nor will they be waxing ecstatic over the rather tame handling. They won't be raving about the braying gurgle of that diesel motor as it peeled away from the traffic lights, either. No, while the diesel Accent sedan was a quick car, it was the kind that spoke softly and carried a moderately big stick. This new Accent speaks just as softly, but carries an even bigger stick. Caning has never been so much fun.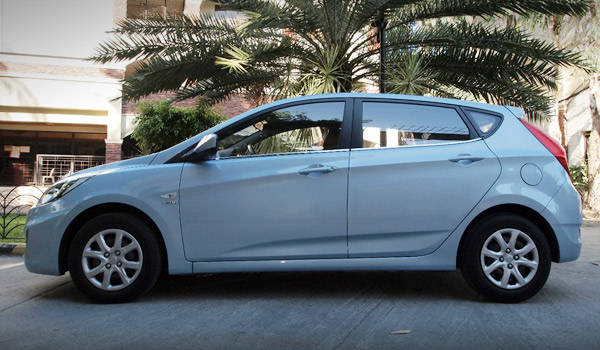 ADVERTISEMENT - CONTINUE READING BELOW ↓
STYLING
The new Accent hatchback is undeniably better-looking than the previous car or the current sedan. While not quite as cohesive as the Hyundai Elantra, or as flashy as its Kia Rio cousin, the Accent still has its strong points. The fluidic styling conveys a palpable sense of motion, the curves keeping your eyes moving around the car.
Still, it's very low-key. Steel wheels and hubcaps suggest there's nothing special going on, and only a pair of discreet CRDi badges gives any clue about the performance hiding behind that genial facade. The Accent is a hot hatch hiding in plain sight.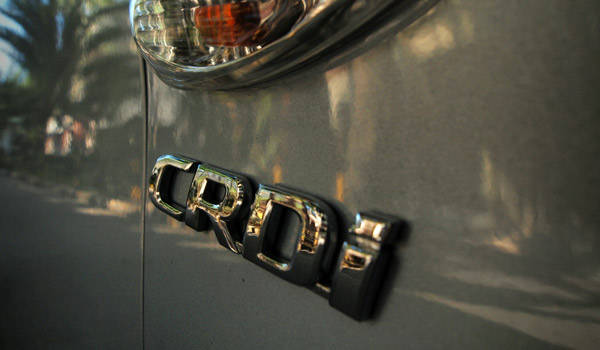 ADVERTISEMENT - CONTINUE READING BELOW ↓
Recommended Videos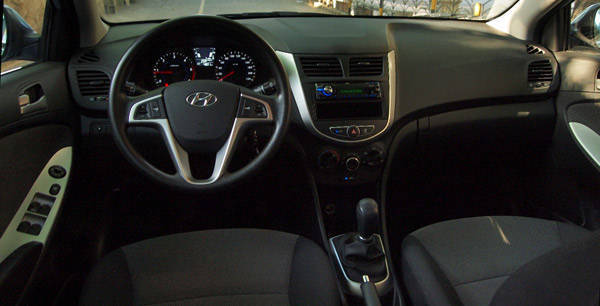 INTERIOR
This stealthy theme continues inside, with a simple silver-on-black theme. Muted gray-accented fabrics and golf-ball dimpled black plastic speak a simple design language without screaming cheap. It's classy and tasteful, though the urethane shift knob sticks out like a sore thumb in the middle of the cabin.
While it isn't quite as big as the tallboy Honda Jazz, cabin and cargo space are excellent. As in the Ford Fiesta, which has a similar shape, the chopped-off rear hatch makes for poor rear visibility. Then again, with this much "Powah," who needs to see where you've been?
ADVERTISEMENT - CONTINUE READING BELOW ↓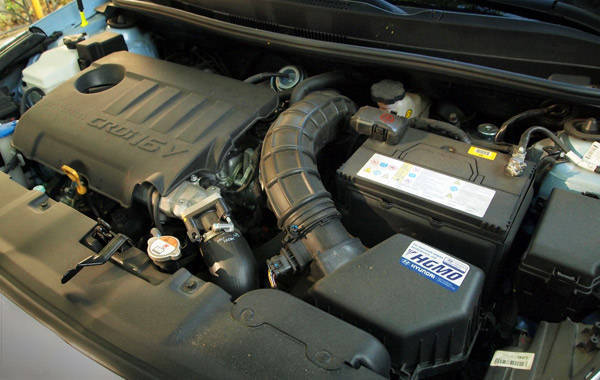 ADVERTISEMENT - CONTINUE READING BELOW ↓
ENGINE PERFORMANCE
"Powah" is an apt description of the new 1.6-liter CRDi. It's tame below 1,500rpm, but once the boost kicks in, it has the measure of most 2.0-liter gasoline engines. It would be more rapid still if the tightly gated gearshift were more precise and the soft engine mounts didn't wobble between shifts. The vague, heavy clutch is also a bit of a chore in traffic.
The payoff, however, is 12-14km/L in the city and 25-30km/L on the highway at 80kph. But you'll still get 20km/L plus change at 100kph. Diesel rules.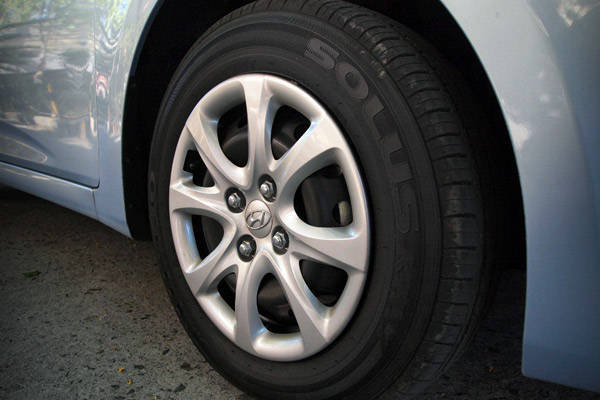 ADVERTISEMENT - CONTINUE READING BELOW ↓
RIDE AND HANDLING
While technical editor Ferman Lao was suitably impressed with the Accent's abilities in our Budget Issue, this variant rides on 175/70 R14 Kumho Solus tires. Unlike the 195/50 R16s on the automatic, they are squidgy in corners and they wander a bit on the highway.
Yet, thanks to a suspension stiffened to cope with that heavy diesel engine, the hatchback drives nicely. There's some pogoing over broken surfaces due to mismatched front and rear spring rates, but the ride is generally good. Handling is competent, though not class-leading. Not that you'll mind much when you're hurtling down the road on boundless waves of torque.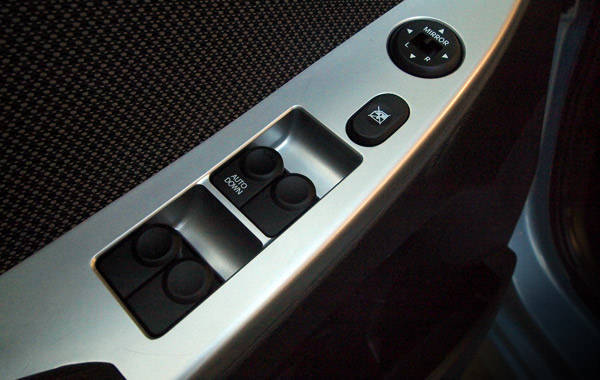 ADVERTISEMENT - CONTINUE READING BELOW ↓
EXTRA FEATURES
Does torque count as an extra feature? No? Well, the Hyundai Accent hatch CRDi has strong ABS-equipped brakes, power windows, remote locking, a generic 1DIN head unit and some steering-wheel audio controls. Sadly, other features you'd expect as standard--like a DVD/navigation screen, backing-up sensors, a leather steering wheel and alloy rims--are not on the menu. All sacrificed so Hyundai could meet the target price.
While aftermarket DVD/nav/touchscreen units are cheap, you'll still need to upgrade the so-so speakers to match. Personally, I'd rather spend that money on bigger wheels and tires. And perhaps a diesel performance chip. You can never have enough power.
THE VERDICT
At just P768,000, the Accent CRDi is a grand bargain for lovers of speed. Unfortunately, the six-speed manual isn't a big advantage over the four-speed auto. The automatic has a better wheel-and-tire package, drives smoother and gets the same cruising economy. And with the torque of the diesel, you won't miss those two extra intermediate gears all that much.
ADVERTISEMENT - CONTINUE READING BELOW ↓
Whichever variant you choose, the Accent is the perfect way to fly under the radar, and with that diesel economy, long-haul "flights" are a breeze. That diesel motor lifts the Accent from middle-of-the-pack to top-dog status. Woof.
SPECS: HYUNDAI ACCENT HATCHBACK CRDi 1.6 MT
Engine: 1.6-liter U-II CRDi-VGT diesel
Transmission: 6-speed manual
Power: 126hp @ 4,000rpm
Torque: 260Nm @ 1,900-2,750rpm
Drive layout: FWD
Seating: 5
Price: P768,000
Score: 17/20
Photos by Niky Tamayo
UPDATE as of June 11, 2018: Hyundai Asia Resources Inc. (HARI) went all out at this year's Manila International Auto Show (MIAS). The Korean carmaker's official Philippine distributor has brought in not one, not two, but four brand-new vehicles to the local market: the all-new Veloster, the Kona subcompact crossover, the all-new Santa Fe, and the Ioniq Hybrid. That's quite a lineup. The most important of the bunch is the Kona, which will compete directly with nameplates like the Nissan Juke, Honda HR-V, and Mazda CX-3. Beneath this crossover's futuristic design and stylish components is a 2.0-liter gasoline engine capable of 147hp and 179Nm mated to a six-speed automatic transmission. Pricing has yet to be finalized, but expect the Kona to go for between P1.1 million to P1.5 million.

ADVERTISEMENT - CONTINUE READING BELOW ↓