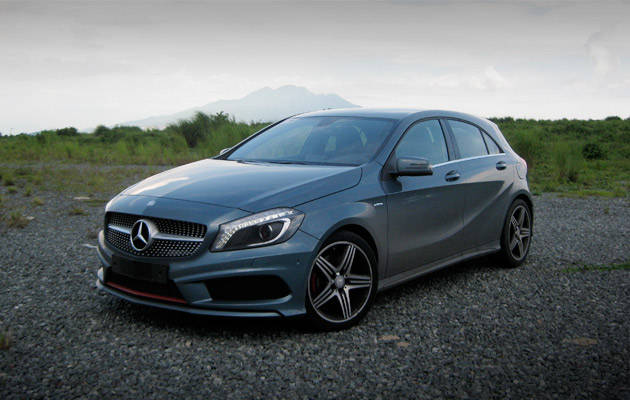 A hot hatch is often described as "a wolf in sheep's clothing." It is understated, yet delivers proper fun and performance. Started by Volkswagen with the Golf GTI, the other Germans have come up with their own iterations as well--Audi with the S3, BMW with the 1-Series M Sport, and now Mercedes-Benz with this A250 Sport. But before anything else, don't mistake this A-Class with the previous ones that failed moose tests. This one's totally revamped. Surely, Merc felt left out by the others mentioned above; the carmaker has gone straight to the point with this one.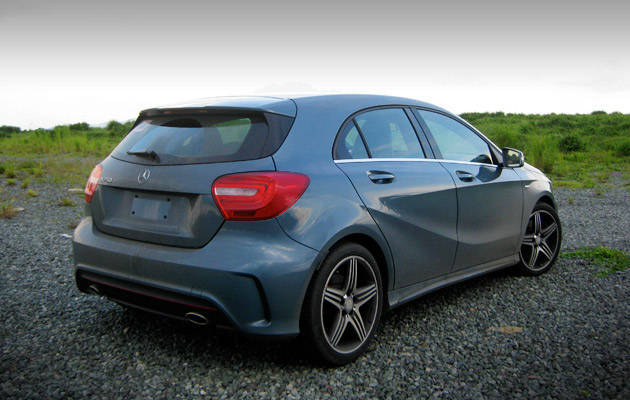 STYLING
Red accents--on the front apron, rings of the bi-xenon headlamps, the rear diffuser, and of course the red calipers--add a sporty touch to the car's elegance. The car obviously still carries the three-pointed-star badge. There's a "Rihanna" grille, and you'll be compelled to count how many "diamonds" there are. The rear looks good with dual oval exhaust tips. The elements are subtle yet enough to get the message across.
ADVERTISEMENT - CONTINUE READING BELOW ↓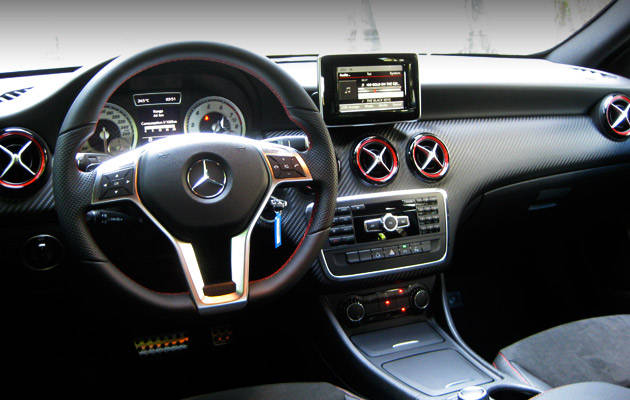 INTERIOR
Eye-catching scarlet accents abound inside, too--contrast stitching, rings of the air vents, and seatbelts--and meld well with faux carbon-fiber and brushed-metal trim. The flat-bottom steering wheel and bucket seats look the part. The black Artico leather and Dinamica fabric just look very good with the red stitching. The wife asked about the position of the multimedia display. It sort of looks like an afterthought. But it doesn't really bother us. If it's any consolation, the BMW 1-Series has a similar treatment.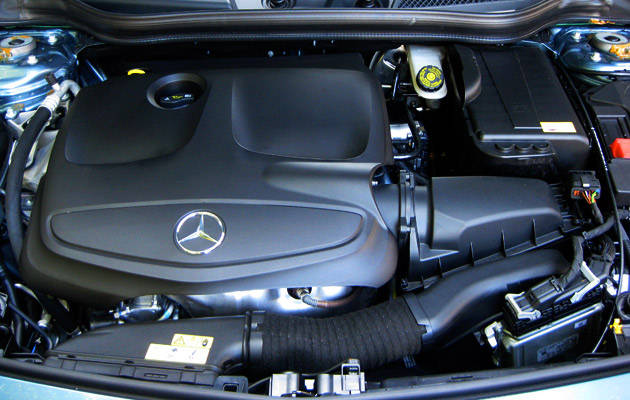 ADVERTISEMENT - CONTINUE READING BELOW ↓
Recommended Videos
ENGINE PERFORMANCE
If the Mercedes-Benz A250 Sport looks fast standing still, imagine how it goes. It's powered by a 2.0-liter turbocharged gasoline engine with an output of 211hp and torque of 350Nm. It's quick from a standstill, and once the turbo kicks in, it becomes manic and addicting from 3,000rpm to 6,000rpm.
The seven-speed dual-clutch transmission is not only enticing, but also smart. If you don't shift to another gear while on manual mode, it will switch back to D after 12 seconds. I was hoping for a consumption of around 10km/L. Not quite. I netted 7.7km/L combined. This car just invites you to push it, and you can only achieve decent fuel mileage if you resist the temptation.
The A250 feels right at home on hilly bends. We took it to Talisay in Batangas, and it negotiated the tight turns with ease. Whether in sport or manual, it feels very dynamic and the steering has responsive feedback.
RIDE AND HANDLING
It's not exactly a restful ride. There's not much play in the suspension. In fact, depending on your garage entrance and angle of entry because you have to mind the car's clearance, rear wheels on either side will lift off the ground. That's how stiff it is. This Merc makes comfy a relative description. So what? It's straightforward and fun, and it knows what it is designed for. I honestly think it's livable for a daily car, if that's your thing.
EXTRA FEATURES
Mercedes-Benz's seven-speed dual-clutch transmission is a wonderful thing. A neat feature I really like about it is the eco-sport-manual button. The revs are conservative with eco and more dynamic with sport. And if you want all-out fun, there's manual mode with paddle shifters. Along with the 12-second phase, it's a smart system.
ADVERTISEMENT - CONTINUE READING BELOW ↓
THE VERDICT
We had a discussion with a colleague on whether the A250 Sport would be a more satisfying experience if it were rear-wheel-drive. But maybe it doesn't matter, because we think this hot hatch is engineered so well, you'll forget it is front-wheel-drive. It's definitely a great addition to the fray.
SPECS: MERCEDES-BENZ A250 SPORT
Engine: 2.0-liter turbo gasoline I4
Transmission: 7-speed dual-clutch automatic
Power: 211hp @ 5,500rpm
Torque: 350Nm @ 1,200-4,000rpm
Drive layout: FWD
Seating: 5
Price: P2,580,000
Score: 18/20
Photos by Jason dela Cruz