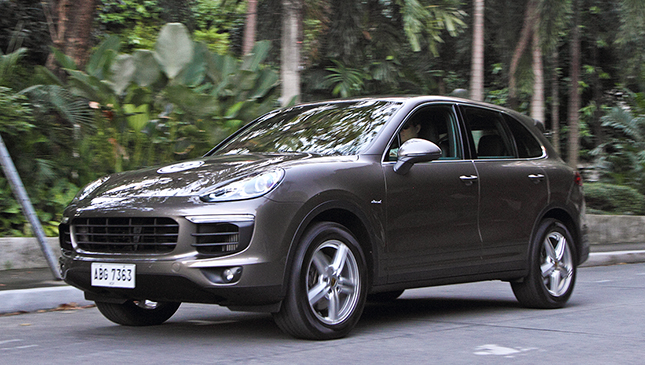 A good friend of mine—an inconspicious gentleman pushing well into his sixties—finally wanted to try a different brand other than BMW and Mercedes-Benz. This guy is my mentor and has helped guide me in my life and career. In turn, he goes to me for car advice. So, when he was looking to get a luxury SUV, I narrowed his choices down to an Audi Q7 or a Porsche Cayenne. The former is more family-oriented while the latter is far sportier, even if they share the same platform (also used by the Bentley Bentayga and the Volkswagen Touareg), powertrain and electronics.
Part of the pleasure of buying a luxury car is ticking options on the spec sheet. We placed an order for a Cayenne in July 2015, but we were told our order would be processed by September, since the factory was going on summer break for refurbishing and upgrades. I've been to Porsche facilities in Zuffenhausen and Leipzig, and they operate like clockwork. Absolute precision is required, hence the need for checks and improvements to maintain an airtight schedule.
We decided on a Cayenne Diesel, optioned, among other things, with skid plates and a Bose audio setup. We had wanted to get the backing-up camera as well as the special leather package that wraps the entire cabin in high-quality hide, with Porsche crests engraved on the headrests. Unfortunately, the former was bundled with the very costly premium sound system, and the latter was a too pricey. We did get the Porsche Tequipment rubberized digital-fitted matting and matching cargo tray, in case my friend decides to get his shoes and the Cayenne dirty and haul some cargo.
Due to our excitement, we forgot to tick the sunroof option. We missed out, too, on the Porsche Communication Management system, which has Apple CarPlay and is being introduced locally only now.
The unit was finally released on December 30th of 2015—the perfect post-Christmas gift. And because many of today's cars require you to tinker with, understand, and memorize the on-board systems, I found myself at my friend's house during odd hours to explain all the features and functions of his Cayenne's electronic doodads. This was after I had researched them online, consulted Porsche Philippines' excellent support staff, and read the manual.
My friend travels a lot for business, so I often drove the Cayenne throughout 2016. I had unlimited access to the car, and would often bring it to the dealership for him whenever something we didn't understand popped up. For example, there was one time when the tire-pressure monitor lit up and we didn't know how to reset it. I learned later on that this was just a quirk of the Michelin tires, which I had specifically requested because, based on personal experience, they deliver the best ride among Porsche's OE tire options. The Michelins like to be inflated at 42psi and up; anything lower and the tire-pressure light goes on.
Porsche Philippines also gave strict instructions to use premium diesel, and we've always used Petron Turbo Diesel. It's been decent, yielding about 8km/L in the city and 12km/L on short highway drives. Those figures aren't as good as the returns of official Cayenne Diesel test units I've used, but this particular one has only covered roughly 2,000km in one year. It's got a very long way to go before the engine is fully broken in.
Complaints? The temporary plate is too big and keeps triggering the front parking sonar. The big alloy wheels are very prone to curb rashes. The premium leather is very soft but stains easily, so I always have a towel to dry my hands with before driving. Still, it has been a hassle-free ownership for my friend, and it's always a treat whenever I get to drive the Porsche. I'd say at least a third of the mileage had been accrued by me, even if it was mostly in city driving.
As for maintenance, modern Porsches have a sophisticated oil-filtration system that requires servicing every 17,500km or 12 months. The Cayenne isn't due for a trip to the service center for at least another two months at the time of this writing, but from what other people have told me, it would cost around P30,000. Pricey, but considering this is a Porsche and servicing comes only once a year, that's not bad. My friend also owns an Audi A8, and the servicing for that comes out to about P20,000 a year. We're both fans of the 3.0-liter TDI engine that both these cars share; my friend loves the smooth, effortless pull from the mill whenever he gets a chance to open up the tap.
And on the open road, the Cayenne is just marvelous. High-speed damping is impeccable; you really feel as if you could keep it nailed all day at the advertised 227kph top speed, and the engine wouldn't even break a sweat. The steering is heavy for a typical luxury SUV, but it's the best in its class, in my opinion. The Brembo brakes are equally up to the task of hauling the car down from high speeds. On winding roads, you find yourself driving the Cayenne harder than you would any other SUV in this segment. It feels heavy, no doubt, but also well-controlled. 'Sports car on stilts' would be an apt description.
Tom Cruise, in his '80s hit movie Risky Business, said it best: "Porsche. There is no substitute." That sums up driving and owning the Cayenne, even if Mr. Cruise originally uttered those words in reference to a sports car.
SPECS: Porsche Cayenne Diesel AT
Price: P7,500,000
Engine: 3.0-liter turbodiesel V6
Power: 262hp @ 4,000rpm
Torque: 580Nm @ 1,750-2,500rpm
Transmission: 8-speed automatic
Layout: AWD
Seating: 5
Score: 19/20