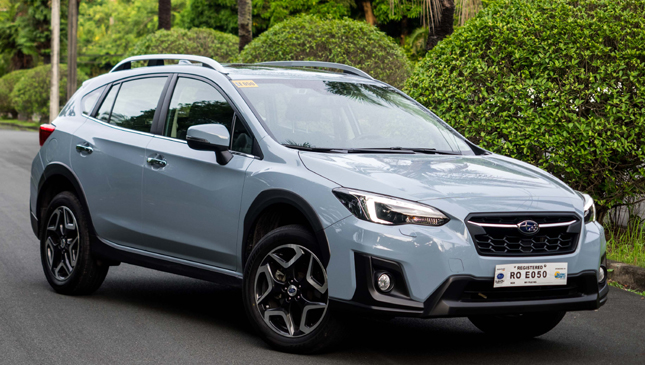 As motoring journalists, very few cars or motorbikes can make us sit up from the driver's seat and take notice. Most models have become just a mish-mash of platform and engine-sharing parts that it's become hard to feel genuinely impressed by them.
I'm not saying that I'm that jaded writer--I truly feel joy in discovering and testing all these interesting cars. It's always enlightening to see just how each brand pushes its own identity. What I'm saying is that it takes a lot to stand out in this crowded market of sedans, crossovers, and SUVs.
It was much to my surprise then that the XV completely left my jaw on the carpet as I put it through its paces over a week. Based on the all-new global platform of Subaru, why does this small crossover set a new standard for the Philippine motoring industry? This is mainly due to one feature which we will dive into below: EyeSight.
Continue reading below ↓
Recommended Videos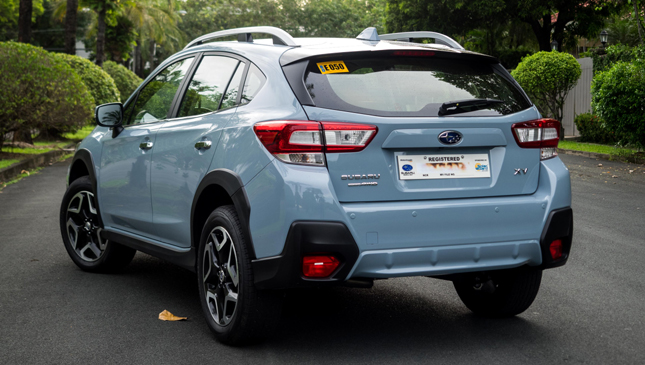 Styling
The XV is based on the Subaru Impreza hatchback, so it comes as no surprise that it shares the car's signature sculpted lines. What makes this model far more special, for me, is its ruggedness.
First, Subaru raised the ride height to 221mm (almost the same as a Toyota Fortuner), which gives the XV a stance that can rival others in traffic. Next, they put black molded plastic all around the exterior of the car--especially striking when contrasted against a bright color such as the available orange or this pale blue. This plastic gives the small SUV a rough-and-tumble look that makes it infinitely more macho than its rivals.
The older XV was a hit partly because of the choice of wheels, and the current XV is no different. Its 17-inch rims feature a very sporty and unique design that looks aftermarket, and this is further accentuated by its fender flares. Overall, the crossover looks like nothing else on the road, and it handily beats its rivals in terms of class and sportiness.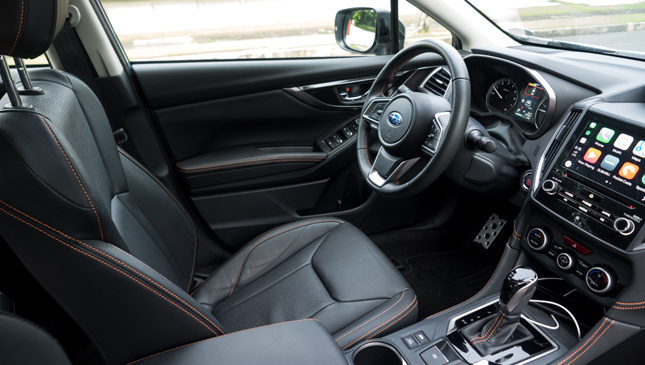 Interior
Compared to older Subarus, the all-new XV is leaps and bounds ahead in terms of interior quality, fit and finish. The leather seats are supportive and comfortable, especially over longer drives (which can be a short 2km trip, if it's on EDSA in the rain). All the controls are within easy reach and are logically laid out for the occupants.
Older Subarus are known for their lack of quality interiors, with rattles a fact of life for most owners. Thankfully, everything in this new XV seems well-screwed together.
Sitting in a previous generation XV and comparing it side-by-side with this one, the difference is night and day. Gone are scratchy plastics, replaced with soft-touch trim and leather with bright orange accents. The meaty steering wheel is a joy to hold and thankfully, Subaru retains physical rotary dials for the climate controls (something that other manufacturers have ditched for touchscreen-only interfaces).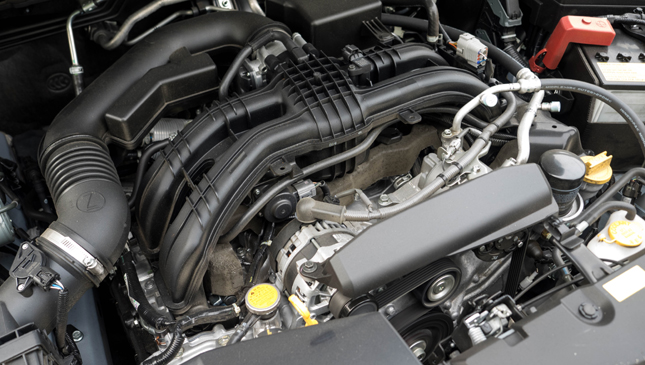 Engine performance
Like the Impreza, the XV is powered by Subaru's signature combination of a boxer engine and symmetrical all-wheel drive. It has four cylinders and two liters of displacement and puts out 156hp thanks to a new Direct Fuel Injection system mated to a Continuously Variable Transmission (CVT).
Power never felt lacking in daily use. Overtaking needed some planning with the manual paddles, but overall, it was entirely adequate for the XV. In our time with the car, it averaged about 6km/L in the city and 14km/L on the highway.
While most CVTs get a bad rap for endless droning, Subaru's system may just be the best implementation of the notorious transmission in any modern car. It shifted through simulated gears and feels like a step above all the other CVTs on the market.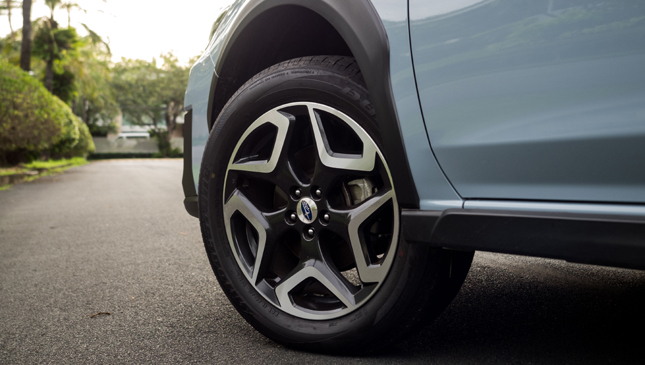 Ride and handling
The chassis of the XV is the Subaru Global Platform. It enhances the rigidity by almost two times and all it takes is one quick drive to feel the difference. Subaru claims 50% less roll in the platform, and we believe them. The XV has a sure-footed stance on the road and even taking sharp bumps and potholes on EDSA, the added rigidity of the platform meant that it handled everything that was thrown at it with aplomb.
Chucking the XV into a corner, the car was supremely stable despite the increased ground clearance. It is one of those rare crossovers that has the ride height and practicality of an SUV combined with the road manners of a hatchback.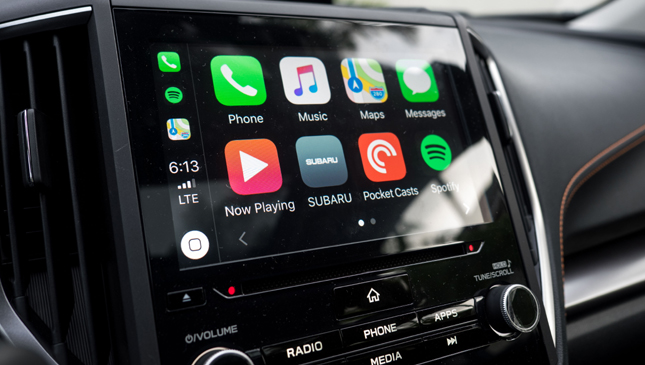 Extra features
Here is where the headline feature lies: EyeSight. Available in the highest trim of XV (like we tested here), the system is an absolute game-changer in terms of how one drives on roads. In fact, it's so good, we have discussed it in an entirely separate article.
For now, what is important to know is that I was able to drive in rush hour traffic from Manila Bay to Makati City and I only had to touch the brake pedal twice. EyeSight combines autonomous emergency braking with a smart cruise control system that works even when traffic comes to a full-stop. Never have we ever tested a vehicle guidance system that worked this good in Metro Manila traffic.
It would lock onto the car in front and keep a safe distance, slowing down smoothly and steadily. In fact, passengers in the car with me didn't even suspect that the car was driving itself, that's how smooth the system was. It truly blew everyone's minds when they realized that the car was accelerating and decelerating itself with the driver only doing steering.
It is also one of the first autonomous emergency braking systems available in the country at its price point. Such a feature makes it so much safer than a normal car because instead of mitigating damage from an impact (airbags, seatbelts), the system actively tries to prevent an accident from occurring in the first place.
In terms of electronics, Android Auto and Apple Car play are available along with a plethora of bells and whistles that justify the price of the car. Everything from hill start assist, smart key entry, a backup camera, rear cross traffic alert and ever so handy blind spot monitoring and X-Drive (simulated low-range gear for off-road driving) are available in the XV. Convenience features include automatic headlamps with automatic high-beams and automatic wipers.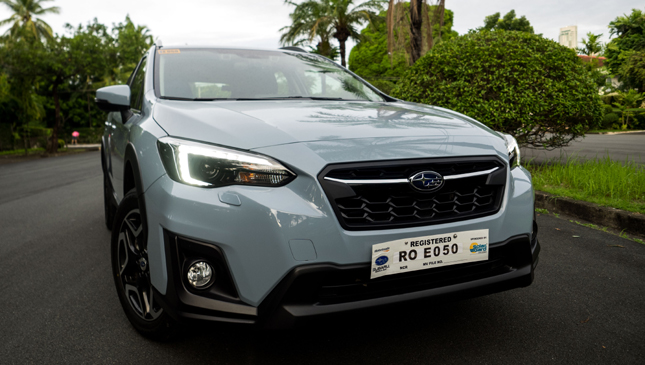 The verdict
It may seem unfair for just one feature to color our entire review of a car, but EyeSight is in the model name, so we are justifying it. It truly changes the way you interact with traffic. From having to shuffle between gas and brake over a few hours, the system allows you to relax and concentrate on the cars around you. You leave the car more refreshed than when you entered it, and for that, the XV deserves all the accolades that can be showered onto a car in its price range.
SPECS: SUBARU XV 2.0i-S CVT WITH EYESIGHT
Engine: 2.0-liter DOHC gasoline
Transmission: CVT
Power: 156hp @ 6,000rpm
Torque: 196Nm @ 4,000rpm
Drive layout: AWD
Seating: 5
Price: P 1,668,000
Score: 19/20