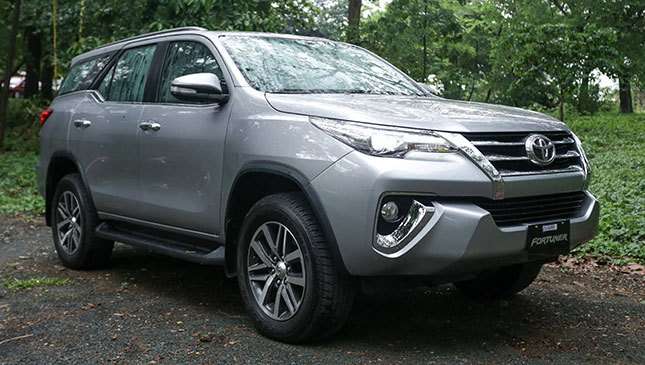 Ah, the Toyota Fortuner—the model that launched a thousand (well, okay, substantially more than a thousand) midsize SUVs, triggering a segment war which rages on up until this very day. It was a thing to behold then, and still was up until the launch of the second-generation model in early 2016.
We guess you could say the Fortuner has some pretty big shoes to fill. More so, considering its midsize competition, namely the Mitsubishi Montero Sport and the Ford Everest, have more than stepped up their games. The vehicle was propelled by its mix of guaranteed reliability, attainability, and performance. So what has Toyota done to build upon this combination further?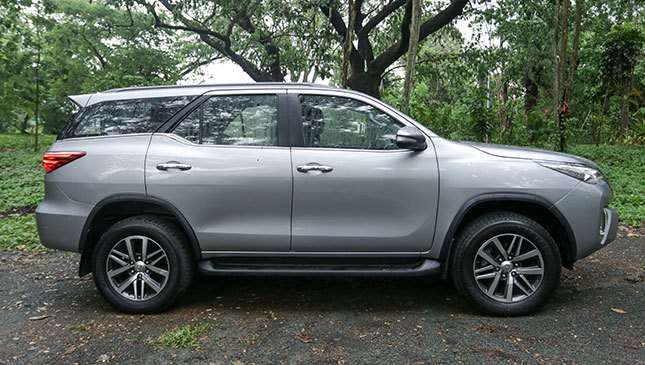 ADVERTISEMENT - CONTINUE READING BELOW ↓
Styling
The second-generation Fortuner ditches the previous model's humble leanings in favor of a more premium and muscular design that exudes both toughness and elegance. It's a practical look, and we dig the way it strikes us as modern instead of futuristic.
A pair of strong character lines runs across the length of the vehicle, accentuating the SUV's commanding stance, while the front end features a longer hood and a new-look grille with a sizeable Toyota emblem planted smack in the center. Together with the front fascia's macho build and sophisticated new headlight design, you've got a looker. Also, props to the new 'floating' window design, which endows the top-end variant with a seamless, blacked-out look, and the beefy 18-inch wheels.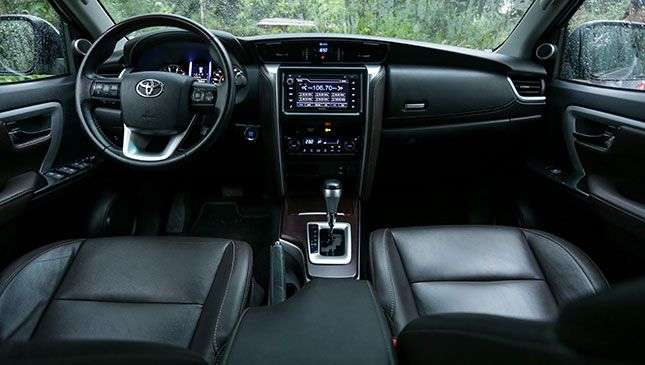 Interior
There's definitely a lot to like here. Five minutes sitting inside will be enough to convince you that the Fortuner's cabin is one of the most refined in its class: nice leather, nice intricate stitching, nice plastic…nice everything. It's covered in soft touch materials, and it just has a more premium overall vibe to it compared to some of its competitors.
ADVERTISEMENT - CONTINUE READING BELOW ↓
Recommended Videos
One thing we'd like to point out is the outstanding job Toyota's done regarding the center console's faux wood; you know it's not real, but it doesn't feel or look fake at all. This is in contrast to most cars that feature cheap-ass material which you can tell is a knockoff from a mile away. Worth noting are the car's meaty steering wheel, polished trim, and techy gauges.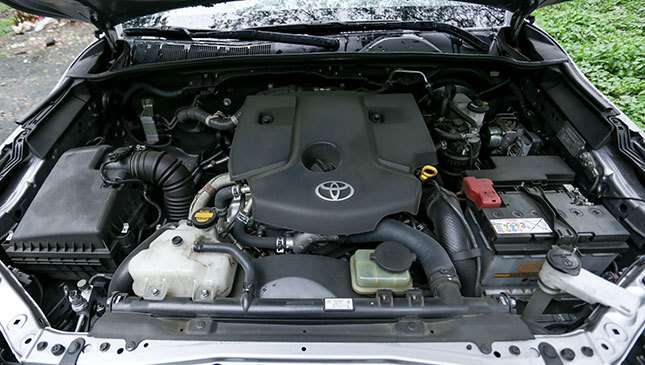 Engine performance
This particular unit, a 4x2 V AT, runs on a 2.4-liter diesel engine capable of 147hp and 400Nm. It's down on power compared to some of its competition, but instances where its output underwhelmed were relatively few and far between. With that out of the way, it offers smooth performance and acceleration, reaching legal limits fairly quickly.
If situations call for a little more oomph than usual, the V variant comes equipped with a Power Mode which, while not exactly significant, offers a noticeable uptick in performance and provides drivers with a livelier driving experience. It also comes with Eco mode, too. We managed 11.2km/L in mixed city/highway and Power/Eco Mode driving. Not bad at all considering we ran into heavy traffic on the North Luzon Expressway.
ADVERTISEMENT - CONTINUE READING BELOW ↓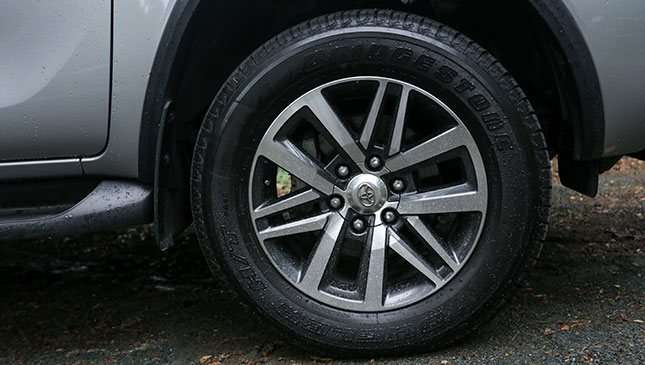 Ride and Handling
There's no denying that the first-gen Fortuner left a lot to be desired when it came to ride quality. Hell, I own one, and even I have to admit it. Is it a different story with the latest iteration?
Noise levels have been drastically reduced, but while Toyota's taken steps to address the ride for the most part, things do still tend to get a little bumpy especially toward the rear. It's nowhere near as bad as first-gen owners should be accustomed to though, and at the very least the Fortuner's ride should stand as typical of a midsize SUV by today's standards.
I was pleasantly surprised at how well the Fortuner handles—more nimble than its looks might suggest, and nicely weighted. In contrast, the previous model leaned more toward heavy. This is no longer the case though, especially at speed where steering proved to be precise.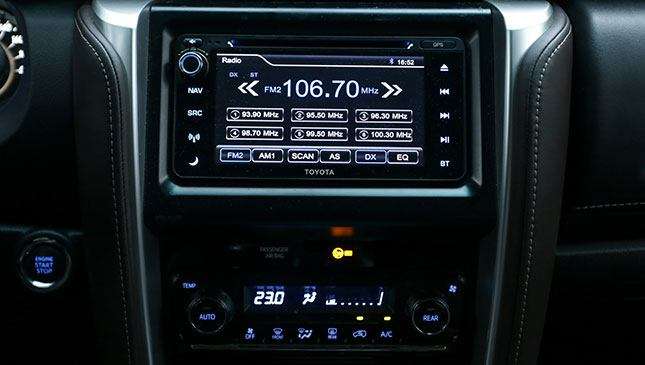 Extra features
This Fortuner gets six speakers and a 6.5-inch touchscreen infotainment system with the usual toys (Bluetooth, hands-free calls, etc.). GPS is nice if you're more comfortable seeing maps on a larger screen than on your phone, which isn't the case for us though.
The rear A/C system gets separate controls mounted on the ceiling, and both front and rear A/Cs get automatic climate control. We also love how the way the vehicle's storage compartments, cupholders included, are all neatly concealed. Other things of note? Paddle shifters for sport mode, a 4.2-inch multi-info display with an economy meter, and cruise control.
One gripe is the third row seats still don't fold flat. Folding them toward the sides is easier, done with a simple pull of a tether instead of the heavy lifting you'd experience in the previous model, but I think it would still be better if they folded down instead of to the sides.
ADVERTISEMENT - CONTINUE READING BELOW ↓
Verdict
The ride quality isn't quite as refined as we expected, but besides that there's nothing that'd warrant leaving it out of your shortlist if you happen to be hunting for a midsize SUV. Its look and interior are arguably the best in its class, and the 2.4-liter 4x2 V variant is feature-packed. It handles well and the engine performs admirably, despite its relative lack of horses on paper.
All this combined with Toyota's reliability, which we reckon hasn't changed, and it's safe to say it's a more than worthy successor to its predecessor.
SPECS: TOYOTA FORTUNER 2.4 V 4x2 AT 
Engine: 2.4-liter turbo diesel
Transmission: 6-speed automatic
Power: 147hp @ 3,000rpm
Torque: 400Nm @ 1,600-2,000rpm
Drive: RWD
Seating: 7
Price: P1,778,000
Score: 18/20
FAQs about the 2019 Toyota Fortuner
Q: Is there a gasoline version?
A: Yes, there is. It is the Fortuner 2.7 4x2 G Gas A/T.
Q: How smooth is the shifting of the six-speed automatic?
A: Very smooth. It's easily one of the best transmissions available today.
Q: Can the third-row seats be removed?
A: Yes. It's quite simple. All you need to do is is undo a few screws and nuts. 
Toyota Fortuner