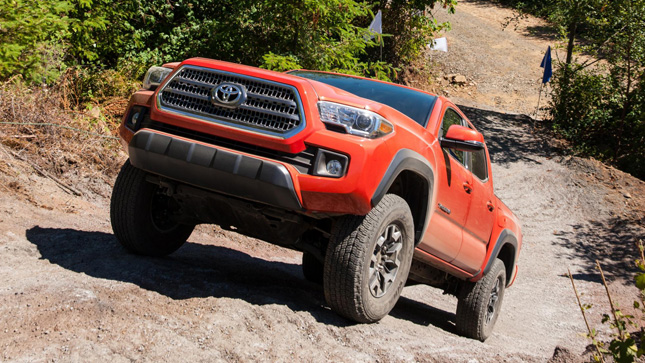 Over in pickup-loving US, they don't have the Toyota Hilux. Their version is the Tacoma, and here's a review of this tough-looking American truck.
What on earth is a Tacoma?
It's a pickup that the Americans get, but Europeans and Asians don't. The giant stamp on the tailgate and stickering down the side should give you a hint of what flavor of pickup. But if you're still struggling, it's the third-generation Toyota Tacoma in TRD Off-Road 4x4 trim.
ADVERTISEMENT - CONTINUE READING BELOW ↓
Say that again please.
Put simply, it's an American pickup truck with a GoPro mount. Or, a GoPro mount with an American pickup truck attached, depending on your way of thinking.
Why's it got a GoPro mount?
Because it's gnarly, bro. This Taco (as it's affectionately known stateside) is inspired and developed with the expertise of TRD—Toyota's go-faster arm that's been bashing around in the sand and producing off-road desert racers for the past 35 years.
Toyota wants you to take it off-road, so it stuck a GoPro mount to the windscreen so you can show all your mates how you accidently crashed into a tree.
Looks like a Hilux to me…
It's a very close relation. They're blood brothers, in fact. See, the Hilux was sold in the US between 1969 and 1976, but was shelved after being deemed too agricultural and uncouth for the American market. So Toyota took the Hilux architecture and softened it off a bit, giving greater priority to ride quality, handling, comfort, and safety.
ADVERTISEMENT - CONTINUE READING BELOW ↓
Recommended Videos
So think of them as twins separated at birth. They've got the same DNA (ladder-frame chassis, double wishbone front end, and archaic leaf-spring suspension at the rear), but the Tacoma grew up in a upper-middle-class white-picket fenced house, went to public school, and works in the city.
Why should I be interested?
Because it's been America's best-selling midsize pick-up for 10 years. And this third-gen version has been developed to be even more comfortable and capable than before, as consumers now want a truck that can be used like a car but still does all the useful truck-y stuff.
Looks chunky.
The exterior design has been revised to look meaningful but not overly aggressive. The swollen arches, snouty grille and bloated hood give a meaty stance and butch it up quite a bit compared to the new, softer-looking Hilux. In US traffic, it actually feels quite small, making it easy to place and get around town. Being suitably lithe has benefits off-road, as you can shoot up gulleys that its fat-bummed Tundra brother couldn't.
ADVERTISEMENT - CONTINUE READING BELOW ↓
What's it like on the inside?
Purposeful but not premium. The cloth seats are good for getting mucky but don't offer much in the way of support or comfort. Plastics are generally hard-wearing but very plasticky. But, being a TRD spec, it's well equipped. The standard 6.1-inch touchscreen is replaced with a larger 7-inch screen with navigation, and the seats and instrument panel are also offset with orange stitching and panels. It's also got car-like safety tech, including a backing-up camera, rear cross-traffic alert and blind-spot monitoring.
Does it do pick-uppy stuff?
Sure does. From lugging ATVs to making the bed into a paddling pool, the TRD Off-Road has you sorted. It's available with an access cab and a six-foot bed, or a double cab with either a five or six-foot bed. The double cab with the shorter bed allows for more space. The legroom is okay for large adults on a short journey but could become tiresome on longer runs.
ADVERTISEMENT - CONTINUE READING BELOW ↓
The five-foot bed has the benefit of a 120V outlet, so you can plug in and use your hairdryer in the barren desert. And if you can't get everything in the bed, for $650 you can spec the 'Towing Package', which allows you to pull up to 3,000kg—136kg more than the previous-generation Tacoma.
What's it like to drive?
Better than a Hilux both on and off-road. It's largely due to the suspension tune and addition of Bilstein monotube dampers, which do a massive job of settling the inherent judder and shudder of a leaf-sprung back end.
On the road, the cabin is kept quiet—even with the Goodyear All-Terrain Adventure tires (with Kevlar-reinforced sidewalls) trying their best to be heard. The 3.5-liter V6 has 278hp and 359Nm. It's strong at the lower end of the rev range but becomes increasingly weak the higher up you go. Thankfully, the six-speed automatic transmission tries to keep the revs low, but unfortunately, hunts for gears in an incredibly anxious and unsettled way.
ADVERTISEMENT - CONTINUE READING BELOW ↓
And off-road?
On the rough stuff is where the Tacoma really excels. We tested the car relentlessly in Baja and the poor thing was subjected to torturous terrain, not seeing tarmac for four days. But it dealt with everything with confidence and aplomb, no matter how arid the landscape we threw at it.
With a lockable rear-diff, two and four-wheel drive (in both high and low gearing), plus a 32-degree approach angle, you can clamber over stuff that looks far too serious for a truck this size. There's also clever off-road tech like a terrain response system that adjusts the setup for each surface, a pitch and roll screen so you can see when you're going to topple over, and a very cool system called Crawl Control.
What's Crawl Control?
Crawl Control is basically cruise control for off-road. While in four-low, you can twizzle a knob in the roof to set your speed and then it'll maraud across pretty much anything. It also works as a hill-descent mode, so you get to dictate the speed you come down the mountain, rather than gravity.
ADVERTISEMENT - CONTINUE READING BELOW ↓
But Crawl Control's real party trick is that if you get the truck stuck in sand (as in buried-up-to-the-axles stuck), Crawl Control will dig you back out without the need of a shovel. All you have to do is move the roof-mounted knob all the way to the right, put the truck into first or reverse (depending on which way you want to drive out), then take your hands off everything and let it do its thing. The truck will then spin its wheels back and forth to vibrate and push sand underneath the tires. Then, when there's enough under it in order to grip, it'll drive itself out. It's very impressive. And basically witchcraft.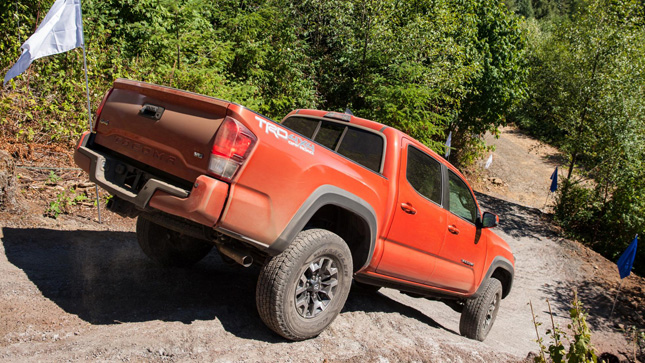 ADVERTISEMENT - CONTINUE READING BELOW ↓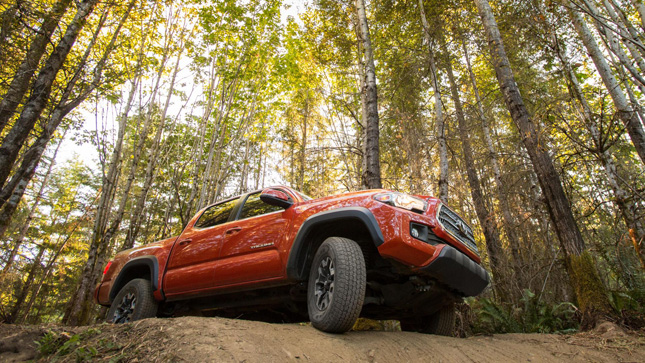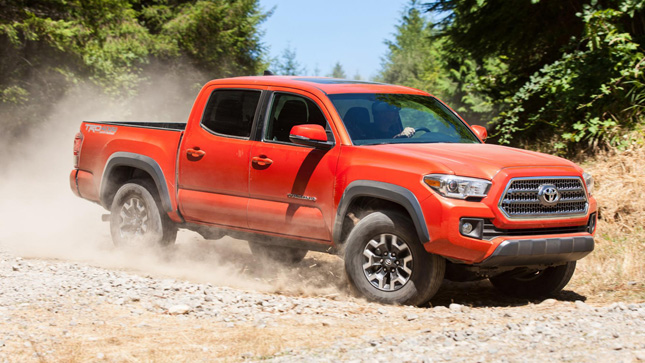 ADVERTISEMENT - CONTINUE READING BELOW ↓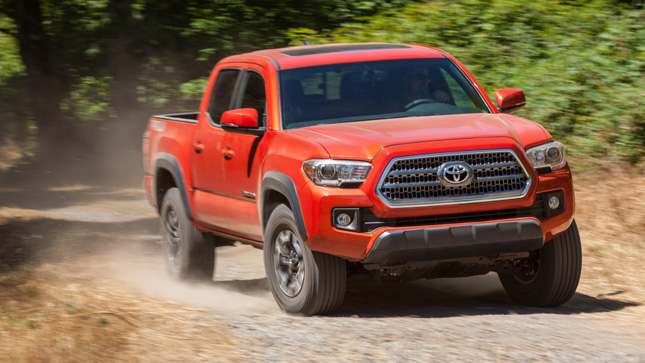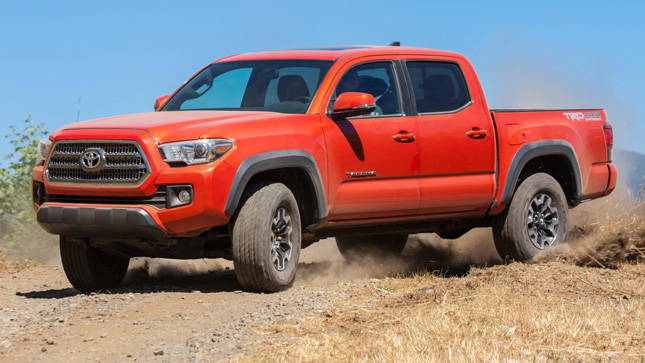 ADVERTISEMENT - CONTINUE READING BELOW ↓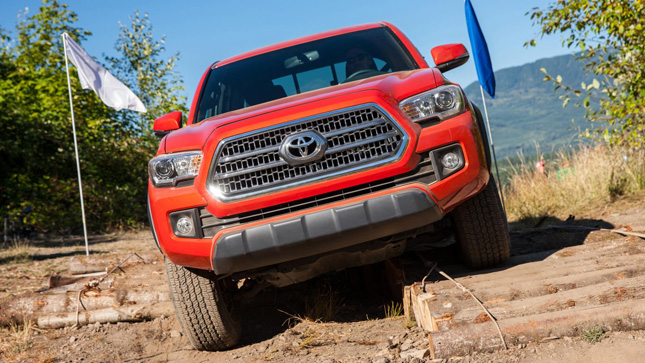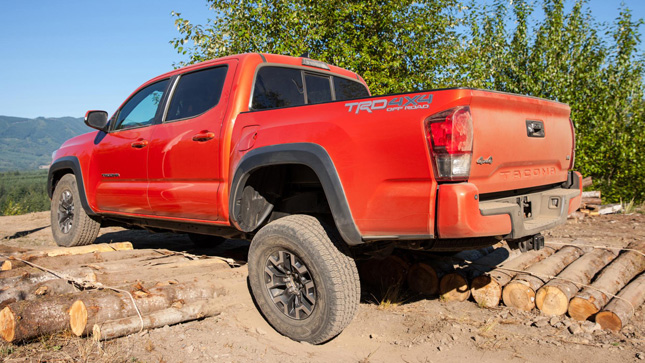 ADVERTISEMENT - CONTINUE READING BELOW ↓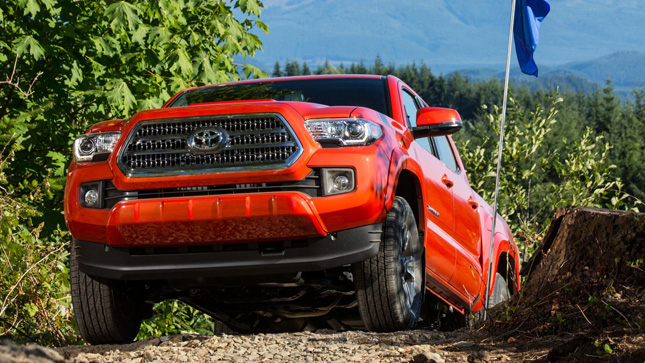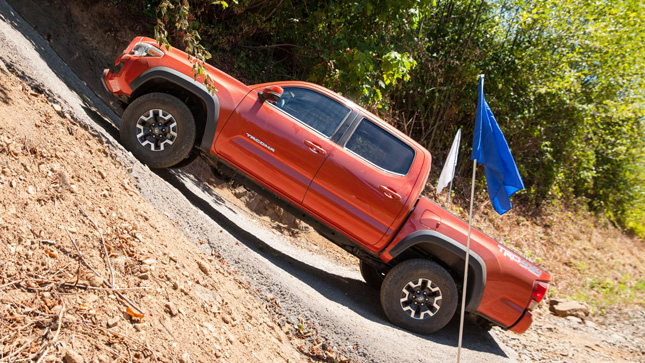 ADVERTISEMENT - CONTINUE READING BELOW ↓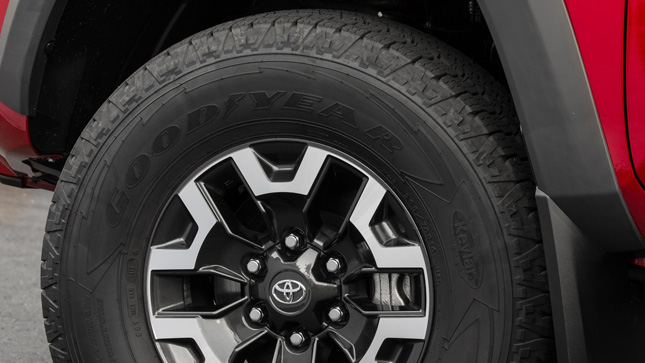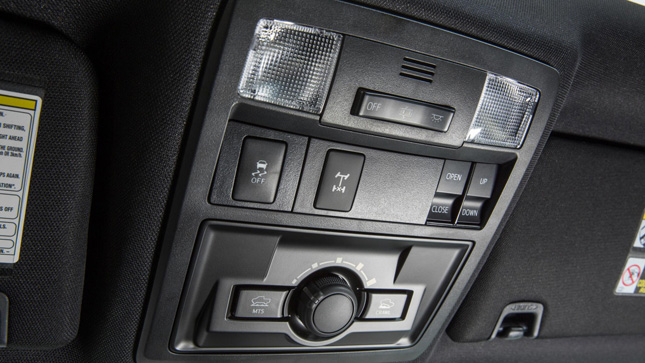 ADVERTISEMENT - CONTINUE READING BELOW ↓
NOTE: This article originally appeared on TopGear.com. Minor edits have been made.