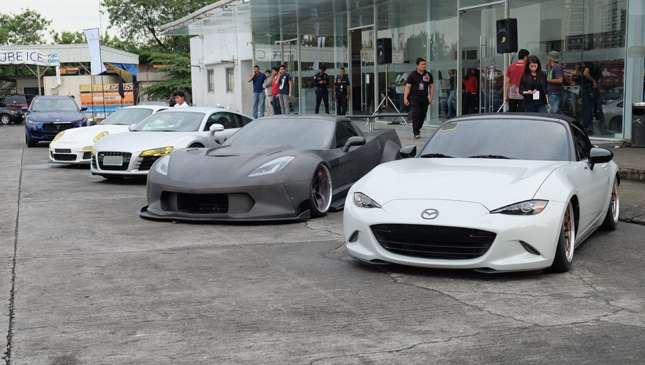 While the month of March is known for celebrations of everything women, last February 18 Rogin-E held a ManCon (man convention) to celebrate men who are at the top of their game. The event in Metrowalk showcased different testosterone-fueled interests like sports, fashion and grooming, and of course, cars and motorbikes.
Inside, different athletic areas welcomed men, women, and even children to try kicking soccer balls, shooting hoops, swinging golf clubs, and throwing footballs (yes, the American kind). There was a lifestyle area where the boys could get their hair cut and their manly beards trimmed. Fashion merchandise booths were also set up for event-goers who wanted to shop for clothes and toys.
Continue reading below ↓
Recommended Videos
But the parking lot in front of the Metrowalk tent was the gearhead's turf. Angie King showcased her drifting skills in front of an excited crowd using a white Mazda MX-5. A handful of drool-worthy cars (Porsches, a Corvette, and a Ferrari) were lined up outside, like stars eagerly waiting car nuts to take selfies with them.
The Saturday event saw men of different age groups and backgrounds take time off and try different activities, demonstrating that work-life (or in this case, play) balance can exist even for the super-busy man.