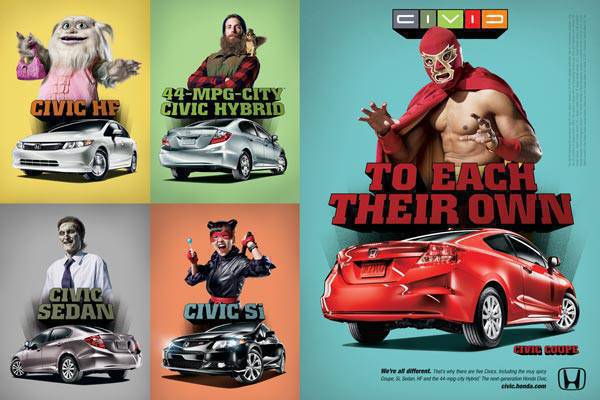 Turns out there are as many as five different variants of the 2012 Honda Civic in the US, and the Japanese carmaker is promoting this via a marketing campaign called, "To each their own." These Civic variants are the Civic Sedan, the Civic Coupe, the Civic Si, the Civic Hybrid, and the all-new Civic HF high fuel-economy model.
For more info on these variants, let us quote from the official press statement: "The Civic Sedan and Coupe models are powered by a 1.8-liter in-line four-cylinder engine with a 16-valve i-VTEC valve train and a dual-stage intake manifold. The engine produces 140hp at 6,500rpm and 174Nm of torque at 4,300rpm. The Civic HF is a value-conscious "high fuel-economy" sedan positioned between the Civic LX and the Civic EX. It is equipped with a five-speed automatic transmission, exclusive 15-inch lightweight alloy wheels and aerodynamic enhancements under the body and an exclusive rear spoiler. The Civic Si prioritizes handling and performance with a sport-tuned suspension and a 2.4-liter i-VTEC four-cylinder engine. More powerful than the 2.0-liter engine in the previous generation, the new engine produces 201hp at 7,000 rpm and 230Nm of torque at 4,400rpm. Lastly, the CVT-equipped Civic Hybrid uses the latest version of Honda's IMA parallel hybrid system to increase efficiency using an electric motor placed in-line between the engine and the transmission. A larger 1.5-liter i-VTEC four-cylinder engine, up from 1.3 liters in the previous generation, provides a broadened mid-range power band, and the switch to lithium ion batteries from nickel-metal hydride results in enhanced IMA electrical power assist."
Continue reading below ↓
Recommended Videos
To see these five Civic variants in a bit of action, here's the promotional video...