Ferraris are all about passion, drama, and bringing the race-car experience to the road. Indeed, few cars fail to capture the pure, undistilled essence of the romance of driving the way this Maranello-based Italian carmaker does.

The big question is, how does a Ferrari fare in normal Metro Manila driving conditions? In traffic? On bad roads? In poorly lit areas at night? Up steep ramps and over speed bumps? And among stupid drivers and crazy motorcyclists, for good measure?
With trepidation and worry, I accepted the challenge of finding the answers to these questions. So, for roughly 36 hours, the Ferrari 488 became my beast of burden. Here's what I think:
1. It's really wide and really low.
Continue reading below ↓
Recommended Videos
You will need almost two regular parking slots to fit the 488, plus space to open the long doors. The low roofline meant my 200lb+ frame abused my knees and back whenever I got in and out of the car—more so if the doors couldn't be opened wide enough. You need loads of practice and a regular workout regimen to look graceful sliding in and out of the 488 with ease.
2. The engine is surprisingly quiet.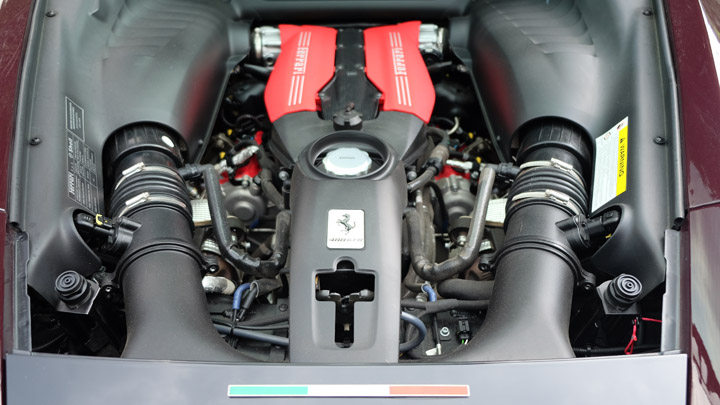 Thanks to the turbochargers essentially acting as mufflers to keep the exhaust note down, the 488's F154 3.9-liter twin-turbo V8 sounds so docile. It could easily power a sports sedan or a luxury limousine because it is buttery-smooth and refined, unlike the Ferrari 458's F136 normally aspirated V8 that sounded like a full marching band on start-up. The muted engine note also attracts slightly less attention.
But don't be fooled—the motor has 661hp and 760Nm of torque ready and waiting. In contrast, the F136 V8 made do with 562hp and 540Nm. The F154 has a huge amount of torque, making it far easier and more forgiving to drive in everyday conditions—in cut-and-thrust driving in traffic, on winding mountain roads—even for novices. As the Americans say, horsepower sells engines, torque wins races.
3. It's got excellent ergonomics.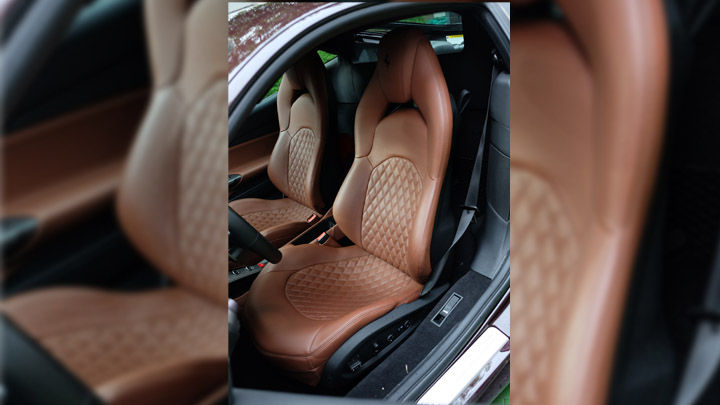 After picking up the 488 at local distributor Autostrada Motore's HQ in Bonifacio Global City, I headed south, passing through Carmona, Silang, and finally back to Aguinaldo Highway and straight up to Tagaytay for an almost three-hour, traffic-ridden drive. Surprisingly, despite the carbon-fiber seats being thinly clad in leather, everything felt good. There was adequate space for my size-11 EEEs, wide yet supportive seats for my 38-inch waistline, excellent steering-column angle for my arms and shoulders, and a light but tactile steering effort from the tiller.
4. It's surprisingly easy to drive.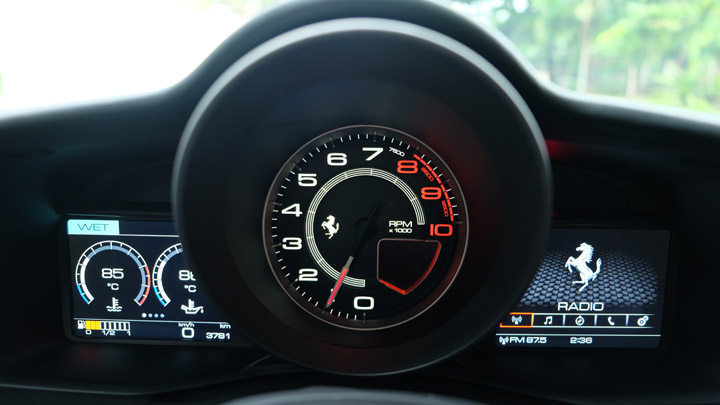 Get over its massive width and the 488 is quite manageable on the road. Bad roads? Steep ramps? Speed bumps? The lift system raises the 488 by roughly an inch, helping you clear real-world obstacles that any normal sedan will tackle with no problems.
The engine, best left in manual mode, hates to cruise—it wants to either accelerate or decelerate (then downshift to accelerate again). If you want to cruise, stick it in automatic mode and the 488 is tractable enough to trundle along at 50kph in seventh gear at a lick over 1,000rpm. Yes, it's that tractable. And the cameras all around make maneuvering in tight spots easier—you won't prang that expensive front end or damage the rear diffuser fins (which I did, unfortunately).
5. The Manettino takes a lot of getting used to.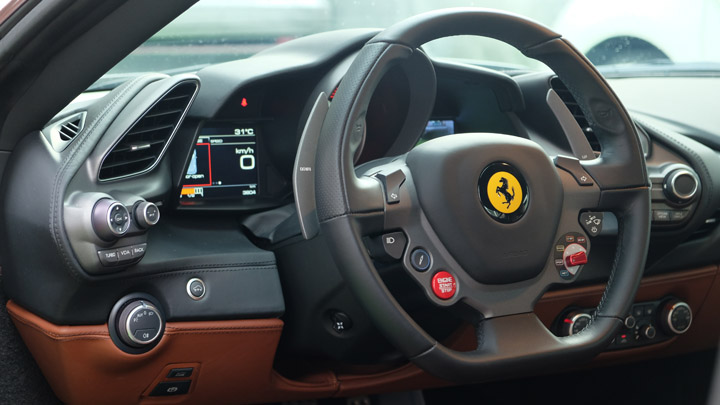 Some carmakers like to do things the same. On most left-hand-drive Japanese and Korean models, the left column stalk controls the lights, while the right one controls the wipers. In some European vehicles, the light controls are via a knob to the left of the steering wheel.
Ferrari integrates all these, along with settings for the dampers and the driving modes, into the steering wheel. What was hardest for me to get a hang of was the placement of the signal lights and the horn. Instead of smashing the entire center section of the tiller to blast the horn, you have to press on the small buttons at the 10 and two o'clock positions. It's a sphincter-tightening moment every time somebody cuts you off all of a sudden just so to take a picture of your car with their phone. While riding a motorcycle. With two other dudes riding in tandem. Plus a kid. And a bag of personal effects. While weaving in and out of traffic.
6. It actually feels somewhat German.
And I don't mean this is an insult, but rather as a compliment. Previous Ferraris felt delicate—too delicate. The 488 feels indestructible the same way an old German car does. It feels a lot more surefooted than older Ferraris did, and the risk of overheating is totally nonexistent. Yes, Ferraris even from the mid-2000s (I won't say which) got dangerously close to overheating in Metro Manila traffic. And those were new, unmodified, casa-maintained Ferraris.
7. It still demands a lot of respect.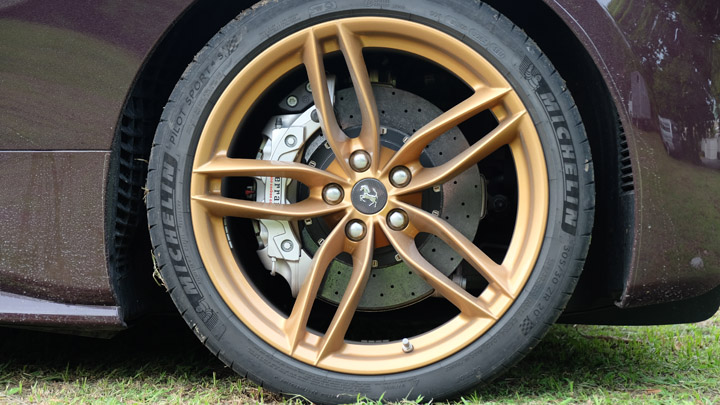 Despite being very tractable, despite being very stable and surefooted, despite being armed with the latest driving aids, and despite riding on super-sticky Michelin Pilot Super Sport 4S tires sized 305/30 R20, the 488 can't be floored in the same manner as, say, an R35 Nissan GT-R or a Porsche 911 Turbo S. Roughly 26 inches of driven tires' worth of contact patch on the road can barely cope with all the power and torque from the engine.
Tread carefully, drive carefully. Don't tempt fate. And unless you absolutely know what you're doing, don't even bother toggling to 'CT OFF' or, worse, 'ESC OFF' mode. Dancing with the devil you will be in these two modes. I always kept it in Sport, which felt lairy already at times.
8. The hype is real.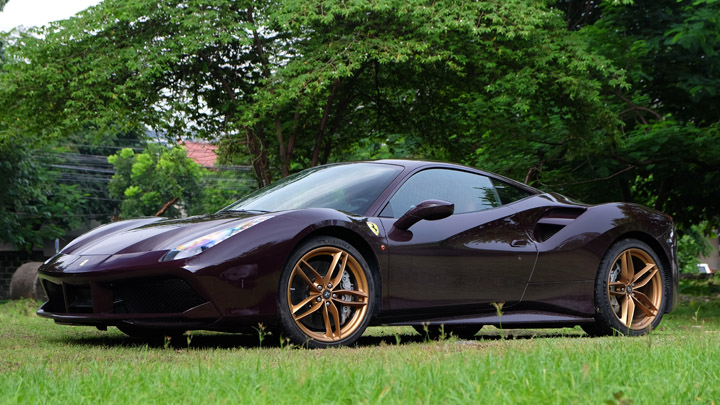 Many other cars out there may be more refined, more well-rounded, and more comfortable, but few will elicit the same passion and excitement as the 488. At full-throttle, shifting at redline, the engine's muted growl is replaced by an almost-feral shriek, the car feels alive and on the edge (in a good way), and responses are hyperactive. You need to keep your wits about to savor the full-on experience.

The Ferrari 488 is, in most ways, truly perfect. Save for the purchase price. And servicing fees. I don't mind the gas bill—P5,000 for roughly 170km of driving might sound insane, but it's well worth it.