The Tamaraw FX was the updated version of Toyota's first asian utility vehicle. Although it looks primitive today, back in the early '90s it seemed light years ahead of its '70s-era predecessors.
While the Japanese carmaker's updated AUV is not exactly the first thing that comes to mind when we think of '90s automotive icons, we do feel nostalgic when we see one on the road—and there are still quite a number plying Philippine streets.
OTHER STORIES YOU MIGHT HAVE MISSED:
Construction of the Samal Island-Davao City Connector is underway
Cavitex-C5 Link's Merville exit ramp is now open to motorists
Because we're big on nostalgia, we decided to resurrect the Tamaraw FX—digitally of course. The idea was simple: Make a modern version of the FX but keep it simple and affordable. It was important for us to keep the tall boxy form-follows-function shape of the original. This not only links the two models together, it makes our modern interpretation practical as well.
ADVERTISEMENT - CONTINUE READING BELOW ↓
The front end is dominated by Toyota's truck-like hexagonal grille, which is flanked by large headlight clusters. Below this is a rugged matte black frame-mounted bumper. Its windshield is upright and almost flat like its predecessor. Moving to the sides, we gave it classic angular wheel arch extensions inspired by the ones found on the higher trims of the original model. The front and rear doors are now larger, the visible B-post has been eliminated. Large windows keep the interior bright and airy.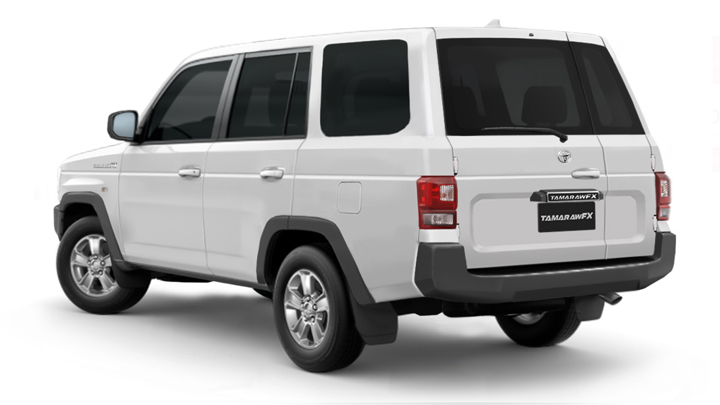 The back end features a near vertical rear to maximize both interior space for the rearmost occupants and cargo space. Angular taillights and flush back window glass update the posterior. It now features 70:30 split side-hinged barn doors to give the rear a wider opening.
Just like the exterior, the dashboard features a boxy shape with switchgear and components borrowed from the lower-end Hilux and Innova variants. Our modern Tamaraw FX is based on a version of the IMV chassis, but unlike the Innova it will feature leaf springs instead of coil springs.
While its predecessor was equipped with tiny 13-inch wheels, our modern interpretation rides on larger 15-inchers on 205/70R15 tires. Powering our modern FX is a 2.4-liter 2GD-FTV diesel, which produces 147hp and 343Nm of torque. This engine is paired to a six-speed manual transmission.
The TGP Tamaraw FX will slot below the Innova range and will serve as a rugged diesel-engined body-on-frame alternative to the smaller unibody Avanza. It will be offered in Base, J and E variants. The nine-seater Base trim gets side-facing jump seats behind the second row, while the seven-seater J and E variants get a forward-facing third row. Safety features like dual-airbags and ABS are now standard.
ADVERTISEMENT - CONTINUE READING BELOW ↓
Would you consider our modern Tamaraw FX over an Avanza or Suzuki APV, or would you spend more and get an Innova which now starts at over a million pesos? Let us know your thoughts.