Another month, another driving event. The formula is the same: early call time, briefing over breakfast, event shirt that probably won't fit, and driving in a convoy. But there were two things different with this motoring event: 1) I have never driven a Nissan Patrol before, and this could indeed be the first-ever Philippine media drive for Nissan's massive SUV; and, 2) The shirt fits. Barely.
The Patrol needs no introduction. This model, along with the Toyota Land Cruiser, created a premium Japanese-SUV duopoly that has been unchallenged since the '90s. And while there are more premium 4x4 offerings today than there were two decades ago, the cachet of the Patrol and the Land Cruiser is undiminished. And there's the undeniably strong nostalgia factor.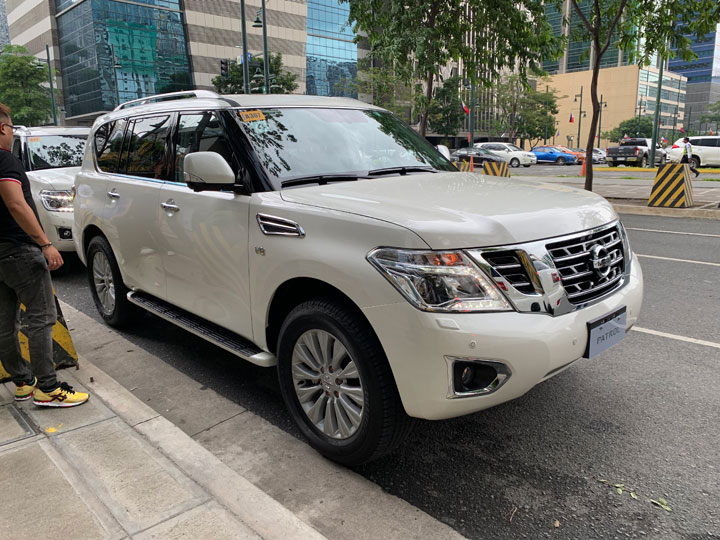 But lately, it seems the Land Cruiser is pulling ahead in market dominance, with Toyota Motor Philippines apparently selling every unit it can bring in. And I suppose that's why I'm staring at the largest gathering of current-generation Nissan Patrols in the Philippines outside of a shipping port. Nissan Philippines has decided to give its premier SUV the marketing push it deserves via a drive out of town. We will pilot these V8-powered behemoths to Tagaytay Highlands and put ourselves in the shoes of the Patrol's target market.
ADVERTISEMENT - CONTINUE READING BELOW ↓
Nissan's support team has lined up the units we will be driving in front of the Japanese carmaker's spanking new office building. You instantly feel like a VIP when you see an idling Patrol waiting for you. I wonder if this is the reason I've been given a tight collared polo shirt—to look like someone waiting for sundo at the village country club. I would have looked like a driver in my usual attire of t-shirt and jeans.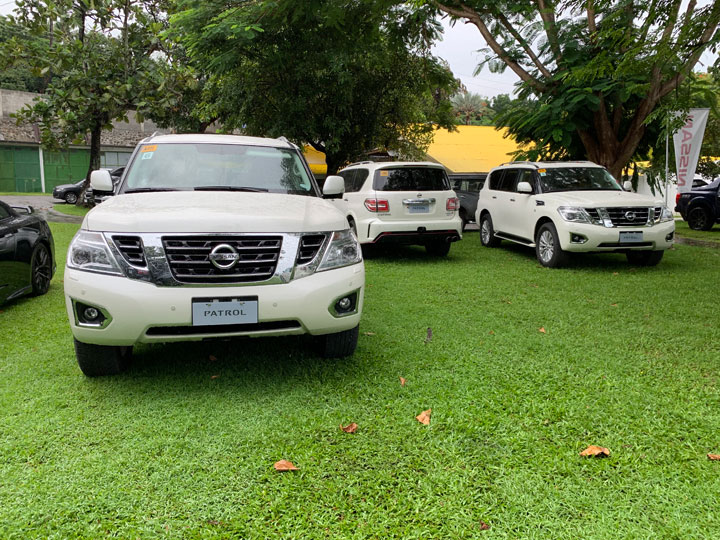 The Patrol is a handsome beast. With soft edges and rounded corners, it's a contrast in design to its Toyota counterpart—the latter known for its rigid flanks and straight posture. This Nissan conveys power and importance. The Patrol has escorted and ferried heads of state, kept the peace for the United Nations, and has been a mobile conference room for captains of industry. I feel it would be offended if I took it out to buy milk tea. And I doubt that it's thrilled at the thought of transporting pampered motoring media, but it bows like the characters in John Wick and says, "I have served. I will be of service."
ADVERTISEMENT - CONTINUE READING BELOW ↓
Recommended Videos
There are three of us in this white Patrol I am assigned to, with driver changes scheduled along the way. Unfortunately, my sleep-deprived self has to drive first.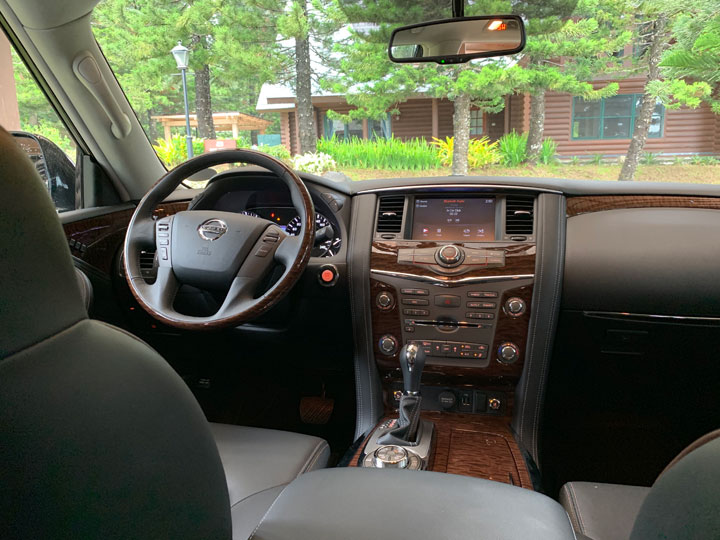 Inside, the Patrol is as massive as I expected. If you're with your wife/girlfriend, she'd better not be the physically clingy type because it's literally a stretch to reach the person in the front passenger seat. Fortunately, my relationship with the cameraman beside me is strictly platonic.
The cabin is leather and (faux) wood, peppered with chrome bits. The leather seats and excellent NVH want to lull me to sleep, but the exhilaration of finally driving a Patrol wins out. Immediately, I am reminded that what's under the vast sheet metal called a hood isn't a diesel engine. To be honest, I initially miss that abundance of low-end torque that turbodiesels can give. But with 400hp and 560Nm from the 5.6-liter gasoline V8 to play with, there's no shortage of power from the engine.
ADVERTISEMENT - CONTINUE READING BELOW ↓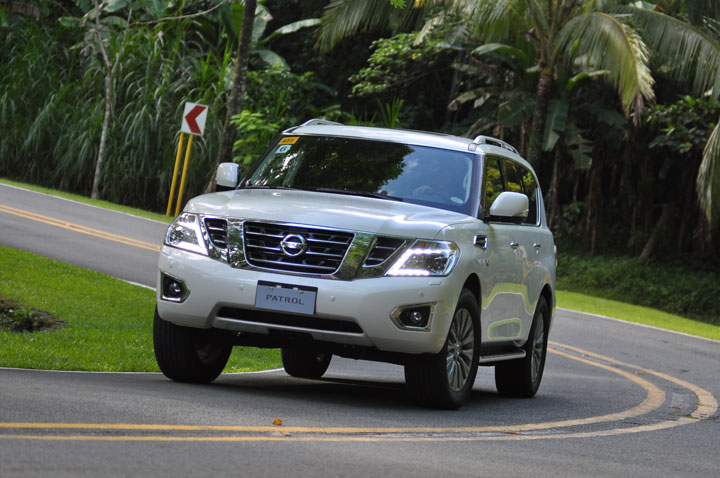 Being behind the wheel is a mix of excitement and being coddled. Apart from the supremely commanding SUV driving position, I feel that the sheer presence of the Patrol causes traffic to part—or at least give way more than usual. I can also see if the commoners get too close because Nissan's Intelligent Mobility system springs to life, showing me a 360-degree view of the riffraff surrounding me. 
And when the road opens up, the seven-speed automatic transmission downshifts and growls after I step hard on the gas, with a movement that belies the Patrol's 2.7-ton heft. There's minimal body roll, too, thanks to Nissan's Hydraulic Body Motion Control. I would characterize the Patrol's movement as smooth, like a 4x4 shinkansen.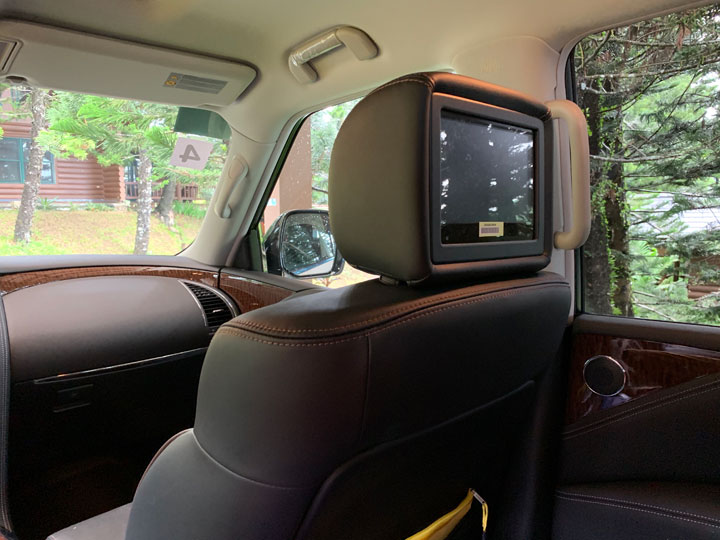 Nissan's decision to use gasoline instead of diesel for its flagship SUV begins to make sense. There's none of the turbodiesel surge you feel in midsize SUVs. I slept like a tycoon after the driver change, and I didn't feel the shifts in weight that usually accompany tall vehicles.
It's almost a shame I slept so well because I wasn't able to enjoy the dual LCD screens in the back. They're supposed to be capable of handling multiple entertainment sources at once—one passenger can be listening to music on wireless headphones, while someone else can be watching a movie on the screens. The Bose audio system is also an aural treat, and you'll be sorely tempted to bring your favorite CD instead of using streaming music.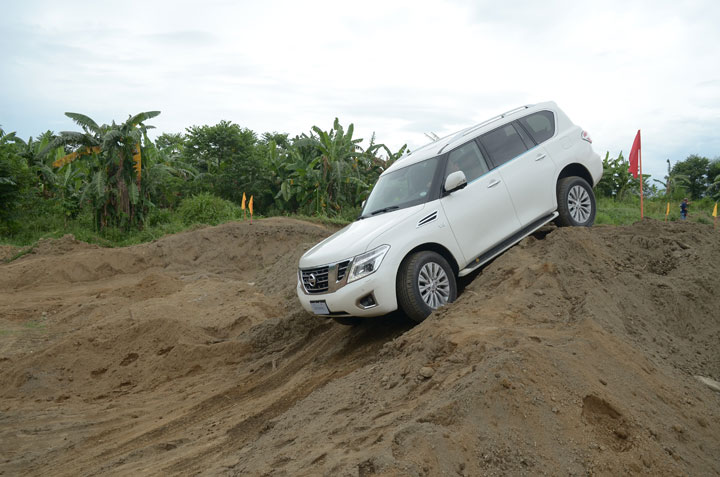 ADVERTISEMENT - CONTINUE READING BELOW ↓
Nissan Philippines also wants to remind us that the Patrol is a 4x4 beast. It has set up a short but challenging off-road track in Tagaytay Highlands. It's safe to say that even with its size advantage (disadvantage?), the Patrol can do anything the Terra does off-road. Actually, I think the former can do better. The latter has excellent approach and departure angles, and an assortment of electronic off-road toys that can help you drive over mounds of earth without spilling your flat white.
What can't the Patrol do? Well, sip fuel is one thing. The fuel economy reading registered 3.5km/L on the way up to Tagaytay. Others who reset their gauge got 5km/L on the highway. There's no way to hide the fact that this SUV is thirsty. But that doesn't matter to the intended target market. It's a stretch of the imagination for everyday motorists like us to not care about fuel consumption. In this case, if you're concerned about fuel bills, this isn't for you. You also can't compare it to diesel midsize SUVs—the materials, fit and finish, ride, and room are several notches higher.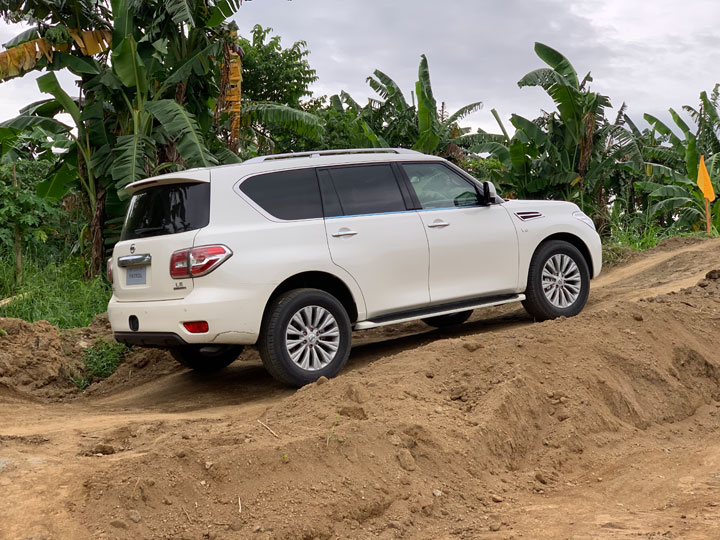 Besides, at P3,888,000, the Patrol is quite a bargain compared with the Land Cruiser, which costs almost half a million pesos more for the base spec. This price is also a welcome change compared to when it was first launched years ago. 
An amusing niggle is the fact that the Patrol doesn't have an auto-lock feature when you reach a certain speed. Many modern vehicles lock the doors when 20kph is reached. This SUV expects your bodyguards or Mang Jun to lock the doors. 
The Nissan Patrol driving event may be just another schedule on the motoring beat calendar, but it's a drive I won't soon forget. It taught me the difference between mass market SUVs and premium 4x4s. Owning a diesel SUV means you've arrived in the world. When you pull up in a Patrol, the world knows you've arrived.
ADVERTISEMENT - CONTINUE READING BELOW ↓