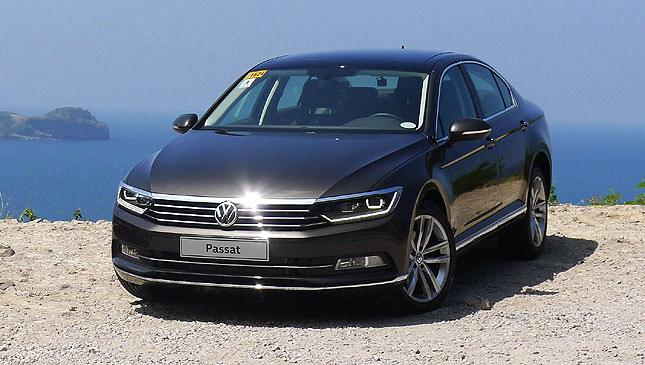 We think the best way to get to know a car is to take it out on a road trip. There's nothing like a few hundred kilometers for you to become familiar with how it drives, appreciate its interior, and even completely figure out its audio system. So when we signed up for a test drive of the Volkswagen Passat going to a quaint resort in Mabini, Batangas, we were positive that we would have enough quality time with this German midsize sedan. Little did we know that we would be driving close to 200km on the first day alone.
Instead of taking the more straightforward way through SLEX and Star Tollway, we drove through the scenic route passing through the new Muntinlupa-Cavite Expressway (MCX) on SLEX, going to Cavite and then to Nasugbu, Calaca, and finally to Mabini. Throughout the drive, we took turns being the driver and the passenger. After spending close to eight hours on the road with this executive sedan, we've compiled a few reasons why the Passat is actually an endearing ride.
1. It has a capable engine. Truth be told, our first impression of the Passat is that it looks like what our fathers would drive. It's not as adorable as the Beetle or as spunky as the Golf GTI. It is elegant, yes, but we felt it appealed more to the older set. So it was a good thing we got in the driver seat. Quality seat time certainly changed our preconceptions. It also helped that this sedan has a similar motor as the Golf GTI. Yep, it has the same 2.0-liter TSI powerplant we've grown to love in the popular pocket rocket. The Passat may look like a cruiser, but it has the heart of its sporty stablemate. Obviously, it is heavier than the compact sports hatchback, but this doesn't seem to be a problem for the strong mill. This sedan is no slouch. It revealed its feisty nature during overtakes on the highways, and it was great on the twisties, too.
Continue reading below ↓
Recommended Videos
2. It makes awesome engine sounds. Believe us when we say that this was the last thing we expected from a midsize sedan positioned as a luxury car, but we were pleasantly surprised to hear the grunt of its motor. It's not ostentatious or vulgar at all. Rather, it was a sound that complemented the dynamic engine. We could tell from the grin of our consumer editor Botchi Santos that he was happy with this discovery.
3. It has a good audio system. Of course, a successful road trip entails a good playlist. It was no exception for this drive where we found out that the Passat's Discover Pro premium infotainment system (for the Business Edition variant) was more than decent. We also had no problems pairing our iPhone with the system. Botchi was ecstatic to hear that his favorite tunes from Justin Bieber were not muffled. He was so glad that he just had to sing along enthusiastically. Turns out he is a true Belieber.
4. It adapts to the driver. It seems like most cars are "customizable" now, meaning you can choose what kind of ride setting you want. The Passat goes one step further by offering a choice of running gear through the Adaptive Chassis Control. Your options include normal, sporty and comfortable tuning. Aside from that, you may select the following driving modes: Sport, Comfort and Natural. We just had to switch to Sport on the twisties leading to the Kaybiang Tunnel. It was sublime.
5. Its driver seat has a massager. Anyone who has been stuck in traffic would surely appreciate this feature. Okay, so we weren't exactly able to try this out during our drive because we were too caught up taking in the sights and talking about everything under the sun, but it was good to know that it was there. All you have to do is press the massage button beside the recline button on the left side of the seat, to activate the movement of the lumbar support area. The massager would knead your worries away.
Photos by Stephanie Asi-de Castro