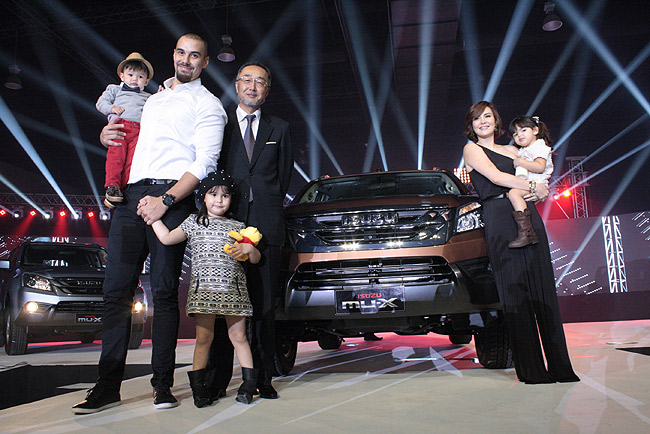 The long-overdue Isuzu MU-X was finally revealed the other night. We reported the price list as early as last month, and we already told you about the basic specs. Now, we want to share with you a few things we learned about the midsize SUV from the Japanese carmakers' executives themselves:
* The MU-X was first launched in Thailand in October 2013. Two months later, it was introduced in Australia. The SUV then recently made its way to New Zealand, Laos and Indonesia. The Philippines is thus the sixth country to welcome the Japanese carmaker's new sport-utility.
* The Philippines is privileged to have a best-selling SUV on its shores. According to IPC president Nobuo Izumina, the MU-X bagged the top spot in SUV sales in Thailand and Australia for the first seven months of 2014. Do you think the newcomer stands a chance at beating the established midsize SUVs in the country (read: the Mitsubishi Montero Sport, the Toyota Fortuner and the newer Chevrolet Trailblazer)?
* Catering to the needs of a growing family, the MU-X (pronounced by MU-X ambassador Doug Kramer as 'myoo-ex') has 12 cupholders and 19 cargo compartments. Will our cupholder expert Niky Tamayo manage to fit more than 69 soda cans inside Isuzu's new vehicle? (He was able to do so inside a Honda Pilot, which only has 10 cupholders.)
Continue reading below ↓
Recommended Videos
* A successor to the Alterra (called MU-7 in Thailand), the MU-X actually has a shorter wheelbase than the D-Max.
* The new midsize SUV has the following available accessories: door visor set, headlamp garnish, muffler cutter, rear combination-lamp guard, tonneau cover, organizer box, door handle trim set, and rocker plate set.
Photos by Tracy Carpena