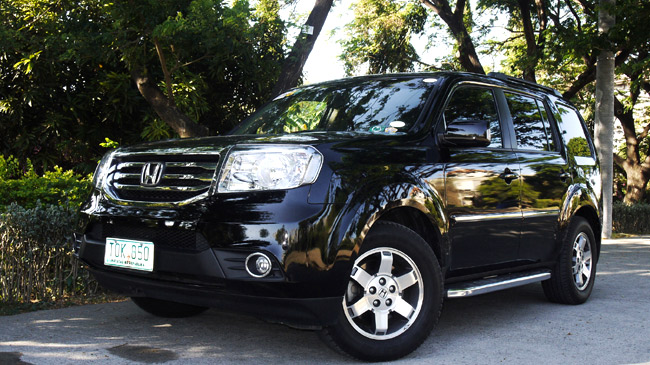 Let's face it: It's hot out there. Really hot. So hot that stopping at the gas station to buy a drink will have you drenched in sticky sweat the minute you open the car door.
Thankfully, with 10 cupholders, the Honda Pilot allows you to carry enough drinks for your typical two-hour commute. But what about those 10-hour trips to the beach? Just how many beer soda cans can the Pilot hold?
For this challenge, we limited ourselves to cubbyholes and cupholders. While yes, you can store cans under the seats, you're not going to be drinking from something that was on the floor, right? And no cans in the trunk. Since we're going on a weekend trip, we assume the trunk is already full of bags and food. Granted, a cooler would be nice, but we've already got a full load of seven passengers, so there's no space. Thankfully, while most cars have six to eight cupholders, the Pilot starts with 10. But that's just the beginning...
Continue reading below ↓
Recommended Videos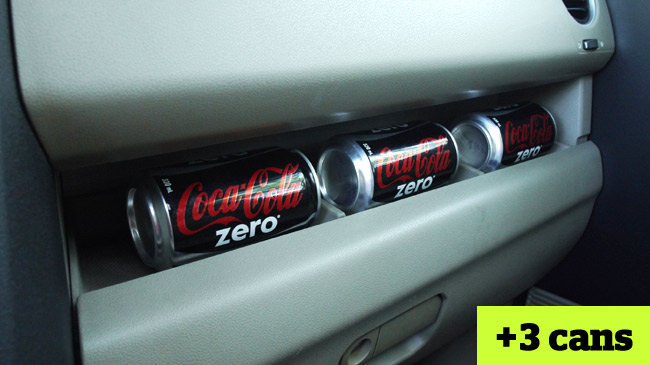 Three more cans fit in this nifty niche over the glovebox. Six will fit sideways, but they clatter around and might be dangerous to open after a particularly bumpy drive. We don't put any in the glovebox, because that's where the gloves go, and we don't want those getting wet.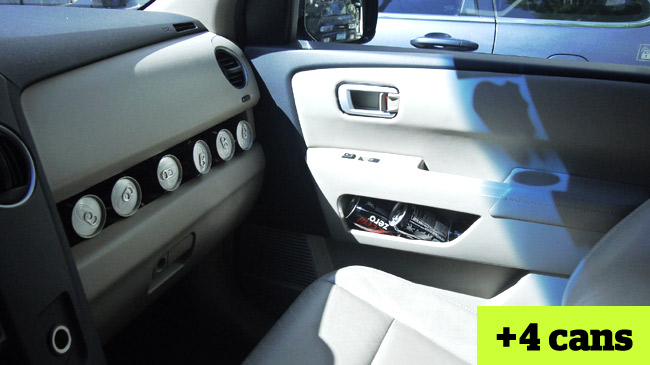 Four more fit in the door handles up front. This isn't cheating; those handle pockets were made for water bottles.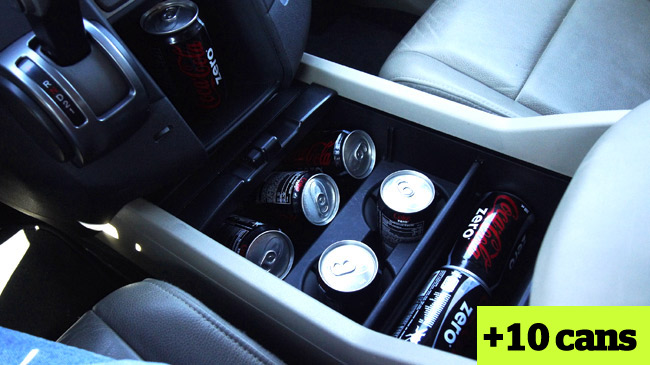 Six more fit in front of the cupholders (three cans are stacked underneath the three tilted cans), and two more sit behind them. Yes, the roller cover still closes.
The big center bin holds five, but it's a tight squeeze. It's better to stack them sideways. There we go. Nine fit, and the lid still closes. Great!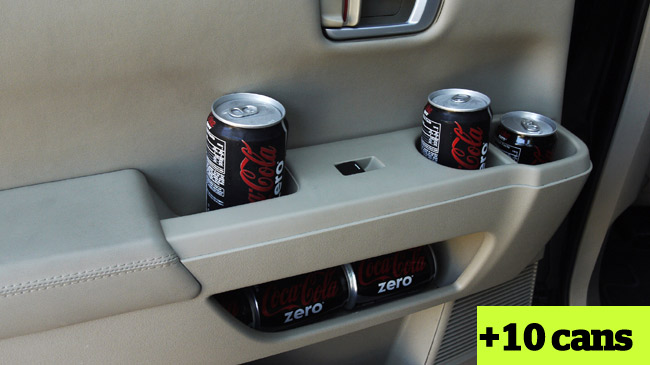 You can stick an extra can in each of the rear door handles, right beside the double cupholders. Okay, so we're cheating here, but they fit and don't slosh around, so it counts. This makes up for not using the cupholders in the center armrest. We've got a full load of passengers, so that doesn't count.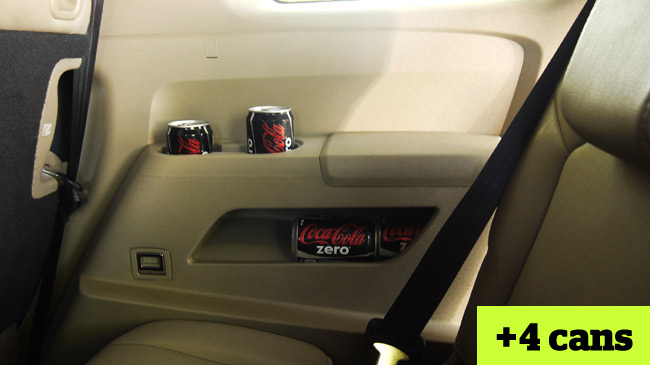 You can fit six more in the bottle holder pockets in the rear doors.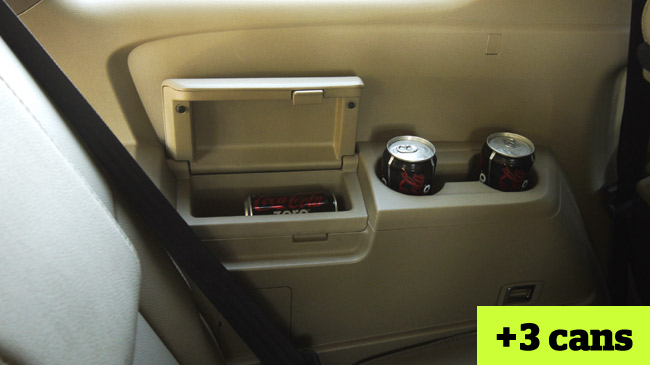 You can fit two more in the bottle pocket in the right-side armrest in the third row. The other side has a covered pocket. Two will fit standing up, but we want all the lids closed, right? So just one.
So far, we've got 43 cans. More than enough for a full, seven-passenger load. Some of them might even get drunk buzzed from all the alcohol caffeine. But we're not done. There's a concealed bin in the rear for an air compressor, but since our Pilot doesn't come with one, there's simply a big, empty space where we can stuff more cans.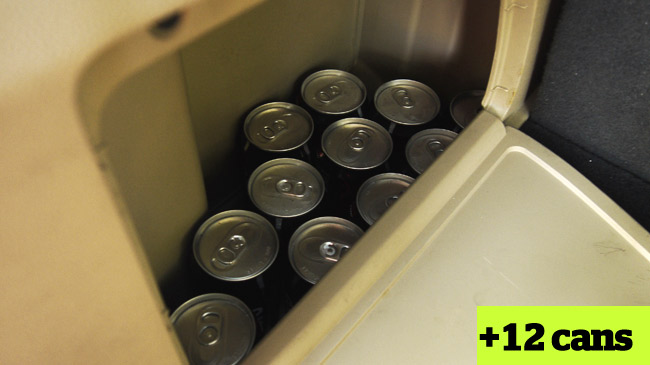 Only 11 are visible in the photo, but 12 cans actually fit, with all of them standing up. We want them to look neat in there.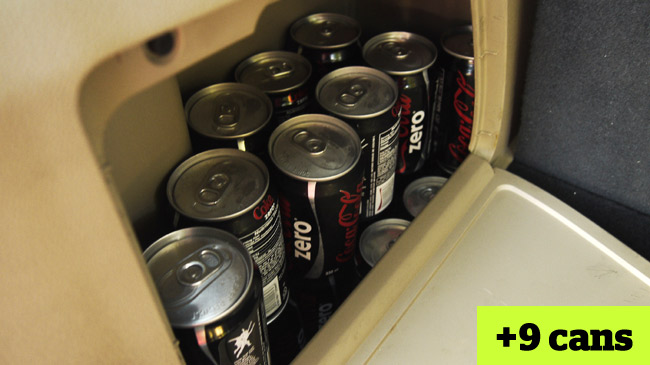 Nine more fit on top of those 12.
And another four on top of those.
We could probably fit a few more, but we don't want them falling out. Running total, 68 cans.
Did we miss anything? Oh, there's a rubber-lined pocket under the radio tall enough to stand a single can up in.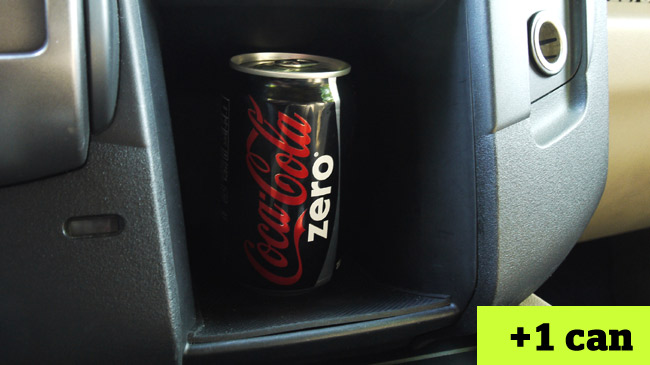 So there: We have a total of 69 soda cans. Sounds like a party to us. You'll run out of gasoline before you run out of beer caffeine, but you don't have to get out of an air-conditioned car to buy gasoline.
Can your car do better?
Photos by Niky Tamayo