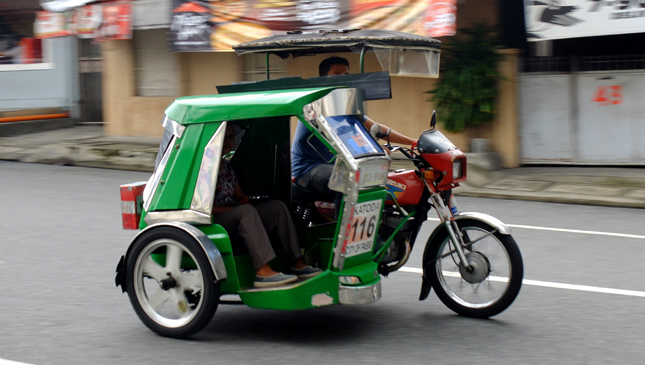 They often look beat-up, but they're one of the most convenient ways to get around--especially when it's too far to walk yet too near to bother bringing a car. I'm referring to tricycles. I happen to live a few blocks from our office, and take a trike to and from work on a regular basis.
Here are seven reasons I find riding a tricycle much more convenient than driving a car through my short, daily route:
1. It's such a hassle-free means to get to your destination. I live about 1.4km from the office, and parking is reserved for the higher-ups. Not only does my tricycle ride take less than 10 minutes, I also only have to walk about 100m to the tricycle line from my house and then cross the street to get to the Summit Media building. It's much faster than driving a test unit to work, even if we have allocated parking for those.
ADVERTISEMENT - CONTINUE READING BELOW ↓
2. The fare is easy on the pocket. I spend P32 a day--P16 to get to work and P16 to get home. And that feels good. I often hear my officemates complain about parking (and rightfully so), having to go down every three hours just so they avoid the hourly rate (I'm talking about the Robinsons Forum mall nearby, which is the best place to park for us). P32 versus a minimum of P100 for parking and another P100 for fuel? Not bad.
3. You have the tricycle all to yourself. The fare is actually P8 per person, with the little sidecar taking in two passengers. But you can pay double so you can have the thing all to yourself and leave as you please. Hey, P16 is still cheap. Think of it as paying for the convenience.
4. What you don't spend on parking could be spent as "gas money" or on coffee. Journalists don't make much, so I consider myself lucky for not having to shell out for parking and, well, fuel (diesel in my case) too often.
ADVERTISEMENT - CONTINUE READING BELOW ↓
Recommended Videos
5. Taking a tricycle contributes to prolonging the life of your car. I don't have to subject my car to the daily grind, which is the kind of usage that takes a toll on your ride. This is a plus for those who meticulously look after their car. My maintenance interval is therefore lengthened.
6. The morning rush doesn't really affect you. Okay, the distance from my house to my workplace certainly helps. But taking the trike is super convenient. I'm not a slave to traffic, I don't have to look for parking, and I don't have to walk a distance from and to the parking lot. I have about an hour extra before getting ready for work, whether to sleep or to take it easy. And with the brain drain from what we do every day, that helps.
7. It ain't glam, but everyone will envy you. I've heard car-riding friends and workmates tell me: "Ang swerte mo naman." Yes, I know I am. I get to reserve the thrill of driving for the weekend road trip. Can't really complain, can I?
ADVERTISEMENT - CONTINUE READING BELOW ↓
Photo by Drei Laurel