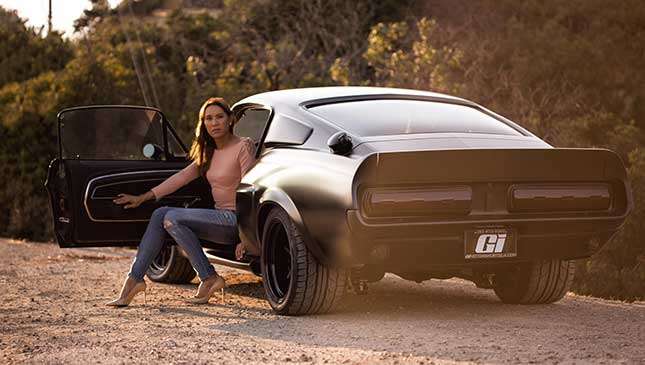 I remember the last time I surprised my wife with a gift: It was a red Casio G-shock digital watch for Christmas. I was a proud husband, seeing her wear her gift everyday after she opened it. Fast forward a few months later and I see this viral video going around on social media of Angelina Mead King unveiling her surprise to her wife, Joey Mead: A custom 1967 'Eleanor' Ford Mustang in matte black. I'm jealous. I repeat the mantra "it's the thought that counts" to myself before going back to admire this highly exotic beauty.
The car was named "Angelina," just in case the impossible happens and Joey forgets who it came from. The car was custom built by Fusion Motor Company in Southern California. It took them a year and a month to complete the highly customized build. Asked if she almost exposed the secret at any point in between the build and the unveiling, Angie says that she was able to keep it a secret the whole time without even slipping up. As she is known to be a very busy woman, she was able to keep the time-consuming prep work on the down low without Joey even raising an eyebrow. And here I was so proud that I was able to keep my Christmas gift a secret for a whole two weeks. But I digress.
Continue reading below ↓
Recommended Videos
The car has been Joey's dream car for several years, and she has been attracted to muscle cars for quite awhile now according to Angie. A '69 Chevrolet Camaro and a Dodge Hellcat are just some of her favorites to name a few. In fact, Angelina is actually not her first Mustang, as she has a 2014 Ford Mustang in the Philippines, with the same look and feel as her Eleanor.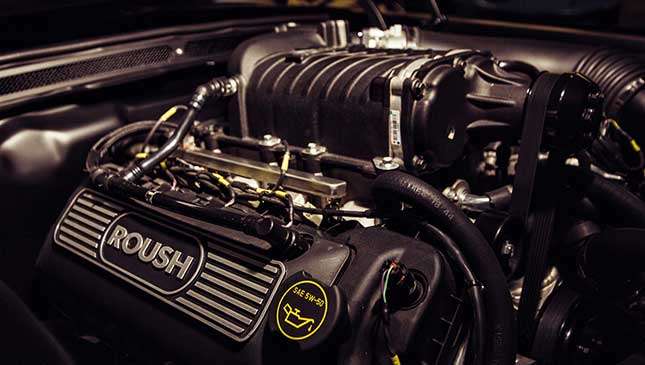 Joey's favorite thing about the Eleanor is that it represents an era of brawn and symbolizes a culture, while Angie was drawn to the overall package that Eleanor had—and the killer engine it had didn't hurt either. No doubt about it, the Shelby Mustang in its 1967 form is part of Hollywood culture. It was cast as the hero car in the 2000 remake of Gone in 60 Seconds. I have to admit, I prefer this version over the 1971 Eleanor that was used in the 1974 version of the film.
For the 2000 remake, there were three hero cars that were used in the film, and all have been sold at a hefty price. The highest it sold for was 1 million US dollars according to the Fusion Motor Company's website. The latter has been granted the rights to build officially licensed Eleanors, as it is now a copyrighted character. Angelina is one of a few officially licensed Eleanors (number seven, in fact), and Angie King has even made her more special for Joey by making some custom modifications to set her apart from the already exclusive company she is in.
According to Angie, Angelina is "the first full-satin black car with no race stripes; murdered out lights; first carbon interior; and the first Roush Supercharged 5.0 engine mated to a four-speed automatic transmission, which is a first for the Eleanor line as well."
After reading the story about this car and seeing it on social media, I decided I had to see this car in person. With the help of EIC Paulo Subido who arranged for a meet, I arrive with my buddy and photographer Dave at GI Automotive in Santa Monica, California, where the car was stored. We arrive at the location on Filipino time. Thankfully, Angie and Joey didn't seem to mind and went for coffee while waiting for us.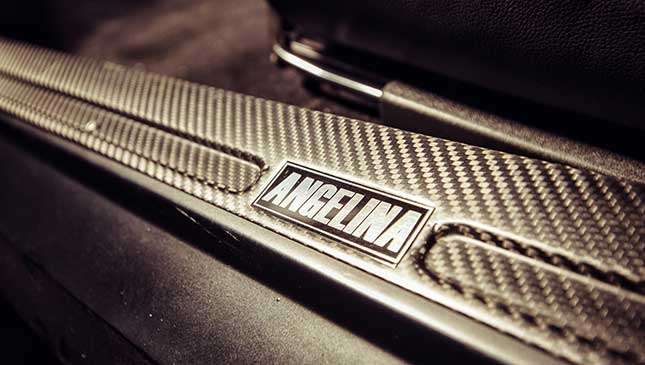 A few minutes later, we hear the roar of the Mustang as Angie and Joey return from their coffee run. After a few short introductions, Angie gives us some privacy as we drool and admire this automotive work of art. The first thing I notice while trying to take pictures of the interior is how I could not open the windows. Angie informs me that the rollers for the windows are just for props now, and are replacement switches for what are now power windows. After being blown away by this realization, I finally notice the custom Angelina badging on the door runners, Angie's love letter to Joey.
This car is even more beautiful in person, and is likely to break necks on the roads of Los Angeles. This was evident when we drive around trying to catch up with Angelina through downtown Santa Monica and the 405 freeway, seeing gawkers both on sidewalks and vehicles passing us.
Later on, I ask Angie how Joey likes her surprise. Angie says: "She loves it!" Upon further questioning, it seems that for now, while Joey has driven the car, it's Angie that does all the hard driving, bringing that fabulous engine to a beautiful roar on the highways of Los Angeles, where it will reside in the meantime.
As the sun set for that day, we leave the lovely couple and their beautiful steed. While we all know that it's the thought that counts, it doesn't hurt once in a while to see what royalty have in surprise for their queens.