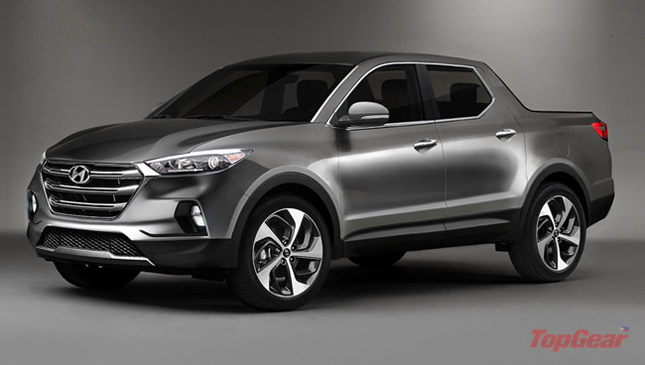 Hyundai had been ignoring the pickup segment for decades, until it surprised the world when it displayed its Santa Cruz Crossover Truck pickup concept at the 2015 Detroit Auto Show. Could this be a sign? One of the big questions floating around is whether the Korean carmaker has any plans to actually put the pickup into production. Well, it looks like it might just do that.
According to a report by CarAdvice, Hyundai America CEO Dave Zuchowski revealed that the company is indeed interested in putting the Santa Cruz Crossover Truck into production. He disclosed that the lack of pickups in its lineup has prevented the brand's potential growth.
"About 20% of what we sell is crossover, and the market sells about 56% trucks," the executive said. "There's just a lot of business that we are not involved in." (The figures cited could be referring to the US market only.)
According to Zuchowski, Hyundai's product development cycles usually happen every February or November. The pickup wasn't included in this year's February development cycle because it was too close to the concept's debut, which was meant to evaluate consumer, media and dealer reaction.
Based on the positive feedback, Hyundai America is now pushing for the Santa Cruz Crossover pickup to be officially included in the November development cycle. Development work and feasibility studies for the pickup have already begun.
Continue reading below ↓
Recommended Videos
At this stage, the platform that will underpin the production Santa Cruz Crossover Truck is still a mystery. But since it's a compact unibody design, a logical choice would be a stretched version of the compact Tucson's FWD/AWD platform. This would keep it affordable and fairly light. Moreover, it would give the pickup truck access to fuel-efficient engines like the CRDi diesel engines and the new-generation turbocharged T-GDI gasoline engines, as well as to a wide range of transmissions like Hyundai's six-speed manual, six-speed automatic and seven-speed DCT.
The above image is what we think the production Santa Cruz Crossover Truck could look like. Retaining the same general look, the toned-down front is now more aligned with the all-new Tucson's. Its sides have been cleaned up and given a more conventional four-door setup, while maintaining the same basic window shapes or daylight opening. Its wheelbase and rear overhang have been stretched to increase rear passenger space and cargo bed volume.
For a visual comparison with the concept version, check out the image below.
Other details like side-view mirrors and door handles are sourced from existing models. The production version of the Santa Cruz will most likely be unveiled in 2017. Interested in a Hyundai compact crossover pickup?
Image rendering (top image) by Andrew Guerrero