Up-and-coming Filipina racing driver Bianca Bustamante is starting to make a name for herself on the global stage. We got to chat with the 17-year-old before her W Series debut.
Top Gear Philippines: How did you start your racing career?
Bianca Bustamante: My dad, he was actually the reason I got into it. He was also a karter, so basically, everything I learned when I was a kid came from him. I learned the passion. He introduced me to the sport.
I even remember when I was a year old, he would bring me to the race track, and I would watch him race. And one time he won, he brought me to the podium and he was carrying me along with his trophy. That's the earliest memory that I have of motorsport and racing.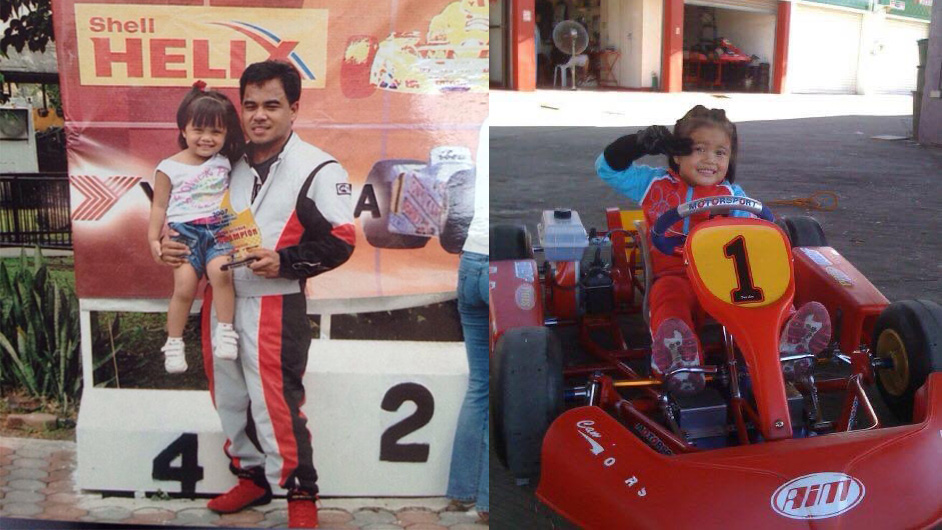 I was just watching him race and one day when I was around three years old, I was like: "I wanna drive, too." And that was the age that he got me my first ever baby kart. It was a 60cc motorized engine, and it was quite fast. I got so addicted to it and I wanted to keep on going faster and faster the older I got. And, by the time I was six years old, that's when I started competing all over the world. I started competing nationally and internationally, and I won a lot of awards.
Who was your racing idol growing up?
It's definitely going to be Niki Lauda. I'm a Ferrari fan, and I love Niki.
Was there any female racer that you looked up to as well?
Jamie [Chadwick]. Jamie has been around for some time. She did British F4 and I've always just followed her ever since she got into the W Series. It's how she got known. There was even a time when she drove an LMP2. Driving that car is also a dream for me, and I hope one day I get to drive one as well.
ALSO READ:
Everything you need to get your LTO registration in order
Here are the corresponding fines, penalties of all licensing, traffic violations in PH
Let's talk about the W Series. What was your initial reaction when you found out you were selected to race in the 2022 season?
Crying. Speechless. With my mascara all over my face. *laughs*
So I was selected for the Arizona Shootout and I went there and I was like, "Man, I'm just so inexperienced." I've literally got zero time in the car, I've never driven an F4 car by the time that I got there. The only thing I got was karting, so I had to learn how to shift, how to drive an aerodynamic car, and [understand] downforce and everything. When I got there, I was just thinking to myself, "I don't even know how to get out of the pits." It was like, "Where's the clutch?"
And it's just funny 'cause I never would have thought that I would get to this point in my career. Then I did the shootout, I drove, I progressed. I put in a lot of effort, we trained a lot for this. I went to America sooner just so that I could do a lot of testing and prepare. When we got there and then by the end of it, I ended up being the fastest driver during that shootout.
And then later on, I was called in by the W Series Limited, and then they told me they were inviting me to the Barcelona pre-season test. I didn't know if it was going to be a joke or if it was like a prank because it's an F3 car… in my head, I'm thinking: "Why would they put an inexperienced 17-year-old woman in an F3 car?" That was my first day in an F4 car, and now you're telling me that I'm going to drive an F3 car in two weeks?
So yeah, I guess that was my initial thought—"how do I drive it?" And then, I called my dad. My manager was on call with them, me, and my parents. "They're saying that they're inviting me over for the Barcelona test."
After that, there was a lot of preparation in between when I was traveling to Barcelona. I was in PitFit in Indianapolis, I was working out every single day and made sure that I was fit enough to drive the car.
You've mentioned the physical fitness aspect of the sport. Can you tell us how you prepared for that?
I got this amazing opportunity to stay in Indianapolis which is basically the heart of racing in America. I got to train alongside Indy 500 champions like Scott Dixon and Alexander Rossi. I went through an intense training program. I worked out from 8am 'til 4pm, and that included a lot of cardio, neurocognitive training, lifting, and gaining muscles.
Having a gym that's specifically for racing drivers is amazing. We don't have that sort of facility here in the Philippines, and I do wish we can have one someday because it's honestly amazing, the equipment that we use to train ourselves.
I got to really learn what it takes to be able to drive that car and what I needed to improve on myself. For me, one of my biggest problems was with my braking because my legs weren't strong enough to hit the peak pressure of the brakes. The brake of a Formula car, it's very stiff, it's almost like pressing into a rock. So to be able to slam on it and hit the peak pressure in one go, it takes a lot of effort and strength.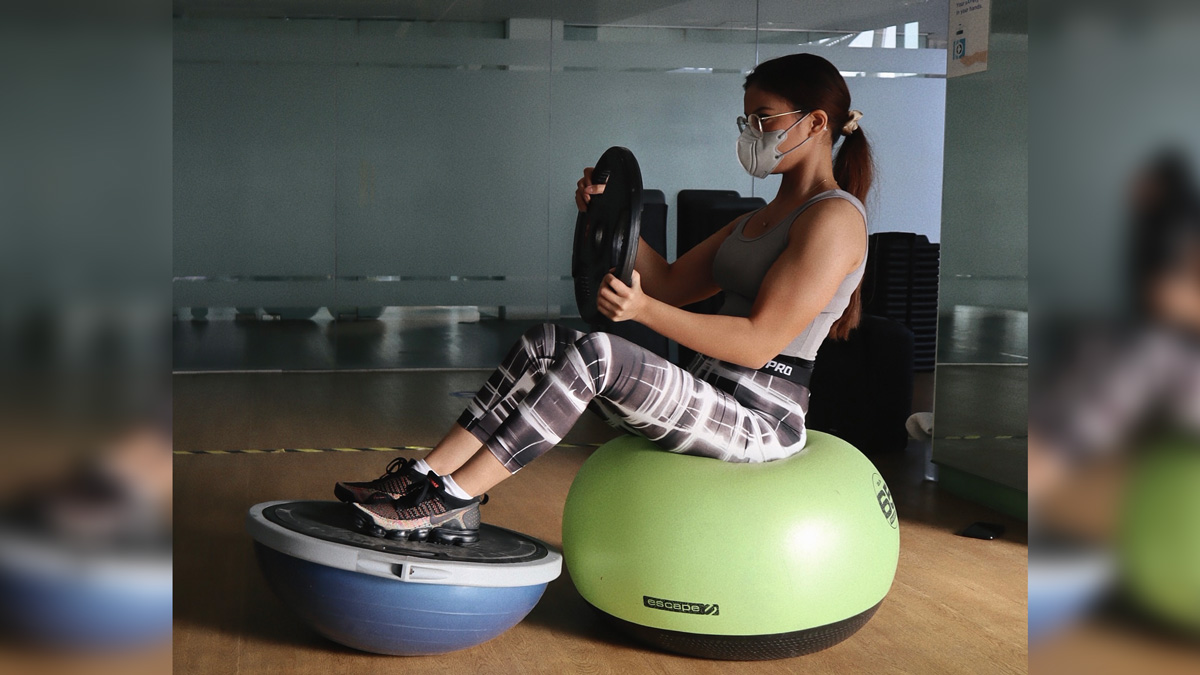 I got the data from my racing, we sent it to PitFit and they analyzed it, and we realized that that was a problem for me because my left leg wasn't strong enough. So we focused on that and made sure we did the right workouts to target those specific muscles that will help me hit my peak-pressure brakes—and it worked. When we got to Barcelona, I was doing it perfectly and it's amazing because I didn't have a lot of time to progress, so my body is in constant growth throughout my stay there which is amazing. Growing into the sport is such an amazing feeling knowing that I'm progressing and I'm on the right path especially with my fitness.
Aside from that, my neck was also a problem. I have a really thin neck, unfortunately, so I needed to strengthen it to be able to withstand the g-force of the car, which is a lot. A Formula 3 car goes about 260kph in the straight so there's a lot of wind coming into you, so being able to just carry that speed into a corner, it takes a lot of neck strength. Whenever your neck starts to give out, you can't drive anymore, you can't go fast, you can't push.
We did a lot of training with the iron neck, this device you put on your head and people just pull on it from all directions, they do a lot of crazy things. It's hell, it's torture, and it's not easy. You need to have a strong heart to be able to do it because you can easily give up.
There were a lot of times that I would say to myself that I was gonna give up because it was too painful and it was too much for me and I couldn't handle it anymore, but in the end I still wanted to race so I'd still do it.
ALSO READ:
11 Traffic violations that you may not have known about
Driving an unregistered vehicle? Here are the fines and penalties
How do you overcome these setbacks?
Aside from the physical training, I also talk with a lot of sports psychologists on how to deal with pressure, because apparently pressure is one of the main things that really hamper an athlete. When there are a lot of people watching you and there's that spotlight—there's always that fear of failure. And then you unconsciously put a lot of pressure on yourself to perform well so that you won't disappoint people or you won't embarrass yourself. I had to talk to a sports psychologist just to get through that mental barrier in my head.
Like racing in the W Series—I'm pretty sure a lot of people will be watching. Racing the same day as Formula 1, I always just thought to myself, "What if I make a mistake?" "What if I cause a red flag?" "What if I spin out?" or "What if I become last or I get overlapped?" There's always a lot of those negative thoughts that aren't easy to push away and it's normal human behavior to think the worst. And that's what I do all the time, I just think of the worst possible thing that can happen.
But after talking to a lot of people, I've managed to push past it. Now I don't fear failure as much. I see failure as a great way to learn. And having that mentality will definitely help me a lot this year.
Looking ahead to the season, who do you think will be the toughest competition this year?
They're all really good, I'm not gonna lie. After Arizona, I was fastest, and then I got to Barcelona… I was just thinking to myself, "Hmm, maybe I can be competitive." And then I meet the girls, and they're so fast, it's not a joke. They've had a lot of experience, they're veterans and not rookies. Even though they're girls, and they're often demoralized or put down just because of being a woman, but to be honest they're some of the greatest and best racers I've ever driven with, and that's a fact.
For example, Jamie Chadwick and Emma Kimilainen were actually the two drivers selected to join the Race of Champions. The Race of Champions is a race that's held every year for racing drivers that are champions of some sort of motorsport—rally, Formula cars, touring cars, and even F1 drivers. Being invited there really means that you're one of the best drivers in the world. So to be driving alongside people that are really the best of the best, is definitely an honor. And I will do my best to learn from them.
What's the goal beyond W Series?
F1 will forever be the goal for me. Three months back, I've always been saying that. F1, F1… And now I'm actually getting closer to it, which is sort of unbelievable for me. Now, it's actually sort of visible, it's not impossible anymore for me.
Hopefully, after my time here in the W Series, after I've learned and gained experience, I can get into a junior Formula 1 Academy or something, and make my way up to the ladder, to F2 or F3. So yeah, that's the goal.
One last question. Who do you think is going to win the 2022 F1 season?
Just because I'm a Ferrari fan by heart, I would say Charles [Leclerc]. But it's just so hard to count anyone out, like Lewis Hamilton. You would be a fool to count out Lewis Hamilton from the championship fight. He's not having the best year, not having the best car, but I know that he's definitely gonna make a comeback some time soon. And once he does, it's definitely going to be a three-way fight to the championship. But, we're one and two in the standings, and Ferrari's leading the [Constructor's] championship as well, so… Feeling pretty confident with Charles.