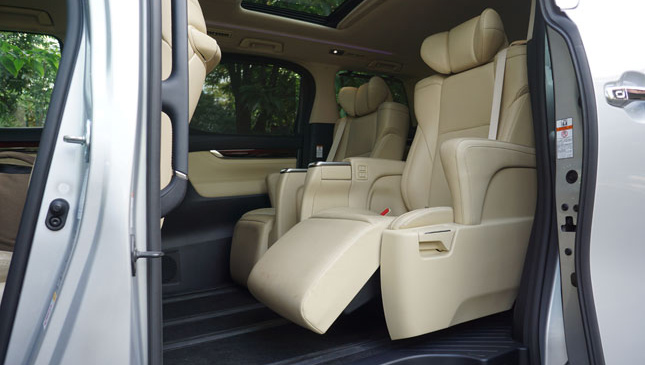 Being a tito isn't always as easy as it's cracked up to be.
Sure, the tito lifestyle has its perks: You have more money to spend, plenty of free time, and you have a car to splurge both of those things on. But one of the defining traits of a tito car owner is his age, and along with are disadvantages--many of them physical ones.
ADVERTISEMENT - CONTINUE READING BELOW ↓
Thankfully, there are car features designed to address many of these detriments. With a little help from Top Gear Philippines' resident tito and motorcycle editor Aris Ilagan, we got to listing down a few functions and features popular with the tito crowd. Here are seven of them:
1) Captain's chairs
As passengers, titos need their space. Their species is a very territorial one, and they don't want to be tucked like a sardine in the second row with a bunch of writhing, noisy millennials. If you own a premium minivan, no area in a car's cabin provides more personal space than the captain's chair, which should always be a designated 'tito-only' zone.
2) Massage function
The massage function is often an overlooked one. After all, who has the time to appreciate the comfort one provides while trying to squeeze in and out of gridlock Manila traffic? Titos, on the other hand, are more chill than your average millennial motorist. So it comes as no surprise that they can enjoy such a function sitting in the middle of EDSA during rush hour.
3) Automatic doors/tailgate
No tito has the time to bother himself with mundane tasks such as opening doors and liftgates--he's too busy coming up with outdated references to bring up with his paengs during the next night out at Strums. Automated doors are the next best thing to having an inaanak hold it open for you.
4) Clothes hangers
There's a common misconception that titos are always content with the first shirt they can get their hands on. In reality, no self-respecting tito will go for a night out on the town in jersey shorts and a giveaway tee. It isn't uncommon for them to bring along a fresh, clean polo when they drive out in the morning.
5) Food trays
Speaking of clothes, the last thing any tito would want is to stain his perfectly good threads while enjoying a low-cholesterol, low-sodium, low-purine (for those with gout) and sugar-free (whew, that's a mouthful) meal in the backseat. If you want to avoid getting an earful from a passenger tito for your unsmooth driving, be sure to head out in a car equipped with food trays out back.
ADVERTISEMENT - CONTINUE READING BELOW ↓
6) Reading lights
Forget handing your tito a Kindle or iPad--almost always, they don't know how to use them would rather have the feel of a good old paperback in their hands.
7) Cameras
After a long night out, all a tito wants to do is get home, park his car, and fall straight into bed. The chore is made a little easier with some help from reverse parking cameras and sensors. Come to think of it, this preference might have more to do with a stiff back and neck than a tight parking space.