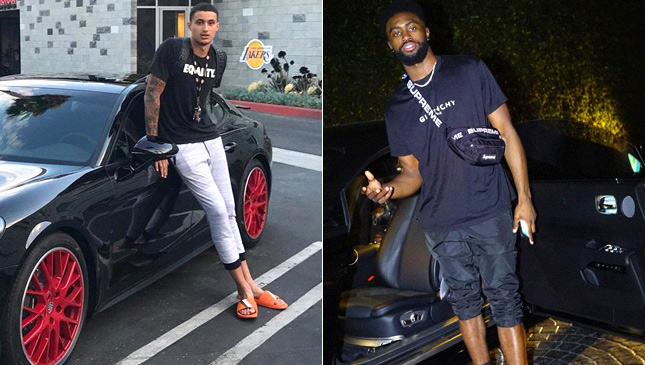 When it comes to National Basketball Association (NBA) rivalries, very few, if any, are as heated as the one between the Los Angeles Lakers and the Boston Celtics.
Way back in the day, we had Bill Russell against Wilt Chamberlain. Then in the '80s, we witnessed 'Magic' Johnson's Showtime Lakers duke it out year after year against Larry Bird's hardened Celtics. And most recently, Kobe Bryant and Pau Gasol versus Paul Pierce, Kevin Garnett, Ray Allen. And now we have, er…Kyle Kuzma and Jayson Tatum?
Okay, so the great rivalry isn't exactly on the same level today as it was a couple of decades ago. But both teams feature a handful of young guns that--if everything goes according to plan--are primed to take over the league in the not-too-distant future.
Continue reading below ↓
Recommended Videos
With the exception of the C's Kyrie Irving and Gordon Hayward, and the Lakers' new additions LeBron James and Rajon Rondo, both teams' current lineups are still pretty raw talent-wise. Tatum, Terry Rozier, Jaylen Brown, Kuzma, Lonzo Ball, and Brandon Ingram are all below 25 years of age, after all.
The upside is, all that youth combined with NBA salaries means there's plenty of showing off on social media. We rummaged through all their Instagram accounts to find out what rides they keep in their garages, and we weren't disappointed.
First, let's check out the Celtics lineup. Terry Rozier appears to roll around in a GMC Yukon, then there's Jaylen Brown behind the wheel of a Rolls-Royce Wraith, and Jayson Tatum inside a Maybach.
For the Lakers, Lonzo Ball owns a Dodge Challenger, Kyle Kuzma is in what appears to be a nicely-specced Porsche Panamera, and Brandon Ingram poses with a Bentley Flying Spur. That last one we had a bit of trouble determining because Ingram's Instagram post isn't exactly much to go by, but certain elements of the dashboard and instrument cluster eventually gave it away.
You can check out their posts below. So, who you got in this one? Lakers or Celtics? Let us know in the poll.