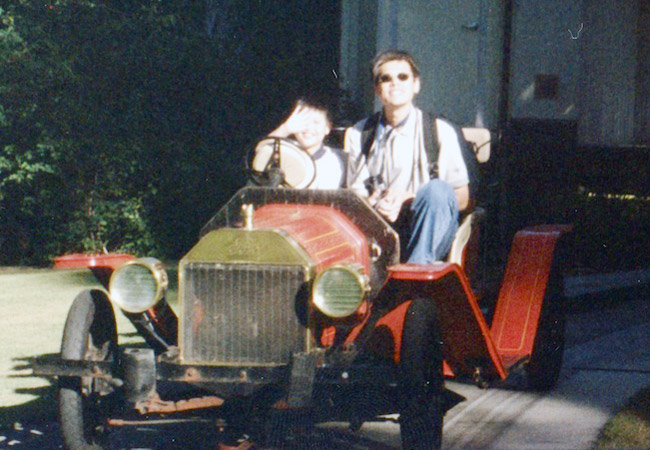 My father was a car enthusiast. More accurately, he was a car nut. This fact could be ascertained from his massive collection of '80s and '90s car magazines, his love of motorsports, and his purchase of his dream car, an Alfa Romeo 155 (you can't consider yourself a true car nut unless you've experienced owning an Alfa Romeo). He is one of the main reasons I ended up with petrol in my veins and lead in my right foot.
Despite his best efforts, this wasn't always the case for me: Love took a little longer to unfold, and obsession took a little more effort to manifest itself. I never really did slide as smoothly into my driving gloves as he would have liked.
In the movie Inception, Leonardo Di Caprio's character, Cobb, compares an idea with a seed. He says that "even the smallest seed of an idea can grow," and for my father, that seed had four wheels and an engine. He held the spade and my mind was his garden.
One of my first memories of my dad is from when I was around three years old. He would make me sit by the wall of our house overlooking the road. He would then ask me to name all the cars as they passed by. This being the late '80s, my meager kinder-level vocabulary was interspersed with words like "Lancer," "Corolla," "Sentra" and "Pajero." We'd stay up there for hours, blissfully naming cars and occasionally sitting in a state of comfortable silence as the motorized world passed us by.
Continue reading below ↓
Recommended Videos
Later in life, when I was old enough to understand but young enough to wonder what the point was, he'd wake me up in the middle of the night to watch live feeds of various races. Races like his favorite, the Indianapolis 500, Formula 1 and World Rally Championship. I wasn't convinced. As a child, I'd watch in anticipation of the inevitable crashes. In between the crashes, however, I would regress into a cold stupor while the race cars circled the track ad infinitum way past my bedtime.
His efforts to fertilize the seed of automotive enthusiasm had been in vain--much, I'm now sure, to his disappointment.
The figurative rug was pulled from under me in 2000 after I had graduated from grade school: My father died in a violent car accident near the Valley Golf area in Antipolo. He had been driving his beloved Subaru Impreza WRX in WR Blue.
One day he was driving us around in what I affectionately called his blue car; the next all that was left of him was a fleeting memory and an uninstalled blue rear wing lying on the floor of our garage. My father and his car were gone. And he had never taught me how to drive.
There was a sudden void in my life. It took a few years after his passing, but eventually, the seed he had planted when I was a kid--the idea of loving cars--started to take root. I found myself drawn to cars in college. I was drawn to the mystery of something that had so enthralled him and taken up so much of his time.
Realizing that if my dad couldn't teach me how to drive, no one would, I took home my driver's license as soon as I turned 18 and, after quick instructions from my uncle, set off lapping our village to teach myself the mechanisms and the procedure of piloting an automobile. I spent days fumbling through the gears, cursing, cresting steep hills, practicing my parking and cursing some more. Then it all just clicked.
Once the idea had taken hold, there was no turning back, I grew to love cars, my persistent mistress that could never get me to love her before, I suddenly and irrevocably fell head over heels for. It is sad that although cars were a fact of life that connected father and son growing up, it was only when he was gone that I grew to appreciate them for the majesty of their invention.
If you would ask me today what I remember of my dad, you would be greeted with a quizzical look. I hate to admit it, but I don't remember the sound of his voice. I don't remember his mannerisms. These memories have been violated by the passage of time.
If there's one thing I can remember though, it's his love of cars. It's as clear as day to me. The longer I am without him and the less I remember of him, the stronger that feeling becomes. Every time I slide behind the wheel and grasp the gearshift in my hand, I can feel him with me--his passion, his love, his presence.
He never did teach me how to drive, but every time I slide into the driver's seat, I don't even have to look...I know he's right there beside me, my co-pilot for life.
In a way, through our common passion, I know my father better now than I had ever known him before. He is infinitely more familiar and more real to me through cars, than through any old photo or home video.
My dad understood that some ideas couldn't be forced, but he had patiently planted the seed in my head a long way back. And although it took this long, the seed has sprouted into something that has consummated my love for cars. A love that's greater than my love for anything else, except, of course, my love for my father.
I miss you, dad.