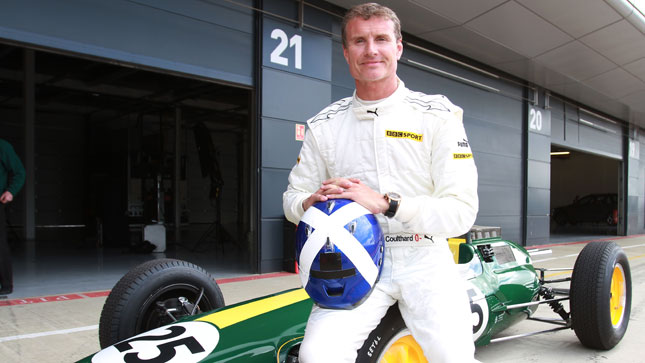 My family has a transport business, so I grew up around trucks and the truck yard. I had a motorbike for the field at a very young age and went karting at 11. Even before that, I remember sitting on my dad's lap at kart races—he'd do the pedals and I'd do the steering.
I turned 17 at the end of March and I passed my driving test the first week of April, but I didn't have my own car until I was almost 18. We had a Mercedes 508D karting van: It had bunk beds in the back of it and karts in the very back.
Continue reading below ↓
Recommended Videos
When I eventually got a car, it was a Renault 5 Turbo—oh, I was big time—but I'd been driving a van for a year, so I deserved to step up. I was racing in Formula Ford and won both the championships, so it was a treat. I had a great time in that car; the seats reclined all the way back, which was handy as a teenage boy. It doubled up as somewhere you could, erm, well, you know what I mean…
Then I moved to England to drive for Paul Stewart Racing, Jackie's son's team, so I borrowed my mom's BMW 318i. I was meant to have it for a week, but managed to eke it out for three or four months. I didn't actually buy a car for a while because I had a Ford contract with Jackie and had an RS2000 on rotation, then a Scorpio with the most godawful body kit on it. Then, briefly, an Escort Cosworth with the big rear wing—that was proper boy racer. That got stolen outside The Point in Milton Keynes when I was in the cinema.
When I became a test driver at Williams, I went to a Renault Laguna automatic, just as a means to get to the track and back, really. Then I actually paid for my first car. I was 23 and bought a 1971 Mercedes 280 SL, the same age as me, which I still have today. Our son will inherit the 280 when he's old enough to drive, on the basis that under no circumstances can he sell it on.
Then I didn't buy anything for a while. I was at McLaren so I had a run of Mercedes including a C63 AMG wagon. My wife is an Aston fan, so a few years back I bought her a DB9 convertible, which she still has. We also have a 1984 G-Class 280 short wheelbase with no roof on it. It looks amazing. It was white when I bought it, but I had Mercedes respray it in gunmetal silver and move the seats back, so it's a proper five-seat restaurant car for the South of France. I keep it in Monaco where there's a whole bunch of Brabus and AMG G-Wagens, but nothing looks as stripped and as cool.
I'm not like Jenson, who's quite a buyer and seller of cars, but I have on order the Aston Valkyrie and the Mercedes Project One, both of which should come through in 2019 or 2020. The reason I can afford Adrian Newey's Valkyrie is I was lucky enough to drive racing cars he designed, so it's a tip of my hat to him.
Project One: I'm still a Mercedes guy, and it's such a unique proposition. I don't think anyone will do something like it ever again. But the car I drive more than any is my little Smart Convertible—every ex GP driver in touch with their racing spirit should have one of those.
David Coulthard's new book 'The Winning Formula: Leadership, Strategy and Motivation the F1 Way' is on sale now
NOTE: This article first appeared on TopGear.com. Minor edits have been made.