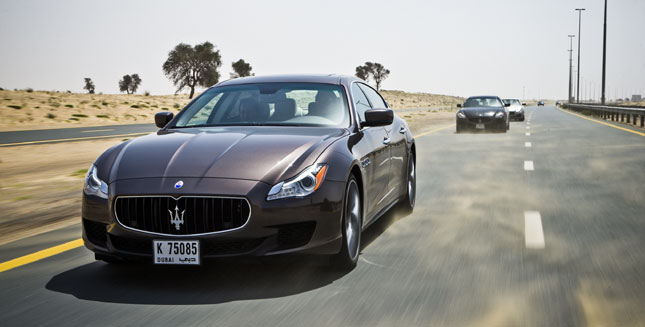 The motto of my high school alma mater, Don Bosco Makati, is Meliora Eligo. In English, it means: "I choose the better things." I have always liked the aspirational tone of this saying. It's a creed I try to live up to, whether I'm choosing a good restaurant for dinner or advising my parents on what vehicle to buy. And if you'll indulge me a little bit, I know you can relate because you choose to read the best motoring magazine in the country (a fact that's undiminished despite the lack of any worthy competition).
My assignment reflects the aspiration of both the subject and the venue. I was giddy when Vernon told me I would be driving the Maserati Ghibli in the plush emirate of Dubai. The new midsize sedan signifies the luxury carmaker's push to be a 50,000-units-a-year manufacturer by 2015. And Dubai, the city that wants to cement its status as the most impressive and modern metropolis in the Middle East--if not the world--is the perfect location to hold a media drive for this hot new model.
I land at the Dubai International Airport in the evening. There's a bit of uncertainty about my transport arrangements, so I start wandering in the direction of the taxi bay, but then I decide to make one last check of the arrival area. Lo and behold, I see my name printed out on a piece of paper that a beautiful woman is holding up. I approach her timidly and introduce myself. She smiles and says her name is Camelia, and would I follow her to the parking lot? I like this trip already.
Continue reading below ↓
Recommended Videos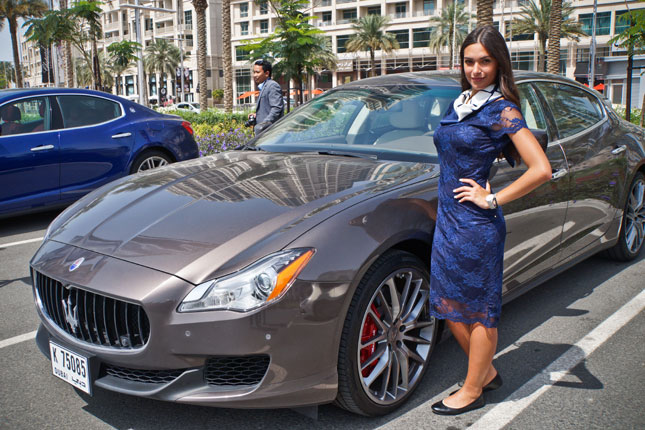 My hostess leads me to where a white Quattroporte is waiting. Because the driver is male and not in a formfitting blue dress, I forget to catch his name. In no time at all, my considerable behind is leisurely seated on Italian leather, and I am en route to my hotel. I feel like a sheikh or a big-time businessman. This certainly sets the tone right for the main event the next day.
After breakfast, several journalists from other countries and I are in a briefing room to hear a presentation by Saad Chehab, Maserati's chief marketing officer. To make a long presentation short, the Italian car brand is also celebrating its 100th birthday. Chehab talks about how the motoring tradition started by the five Maserati brothers in a small garage has been distilled and refined through the years, changing owners but hardly changing in spirit.
The marketing people then show us their Super Bowl ad. It's a moving commercial, well-done and polished. The message: Maserati has bided its time, and now it wants a generous slice of the premium E-segment pie. And like I mentioned earlier, the Ghibli is a vital tool for the Modena-based auto company to reach its ambitious 50,000-units-a-year goal.
The presentation has me excited for the upcoming drive--and not just because I'll get to go behind the wheel of the Ghibli, but also because the whole Maserati lineup is available for shakedown. Yes, including the GranTurismo and the GranCabrio!
Our group heads to the parking lot, where the Italian machines are idling. There are no car assignments; the test drive is on a first-dibs basis, but we will eventually rotate cars so that everyone gets to try out all the models. Instinctively, I walk toward one of the Ghiblis, which come in either a standard version or a sportier S variant. Both have twin-turbo V6 engines, but the S has a higher state of tune--404hp versus 325hp, and 550Nm versus 500Nm.
All the Ghiblis are quickly taken, however, so with nary a shrug, I get into a Quattroporte GTS instead. I've driven the previous generation before for a local feature story. This new model is more modern, more luxurious and more stylish. Inside, the air-conditioner has no problem cooling me even with the desert heat outside. The driver seat is big and cushy, but it still has enough bolstering to remind me that there's a 3.8-liter V8 under the hood. The smell of the leather is sublime, and it is complemented by classy wood and chrome trimmings that are just short of being ostentatious.
The fear of an expensive speeding ticket stops me from exploring the upper reaches of the Quattroporte's Ferrari-built V8. I do notice it's quieter than before. You can feel the power in the light taps on the gas pedal, but it's as a cruiser that this Maserati shines.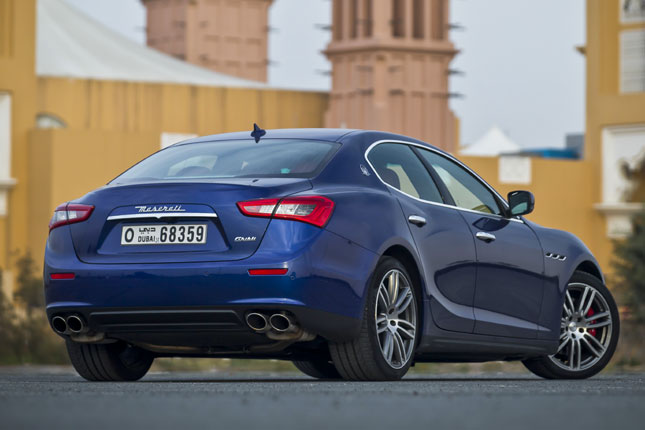 It's hard to tell distance in a place where everything looks the same. So after about an hour of sand and roads, it's time to switch cars. I finally get a Ghibli this time. It's actually fortuitous that I drove the Ghibli's big brother first, because there will be inevitable comparisons between the two sedans in Maserati's lineup. Perhaps the biggest question of all is this: Has the brand been diluted by going downmarket, and if yes, to what extent?
The problem with expanding a lineup is that a carmaker wants the new model to be instantly identifiable as one of its own. What happens then is the designers create a look that's very close to those of the existing offerings. You can see this in the latest Mercedes, Audi and Volkswagen vehicles. This is also the case with the Ghibli--in fact, the Quattroporte and the Ghibli are so alike that I've written a separate story about it here.
I actually pride myself on my knowledge of almost any car model on sight. But looking at the Ghibli and the Quattroporte back and forth makes my Chinese eyes squint even more. I know they each have distinct qualities, but it isn't easy figuring out what they are exactly. Upon closer inspection, I see they have different trunks, "gills" and hoods. Plus, the Quattroporte is definitely larger--we're talking roughly a foot according to the official numbers from the manufacturer.
The Ghibli cabin is like the Quattroporte's, but toned down a notch. It feels slightly more compact, has a little less leather and a bit more plastic, and--I don't know if it's just my imagination--seems a touch less regal. What the two models share are consistent build quality and plush ride comfort. Both Masers feel solid and composed from behind the wheel, although it must be said that Dubai has very good roads to begin with.
I'm driving the standard Ghibli with "only" 325 horses, and this is more power than you will ever need if you're just driving around leisurely. The noise is certainly different from the big brother's V8 note, but this turbocharged V6 still sounds better than any midsize sedan I can think of. The steering is responsive and communicative, although it's not razor-sharp like that of a German car.
What I do regret is not being able to sit in the back of the Ghibli, so I have no backseat impression. At a glance, however, I can safely say it's a no-brainer that the Quattroporte has the advantage in this aspect.
In Dubai, I notice it's so hard to impress people when it comes to automobiles. Mercedes G-Wagens are as common here as Mitsubishi Montero Sports are on our streets, while BMW 7-Series and Mercedes-Benz S-Class limousines are comparable in number to the Honda Civics and the Toyota Camrys plying our roads. Every now and then, I see a Bentley Mulsanne or a Ferrari California pass by. In this luxury-car milieu, Maseratis fit right in.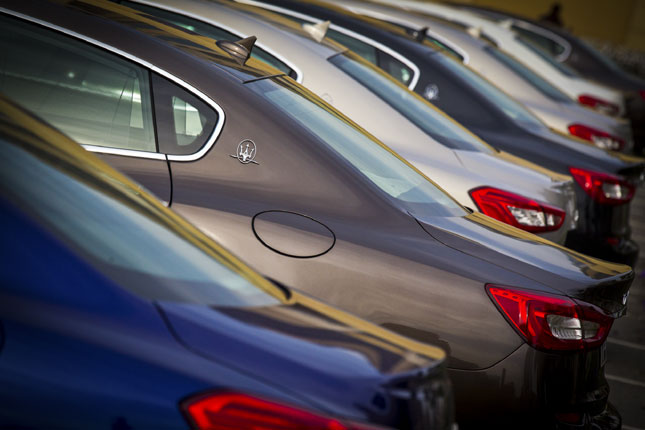 Time passes quickly in the cosseting comfort of the Ghibli's cabin. Before I know it, it's time to rotate cars again. I see a white GranCabrio with a stunning blue-leather interior sitting in the lot, devoid of any driver. I make a beeline for it and slide myself in.
I start the engine and the angelic roar of the V8 fills the low-slung and snug cabin, whose age is starting to show. It's still luxurious, of course, but the buttons are chunkier and the layout is more basic. It reminds me of how far Maserati has come with the Ghibli.
A lot of my observations are forgotten once I'm back on the road and I push the engine a little. Even at revs as low as 2,500rpm, the eight cylinders conduct a motoring musical symphony that sounds like Pavarotti singing 'Nessun Dorma'. The GranCabrio is a pure Maserati, meant to be enjoyed with a special companion while whizzing past rustic country roads. With the top down, it fills your senses with auditory and tactile delights.
I find myself in error. I thought the Ghibli and the Quattroporte pointed to the direction where Maserati was supposed to be headed. No, the GranTurismo and the GranCabrio are markers of what the Italian carmaker is all about. They represent a connection to the brand's glorious history of racing, gorgeous bodywork, and pure driving pleasure.
Does the Ghibli have all these traits, as well as the comfort, technology and luxury to transport a new generation of discerning customers who are more careful about their money? I'd say yes, Maserati has a good chance of succeeding with this new model. As long as there are buyers who will look for better things, and will appreciate the value and spirit of a brand that has lasted a century, Maserati will always give them something worth their hard work.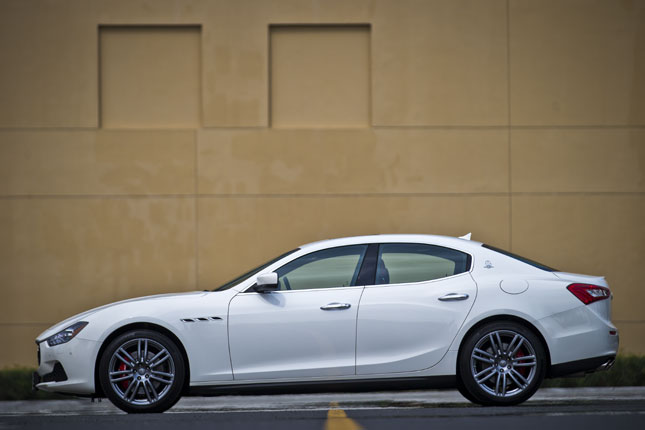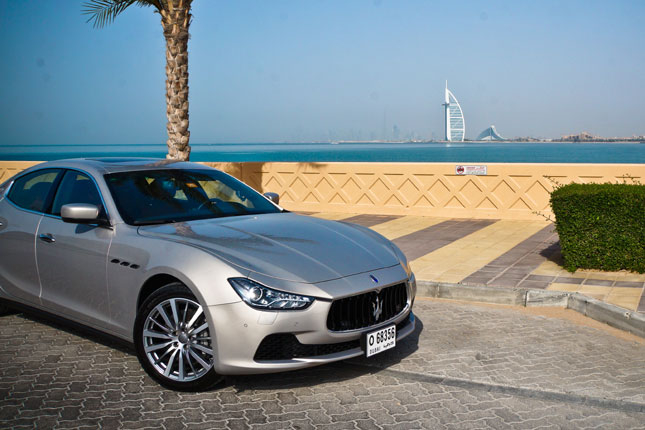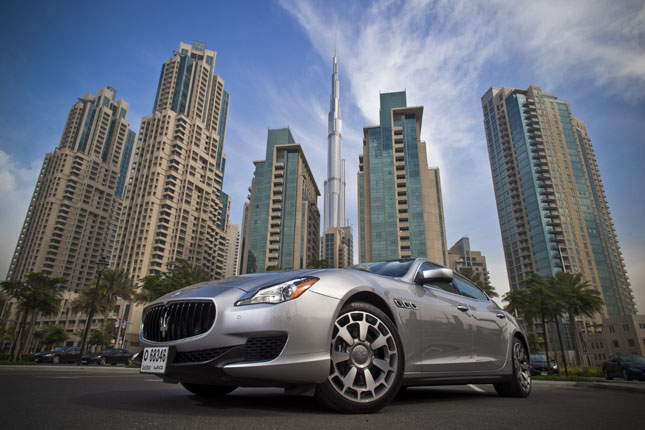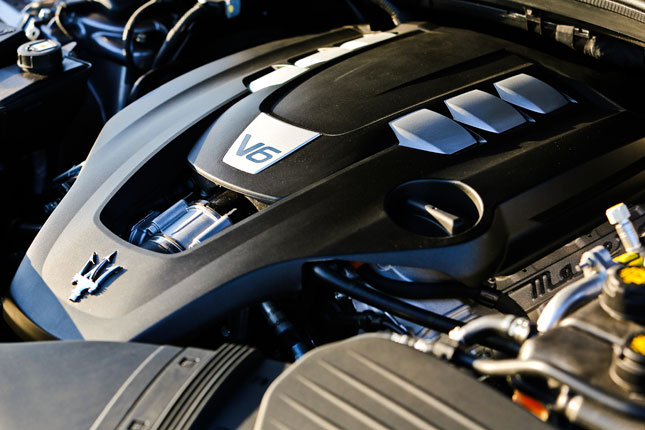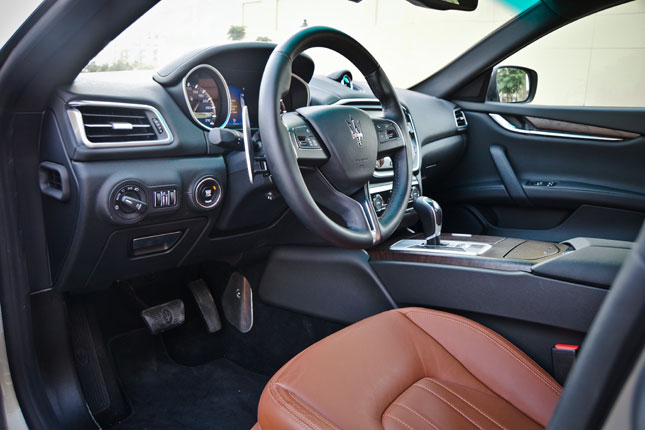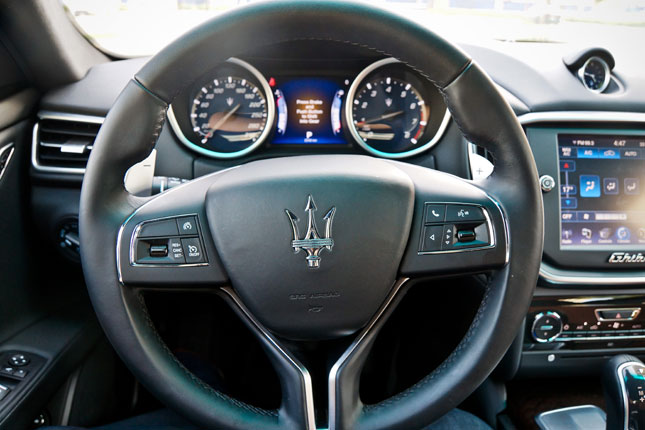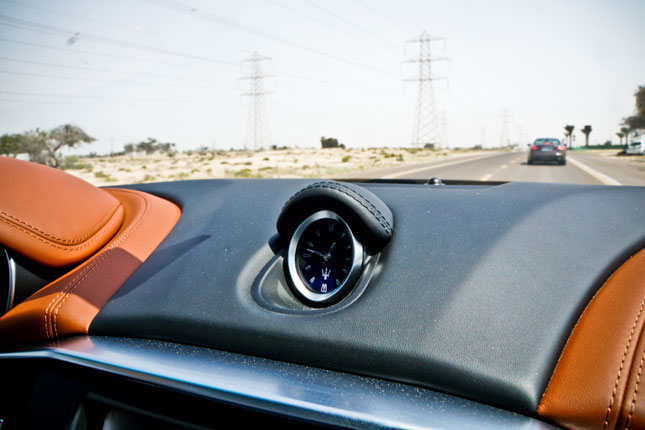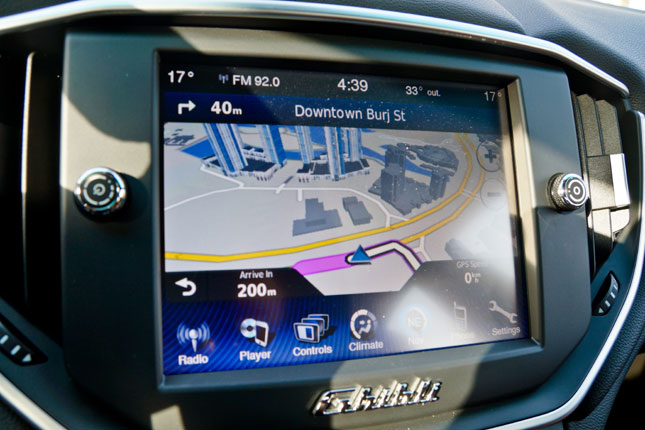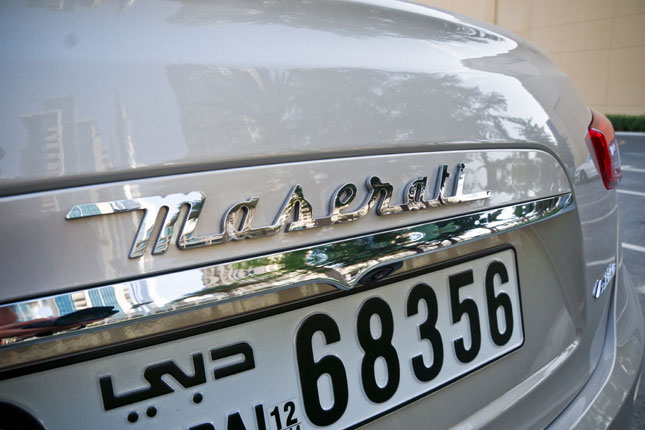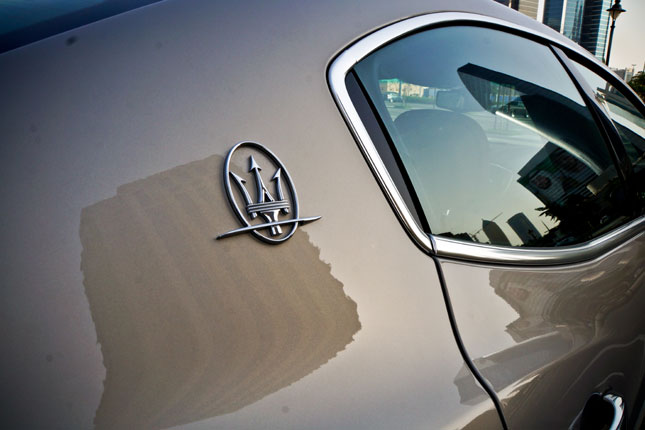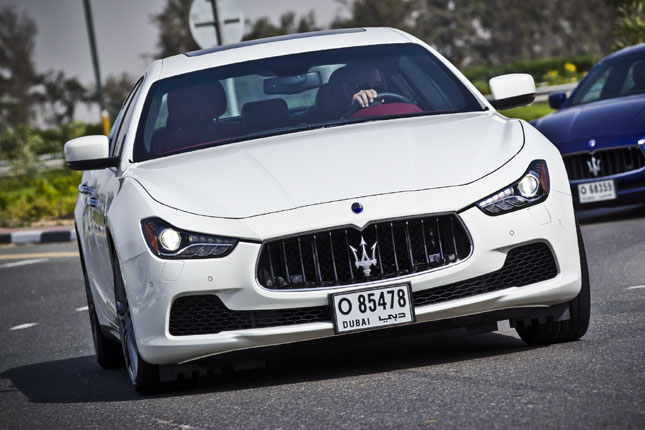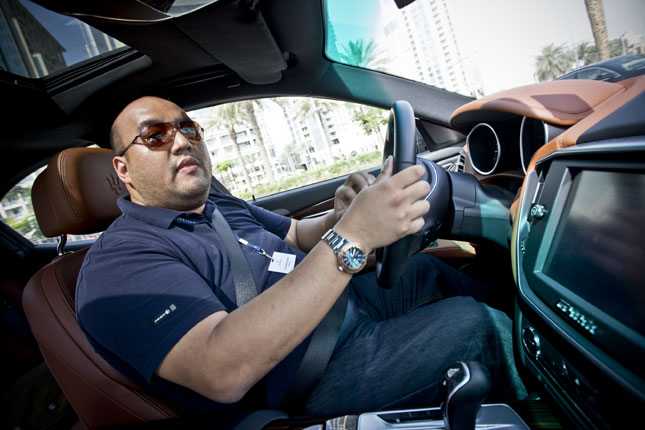 NOTE: This article originally appeared in our magazine's June 2014 issue.
Photos by Wouter Kingma and Dinzo Tabamo