A message from Mikko David, Mazda Philippines PR man (and a familiar name to loyal Top Gear readers) popped up on Viber. "Want to drive the new CX-9 Sport Touring up to Tagaytay? Let's have lunch at Botchi's place." He had me at "drive." (Although if he reversed the order of his sentences, he also could have had me at "lunch") With so many industry events and a tiring workload in the office, a break was welcome.
So one Saturday morning, Mikko picked me up in their spanking new CX-9 at another brand's event (like I said, it's a busy month), and we head off to lunch.
Continue reading below ↓
Recommended Videos
A little backgrounder: The CX-9 Sport Touring was introduced to the media on July 2, 2018. It's front-wheel drive and has less toys than the AWD CX-9 Grand Touring. But Mazda was also able to bring the price down by almost half a million pesos, from P2,830,000 down to P2,350,000—that's within striking distance of the popular top-spec diesel SUVs. To do this the Japanese carmaker had to remove these features:
From adaptive LEDs to plain LEDs
From 20-inch alloys to 18-inchers
Sunroof
Power liftgate
12-speaker Bose audio system
Heads-up display
Auto-dimming rear-view mirror
Lane departure warning
Lane keep assist
Blind spot monitoring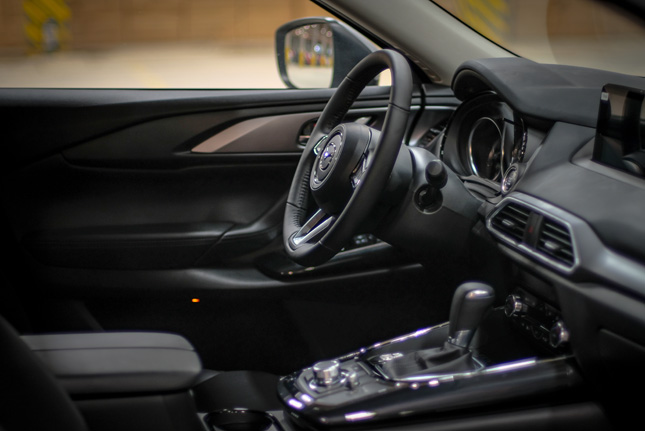 The good news is the engine and transmission are retained. This means the same 231hp 2.5-liter turbocharged gasoline engine, mated to a 6-speed automatic transmission. Take away the AWD mechanicals and this midsize crossover is lighter by a full 103kg. That's like the weight of one person (not me). There should be an impact on fuel economy.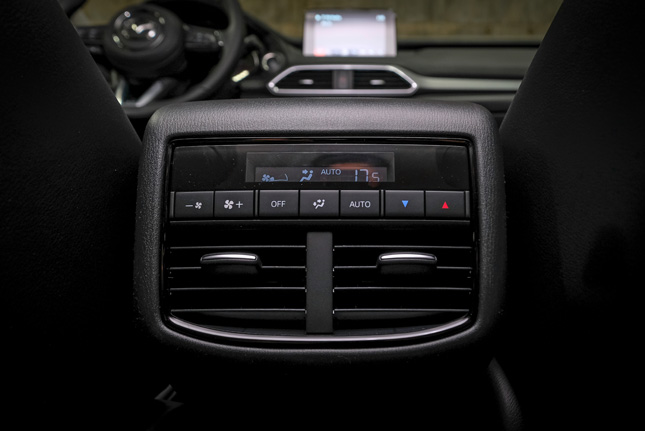 This is actually the first time I'm driving Mazda's largest model. I've ridden (and slept) in the back during a Malaysia trip organized by local distributor Bermaz Auto Philippines last year, and it was a ride any executive would relish.
Going up to Tagaytay I'm aware of the CX-9's mass, but it doesn't feel sluggish. I flick the familiar driving mode switch to Sport, and the CX-9 becomes as responsive as a compact SUV. Throttle feedback is excellent. The driving position is perfect, as with most Mazdas actually. The leather steering wheel feels good to grip, and the seats hug my body just right. Visibility is also excellent.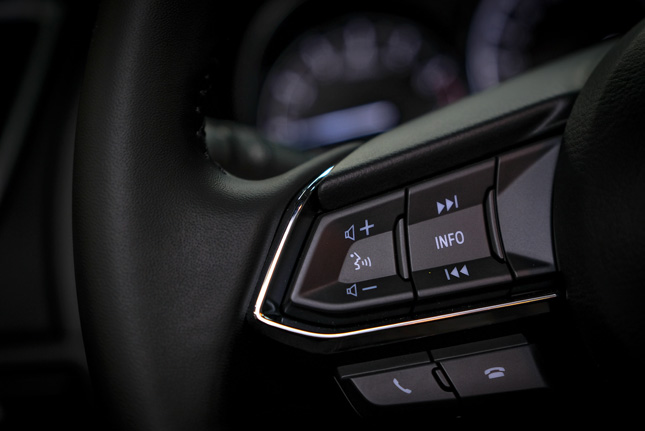 As expected, NVH is also superb, something that comes with large well-built vehicles. I'm barely aware of the noise outside, and the world just passes by in a montage of weekend scenery.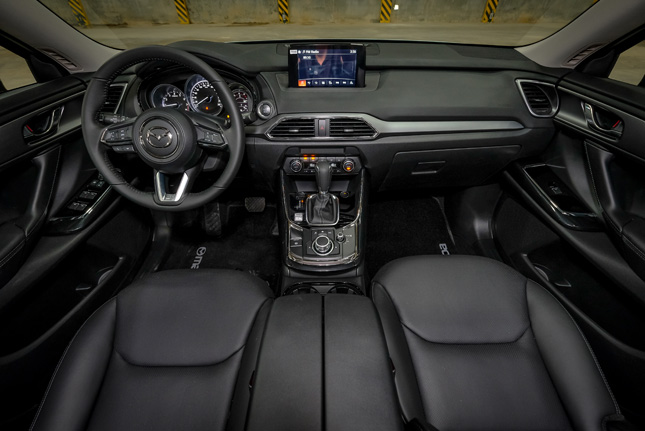 This may be a 'budget' CX-9 compared to its near-P3 million Grand Touring sibling, but there is nothing subpar about the cabin. One of the obvious differences is a maroon panel in the that nicely contrasts with the black and silver trim, but the Sport Touring's mostly black cabin is still classy.
The narrow B roads, however, remind me of the limitations of a wide vehicle. Designed for a time when a Toyota Vios would be considered large, there is just enough space for two cars to pass each other. Thanks to the CX-9's precise steering, I am able to avoid getting any scrapes on the beautiful Titanium Flash paint job. I do confess that I wish I were in a CX-3 during some tight spots.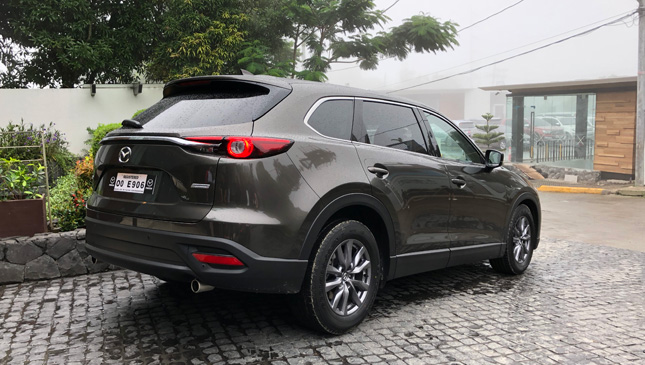 When we arrive at Botchi's place there is a CX-9 AWD Grand Touring parked in the driveway. We waste no time in comparing the two variants.
Keen eyes will immediately notice the sportier wheels of the AWD variant—20-inch silver alloys vs. 18-inch dark silver wheels. There was also more silver trim on the lower body panels. But overall there was barely any difference on the outside. I even like the dark hue of the Sport Touring rims more.
So with the two variants having the same powertrain, similar look, and basically the same comfort, why spend half a million on the AWD CX-9?
The best answer to that question is, what does P480,000 mean to you? To some people this is a life-changing amount; a sum that means a college education or funds to start a new business. And on the other side of the economic scale, I once met a businessman who forgot he had half a million pesos in his car's glove compartment.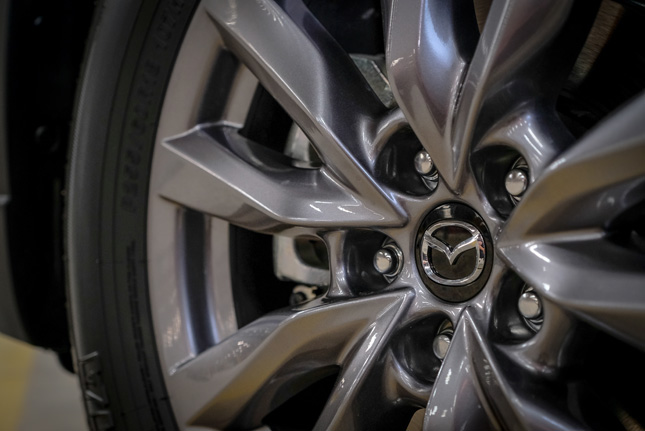 So, in more realistic car terms, if your budget is for a top-spec midsize turbodiesel SUV, slightly above P2 million, you owe it to yourself to put the CX-9 Sport Touring on your list. It has all the things that made this midsize crossover a plush transport, and its lighter curb weight and fatter tires give it an edge in fuel economy (although we'd have to verify this) and ride comfort. Trust me, none of the turbodiesel SUVs in this price range can top the CX-9 in terms of smoothness and NVH.
If your budget can easily cover a P3 million vehicle, you should still have a look at the CX-9 Sport Touring. No one really needs a Bose sound system, sunroof, and AWD. And just keep to your lane so that you won't require lane keep assist and lane departure warnings.
But if you have a car plan that easily encompasses P2,830,000, go for the top spec. And that also goes for those who have the budget and really want the full CX-9 experience. There's still something to be said for the sublime pleasure of opening the roof on a perfect afternoon, with Billy Joel playing on the Bose system.
When it comes to automobiles, having more model and variant options is always better for the consumer. Such is the case with the CX-9 Sport Touring. In a bit of irony, by paring down its copious equipment options to the essentials, Mazda gave us an SUV to aspire for.