In hindsight, driving like an asshole is surprisingly easy when behind the wheel of the Mercedes-Benz S300. Considering its size, this car handles very well. And because of its badge, other drivers on the road automatically give it wide berth.
But I'm not thinking about that at this very moment. You see, sitting right behind me is former Formula 1 driver David Coulthard, and I'm breaking just about every possible traffic rule. Each time I cut other cars off, or counterflow into another lane to get ahead of a queue, or run a red light, I shrink deeper and deeper into the power-adjustable leather seat. It's because of the two motorcycle escorts assigned to us that I've no choice but to follow. It's because of them that I'm presently the driver that every decent motorist despises.
I try my best to hide my face while navigating the Metro Manila gridlock. I mutter to myself about this extremely awkward situation, hoping David notices that this isn't how we, of Top Gear Philippines, normally do things. Photographer and motorsports editor Mikko David, who is obviously star-struck by our passenger, keeps pointing to the police escorts, thinking that I don't see them. He's urging me to keep pace, and is probably wondering why I'm refusing to follow the daredevil riders.
I can see them clearly, of course. The policemen have a look of bewilderment each time they glance back and we make eye contact. They must think I'm an unskilled driver for not being able to keep up—or a big idiot for not taking advantage of the sirens and lights.
ADVERTISEMENT - CONTINUE READING BELOW ↓
Well, little do they know I'm so ashamed that David's first taste of the Philippines is like this. We are making a bad impression by driving above the law, so I decide to fall back and drive slowly to save whatever shred of motoring decency I have left. I'd rather we sat in traffic for an hour instead of breaking all these traffic rules. I'm supposed to be a driving ambassador for the Philippines, for crying out loud!
At one point, David's male companion at the back asks me if it feels good to be breaking the law. "No, man—it isn't," I reply flatly. "Our country is so fucked up already. We don't have to do something like this." There is silence from the passenger area. But a quick glance at David via my rearview mirror and I see a hint of a grin from the guy. I think I might have gotten his attention.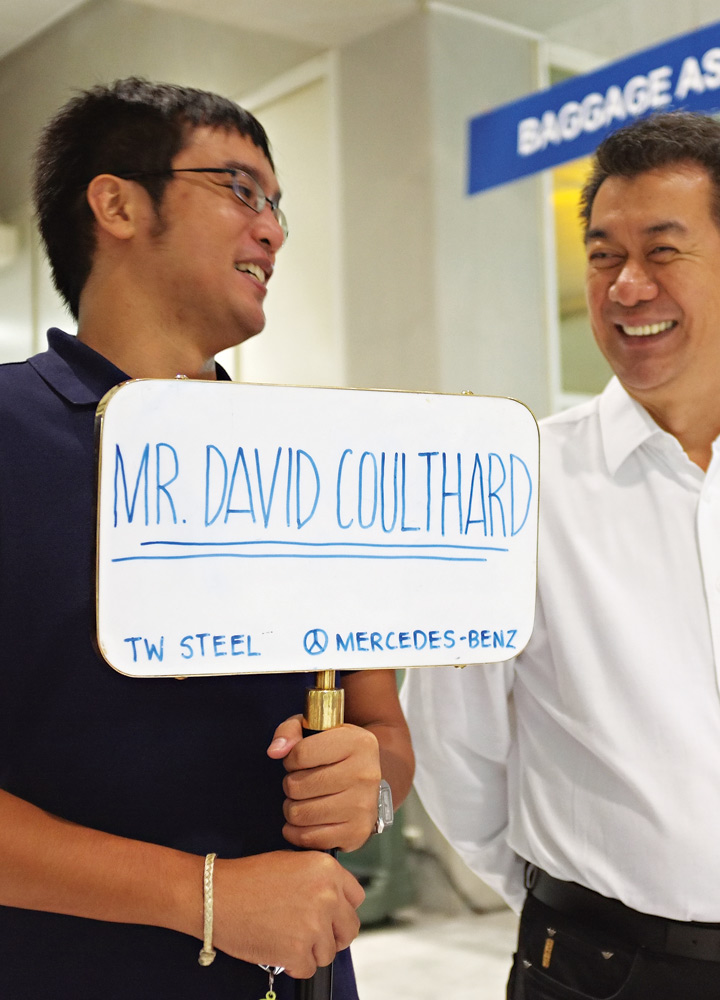 ADVERTISEMENT - CONTINUE READING BELOW ↓
Recommended Videos
When we found out that David would be coming to town to promote the David Coulthard Edition TW Steel watch, we had to arrange to do a story immediately. "What would it be like to drive for an F1 driver?" the Top Gear staff collectively wondered. Well, I was to soon find out.
On the day of David's arrival, Mikko and I, along with the lovely PR ladies of Benz's official local distributor CATS Motors, were ready to fetch him from the airport during the wee hours of the morning. Because David is a high-profile guest, we made sure to be extra- early. After a few hours of waiting, it was eagle-eyed Mikko who spotted him in the crowd at the arrival area of NAIA Terminal 2.
I hurried to position so David could see the placard with his name on it. You can't miss him, or rather, you can't miss his stunning fiancée. After he had exchanged pleasantries with local executives of TW Steel, I whisked him off to his hotel. That was pretty easy, but there was still a full day of driving ahead.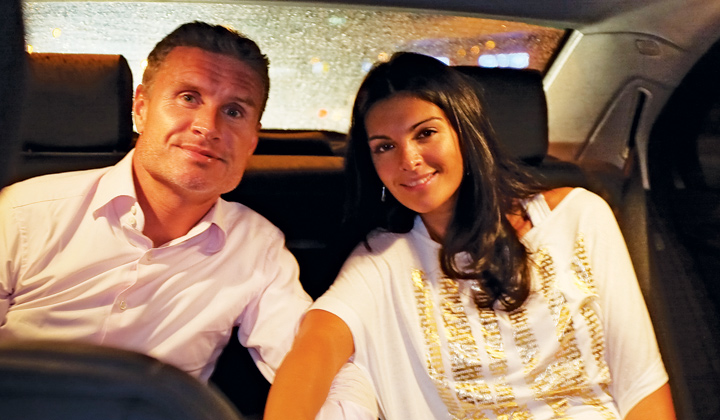 ADVERTISEMENT - CONTINUE READING BELOW ↓
Back to that drizzling afternoon, the CATS ladies call my phone but I pass it to Mikko to answer. They deny it, but they are frantic and wondering what is taking us so long. It turns out our escorts have decided to use the long (and more congested) route. Despite my internal conflict, we do manage to arrive at David's engagement, late by just a few minutes.
While waiting for him in the car, I think to myself that driving for a celebrity, VIP, or politician requires a large amount of callousness. And whatever happened to that law banning the use of sirens and lights? During the drive back to the hotel, I decide to take it easy and ignore the escorts altogether.
The atmosphere is now more relaxed. I get to chat with David and can immediately tell that he's the nicest person you'll ever meet. I am certain that driving like we owned the road will not impress a guy like him. We talk about his racing heroes and how he admires gentleman racers from the early '60s. We also talk about his hectic schedule.
"The hard part is having to answer the same questions all the time," he says. As if on cue, I put Mikko on the spot and say that he has to come up with fresh questions for his separate interview. We all get a good laugh out of this.
When I open the door for David at the hotel, he gives me a sincere "Thank you," a warm smile, and a firm handshake. I feel I've done a great job! But the day isn't over yet. David has one more event to attend. He has to make a grand entrance at the building next door, behind the wheel of a Merc SLS AMG. I will lead the way with the S300. Sounds simple, considering I only have to drive 300 meters.
However, when it's time to go, executives of CATS unexpectedly pile into the S300. It seems like four different people are barking orders at me, so I try my best to keep calm and composed. "Stop! Go left! Nasaan na si David? Go straight! Go right!" is all I can hear blasting into my ear, and it's understandable. These executives only want the grand entrance to happen without a hitch. However, because so many directions are being shouted, and with a taxi headed straight for us, I completely miss the entrance to the building next door!
Thank goodness quick-thinking David sees my mistake, and he maneuvers the SLS into the driveway by entering it the wrong way instead. The grand entrance is saved, and nobody waiting knows that the 'performance' was almost ruined by yours truly. The casualties of the three minutes of chaos and excitement are a brand-new iPhone (it fell on the pavement and was run over by a passing car when the executives scrambled out), and a retractable window blind that was somehow broken from its rails.
ADVERTISEMENT - CONTINUE READING BELOW ↓
I don't know if I've done my job properly, but I can't help but laugh. I'm pretty sure I don't have a career fallback being a chauffeur for the rich and famous. Driving for David was easy, but it's the hoopla surrounding him that almost made me crack. But hey, I say it's all in a day's work for Top Gear's resident guinea pig.
NOTE: This article first appeared in Top Gear PH's December 2011 Issue. Minor edits have been made. (Photography by Mikko David)