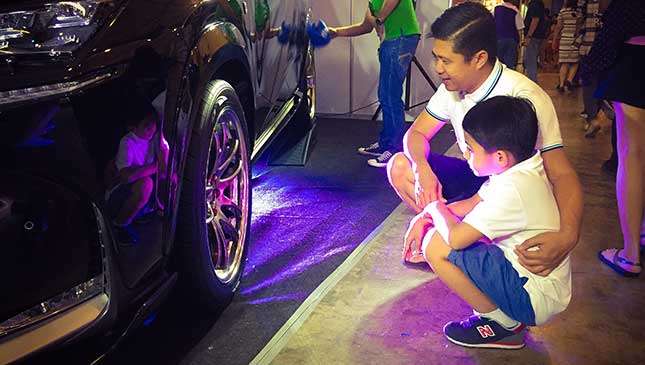 Amidst the shimmering, streamlined cars on display, gorgeous models, bright lights and blasting sounds, the recently concluded spectacle that was the 2017 Manila International Auto Show (MIAS) had every Pinoy petrolhead eager to see everything the auto industry had to offer.
Surrounded by all the lively entertainment, I stood by our display and realized how much I wish I'd been able to bring my little tykes to the show (they had to stay behind in our La Union home). I began to observe in envy the fathers who brought their sons and daughters to experience this automotive fiesta.
Continue reading below ↓
Recommended Videos
Aside from the usual sights, there were father-child bonding activities like the Russ Swift Show and the Segway mini-circuit. Even the nostalgia-inducing Tamiya activity area was bustling with not only the young, but the young at heart. I found it touching how a father was explaining to his little boy how a certain die-cast car in a display case reminded him of a heartwarming memory—a car that his late father owned and used to 'baptize' him behind the wheel.
On the last day, I was invited by the gracious folks of Mazda Philippines to a private conference with none other than the Miata RF's chief designer, Masashi Nakayama. Here, Nakayama-san explained how the hardtop MX-5 came to be. He later signed the sketch he used for the lecture and handed it over to a lucky, bright-eyed kid; it was one of the most notable highlights for me from the said conference. In time, I'm pretty sure the boy will realize the real value of what was passed on to him, and possibly inspire him to pursue his own dreams.
Since I was chosen by Mazda Philippines to be interviewed by their Japanese contingents, I gladly stuck around for a soulful exchange on how my Mazda has nurtured not only myself as a car and driving enthusiast, but, more important, how it has brought my family together and made me a better father.
Despite the language barrier between me and my interviewers, conveying my passion—one common to both sides—didn't prove difficult. To do what we love for those we love; our young who'll eventually carry the torches we hold burning today.
These events should not only bring out the best of the industry, it should also bring out the best of parents, carving indelible bonds between us and our children. It also allows us to inculcate a culture of responsible motoring and give them a great perspective of the automobile's place in life and family. The memories you create for the little ones will fuel them toward an ever-challenging future.
Though I may not have a tiny fraction of the wealth needed to purchase any of the beautiful exotics at the Motul display, I eagerly headed home to my greatest treasures with a V12-powered determination to bring my children closer to the world I love.