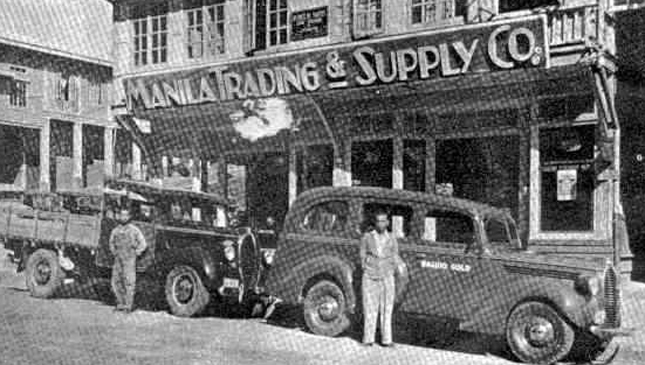 Manila Trading and Supply Company (Mantrade), Baguio City, 1940. Pictured above are two 1938 'barrel-nose' Ford vehicles: a truck (left) and a sedan (right).
In December 1900, the US Army Signal Corps brought in a number of Woods Electric cars from Chicago to the country for use as service utility vehicles. These were the first 'horseless carriages' to ply our roads; it would be fair to assume that Filipinos back then probably had misgivings about its safety and ease of use.
ADVERTISEMENT - CONTINUE READING BELOW ↓
Soon after, several trading and hardware companies began importing and selling electric-, steam-, and gasoline-powered vehicles. Let's take a look at their histories.
Originally a brokerage company in 1899, Erlanger and Galinger expanded to selling bicycles, office equipment, and automobiles in the 1900s. In 1902, it began offering the Locomobile car, the second American automobile to arrive in the country. Other US brands followed: Oldsmobile in 1906 and Ford in 1907.
Meanwhile, La Estrella del Norte, as a partner of Levy Hermanos, initially sold French cars, eventually establishing the Estrella Auto Palace to handle car and truck sales. A major dealer from 1901 until the early '50s, it offered the largest selection of cars and trucks in the market—21 brands all in all.
MacLeod and Company began selling agricultural equipment in 1904. By 1954, it was better known as International Harvester and was unsurpassed by other companies. It had the largest dealership network and an assembly plant in Mandaluyong, Rizal. But 20 years short of reaching its centennial anniversary in 2004, it closed shop in the mid-'80s, during one of the most tumultuous periods in Philippine history.
A man by the name of Emil M. Bachrach was in the business of automobile importation from the mid-1900s until the '60s, selling Austins, Buicks, Cadillacs, Fords, Packards, and Vauxhalls, to name a few. The company even operated the auto-calesa, a public-utility jeepney, from 1932 to 1941. This public-transport endeavor was replicated by Toyota Alabang, which has been operating taxis since the '90s.
After making profits from selling bags and other items, Manila Trading and Supply Company (Mantrade) was able to purchase several important brands—namely, Ford, United States Rubber, and Remington Typewriter—from E.C. McCullough and Company in 1918. By 1920, it had given up the rest and focused on exclusively being a Ford seller. Branches were established in Luzon, the Visayas, and Mindanao even before WWII.
The company was able to resume operations early on after the war. By 1955, it had built an assembly plant. During the '60s, it also sold cars from Ford Great Britain (Cortina, Escort, Thames, and Transit) and Ford Germany (Taunus). Anticipating the end of parity rights in 1974, the American owners sold the company to a consortium of Filipinos in the '60s.
ADVERTISEMENT - CONTINUE READING BELOW ↓
Due to the political uncertainties and the economic crash in the '80s, Ford Motor Company decided to terminate its marketing and sales operations in the country. Mantrade was able to move on only by extending after-sales services to loyal clients and liquidating some assets. As the economy regained momentum, it acquired the needed franchise to operate anew. Nissan Motor Company made its operations possible in the '90s. Now, Mantrade Development Corporation is a dealer and a marketing arm of Nissan vehicles in the country. It celebrated its centennial anniversary (1918-2018) last April 1.
What was your earliest memory of cars on Philippine roads?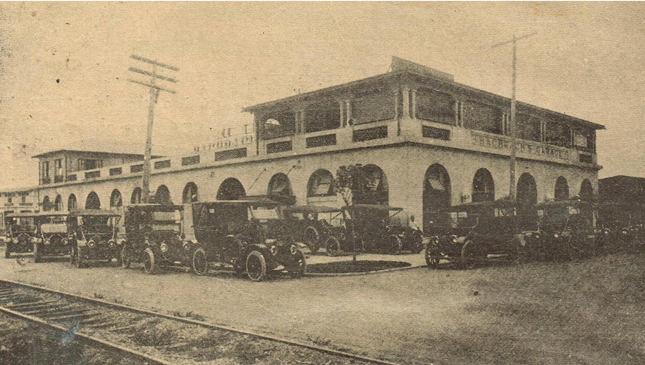 ADVERTISEMENT - CONTINUE READING BELOW ↓