Like the exterior, the cabin gets simplified as well. The layout is a lot plainer—in a good way—than before, and passenger side A/C vents are neatly concealed below the top part of the dashboard. And as with most Mazdas we're familiar with, occupants are treated to a smorgasbord of nice leather upholstery, high-quality plastic surfaces, and soft-touch materials.
The driver's side continues to be the focal point of the interior, with all controls, buttons, and dials easily within reach, and a new 8.8-inch infotainment display tilted ever so slighty toward the cockpit. The steering wheel still feels great to hold, the vehicle still comes with a heads-up display, and the speakers can even be adjusted to course sound only to the driver's area. Neat.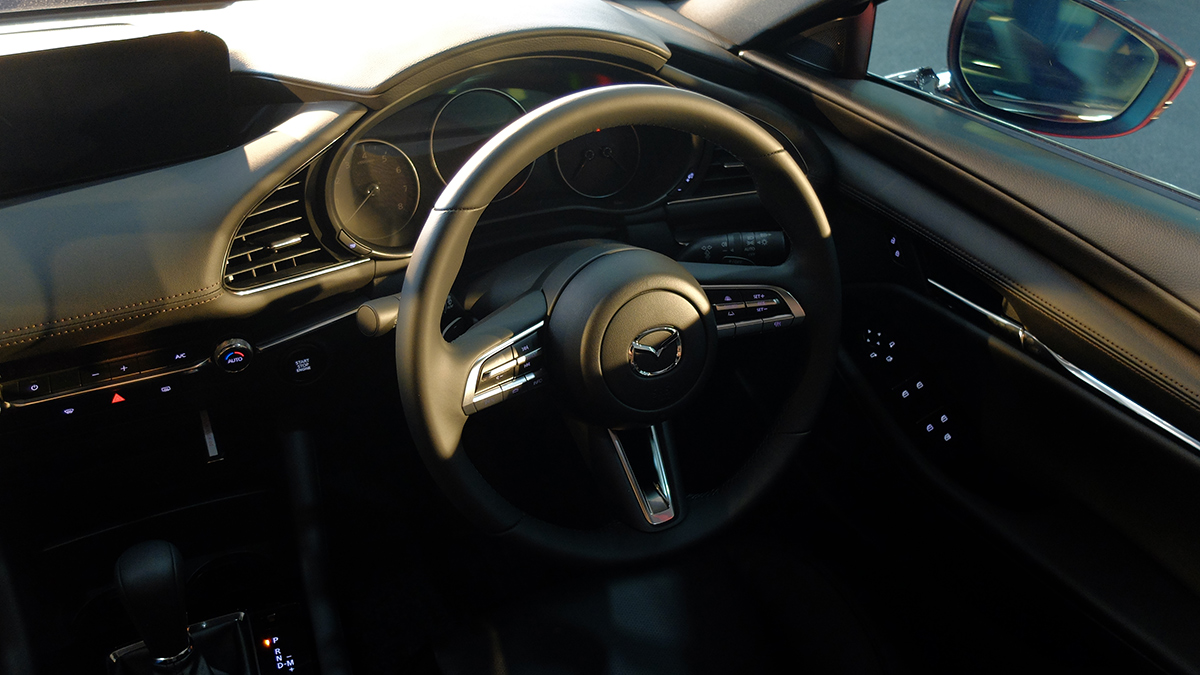 Speaking of displays, the main one isn't a touchscreen unit. Any fiddling or adjustments you want to make to the car's settings will have to be done via the dial—which is smaller now and even easier to operate—located on the center console, or through the steering wheel. The central tachometer has also been moved to the side, and there's a new seven-inch TFT LCD in place of a traditional instrument cluster.
After a couple more minutes for photos and milling about, we head to the first part of today's test drive—not to the track, but to the Sepang parking lot. Here, Mazda has prepared several cars for us: the all-new 3 hatch, the previous-generation 3, and a two of the vehicle's competitors, the BMW 3-Series and the Mercedes-Benz A-Class (though we won't go into either too much, as both are older and previous-gen vehicles). The short course consists of a slalom, followed by a quick turn, a short straight, and a sudden lane change. All this is meant to highlight the car's stability and handling prowess.