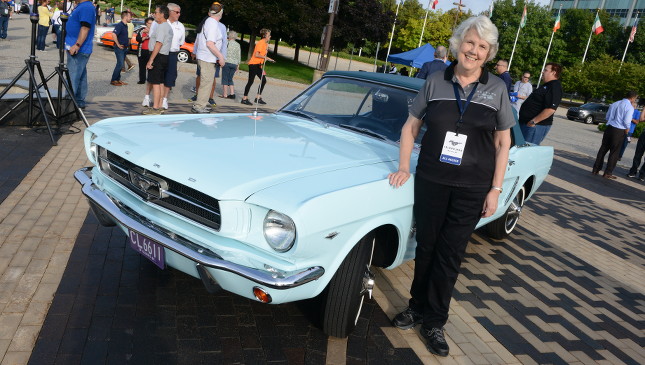 Your brand-new ride loses value the minute it leaves the dealership, but if you hang on to it long enough and the nameplate ends up an automotive icon, then you'll find yourself the owner of a priceless piece of car culture and history.

When Ford celebrated the production of its 10 millionth Mustang unit last week (you can read about that here), among the 60 owners invited to the event was Gail Wise, whose 1964 skylight-blue Mustang convertible has been verified as the first Mustang ever sold. As a single, 22-year-old teacher, she had purchased the unit for $3,447.50 on April 15, 1964, two days before the model's global launch in New York.

"It was all top-secret," Wise said in an interview with Detroit Free Press. Before the global launch, Ford had distributed Mustang units across US dealerships for promo and demo purposes—but the sales agent who accommodated Wise showed and sold the car to her, because she had specifically told him she wanted a convertible and he had no other top-downs to offer.

"I drove out of that showroom with everyone waving at me and asking me to slow down. TV ran a lot of advertisements for the Mustang, but they never showed the car. They just showed the logo and said, 'It's coming,'" Wise continued. "For this to be out in April was a really, really big thing (new car launches at the time usually took place in September). People were so happy, giving me the thumbs-up, even the police. I don't remember having the top down, so it must've been cold. I wanted to keep driving, but I only had to go about three miles to get home."

After getting married and having four kids, Wise used her Mustang convertible as a family car for 15 years, after which it stopped running and was left to sit in the garage for nearly three decades. Her husband Tom convinced her not to sell the deteriorating car, promising it would be his "retirement project."

He was also the one who came across another person's claim of being the first-ever Mustang owner. "Tom came to me and said, 'I think you bought the car a day earlier,'" Wise said. "He went down to the basement and found the receipt and the owner's manual. Sure enough, I had purchased the car on April 15."

Wise's Mustang convertible was finally sent off for a full restoration in December 2006. In its renewed and fully pristine state, with only 68,000 miles (109,435km) on the odometer, the car is currently valued at $350,000 to $450,000 (P18.7 million to P24 million).

"It's like being a movie star at 76," Wise said of being the owner of this historic unit. "I felt like a movie star at 22 when I bought the car. I mean, that was 54 years ago and we're still talking about it."
Continue reading below ↓
Recommended Videos