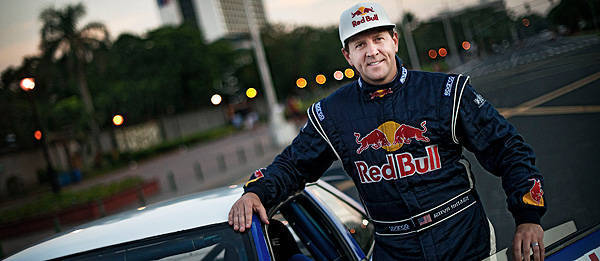 As you all know by now, Rhys Millen was in Manila recently to film some stuff for Red Bull as part of the energy drink company's relaunch in the Philippine market. TopGear.com.ph managed to spend some time with the guy shortly after he shot the video, and these are what we found out about the multiple Formula D and Pikes Peak winner:
1. His first love is mountain biking. "My first passion is mountain biking. My father moved to the United States when I was five years old to pursue his career in motorsports, and I stayed in New Zealand with my mother racing mountain bikes until I was 17. At 17, I came to the US to live with my father and I got really exposed to cars for the first time then. I still enjoy mountain biking. I've heard you've got a lot of good trails here so I do hope I get to see them when I come back to the Philippines."
ADVERTISEMENT - CONTINUE READING BELOW ↓
2. Tanner Foust was once his roommate. "Tanner's a really good friend of mine, and the first time I met him was at a rally event years ago. He was just starting then when I approached him and said, 'Hey, did you know your tires are on backwards?' He said, 'What?!' And I said, 'Your tires are on backwards.' And then I explained to him how I knew. We hit it off really well and we started hanging out and then one day, he told me he was looking for a place to stay so I invited him to stay over in my place for a few days. The few days then turned to months so I started charging him rent. Three years later, after I had proposed to my wife, I told him, 'Hey, you know you have to move out because I'm gonna get married soon.' We're still good friends and he lives just five miles from where I live, but I have yet to see him this year. That's how busy we are in our business."
ADVERTISEMENT - CONTINUE READING BELOW ↓
Recommended Videos
3. He's been doing car stunts for commercials and movies almost as long as he's been racing. "I've been doing stunt-driving for TV commercials and movies for over 16 years. I've gotten a lot of my friends into the industry like Samuel Hübinette and Tanner Foust. We drive together all the time and have a blast, filming projects like The Dukes of Hazzard and a lot of The Fast And The Furious movies. For TV commercials, I do a lot of stunt doubling. For this year alone, I've doubled for Dale Earnhardt Jr. and Carl Edwards--basically a lot of projects where I work with different manufacturers where I'm not so much the presentation point, but the product is and I'm just the driver behind the tinted glass."
4. One of his most memorable and challenging drives was in Brazil two years ago. "We shipped out our drift car to Brazil two years ago, and we found this crazy mountain road down there and we did that project with Red Bull. It was unbelievable. The mountain road had an elevation of 4,000ft, and it was the twistiest and craziest road you've ever seen. Santa Catarina was the state we were in, and for two days we shot in segments of the road."
ADVERTISEMENT - CONTINUE READING BELOW ↓
If you're viewing this on a mobile device and can't see the video, please click here.
5. He's seen his share of drama in the movie business. "The movie business is kind of like a cliquish network. If the producers hire a stunt coordinator and he already has his group of people, then that's whom he'll end up using. I ran into a little bit of a conflict like that in The Fast And The Furious 5 where the main first unit director wanted me to do all the driving, but then the actor had his stunt double so it became very political and I was like, 'Hey, I don't need to drive.' It's very interesting, Hollywood. The drama..."