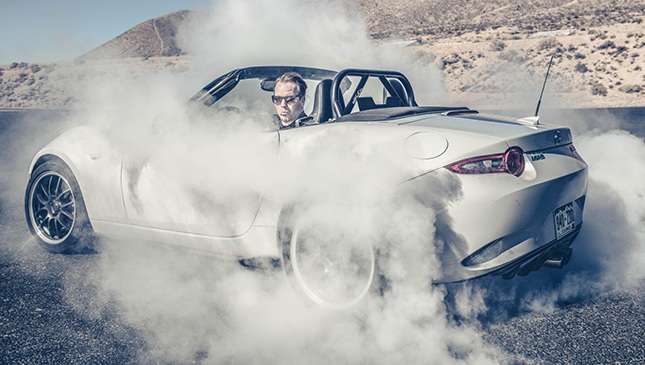 In its original definition, a muscle car is something small, two-door and American with a large-displacement—usually V8—engine up front spinning the rear wheels.
A regular-sized burger but with triple meat and triple cheese, if you will. It's a formula we at Top Gear can definitely get on-board with, but that's not to say it can't be improved upon.
For starters, something small and American isn't small at all by anyone's standards other than their own. However, introduce a body from somewhere that specializes in miniaturization and lightness, like Japan, but stick with a stars-and-stripes V8 for that authentic slug of torque, and the power-to-weight ratio climbs handsomely. Who knows? It might even go around corners…
Continue reading below ↓
Recommended Videos
Allow me to introduce the Flyin' Miata V8 conversion for the fourth-generation MX-5—the emphatic answer to everyone who knew the MX-5 chassis could take more, but had to stand by for decades as Mazda refused to offer anything over 158hp.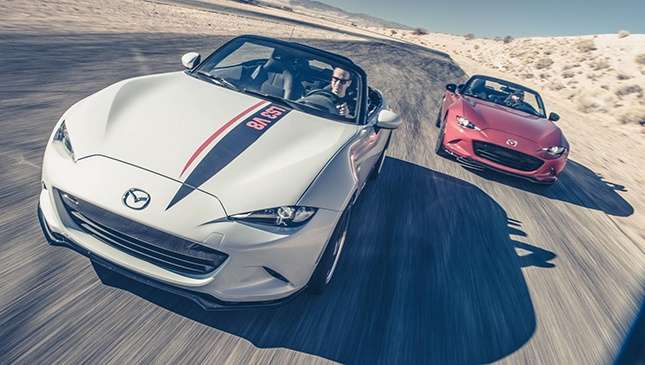 The principle, like all good things, is wonderfully simple: for $50,000 (P2.5 million) plus the price of a donor car, Flyin' Miata will remove the 2.0 SkyActiv engine from your MX-5, Fiat 124 Spider or MX-5 RF and, over the course of six to eight weeks, stuff the engine bay with a 518hp 6.3-liter LS3 Chevy V8.
You also get Fox Racing shocks and dampers to cope with the extra 100kg of ballast, rollover protection, uprated aluminum four-piston calipers, 40mm wider wheels and tires, and the hydraulic steering rack and rear differential from a Camaro.
Too much engine for you? The Colorado-based MX-5 tuning specialists will also do you a "diet" 424hp version, that senior technician Keith Tanner calls "a real sweetheart to drive." Fortunately for my ego, the one I have here, the first prototype and only one in existence, is the hairy-assed 518hp model.
To ensure we use it appropriately, we have taken precautions. These include hiring the Willow Springs Horse Thief Mile track and skidpan, bringing along a standard 2.0-liter MX-5 for benchmarking purposes, and inviting Danny George, a former Formula Drift driver with an excellent beard, to help us abuse some tires.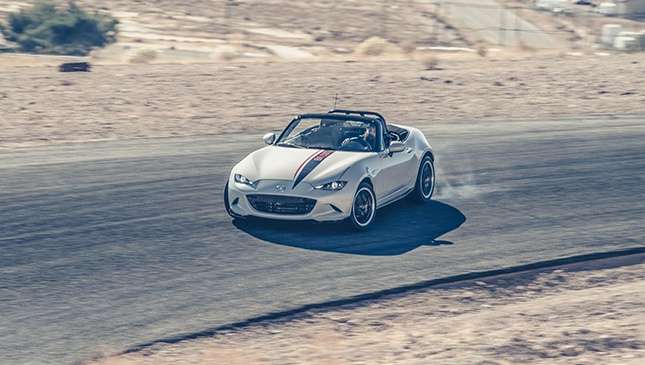 Pull away and the clutch and steering are both heavier, but perfectly usable, while the Camaro gearbox is like stirring concrete next to the MX-5's flickable six-speeder, and then… WAAAAAAAP! I extend my right foot in third and forget instantly what I was droning on about.
The rear of the car steps a foot to the right and I apply a quarter turn of opposite lock just to keep us heading in a straight line. My heart rate leaps from 70bpm to 170bpm in less than a second and I can hear Danny laughing himself sick in the distance. Okay, a few seconds to regroup before the first corner. I take it slowly, hovering over the throttle, biding my time, then, well clear of the apex and almost straight, I bury the throttle… and the car tries to assassinate me—lurching alarmingly sideways as I flail my arms and slap the wheel.
I survive, but only just. This thing is an animal, a savage untamed beast in a world of well-trained house pets. And it's brilliant. I quickly learn that with more modest throttle applications, I can control the shapes and, more important, there's Mazda DNA all over it.
The MX-5 is a car that likes to roll around, let you know what's going on at ground level, and this is no different. It twists and pitches and heaves and the rear end is always loose, but that gives it the same three-dimensional, organic feel we love so much from the factory car.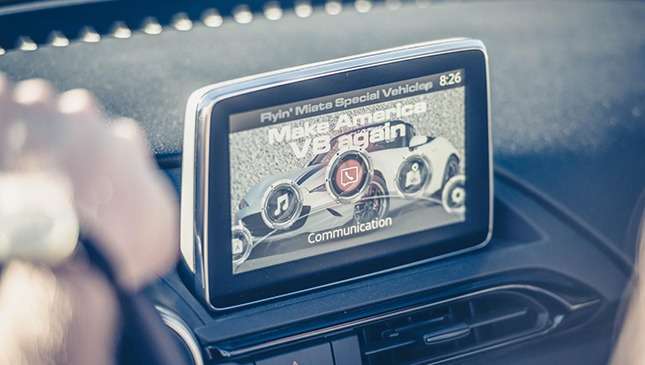 Keith sums it up nicely: "It's like a black diamond ski slope. We give you the tools you need—it's got a linear throttle, flat torque, excellent mechanical grip—but staying inside that grip is up to you."
The one big disappointment is the hydraulic steering. Apply the lock quickly and the weight increases suddenly, which isn't ideal when 80% of the time is spent trying to catch unintentional 'moments.'
Danny notices it too, but like a true pro finds a way to drive around it and proves, contrary to Keith's claims, that it can drift. It can drift just fine. For the camera I take steering out of the equation and stick to performing gratuitous burnouts, deafening myself with the gnash of the engine bouncing off the limiter and choking on smoke clouds.
Having chewed through Keith's annual tire budget in a morning, we relocate to the track and attempt some mildly sensible behavior. I complete several laps keeping everything as tidy as I possibly can, and it's true, it can be hustled around at an impressive pace thanks to those chunkier tires and explosive acceleration down the straights.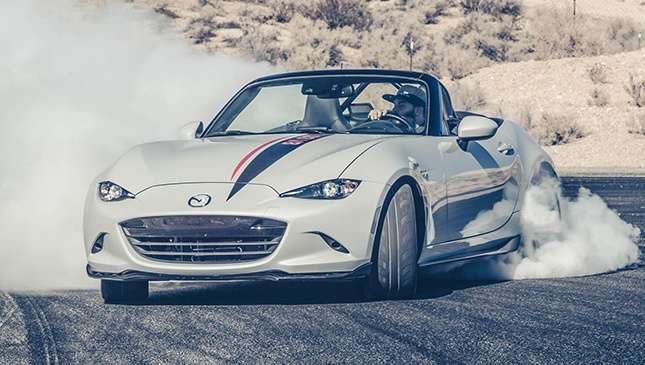 You can't hide 100kg over the nose completely, though. Whereas the 2.0-liter car darts where you point it, this checks its schedule briefly, then goes with the plan. But it's no good—accomplished as it is at hot laps, this is a car made for hooliganism. It was born to misbehave, move around and prop up Bridgestone's share price.
It's a ridiculous mix—sushi smothered in melted cheese—but in a never-ending expanse of vanilla, sensibly powered shopping trolleys, it's a welcome reminder of the spectacular results of what giving a small car a big engine can yield. In Carroll Shelby's words: "There is never enough horsepower… just not enough traction."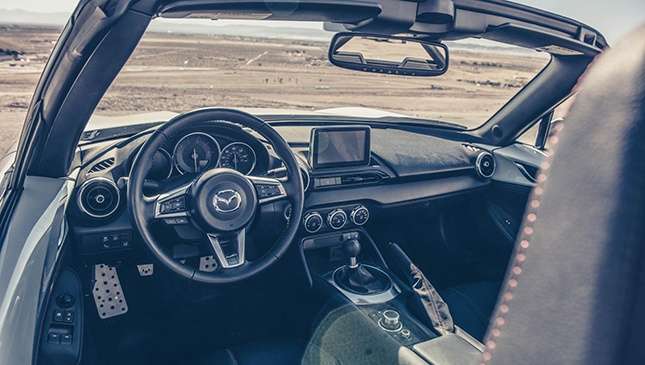 NOTE: This article first appeared on TopGear.com. Minor edits have been made.