If you're viewing this on a mobile device and can't see the video, please click here.
As much as we try to convince motorists to lay off the booze and stay away from substance abuse before stepping into a vehicle, we know there will still be a handful of hard-headed drivers who will ignore our advice. Some people just won't learn unless they experience the effects of intoxicated driving the hard way.
Luckily for these individuals, Ford has come up with a solution. The car company has created a specialized suit designed to replicate the effects of illegal substances such as cocaine, heroin and MDMA (ecstasy), among others.
The Drugged Driving Suit, developed with the help of scientists from the Meyer-Hentschel Institut in Germany, uses paddles, goggles, ankle weights and headphones to simulate slower reaction time, hand tremors, reduced mobility and poor coordination to show drivers just how difficult it is to handle a car while under the influence of drugs. Check out this infographic to see just how the suit works.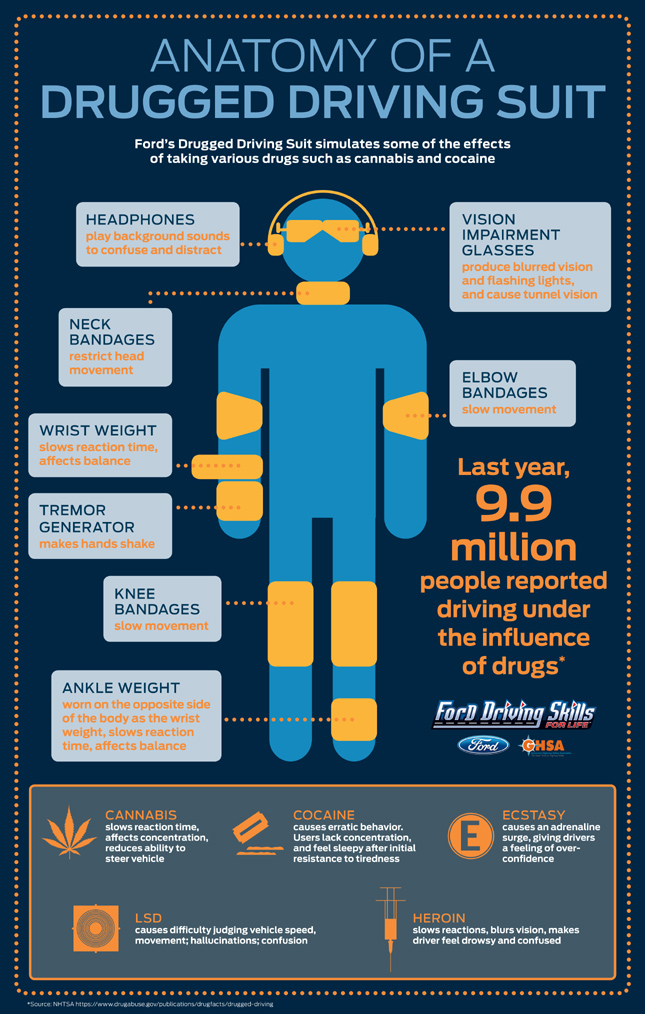 Continue reading below ↓
Recommended Videos
Meyer-Hentschel Institut CEO Gundolf Meyer-Hentschel explained the mechanics of the suit using the effects of LSD as an example. "Drug users sometimes see flashing lights in their peripheral field, an effect recreated by our goggles, while imaginary sounds are generated by the headphones," he shared. "Additionally, the goggles distort perception, and produce colorful visual sensations--a side effect of LSD use."
The specialized suit will be part of Ford's "Driving Skills for Life" project, an 11-year-old young-driver training program that has helped educate over half-a-million drivers since it first started.