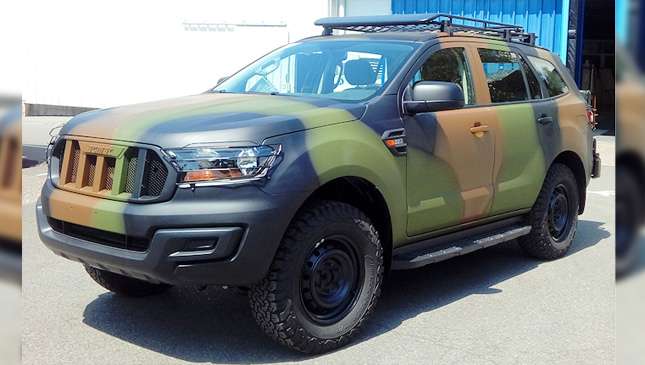 The Ford Everest is one of the most popular midsize SUVs on the road today. But while many of us may be familiar with its civilian life, this SUV has another side not many of us know about.

For decades the French military has been zipping around in various forms of Peugeot P4 off-roaders, essentially a French version of the rugged Mercedes Geländewagen which the popular G-class evolved from. Now it looks like they've found a new ride for their soldiers.
In December 2016 Renault Trucks Defense (RTD) was awarded to build the new VLTP NP. That acronym by the way stands for "Véhicules Légers Tactiques Polyvalents Non Protégés" or "Unprotected Light Multipurpose Tactical Vehicle" if your French is rusty. This is probably the first time you've heard of that acronym, but the SUV you see in the photos looks quite familiar. Yes, it's the Ford Everest.

The Everest in stock 4WD form is already a capable SUV to begin with. RTD's engineers take this a notch higher. From the outside, it looks pretty much like the base trim Everest spec'd for fleet duty. This also means it gets 17in steel wheels shod with off-road tires. The other obvious difference of course is the unique Jeep-like vertical slat grille which fits into the same hexagonal space as the stock units. It gets "ACMAT" badging up front while the rear is devoid of any badges.
Continue reading below ↓
Recommended Videos
The biggest changes are in the engine bay and underneath the vehicle. It gets an RTD-supplied 150hp diesel mill. While the displacement was not specified, it retains the 2.2 badging on the fenders. It gets an upgraded chassis with integrated protective plates and a heavy duty suspension, too.

Standard 1 is equipped with supports for the HK416 rifle and headlight grilles. Standard 2 is equipped with tactical transmission systems, GPS, protective grilles on all glass surfaces, and black-out lighting to qualify for OPEX (External Operations). Deliveries begin January 2018 starting with the Standard 1 version, followed by the Standard 2 in October 2018.
If it's good enough for the French military, then maybe it'll survive jostling with jeepneys over here.