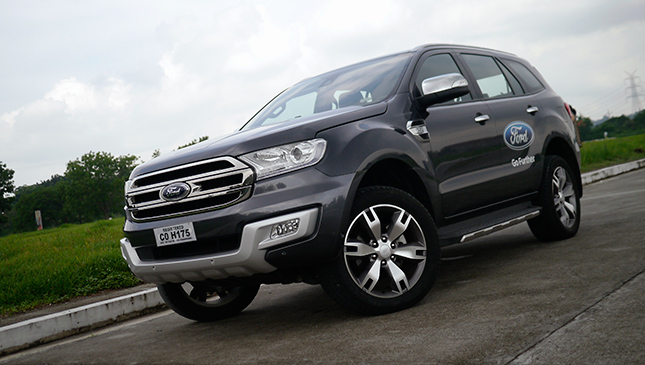 Perhaps it's just me, but I find it rather disconcerting that the Ford Everest comes with enough electronic aids to launch a mission to Mars. Blind Spot Alert, Adaptive Cruise Control, Automatic Parking, Terrain Management, Lane Keeping system. Call me prehistoric, but I prefer my SUVs raw and visceral.
I want them to tickle that little caveman bulb inside my brain—the amygdala—that gives a little tingle of pleasure whenever I slay a woolly mammoth or bite into a juicy burger. Yet every subtle tug at the steering wheel to guide me away from those squiggly­ road marks painted on the asphalt has that little bundle of neurons screaming at me to pick up the nearest tree branch and pound the electronic nannies into submission.
Continue reading below ↓
Recommended Videos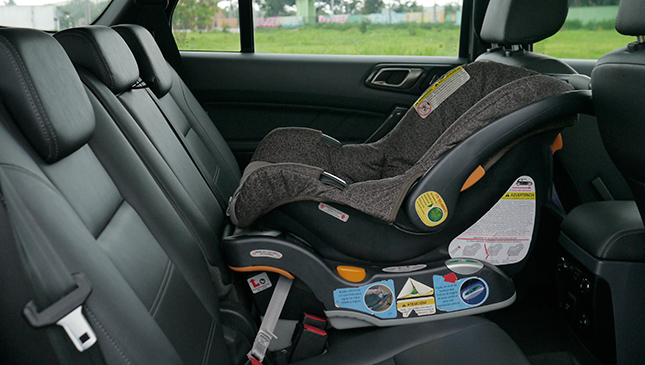 I suppose these things do have their place. The core demographic buying SUVs nowadays leans toward retirees and women, rather than men as in the old days. And such conveniences are necessary, given the former are more likely to accidentally drive through a 7-11 than most, while the latter are often physically smaller than men, and can have a harder time seeing over the steering wheel.
Not that Filipino men have it much easier, mind you. I'm all of 5'5"—167cm to you metricians—and I feel like a five-year-old looking over the steering wheel. A few pokes at the electric seat adjustment levers and I find myself in a much less embarrassing and much more commanding position.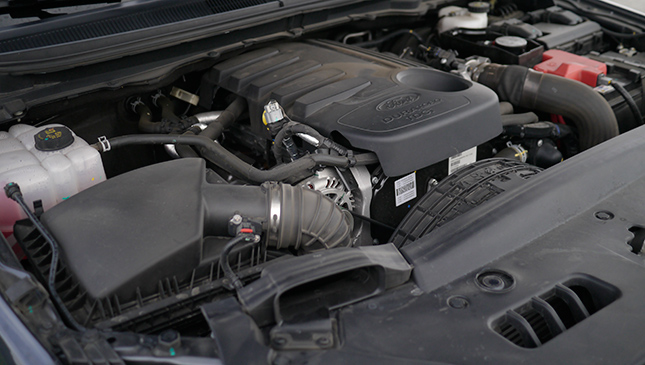 The old 3.2-liter five-cylinder turbodiesel engine under the Everest's hood is on its way out, to be replaced by the new 2.0 "EcoBlue" which promises to be more powerful and more economical than the current engine. And likely much lighter than the inline-five, which weighs in at over 220 kilograms without fittings or fluids—which goes some way toward explaining the Everest's rather hefty 2.37-ton curb weight. That weight and the blingtastic 20-inch alloy wheels result in fuel economy that's less than stellar (6-7 km/L in traffic), but within the norms for the class.
Still, there's something to be said for a big old motor with big old torque—470Nm of it, to be exact. Sure, the 12-second sprint to 100kph isn't anything special. Yet once you get the big thing moving, the motor's 197hp make it feel as effortlessly powerful as a freight train. And this tickles my amygdala thoroughly. Of course, there's those ever-present nannies. But after a week or so ferrying to two different schools through rush hour traffic, this caveman starts to soften toward those modern conveniences.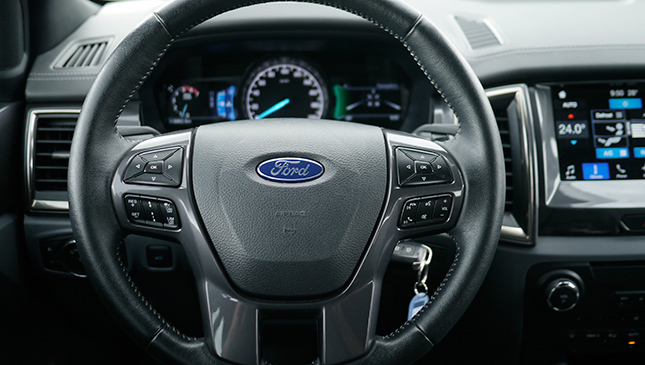 No, I never got around to using the automatic parking feature. I haven't gone that soft. But the lane-keeping and blind spot warning features did work a treat in heavy highway traffic. I didn't really care for adaptive cruise control, either, though the forward collision warning system was an eye opener. Despite considering myself a safe driver, I found that I was driving inside the prescribed two second follow distance on the highway too often. Red LED lights on the dash topper reflected how much red I was seeing, and helped me calm down when I was in too much of a hurry.
The rear camera was also a life saver in parking lots. I didn't even mind relying on the automatic tailgate and power-fold third row seats when loading up the car. When you're toting several schoolbags, hard cases and a stroller all at once, you need all the help you can get.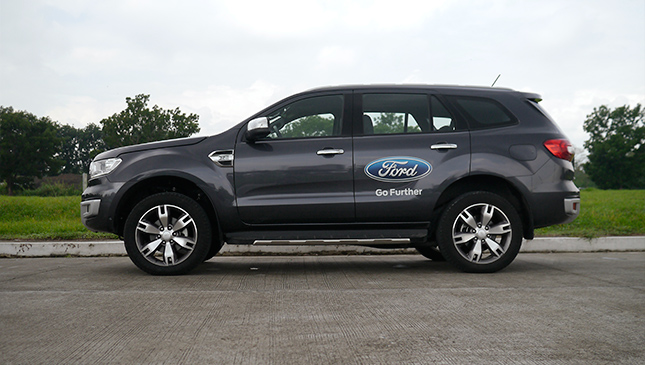 I'd almost forgotten how big the rear of the Everest is. Granted, the new Nissan Terra actually matches it in terms of wheelbase and legroom, but there's nothing quite like the experience of sitting under that gigantic panoramic glass roof, enjoying ice-cold air-conditioning while listening to Ford's typically kick-ass sound system. Gone are the niggling issues with previous Sync systems. Hooking up Spotify via Bluetooth to torture the kids with daddy's caveman rock is dead simple. There are multiple options for tethering, such as WiFi, Apple CarPlay, Android Auto and a proprietary mobile app interface. As with many cars, though, your mileage may vary. My current phone couldn't quite hack it. I guess it's time for an upgrade.
Then again, that phone still works. Somewhat. And there's something to be said about sticking to the tried and true. While the Everest itself is getting an upgrade, possibly later this year, the top dog Everest Titanium still tickles my fancy.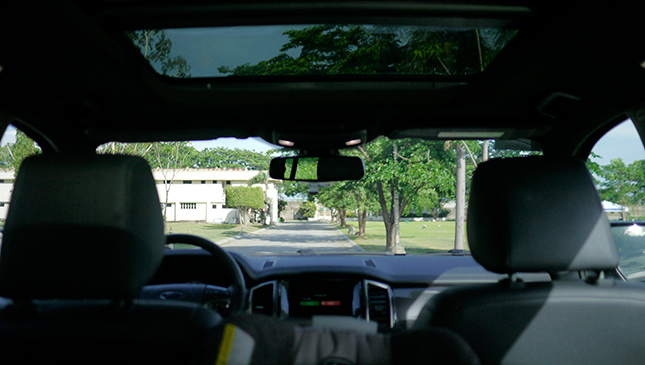 For a Big Daddy who's gone a bit soft, the Everest is a perfectly fine daily driver. This can be attested to by several "daddy" friends who've recently bought one—although they opted for the lower spec 2.2, due to their budgets not quite justifying the Big Dog. I'd be sorely tempted myself, if I was in the market.
Granted, the fingerlight steering and fat ballet dancer handling don't appeal to my baser, racier instincts, but the Everest never feels tippy or edgy. And all that extra weight smothers road imperfections, as long as they're not sharp enough to ding those tasty alloy wheels. But as long as the kids can fall asleep in the back and let you enjoy your heavy metal lullabies in peace, all is right in the world.