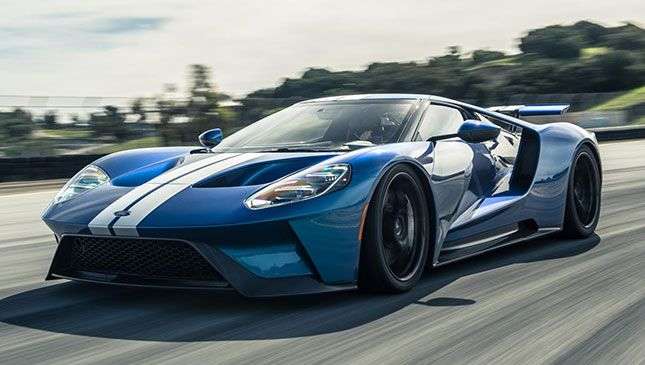 What is it?
The new Ford GT. We've driven it. About bloody time, too.
There's a reason the controversial V6 is the right engine for this car. And that's because the Ford GT is all about packaging and aerodynamics and driving behavior--it's a chassis car, not an engine car.
Firstly, aero was critical. As Jamal Hameedi, the chief engineer of Ford Performance, puts it: "We wanted downforce, but it had to be efficient downforce--we didn't want to pay high drag penalties. And that's why we migrated to a fixed seating position, because that really allowed us to shrink the greenhouse and lower the frontal area." So you stay where you are in the cockpit and pull pedals and wheel to where you want them.
The compact longitudinal V6 is shoved up against the carbon tub's bulkhead, and the turbos that force its induction are further out under the massive aero channels. The intercoolers for the turbos are further out still, in the pod-racer outriggers. Now, if the GT had used a V8 it would have taken up more space and the GT wouldn't have been able to make so much use of aero (plus it would have weighed more). How much aero? How much downforce? Well, that's the one thing Ford won't say, because it might allow rival race teams to calculate how much downforce the racing version produces.
The flying buttresses that link outrigger to central body are wing profile, the rear lights are hollow and vent air from the intercoolers, there's an underbody diffuser, splitter, flat undertray, active rear wing, plus, Hameedi points out, "you would never have a hole unless it's feeding a cooler."
ADVERTISEMENT - CONTINUE READING BELOW ↓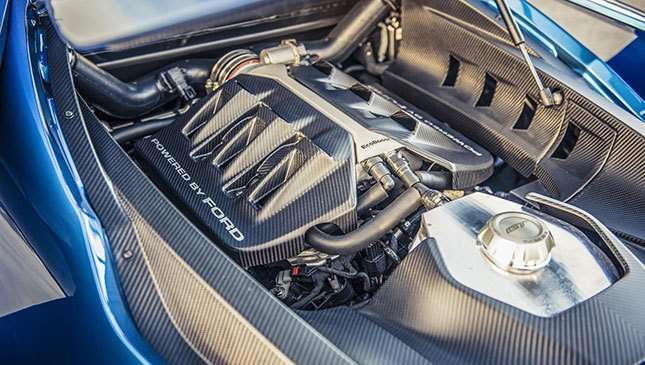 The GT packs an all-aluminum, dry-sump 3,497cc V6 that develops 647hp at 6,250rpm and 745Nm at 5,900rpm and pushes all that to the rear wheels via a seven-speed twin clutch gearbox. The suspension is double unequal length wishbones all round with inboard spring/damper units. There are carbon ceramic brakes with six piston Brembo front calipers clamping 394mm discs (four piston calipers work the 360mm rear discs), and hydraulic, not electric, power steering.
And then there's Track Mode. Twist a knurled knob on the steering wheel to 'T,' confirm with another button press and the GT drops 50mm instantly. It's like the underside of the GT is a suction clamp. All told it has a dry weight of 1,385kg. Which probably means it weighs getting on for 1,500kg when loaded with fluids. So not much lighter than an Audi R8 V10 Plus, while a McLaren 675LT has a dry weight of 1,230kg…
ADVERTISEMENT - CONTINUE READING BELOW ↓
Recommended Videos
The McLaren's important, because by Ford's own admission, that's the car they've benchmarked the GT against.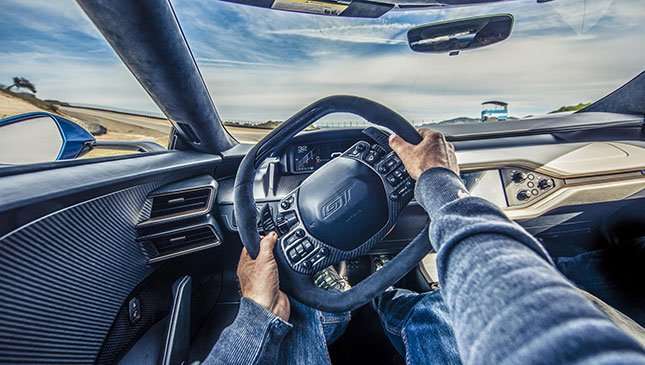 What's it like on the road?
We'll start on track, because I'm at Laguna Seca and it's epic. In Track Mode the GT is just 1,059mm tall, the wheels have disappeared inside the arches, and it doesn't look like there's enough clearance for them to steer at all.
The second you pull away you're aware of a condensed, focused energy. No slack, no rubber, just this delicious sense of being strapped to a precisely engineered machine. Strapped right to it, so you feel the movement and get a real sense of what the wheels are up to. The long-arm suspension is bushed, but it feels rose-jointed. The pictures reveal that it does roll, enough to tuck those tires right up inside the arches, but you don't feel that. What you feel is hard, flat cornering grip and sensational mid-corner balance.
ADVERTISEMENT - CONTINUE READING BELOW ↓
Sat quite a long way in board you're almost at the center of the car, equally aware of what front and back axles are up to. Because the steering feel is so good, the brakes so pleasing to use and the chassis responses are so pure and instant, it doesn't take long to get confident in the GT, and start to build rhythm and speed. It's bloody fast.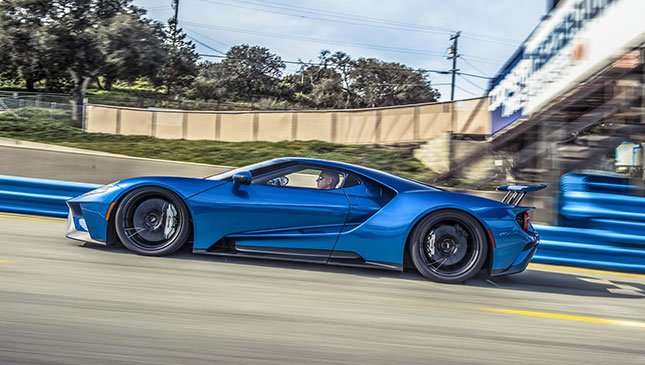 Because you sit so centrally, the GT seems to pivot around you, so changes of direction feel very cohesive. As you go faster, you start to notice a hint of understeer into the slower corners, but this is a fast lap car, not a skids-n-slide machine--it's reassuring. If you're super keen you might want it to be a bit more edgy, a bit more grippy at the front end just to loosen the rear a touch, but that's a matter of personal taste. The steering isn't as sharp as a Ferrari rack, you need to apply a bit of lock, but that's no hardship because you're getting good information back.
Once past the apex, getting back on the power actually neutralizes the car, transferring weight backwards to the fat 325/30 ZR20 Michelin Cup 2 tires, and because you're in Track mode the GT's two turbos are always spinning, an anti-lag system ensuring throttle response is as crisp and immediate as it can be. It's not perfect, and sometimes can get a bit carried away, over-boosting when you're not ready for it, but on the whole the V6 hits as hard as you want, when you want.
The GT lets you get away with stuff that other supercars would punish. You can trail brake right up to the apex without the back trying to step out of line, flick-flack through quick direction changes with not a hint of heave. Laguna Seca is a challenging, difficult track, but the Ford GT made it glorious.
Compared to the McLaren 675LT? I think it's better balanced and manages its extra kilos superbly well, but it's not quite as eye-popping in other areas.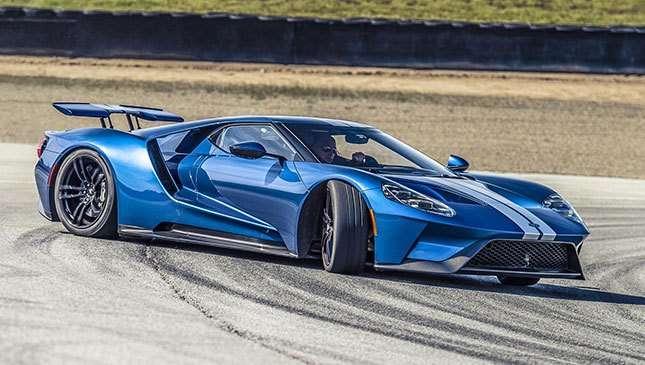 ADVERTISEMENT - CONTINUE READING BELOW ↓
So, the engine. Well, it makes a lot of noise for a V6, but the noise is more about quantity than quality. But then I think about how remarkably stable the GT feels at ballistic speeds, how it seems to shed weight and hunker into the circuit, and reckon that I'm happy with the compromise.
From both aural and acceleration perspectives there's not much point seeking out the 7,000rpm redline--the good work has been done by 5,500rpm and the gears are closely stacked enough that the next one in the chamber will force you onwards with plentiful urge.
It's fast, but I do wonder that now we have a McLaren with over 700hp, a forthcoming Speciale version of the Ferrari 488 GTB which is bound to chase a similarly lofty figure and rumours that the Porsche GT2 RS will have upwards of 700hp as well, whether the GT might be left feeling a bit limp.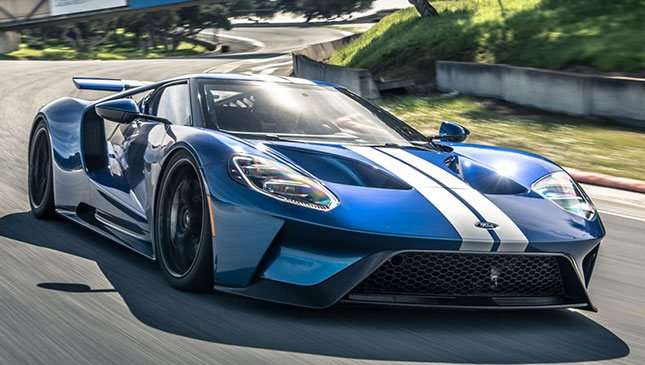 Nevertheless, it's hardly short of grunt and punches itself forward very hard indeed. But it's nothing the chassis can't handle, so very quickly you feel confident using a lot of the power, knowing the brakes, steering and suspension will respond exactly as you want to get you out of whatever situation the engine has just got you in to.
Out on the road it's perfectly driveable--the visibility's not too bad, it's a surprise to find creep built in to the drivetrain, but it does make low speed driving smooth. You could use it to pop about in, but it's a serious car--it never feels less than positive and informative on the road, so although the movements are tight and controlled, the info bombardment does make it wearing.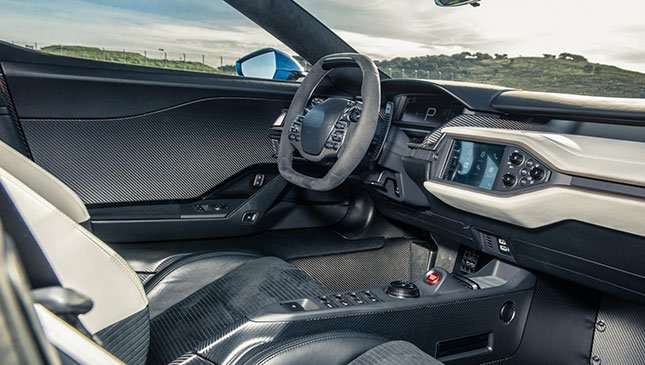 On the inside?
It's very bare in here. Plain carbon, no carpets, and the infotainment screen is from a Fiesta. The luxury layer is missing. It's a reminder that this is a car you're meant to drive, not pose in.
ADVERTISEMENT - CONTINUE READING BELOW ↓
I'm still not sure about the steering wheel. It's just not quite as good to hold as it should be, despite the Alcantara trim. The seats aren't as aggressively shaped and bucketed as you might expect. I was doubtful about how hard they'd hold you, but on track I never felt like I was falling out of them, so I'll chalk them down as deceptively supportive.
Two people fit much better than you might expect given they're sat as close to each other as the occupants of a Lotus Elise, but there's very little space to put anything.
But forget all that, because what matters is the way the cabin makes you feel, which aside from your comfy buttocks, is very, very eager to get going. It feels eventful and exciting.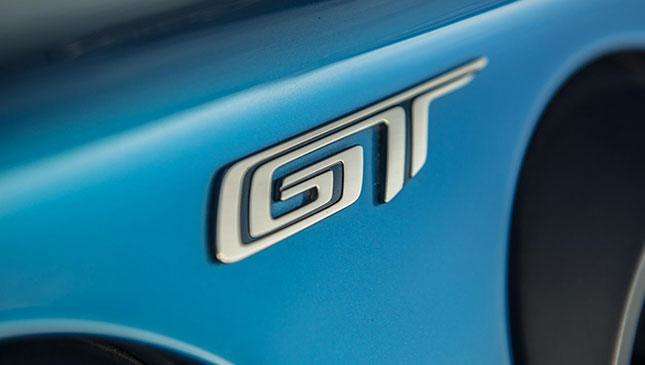 What's the cost?
At £320,000 (P20 million), it's priced a nudge above the McLaren 675LT. Ford's only building 1,000 globally and given the current appetite for supercars--not to mention the prices that previous generations of Ford GTs are making currently--and it should be a safe place for your money. A good investment. Which isn't the right way to think about this car at all.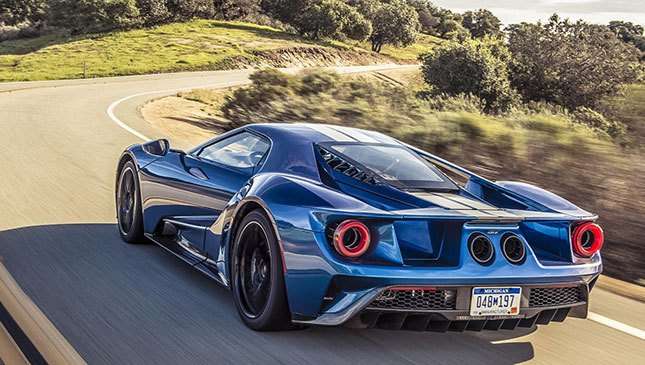 Our verdict
The Ford GT is not a supercar in the same mold as an Audi R8, a Ferrari 488 GTB or even a McLaren 720S. It's the next step on, where they strip out the weight, ramp up the aggression and really work the aero. Really, really work the aero in the case of the GT. It's utterly, I suspect purposely, impractical which serves to remind you that it's all about the driving.
And it is a sensational car to drive. It's beautifully balanced, sharp, stable and rewarding. It's also exciting. This is not one of those relentlessly efficient cars that's too concerned about lap times to have a good time. It's joyful, exuberant, friendly enough to entice the less experienced, talented enough to fascinate the chargers. It's a compelling machine.
ADVERTISEMENT - CONTINUE READING BELOW ↓
NOTE: This article first appeared on TopGear.com. Minor edits have been made.