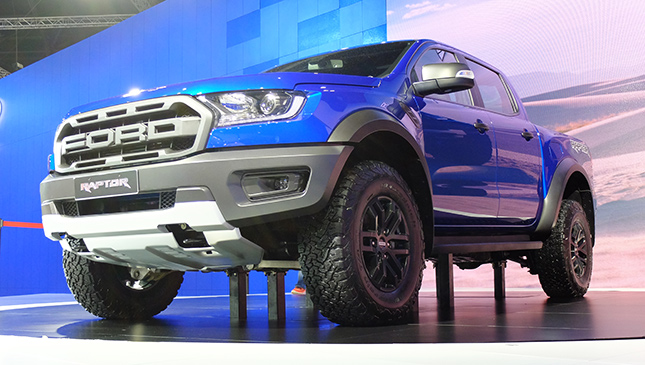 By now you've heard that the Ford Ranger Raptor will be arriving in our market before the end of the year. Ford Philippines managing director Bertrand Lessard made the announcement months ago, and naturally much hype followed.
So far though, not many people have actually seen the vehicle in the metal. So we count ourselves very lucky to have been able to get up close to the Ranger Raptor not once but twice: first in Thailand for its reveal, and now again in the same country during the Bangkok International Motor Show.
It's quite something to look at, the Ranger Raptor. The front-end features a signature Ford Raptor grille, and a muscular fascia with modern foglight housings and an underguard. There are familiar headlight designs with daytime running lights, and macho fenders. On the sides, you have Ford Raptor stepboards, too.
Elsewhere, there's a new rear bumper, a cool Raptor badge out back, a couple of decals, massive all-terrain tires wrapped around new wheel designs, and if you'll look closely underneath you can catch a glimpse of the performance pickup truck's Fox-tuned dampers. All this is in addition to the vehicle's intimidating stance, by the way.
Unfortunately, no matter how much we begged and pleaded with those in charge of the display, we were not permitted to open the doors to the Ranger Raptor. Makes sense since it's only press day after all, and the Bangkok public will only get to see it when the doors open to them. Also, they probably don't want to be detailing this thing on and off again the entire show.
Propelling duties underneath the Ranger Raptor's hood goes to a new 2.0-liter bi-turbo engine with an output of 210hp and 500Nm mated to the company's 10-speed automatic transmission. So yes, this baby has the performance to back up the look.
It shouldn't take too long for it to arrive in the Philippines. Though you know, you could always just plaster a regular Ford Ranger with some poser aftermarket bits to get a similar look. But good luck jumping over sand dunes with that kind of setup.