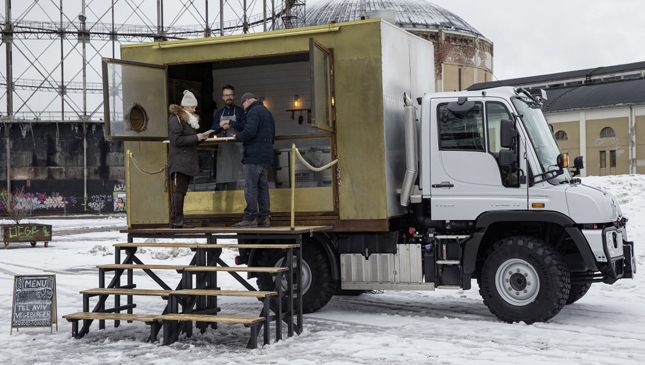 Food trucks are fast becoming a common sight these days. The colorful and innovative transport modules that serve food to hungry patrons can now be found in various parts of Metro Manila, darting from one foodie event to another.
Here's one such food truck that dares to be different--albeit in another part of the world. No, the truck owned by Finnish food photographer Sami Repo doesn't serve an exotic menu. Rather, his truck is a one-of-a-kind Mercedes Unimog U318. What is essentially an off-road vehicle has been relegated to cooking scrumptious meals. But there's a lot more to this beast than novelty.
For one thing, it has a 400kg barbecue oven straight from Spain. This grille is complemented by a copper water boiler, work areas for preparing ingredients, a wash basin, a gas stove, and various cooking utensils. The truck is made even more unique by the rear wall that bears a couple of truly Finnish touches. The inner portion, for example, has an old-school board that shows photos of various types of whales. The outer part, meanwhile, has been waterproofed using a material known as Tarvia, further reinforcing the Unimog's all-weather abilities.
And with Repo's lifestyle, the U318 seems like the perfect vehicle. He spends half of the year in Helsinki, another four months on his farm in Karelia, Eastern Finland, and the rest of the seasons in the United States. The truck, on the other hand, has seen winters in Rovaniemi, where it serviced a food exhibition recently. Needless to say, it survived and didn't even break a sweat.
This is why Repo plans to put it to even more tedious work someday. One possibility would be to attach a crane so he could fully utilize it on his farm. For now, it is already a treat seeing this tough truck serve you your next meal.