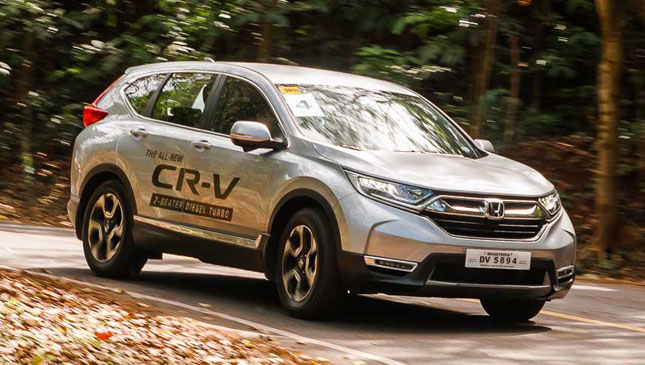 Consider us bold for saying this, but we reckon that the Honda CR-V is on its way to becoming a Filipino icon. Yes, it's Japanese, but by icon we mean an automobile that's loved and cherished by Pinoys for a long period of time. Cars like the Toyota Corolla and the Mitsibushi Lancer have certainly achieved that milestone. The CR-V, which debuted in the late '90s, might have a few decades to go before it reaches that lofty status. But if the current iteration is any indication, it's well on its way.
Last year, Honda Cars Philippines launched the fifth generation of its popular compact SUV. This time around, it had two unique additions: two extra seats, and a diesel engine. So this means that it can seat up to seven people, and it's powered by an efficicent 1.6-liter Earth Dreams Technology turbodiesel. If you still prefer the gasoline, a 2.0-liter five-seater is available as the base variant.
Continue reading below ↓
Recommended Videos
Fun fact: This is the first Honda ever in the Philippines to offer an oil-burning powerplant. So the announcement of the diesel CR-V caused quite the stir. Other improvements over its predecessor include an improved chassis engineered for better agility, higher ground clearance, a premium interior that echoes the Civic, and features like adaptive cruise control.
When you get behind the wheel, you feel the difference right away. The leather seats (standard across the range) are well-bolstered, and the ride is comfortable both on- and off-road. The traction control is handy, too, especially on rough terrain, as it ensures you have power when you need it (and cuts it off when you don't).
One nifty feature on the CR-V is the the Lane Keep Assist System in the SX variant. In other cars with a similar system, you might get a few beeps to warn you to stay on course. Honda's version actually guides the steering wheel back on course if you remove your hand, and it does a superb job of doing so.
Price? Considering it's upmarket feel, you'll have to pay a bit more for the CR-V in 2018. Figures start at P1,648,000 for the base gasoline, and up to P2,086,000 for the all-wheel-drive diesel. For Honda's next trick, a diesel mill with more power would be a welcome improvement.