Six different cars. Most people would consider themselves blessed to have owned that many vehicles by the time they hit 50. But then again, 34-year-old art director and family man Teddy Garcia isn't 'most people'--more so when you take into account that half a dozen of those units are of a particular model.
Teddy has owned not one, not two, not three, but six different Honda Jazz units in a span of only three years. "I saw it after college and it was love at first sight," he shares. "Its look, its small size--you don't really need to change it so much kasi pogi na siya. The shape is so balanced, and it's priced just right."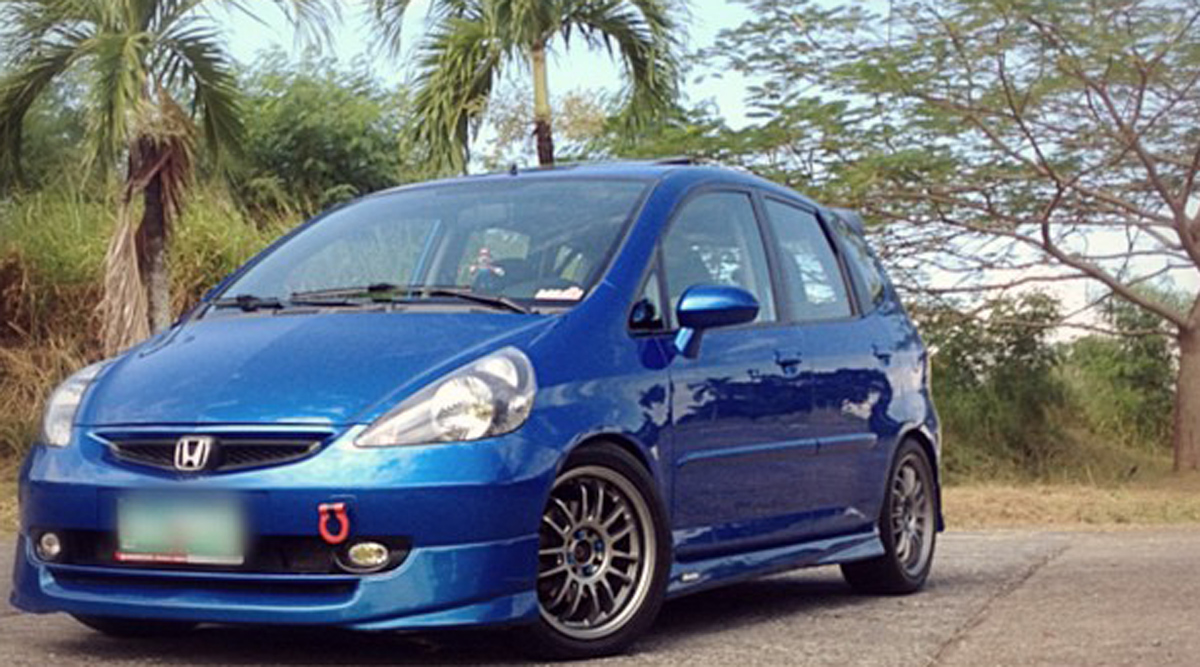 Continue reading below ↓
Recommended Videos
"The one I'm driving is already my sixth," Teddy tells us with a chuckle, adding that the first unit that he bought was "way back" in 2014. "July 11, birthday ng pamangkin ko," the art director says, remembering how on several occasions he ended up buying a Jazz during birthdays or similar celebrations. "Sakto, doon ko nakukuha yung Jazz."
It was a secondhand unit of the first-generation model--the vehicle that defined a segment and introduced motorists to the wonders of a compact car with a versatile interior. "In 2014, the average price of that car played around at P300,000," he recalls, adding that he's never bought brand-new and that he prefers buying stock.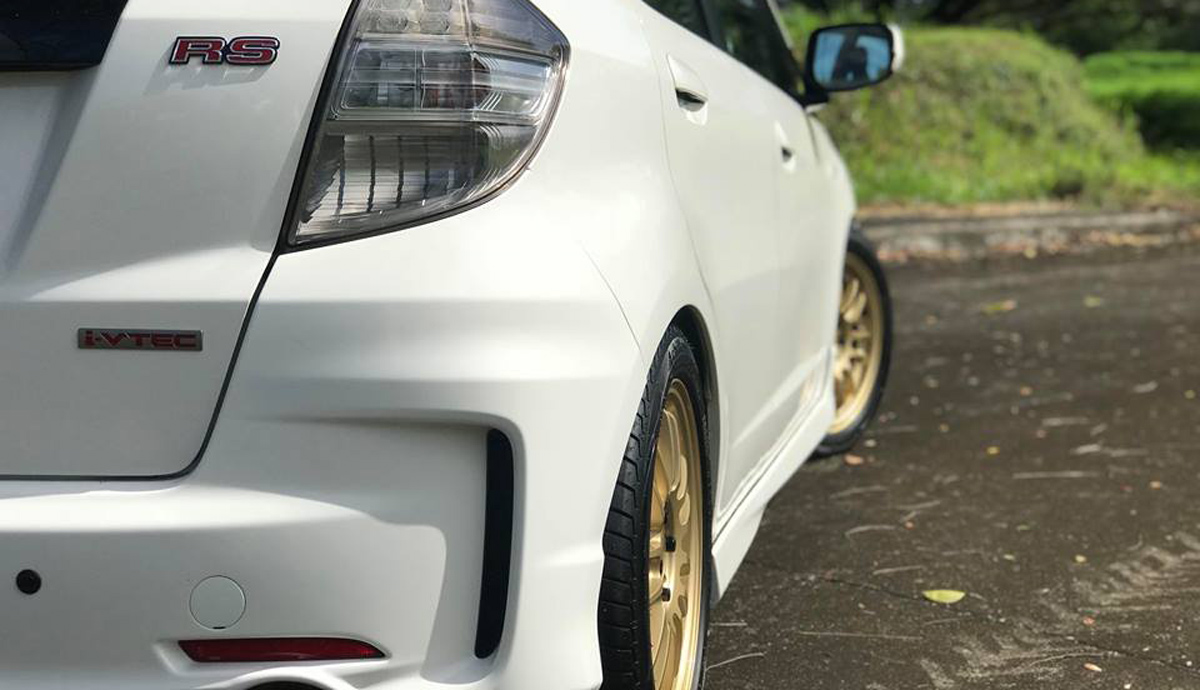 "If there are upgrades to be made, I want to be the one to make them. So at least I know the history of the car. With stock, you'll really see the car's true condition. If there are upgrades already, you'll never know for sure why the previous owner made them--either nasira ba or nag-upgrade lang talaga siya?" he explains.
And boy, did Teddy make upgrades. Over the course of his six units, he reckons he's spent around P600,000 on aftermarket bits--almost half of that amount on the second-gen unit he's currently driving (photo below).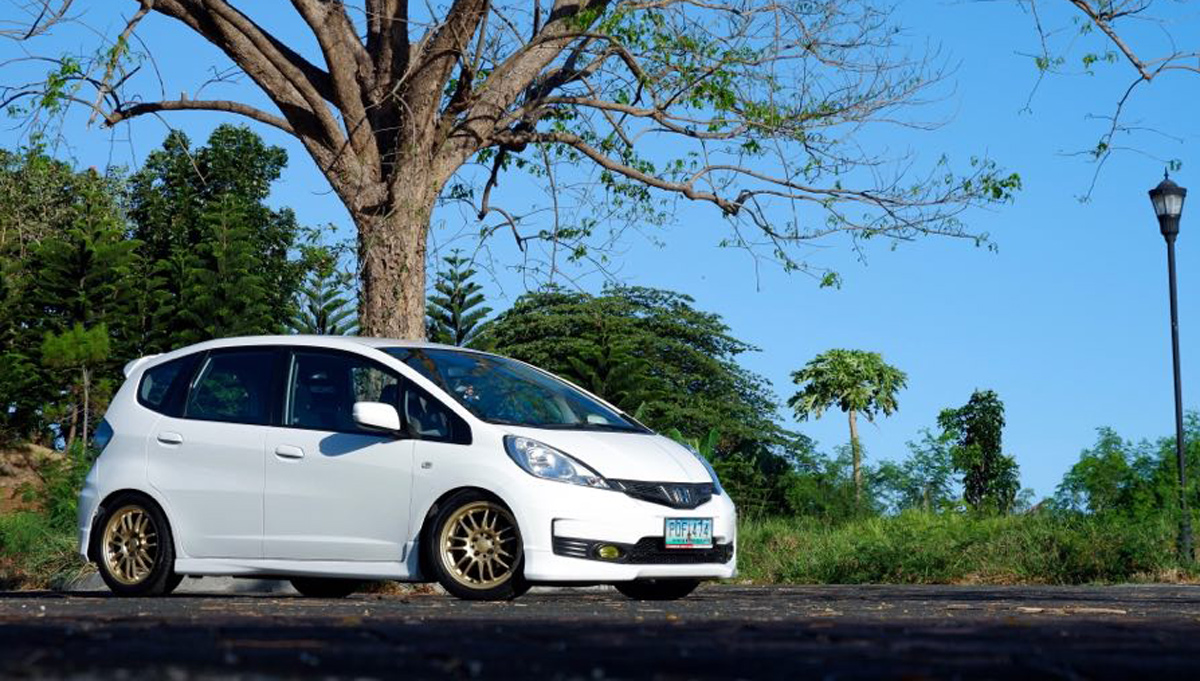 "Usually, I start by lowering the suspension. When I was younger and didn't have a budget, uso pa yung putol-putol ng springs," Teddy recalls. "But as time goes on, you'll switch to lowering springs. Now I'm no longer satisfied with that either, and use coilovers." He adds that with coilovers he can get the ideal gap and clearance.
"After that, the rims. I was lucky with the second-gen I have because they're already nice. Kahit wag mo na palitan kung wala pa budget," the Jazz Man shares. Next come the interior, gauges and other bits, and his latest modification is the driver's seat: Recaro.
"Okay na ito imbis na gumastos ako sa ibang bagay," he says. "At least with the Jazz, I can see what I'm spending on. And if I need the money I can still sell them at a reasonable price, though since it's used, the value won't be as high. And the parts are like an investment to me, too."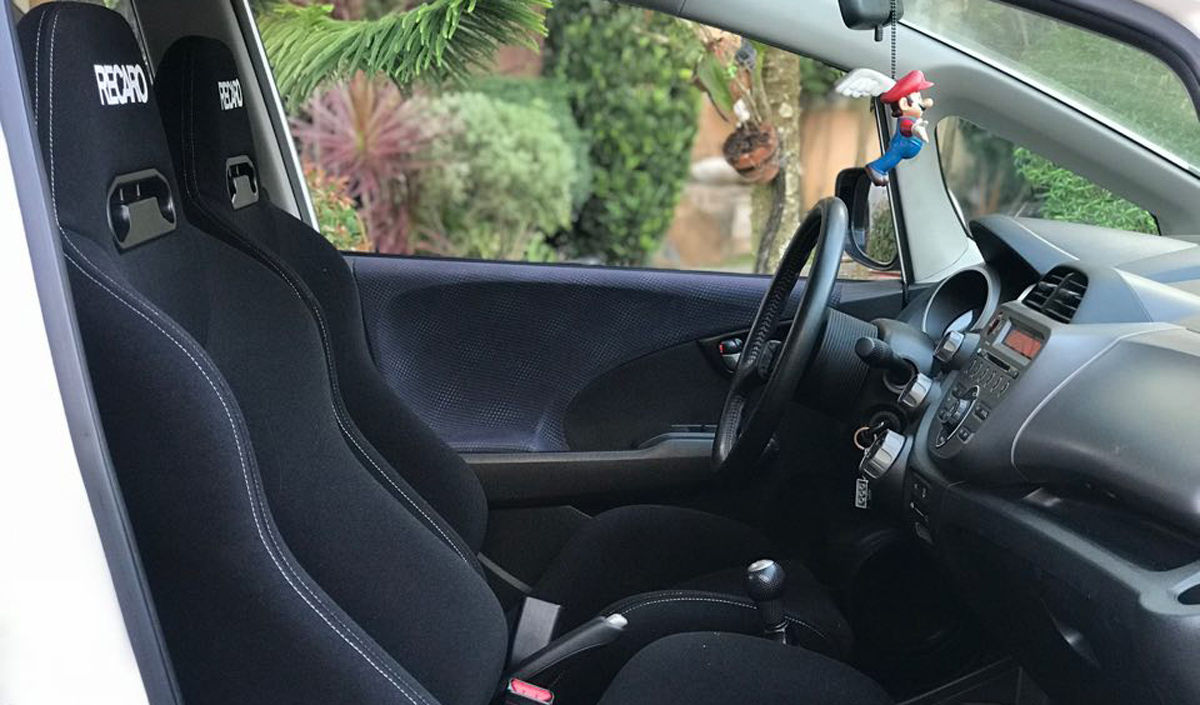 Now, we know what you're thinking. At the start of this story we mentioned that he's a family man--so how on Earth has he kept all of this under wraps? So for all the obsessive car nuts out there, here's Teddy's secret: He doesn't hide any of this from his wife.
"Last week, my wife asked me to list down all the cars we've owned since we got married in 2007. I counted 14 cars in 10 years--six of them Honda Jazz," the artist says. Of course, by now she's used to it. "Sometimes she'd be surprised. I'll drive her in the morning using a Jazz, and by the time I pick her up at night, it'll be in a different car."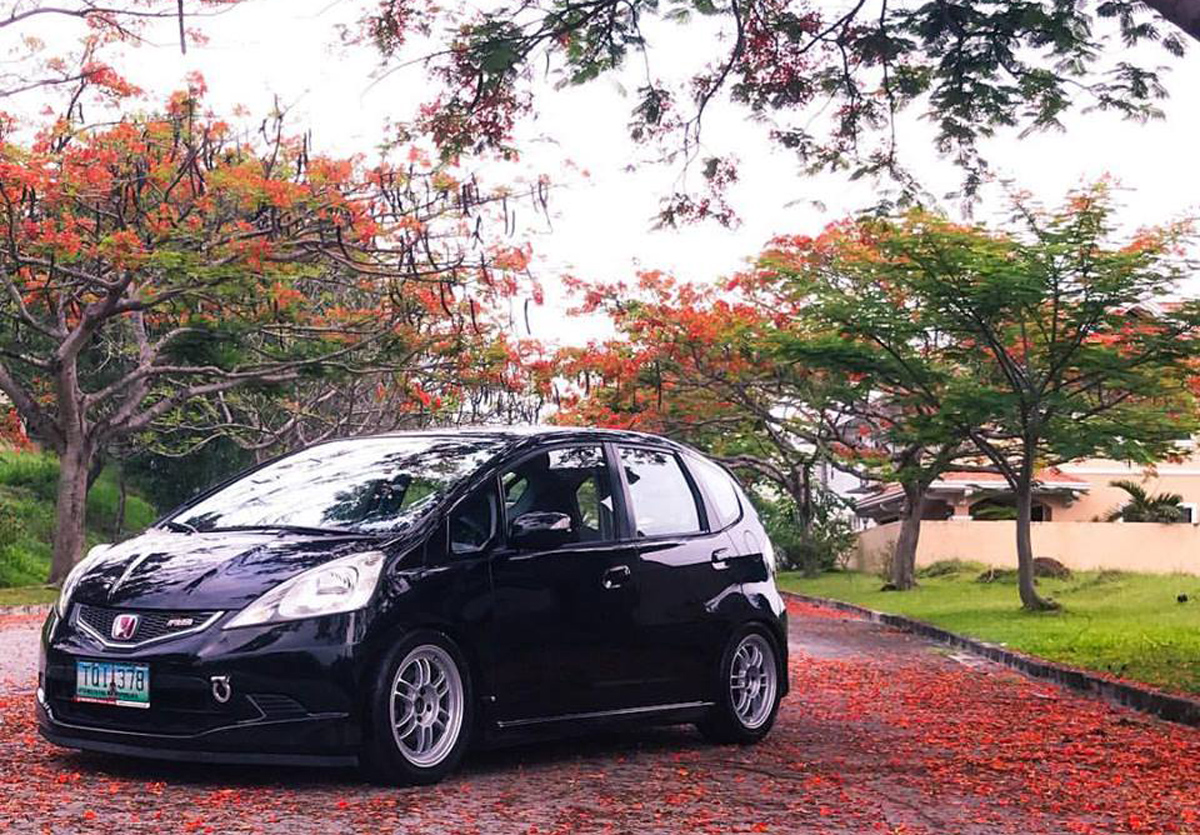 "I'm lucky. Before, she used to ask questions like how much an upgrade costs. 'Wala yan,' I'd tell her," Teddy shares. "She wasn't mad. Siguro nagseselos lang kasi yung attention ko lagi nasa kotse."
And for sure it helps his wife sleep soundly at night knowing Teddy isn't out of touch with what his family needs.
"I probably won't buy another Jazz, but definitely another Honda," he tells us after we inquire what his next purchase will be. "Syempre family man din ako. I want something a little bigger--maybe the Mobilio, because it looks like the Jazz."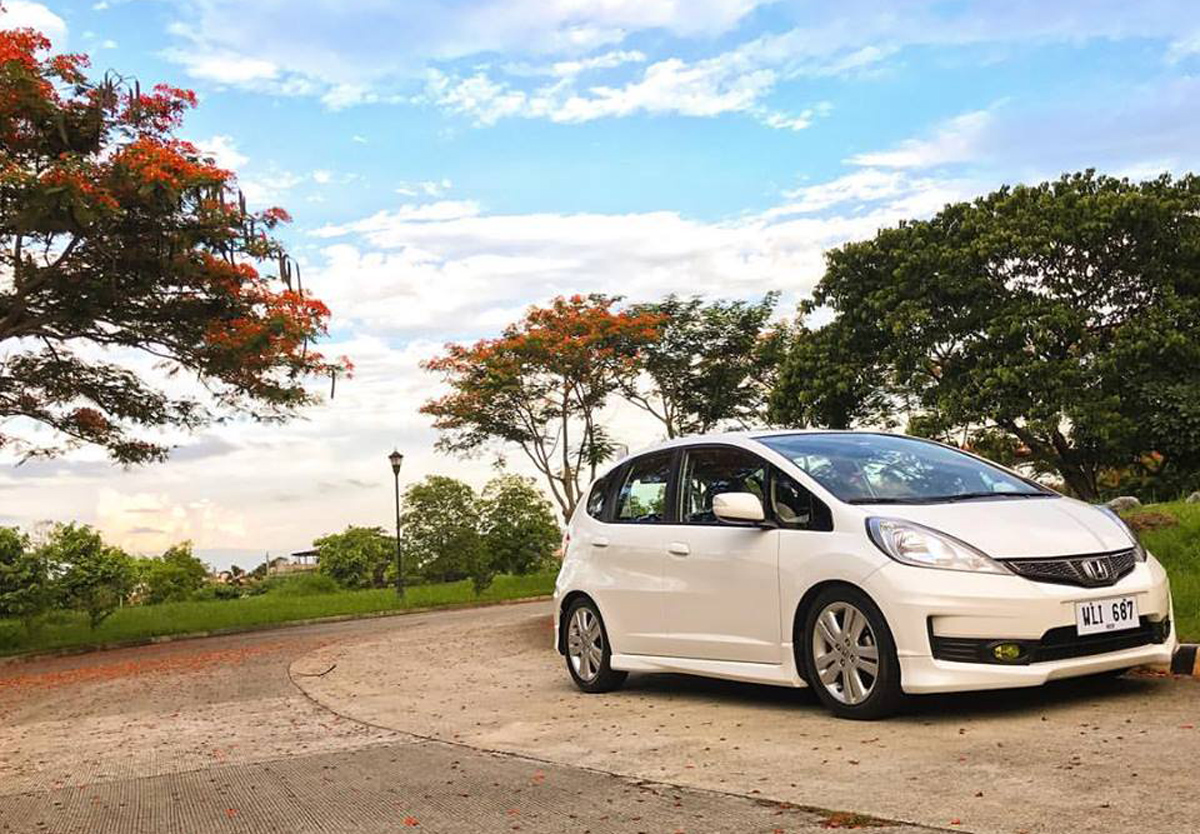 So no plans on buying the third-gen Jazz? Unless Honda makes one major change to the vehicle, Teddy says. "It's a simple reason: they haven't equipped it with rear disc brakes," he gripes. "I've owned older models, and they had drum brakes at the rear so I bought a disc brake assembly. For me, it's an essential. Okay na sana, eh. It's new, it's great to drive, it has a great body--but once I install nicer rims and see drum brakes, I just wish they put in discs."
So, Honda Cars Philippines, did you get that? Disc brakes out back.
All kidding aside, we get the feeling Teddy's current unit won't be the last Honda Jazz he'll own. So, do you think it's only a matter of time until Teddy goes for unit number seven?