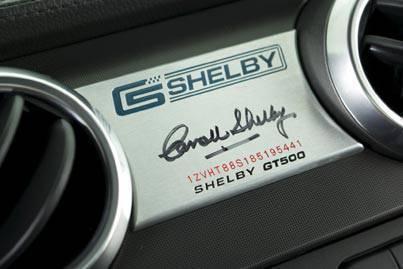 Carroll Shelby only put his name on Ford Mustangs that were the fastest, strongest and most aggressive on the production line. That was-and is-what the Shelby name is all about. That's the beauty of the Mustang when it first came into existence: Owners could choose the trim levels and spec their cars out. But the most important thing was the choice of engines that you could stuff under the hood. And if you knew your Mustangs, the Shelby versions were the ones to have back in the day.

Things haven't changed much since then. Of course, any car addict would know that Eleanor of Gone In 60 Seconds fame is, in fact, a Shelby GT500. We can go on and on about Shelby and his significance in the automotive world, but for now let's just stick to the modern GT500 that Top Gear got its hands on. It made us drool.

Seeing a Mustang of this caliber up close is an event in itself, and I must say this car looks great in red-with the unmistakable Le Mans stripes. Pictures cannot do this car justice. Its heft and lines evoke a time that we thought was long gone, but after numerous incarnations, the original shape is finally back. The styling has at last come full circle, and the Mustang badge is better for it. There will only be more fans (and buyers) because of this. Adding to the mystique is the resurrection of some of the most popular Mustang models from the past (at least in name), and the Shelby GT500 you see on these pages harks back to that time.

People notice the car not only for its sheer size, but also because it has the same silhouette as the original Mustang. Even the younger people who weren't born until after the '60s know what this car is. And the sound that emanates from under its hood is enough to make a whole building shake. Well, at least that's what happened in the Summit Media studios where this shoot took place. When owner Carlos Gono fired up the supercharged engine, everybody just stopped what they were doing to see where that glorious racket was coming from.

It is safe to say that the Shelby moniker lives up to its promise of balls-to-the-wall acceleration and performance with an old-school edge. The numbers are astounding, even in stock form. Upon its delivery from the US, Carlos-the friendly car buff behind Autoplus-immediately put his brand-spanking-new GT500 on his shop's dynamometer to set the bar for any performance upgrades that were to follow. It generated 440 horsepower at the wheels. But that obviously wasn't enough for someone known for his pioneering efforts in the high-performance tuning scene. For those who don't know, Carlos also owns a Ford GT in the same color. Apparently, the man has a taste for American muscle.

Autoplus was founded in the '70s by Gono's uncle who was based in San Francisco. They opened a shop here in 1996 because nobody was doing any high-performance tuning back then. Parts were shipped from the US, and in 2000, when performance tuning became 'in', Carlos bought the dynamometer. "Performance has to be there," he reasoned. "It isn't like a set of wheels that everyone can see kung maganda o hindi. But when selling performance, everything has to be there."
Continue reading below ↓
Recommended Videos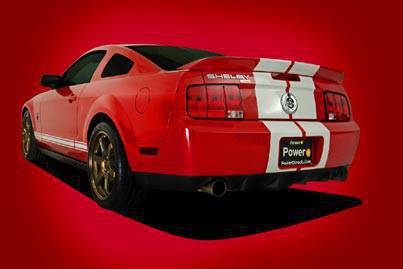 Words of wisdom indeed.
His Shelby GT500 is certainly a very good test bed for the capabilities of the shop. Under the skilled watch of Francisco Blanco, Autoplus' main performance-and-tuning guru, the Shelby's astounding horsepower was bumped up to 530hp at the wheels, and its torque was upped as well to an almost ridiculous 740Nm. Under-the-hood modifications include a Metco supercharger pulley and idler; a Ford SCT X3 ECU programmer; a Ford Racing cold-air intake; an Evolution Performance high-capacity heat exchanger; an ARH long tube; ceramic-coated headers; and a twin Magnaflow three-inch full exhaust system.

This GT500 weighs 1.8 tons, so Carlos decided to lighten the car where it counted. The new 19-inch Volk Racing forged lightweight wheels with Michelin Pilot Sport PS2 tires are lighter by 6.5 kilos per side than the stock alloys that came with the car. We were delighted to see that the Japanese rims worked very well with the Mustang. East meets west in harmony. Unsprung weight is also less of an issue now. Inside, the Recaro Sportster seats shaved off a few more pounds compared to the stock buckets. Underneath the body is an Evolution Performance aluminum driveshaft for the same purpose and enhanced performance.

The current GT500 is notorious for its exciting handling characteristics, thanks to the solid rear axle. Some modifications done to keep the wheels planted during cornering are the Ford Racing adjustable dampers and antiroll-bar kit combined with Eibach springs. Stopping is helped by Stillen two-piece rotors at the front and the rear.

Now, all those horses need to be lubricated and cooled properly, so Motul 300V 5W40 double-ester oil is utilized in the engine. Motul Gear Competition transmission and rear differential oil, meanwhile, is used in the tranny and rear axle. The performance package is topped off with Motul's Inugel engine coolant and RBF 600 brake fluid.

"The car is about P3.8 million with the taxes and all. But you get close to 500hp. Get a Japanese car like a Lancer Evolution with 280 horses while stock, and you will probably spend that much to reach that kind of horsepower," Carlos reckoned. If you look at it that way, this GT500 is definitely a steal.

At the end of the shoot, he asked me if I wanted to go for a spin. I obliged, and as we were navigating a tight alley with cars parked on each side and onlookers directly in front of us (less than 50 meters away) gawking at the red monster, Carlos grinned and asked if I wanted to experience a burnout.

Before I could respond to warn him about the human obstructions, he buried the accelerator and dropped the clutch. The supercharger wailed and the rear tires screamed. The power surge was tremendous, and I was pushed back into my seat. Everyone leaped aside in utter fear, and the GT500 stopped a few meters short of where the bystanders were positioned. Flooring a massive, 530hp sports car in tight confines might not have been the most responsible thing to do, but that is what owning a high-performance Mustang is all about. What's the point of acquiring one if you can't show off a little and have some fun?

My thoughts were confirmed when I saw that the pedestrians whom I thought we would mow down, were smiling and waving as Carlos drove away. Apparently, a near-death experience is cool if and when it involves a big, red Ford Shelby GT500.