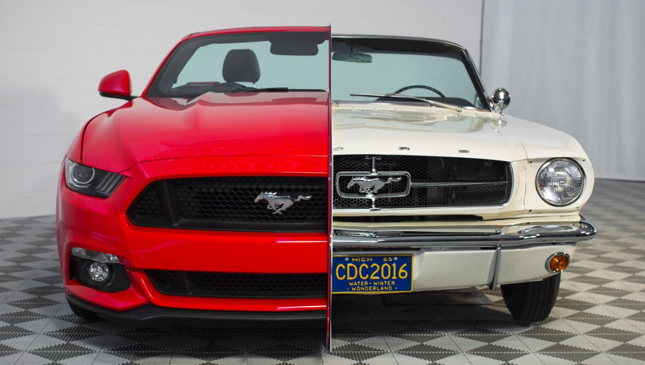 A handful of iconic cars are celebrating milestones this year. The Volkswagen Golf GTI, for instance, marks its 40th anniversary, while the Toyota Corolla turns 50 years old in Japan. And then there is the Ford Mustang, which also reached 50 golden years in 2014.
The world's favorite pony is celebrating half-a-century of existence (it has been doing so for a couple of years now) via an innovative side-by-side, one-of-a-kind masterpiece: a display that marries an original 1965 Mustang with the latest-generation 2015 model.
Put together by the National Inventors Hall of Fame Museum and Ford Motor Company, the exhibit highlights the innovative spirit of the nameplate. It also spotlights various patents and intellectual property rights that were set throughout the Mustang's 50-year production run.
The first-generation model, for instance, was responsible for introducing the rear-seat speaker as well as the power-folding soft top. Today, the newest model boasts the first knee airbag mounted on the glovebox door. Apart from this, 15 more patents debuted on this present-day model, including launch control and electronic line-lock. Just as in the Mark I Mustang, such conveniences and gizmos are stuff we tend to take for granted on most cars today.
The Mustang's claim to fame wasn't exactly a walk in the park. At launch, no patents were granted. The styling and other intellectual property rights were bestowed on it only after selling some 1 million units in its first 18 months--a testament to its success.
The unique exhibit is currently on display, along with other ingenious American inventions at the United States Patent and Trademark Office Campus in Alexandria, Virginia. Visitors can even sit on either side of the "car" to get a feel for how far the Mustang has come.
ADVERTISEMENT - CONTINUE READING BELOW ↓